It's vital to know how to make a toilet smell good. No matter how often you carefully tidy and clean your bathroom, sometimes bad smells appear. Your family and guests don't want to be greeted with a foul odor, sewer gas smell, must, or urine smell when they use your restroom. Discover how to keep your toilet bowl smelling fresh to avoid embarrassment and ensure your restroom represents you well.
Because of excess moisture in the air, a lack of ventilation, and the toilet, your bathroom is prone to developing unpleasant odors. Germs and bacteria thrive in moist and enclosed environments. These bacteria multiply and build up to give off a bad odor, making your bathroom seem unsanitary.
Try homemade toilet bowl deodorizer ideas to freshen up your bathroom without resorting to chemical cleaners. Commercial cleaning products are costly, limited to a few scents, and contain toxic compounds. Using everyday supplies to create a DIY toilet bowl cleaner or freshener is an intelligent way to deal with bathroom odor.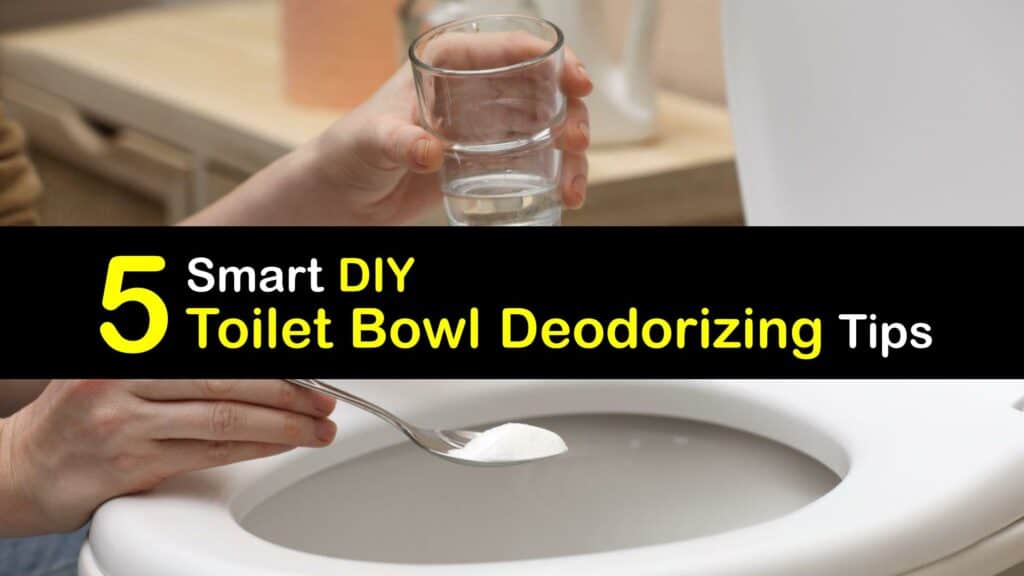 How to Keep Your Toilet Bowl Smelling Fresh
If you're searching for ideas on how to make a toilet smell good, you're not alone. As more homeowners move away from bringing toxic substances and harsh chemicals into their homes, interest in homemade toilet bowl deodorizer is rising.
In addition to being superior for your health and the environment, DIY cleaners and fresheners are usually more cost-effective than commercial products. Use the items you already have at home and quickly eliminate the bathroom stench. Make a personalized homemade cleaner to fit your bathroom goals and keep your space fresh.
How to Make a Toilet Smell Good with DIY Fizzing Cleaner
Noticing an unpleasant smell coming from the toilet is concerning. A sewer smell or urine smell is disgusting and makes your home appear unclean. Skip harsh chemicals and mix a safe and natural toilet cleaner using distilled white vinegar and baking soda.
Baking soda and white vinegar are well known for their cleaning and deodorizing properties. Combined, they make a fizzing, foaming, highly efficient cleaner to oust the foul odor from your toilet. You may also find that this combination will remove limescale and hard water stains from toilets with some additional scrubbing with a toilet brush.
Sprinkle the baking soda powder in the toilet bowl and toilet tank, then spray the white vinegar over the top. The powder and vinegar react to create a bubbling and fizzing action which loosens dirt and destroys bacteria. If your toilet smells like sewer or pee, use this powerful combo to eliminate it.
Homemade Toilet Bowl Deodorizer Bombs
If the toilet smell makes your bathroom a miserable place to visit, craft some DIY toilet bowl bombs to clean and deodorize. Sewer gas and foul odor are no match for tough ingredients like baking soda, citric acid, and essential oils.
To make the best natural toilet cleaner, combine the baking soda, citric acid, and essential oils in a mixing bowl, and spritz with water until the blend begins to hold together. Press the mix into the ice cube tray, forming several cubes or bombs, and leave it to dry for at least 48 hours.
Pop the freshening bombs out of the tray and store them in an airtight container or a plastic bag. Drop one bomb in the toilet as required to combat foul odors.
These baking soda bombs will also help in getting rid of blue stains on the toilet seat. Commercial cleaners can often leave blue stains behind. Baking soda is one of the best methods to eliminate stains.
DIY Toilet Bowl Freshener Spray
Remove toilet odor and make your bathroom smell wonderful with this simple DIY toilet spray and air freshener. Use your favorite essential oil to personalize the aroma of your restroom and mask displeasing odors.
Combine in a sprayer and shake well. For the ideal way to make a bathroom smell good, spray the freshening solution directly into the toilet bowl or the air around the room. Use it as often as necessary to maintain a pleasant smell in the bathroom.
Get Rid of Bad Bathroom Odor with Scented Items
Whether you have a lingering smell or a sudden bad odor in your bathroom, it's crucial to address it promptly. Even the best-maintained bathrooms get a little smelly on occasion.
Start by opening a window to improve ventilation, allow moisture to escape, and bring fresh air inside. Use a scented candle or another pleasantly fragranced item to get your space smelling fresh again.
Select your favorite scent and use whichever method is most convenient, whether a reed diffuser filled with your preferred fragrance oil or a few drops of essential oils on the inside of the toilet paper roll. Pleasing aromas cover up unwanted stenches and make a better impression.
Fix Your Stinky Bathroom by Doing a Deep Clean
Cleaning is a simple way to address a musty smell or an unappealing odor in your restroom. Thanks to the high moisture levels and enclosed nature of bathrooms, they are often hotspots for mold and bacteria and development, which leads to some funky smells. Fix a clogged toilet quickly to get rid of unpleasant odors associated with the problem.
Making a regular cleaning schedule for your bathroom helps to keep these undesirable aromas at bay. If your bathroom already has a bad smell, a deep clean is the first step in eliminating it.
Choose an antibacterial cleaner and use it according to the manufacturer's guidelines. When cleaning the toilet, it's important to cover all surfaces. Don't forget to clean a toilet tank on the inside when you are tackling the bowl. It's often forgotten.
Cleaning and disinfecting your bathroom surfaces eradicates the bacteria causing an unpleasant odor and gets rid of the bad smell to make your bathroom more welcoming.
Discover how to keep your toilet bowl smelling fresh and save yourself from embarrassing bathroom odor that makes your home seem unsanitary. Whether you struggle with a musty smell, sewer odor, or urine smell, use straightforward techniques to keep your bathroom clean and odor-free using accessible items.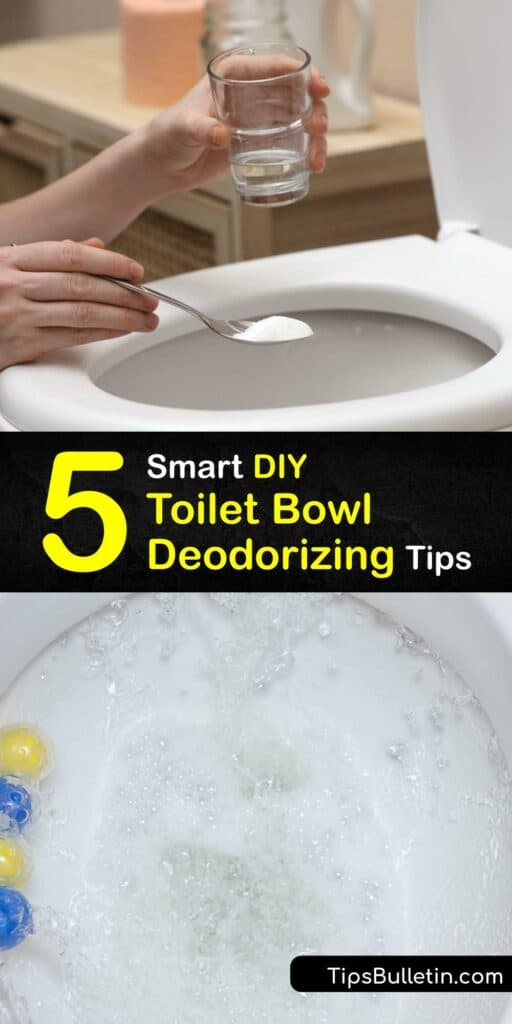 If you loved this article on how to make a toilet smell good, please share these brilliant thoughts on how to keep your toilet bowl smelling fresh with your friends and family on Pinterest and Facebook.