Bamboo floors are perfect for your home and will remain beautiful and unscratched even after the worst punishment, Over time, though, bamboo planks can begin to dull and fade, and it's up to us to reverse that trend. Knowing how to make bamboo floors shine is a valuable skill that will help keep your home looking its best.
When you know how to clean and shine bamboo floors, you can relax and know that you can handle any flooring issue that arises. This guide will give you the cleaning facts you need to make your bamboo floors continue to shine out and look gorgeous.
You'll find out the steps you can take today to reduce wear and tear on your bamboo flooring, and we also provide plenty of cleaning recipes so that you can choose the one that's right for you. Having information on how to polish bamboo floors will keep you happy and ensure that your home keeps sparkling.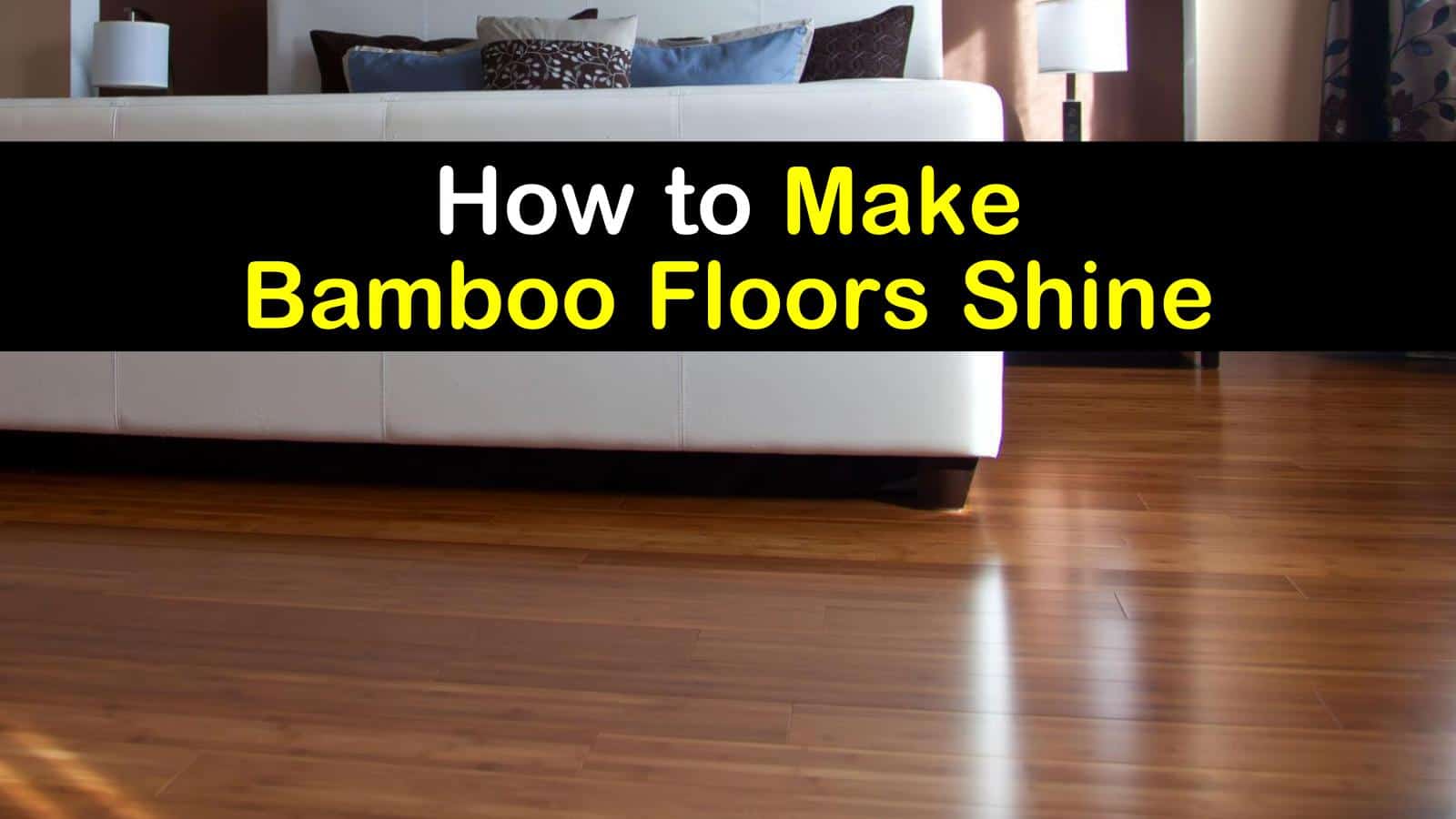 Making Bamboo Floors Shine
The biggest enemy of wood flooring is regular wear, which can scuff and dull the wood finish and even scratch or wear down into the wood itself. To make laminate floors shine, you need to have a routine that includes regular maintenance and floor care. Weekly attention to your bamboo floors will ensure that they continue to look gorgeous for a long time.
Preventative Steps
This section covers maintenance that you can perform to keep your bamboo floors shiny and attractive. In the section, we provide you with actions you can take to reduce foot traffic, and you'll also learn the best way to deal with heavy furniture without damaging your wood flooring.
Maintenance won't get you the whole distance to clean floors, but it's an essential step that you can't skip if you want to keep your hardwood planks looking amazing.
Reduce Foot Traffic
Feet are the enemy of wood floors. When you walk on bamboo flooring, you track in dirt, grime, oil, grease, and other gunk that you pick up outside. That's not all, either.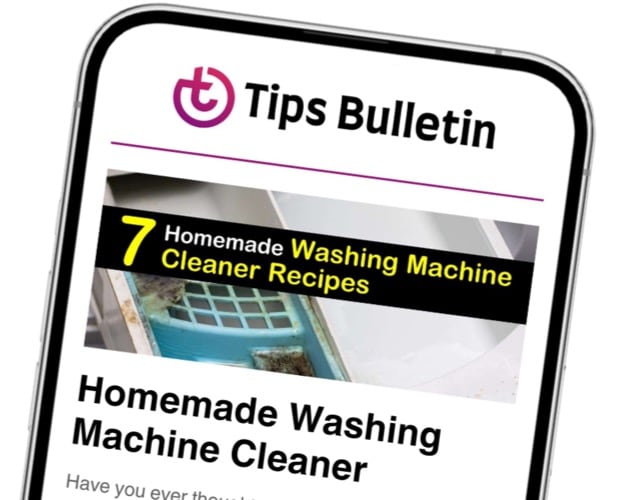 Finally, an email that Transforms Your Home.
Get the latest home and garden tips from our experts, delivered straight to your inbox.
You also wear down the polyurethane laminate floors and expose the wood to potential damage if you place the flooring in a high traffic spot in your house. Fortunately, there are steps you can take to reduce the foot traffic on your bamboo floors.
The most critical cleaning step you can take to help your flooring is to take your shoes off in the house. You'll track in a lot more dirt and cause a lot more wear on your planking if you're wearing shoes instead of stocking feet.
Doormats are an enormous help as well; place doormats inside and outside of every entryway, and clean them regularly to keep them in working condition. Finally, don't be afraid to add a few area rugs to your home. Rugs protect wood floors and are more comfortable under your feet.
Take Care When You Work with Furniture
Furniture looks fantastic when you place it on bamboo flooring and creates sharp lines that define your living space. However, it doesn't take much for a piece of heavy furniture to scratch and mar your bamboo floor.
A little advance care will help prevent permanent and disfiguring damage to your floor. You'll want to go all-in on felt furniture pads to protect the bamboo from scratches and other dings caused by the furniture legs rubbing directly on the floor.
Pay attention to any spills around the furniture as well, and soak them up as soon as you discover them. Use rugs around your furniture as well as in high traffic areas, too.
How to Clean and Shine Bamboo Floors
Even if you're faithfully taking off your shoes and placing felt pads down to protect the floor, you're going to have to use a cleaner recipe or two when you need to know how to make bamboo floors shine.
Having a natural home cleaning solution on tap is essential for folks who want to know how to polish bamboo floors. You'll also need a step-by-step process ready so that you can get your floors shining again.
Polish Bamboo Floors
This section addresses how to clean and shine bamboo floors beginning with sweeping and ending with polishing. You'll learn which home remedy is perfect for mopping your bamboo floors back to a gleam, and we also help you find out how to apply hardwood cleaners after you finish removing the dirt so that your bamboo stays brilliant and clean.
Sweep or Vacuum the Floor Regularly
When you're looking for how to clean and shine bamboo floors, begin by taking care of any loose dirt or debris. There's going to be a steady amount of dirt tracking onto your floors, and you'll have to remove it before you can get down to cleaning.
A broom or vacuum without a beater bar is ideal for getting your bamboo floors dirt-free in a hurry.
Use a broom or vacuum to remove all dirt from your bamboo floor. Make sure to sweep or vacuum the corners and crevices, and empty the dustpan or vacuum bag regularly. Repeat the sweeping or vacuuming until all dirt is gone.
Use a Mop on the Floor
Once you've swept or vacuumed away all dust, dirt, and debris, it's time to use DIY cleaning products on the wood. Vinegar is perfect for bamboo floor cleaning and allows you to wash bamboo flooring without harming the underlying wood.
A spray mop works well for this purpose, but you should never use a steam mop on solid bamboo floors, as the steam can cause the bamboo to warp. You can also use a handy spray bottle and a regular wet mop.
Combine water and vinegar in a bucket to make this simple but effective bamboo floor cleaner recipe. If you need to add more liquid, maintain a ratio of one part vinegar to four parts water. Use a damp mop to spread the vinegar solution on the floor, and clean the floor with it.
Wring out the mop when it gets too dirty. Scrub tough stains with a brush with soft bristles or with a sponge. Make sure to mop up all of the liquid, as standing fluid can not only reduce its luster but also damage the flooring. Use a towel to dry the floors after cleaning.
Hit the Floor with a Hardwood Cleaner
You might be able to end your cleaning after you give the floor a good mopping. If the floor is clean after that, you're all set. Sometimes, though, you'll need to step things up and engage in deep cleaning to keep your floors shining bright.
An oil soap works, and a commercial hardwood cleaner will also deep clean your wood of build up and leave a mellow floor finish in its wake. It's perfect for demanding cleaning jobs.
Always follow the manufacturer's instructions when bamboo floor cleaning with a commercial product, as you never know when you'll need to contact the company that makes the product for support. Don gloves and other required safety gear before you begin cleaning with a commercial hardwood cleaner that you can buy at home improvement stores.
Apply just enough cleaner to get the job done, and follow up the cleaning with a buff job with a soft cloth. If you still have scuff marks on the wood, it might be time for refinishing.
We hope you had a great time reviewing our suggestions on how to polish bamboo floors. Bamboo floors make our homes look gorgeous, but we need to maintain them to ensure they stay bright and shiny. Our guide walks you through maintaining and cleaning your hardwood flooring and helps you keep them looking beautiful.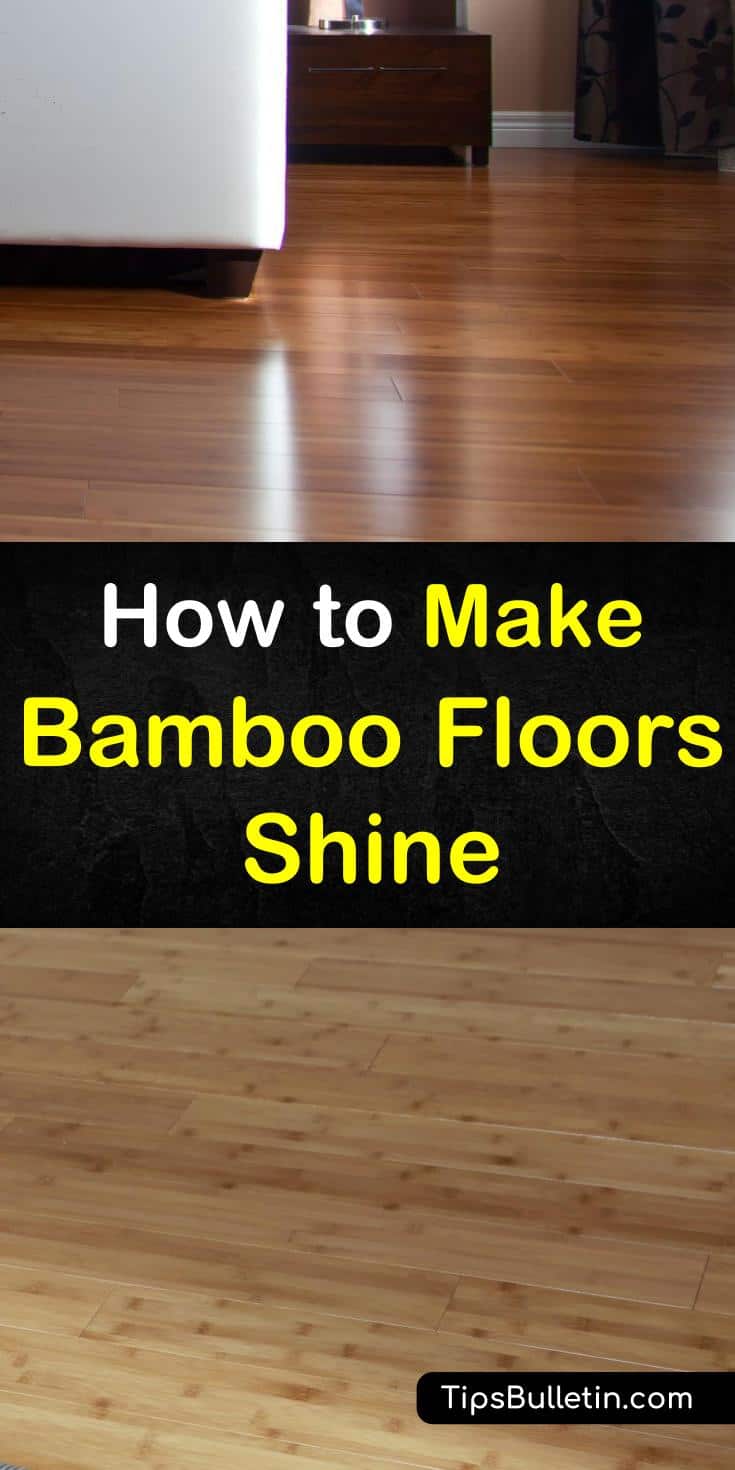 Thanks for reading our handy guide on how to clean and shine bamboo floors. If you enjoyed these recommendations on how to make bamboo floors shine, please share our floor maintenance guide with others on Pinterest and Facebook.