Scented candles help add fragrance to the air in your room and improve the ambiance in your house. The problem with some candles is that they may not smell as strong once you get them home. Whether you're using store-bought or homemade scented candles, learning how to make candles smell good is key to getting the most from your candles.
The hot scent throw of a candle refers to the strength of the candle while burning. The scent throw of candles depends on many factors, including the type of wax, the added fragrance oils, and the size of the room.
During the candle making process, the type of wax determines how the fragrance oils react and blend in the candle and how the candle burns. A thicker candle wax requires more heat and time for the melted wax to release the fragrance oils into the air. When burning small candles with wax that does not blend well with oils, you may never smell the candle fragrance, depending on the size of the room.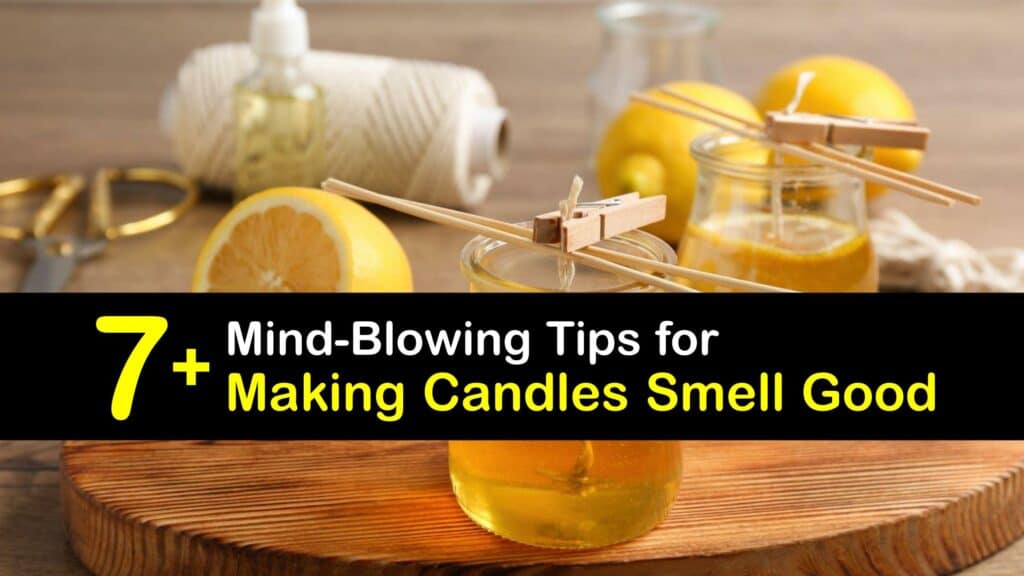 How to Make a Candle Smell Good
Understanding which candles work best in your home is the key to enjoying a candle scent. If you prefer to create homemade candles, continue reading for tips on the best supplies for making DIY scented candles that smell good.
Why Don't Candles Smell Strong?
There are many factors to think about when it comes to enjoying the scent of a candle as it burns. Candles spread their scent through diffusion, and the larger the room, the harder it is for the diffusion to work.
One of the best solutions for how to make your candles smell stronger is to use weaker-smelling candles in smaller rooms. The molecules of fragrance oils in the candle travel faster across shorter distances, allowing candles to fill a small space more quickly with a stronger scent.
The Difference in Candle Intensities
There are different candles to choose from, whether you want to grab a few from the store or create a batch of container candles at home. The type of candle you burn comes down to the preferred scent, but because some candle makers use synthetic fragrance oils and harmful wax, your choice may go beyond what smells best in your home.
Fragrance oils are artificially scented oils used in candles that vary by strength and manufacturer. Natural alternatives to fragrance oils are to create DIY essential oil candles or candles made from dried herbs.
Pure essential oils are pressed from plants and have specific properties attached to their scents. Many essential oils are beneficial in making aromatherapy candles.
Add one of these essential oils to a sprayer with water to make a natural odor eliminator spray and spritz the bathroom as needed when you have a smelly bathroom, laundry room or basement area.
For an even better smelling home, choose one or two of these best smelling plants for indoors. Grow lemon trees in pots in the house or a peppermint plant to always have a pleasant, fresh scent.
Using the Right Wax to Make Strong Smelling Candles
Will your candle wax affect your scent throw? Regardless of what oil you use, your candle may struggle to fill your home with a pleasant scent with a wax that has poor blending capabilities.
The natural wax in soy candles absorbs oils better than most candles. Soy wax is dense, which means soy wax candles have a slow burn.
Beeswax candles are another natural option for making candles that leaves your home smelling fresh from the naturally sweet smell of the wax. Because beeswax is a sturdy wax, it's ideal for making jar candles or unscented pillar candles.
The least inexpensive option with the best scent throw comes from paraffin wax. These candles hold a lot of fragrance, but their biggest downside is that they contain toxins and release chemicals when burned since paraffin is a petroleum byproduct.
How to Make Your Candles Smell Stronger with Oils
If you make or buy a candle that doesn't smell strong enough, you don't have to settle for a mediocre candle. Add fragrance oils to increase the strength of the candle.
After lighting the wick, wait for the melted wax to form a pool on top of the candle. As the wax on top gets hotter, the diffusion of the molecules becomes easier. When the wax reaches at least 170°F, add a few drops of complementary oil to the wax pool.
Burning Coconut Wax Candles for a Better Smell
Coconut wax candles are growing in popularity since they are made from a sustainable product, unlike paraffin wax candles. Because coconut wax candles do not contain any wax toxins, it is the safer option.
Candles made with coconut wax are also known for holding fragrance better than other candles, up to 12%. This percentage means that coconut wax flakes are ideal for using essential or fragrance oils when making new candles.
How to Make Candles Smell Good from Scratch
Creating the perfect candle may take trial and error, but to ensure your candle has the best wax and a scent you'll enjoy, create a scented candle yourself. Use craft supplies and measure your ingredients to ensure your candle has the best smell.
A candle container is any heat-proof glass container like Mason jars or drinking glasses. Measure how much space your container has by pouring water from the container into a measuring cup to ensure you use the exact amount of wax flakes.
Measure your wax flakes until you have one ounce of wax for every fluid ounce your container holds. Warm your wax in a double-boiler on the stove until it melts.
Allow the wax to cool to 140°F before stirring in the oil. How to make your candles smell stronger? Ensure your fragrance blends well with the wax by weighing one ounce of fragrance for every pound of wax. Glue your wick inside the container before pouring the wax inside, and let it sit for 24 hours before burning.
Using Coconut Oil in Candles
Candle makers run into many issues with creating new candles, and having wet spots where the wax pulls away from the container edge is one of them. Frosting forming on the surface of natural candle waxes is another common problem in making candles.
To resolve these issues, include coconut oil in your candle making process to make natural waxes softer. To avoid making your wax too soft, use ½ teaspoon of coconut oil for every pound of wax.
Making the Best Smelling Candles
The best tips on how to make a candle smell good involve using the right wax, but because most wax flakes do not have a signature scent, the strength of your candle depends on the fragrance included.
Compared to some store-bought candles like Yankee Candle that use oils, using raw ingredients in your wax is an option to get candles to smell stronger. Dried herbs and flowers are easy options to include in candles, but coffee beans have a signature aroma that is sure to fill a room.
Add wax flakes to a glass cup and microwave for two to three minutes, stirring every 30 seconds until melted. Mix in vanilla oil once the wax is below 140°F. Add about five beans to the bottom of your candle container and a pinch of coffee grounds.
Use your melted wax to stick your candle wick to the bottom of the container and allow it to dry. Alternate pouring melted wax and adding coffee beans and coffee grounds. Allow the candle to harden in the freezer between each wax layer until you fill the container.
Cautions When Making Candles
Creating candles at home may seem like a fun activity for the family. Because it involves superheating wax, it's essential to take precautions to avoid injury. Before working with melted wax, clear a workspace and use protective clothing.
Wear clothes that cover your arms and legs and goggles to avoid splashing wax. While melting wax flakes, specifically in the microwave, the wax gets extremely hot, and spilling on your skin could result in a burn.
We used to save candles in case of an emergency when the power went out; they're now a staple part of your decor. The excitement of burning a new candle is only surpassed by the inviting smell filling your home, but if the smell isn't strong, it can feel like a waste.
Follow our advice on how to make strong-smelling candles and give store-bought candles a boost to get the full effect from every candle you purchase.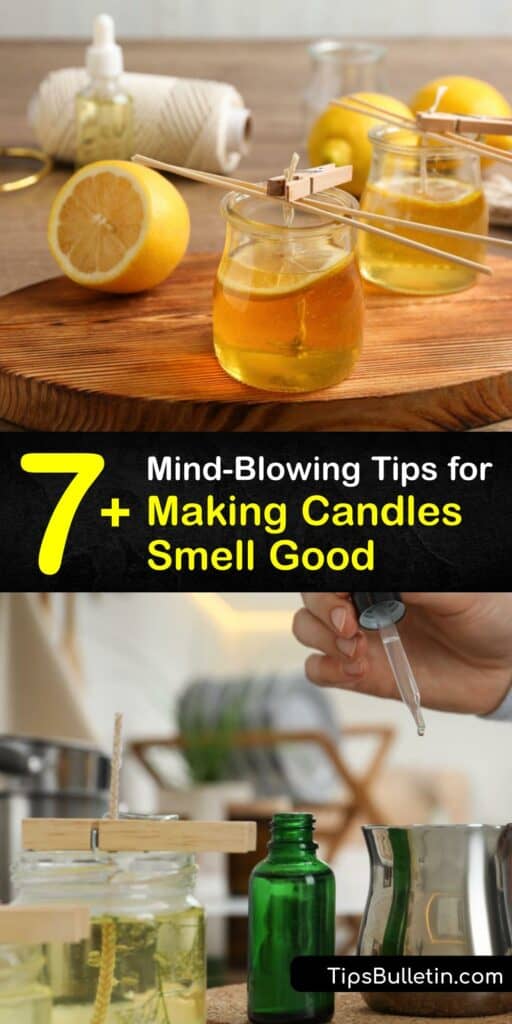 If our crafty tips on how to make candles smell good helped you fill your home with your favorite scent, please share our tips on how to make a candle smell good with your fellow candle fans on Facebook and Pinterest.