Our carpets really do get the worst of it; muddy shoes, pet urine, food odor, – the list goes on. If you're craving that new carpet smell without the new carpet price tag, stick around for some incredible tips and tricks. Learn how to make carpet smell good every time with easy, inexpensive solutions.
Over 90% of today's carpets are made of synthetic fibers such as polyester, polypropylene, or, most commonly, nylon. Carpet manufacturers use nylon because it has a tight molecular structure that resists deep-penetrating stains. This unique trait makes nylon the leader in performance and texture retention.
As impressive as modern carpets are, they still need a bit of TLC to stay odor-free. Discover how to start your carpet care journey with this fantastic how-to guide. Discover some of the most common carpet odors and find accessible answers for every level of carpet care expertise.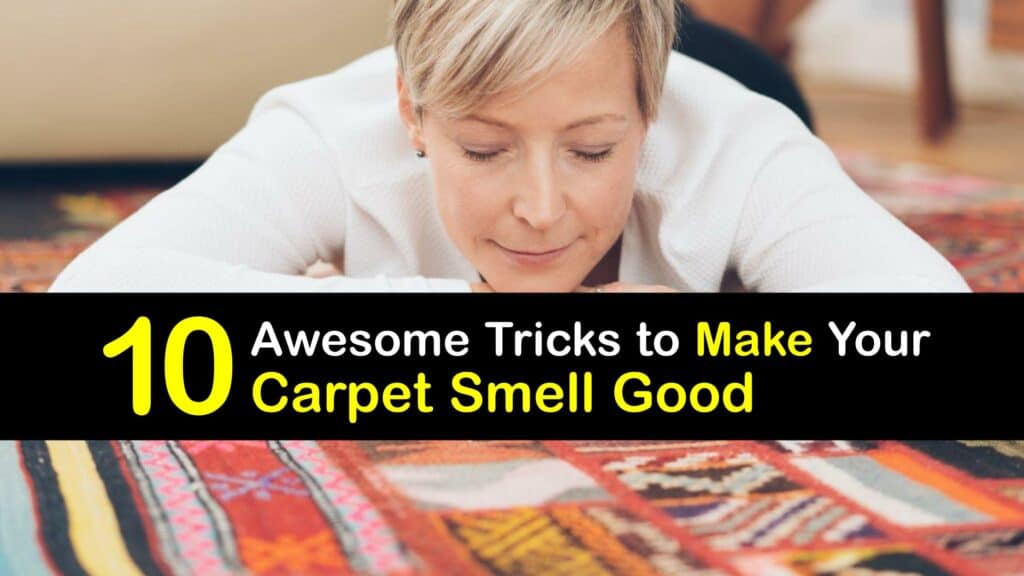 How to Keep Carpets Smelling Fresh Forever
If carpet odor is getting you down, don't reach for the dish soap, there are better ideas. Discover how to make carpet smell good, and maximize the life of your rugs with this tutorial.
Do a Thorough Vacuuming Whenever Possible
Every carpet care routine starts with a consistent vacuum schedule. Vacuuming keeps dirt and scum from settling into carpet fibers and reduces bacteria-born odors lingering in the carpet pile. Wave goodbye to unwanted odors; set yourself a weekly reminder to vacuum carpets vigorously.
For high-traffic homes, consider a reliable heavy-duty vacuum cleaner. When properly maintained, a good vacuum may last you over ten years. Remember to change filters and bags as required, and clean your vacuum canister regularly to prevent bacteria from growing and causing a musty odor.
If regular vacuuming isn't your thing, consider delegating your chores to a robot vacuum. Robotic vacuums are much more affordable than when they first came out in 1996; some big-box stores sell robot vacuums for as little as 50 dollars. Any item that saves you time and helps around the home is worth consideration.
How to Make Carpet Smell Good
Effective bacteria management is a huge part of ensuring your carpet smells good. Your carpet is like a garbage disposal; it catches all the grime and bacteria from your feet and shoes. For the most part, you can't help that.
However, it is possible to kill certain types of odor-causing fungus and bacteria with a common kitchen ingredient. Distilled white vinegar provides valuable antibacterial, antimicrobial, and antifungal protection against many common household bacteria and is inexpensive compared to other store-bought cleaners.
Combine white vinegar and baking soda with a little warm water. Give your spray bottle a good shake to help the ingredients mix. Lightly mist the carpet with one of the best DIY carpet cleaner sprays around, but don't soak it because wet carpet breeds mold and mildew. Apply your homemade carpet deodorizer weekly and after vacuuming for the best results.
How to Make Carpets Smell Better with Essential Oil
When combined with the right essential oil, baking soda makes a formidable carpet deodorizer that completely cancels carpet odor. Stay tuned if you're wondering how to keep carpets smelling fresh with just two simple ingredients. Mix your own all natural carpet deodorizer in a couple of minutes and have a fresh smelling carpet in no time.
What are essential oils? At their simplest, essential oils are a concentrated plant essence. Think of a plant's most potent natural properties, and then imagine them distilled into an easily accessible oil. Essential oils are used for numerous things, including cleaning and bacteria management.
Every essential oil is powerful and should be used with care. Essential oils like tea tree, clove, peppermint, and citrus are all a no-go when you have pets, especially cats. Cedarwood oil demonstrates antimicrobial power and is pet-safe for cats and dogs. If you prefer a floral scent over cedarwood, lavender oil is also safe for homes with pets.
Mix baking soda and cedarwood essential oil in a container with a perforated lid, like an old salt shaker. Sprinkle a light covering of your DIY carpet freshener over carpets, and leave it to sit – 20 minutes for light maintenance or overnight for deep-set smells. Vacuum thoroughly, and enjoy the fresh-smelling scent left behind.
Use your baking soda carpet powder for spot treatments or as part of a bi-weekly carpet care routine. Baking soda is mildly abrasive, and overuse may wear the carpet fiber or corrode delicate vacuum parts.
A Bit About Car Carpet and Upholstery
Car upholstery is often neglected. Over time, unwanted odors develop from food, smoking, children, and pets. Stay on top of it by planning for a monthly tidy up and a quarterly deep-clean of your car's interior. Let's talk about how to make carpets smell better in the car.
Always start with a thorough vacuuming; shake out the floor mats, remove the seat covers, and get in between the seats and consoles. Wipe down all interior surfaces with a paper towel and a bit of white vinegar and water, or use disinfectant wipes. Empty ashtrays and always keep a small bag for garbage.
Once the car is clean, refresh the smell of your upholstery and carpets by scattering a bit of our baking soda and essential oil carpet powder and letting it set for a few hours. Give your car another quick vacuum to suck up excess powder; your ride should smell amazing.
How to Get Fireplace Smell Out of Your Carpet
Have you ever wondered how to keep carpets smelling fresh after being exposed to fireplace smoke? Who isn't enchanted by the idea of curling up with a good book next to the fireplace? Unfortunately, the smoke lingers in carpet fibers and sticks around long after the fire's out.
Start by giving your fireplace a quick wipe-down to clean ash and debris. Sweep out the soot and scour the walls with a stiff brush. Next, turn to carpet deodorizers. The smoke sticks to fibers and if you want that carpet smelling fresh, start with a DIY baking soda carpet freshener. Sprinkle and let sit for 12 hours, then vacuum that smoky smell forever.
How to Deodorize Musty, Moldy Carpets
We've all walked into a basement and immediately noticed that wet carpet smell comes with high moisture levels and mildew buildup. Discover how to fight foul odor and restore your carpets with this fabulous homemade carpet freshener.
Borax and boric acid are of similar chemical composition but have different applications. Boric acid is a common additive to pesticides, whereas Borax is a popular ingredient in household cleaning and laundry products. Borax is excellent for breaking down mildew and neutralizing persistent wet carpet odors and makes a terrific homemade carpet deodorizer.
Mix Borax, baking soda, and lavender oil in a small container with a lid. Make sure the lid has holes so you can sprinkle the deodorizer quickly. Spread a healthy layer across your carpet, leave for at least 12 hours, and then go through with the vacuum. Repeat the process until the musty smell is gone.
How to Get Rid of the Smell of Animals from Your Carpet
A recent National Pet Owners survey says about 70% of households in the US report having a pet, meaning many people in America struggle with pet odor and a smelly carpet. Discover how to make carpets smell better when you have animals with simple, safe solutions.
Dog smell is distinct, and it takes maintenance to keep it from taking over your soft fabrics. We can't say too much about the necessity of regular vacuuming to remove hair and pet dander.
Wash your pet's bed, blankets, and removable cushion covers regularly. Always use safe, natural carpet deodorizers, and ask your veterinarian before adding anything new to your cleaning routine.
Tips for Getting Rid of Pet Pee Smell in Your Carpet
Pet urine smell is tough to deal with, even for housekeeping professionals. The only reliable way to banish this type of stubborn pet stain and ensure your carpet smells good is with an enzymatic cleaner.
An enzyme cleaner delivers helpful microscopic organisms that consume and destroy any biological stain from cat pee to blood. Many manufacturers formulate enzyme cleaners with pet safety in mind, and many accredited brands make it simple to choose the best option. Always follow the manufacturer's directions for the best results.
How to Keep Throw Rugs and Area Carpets Clean
When it comes to area rugs, we like to advocate for the "take it and shake it" method. Take your rugs outside, and shake them free of dirt and debris. Hang your carpet over the balcony railing and beat the daylights out of it with a broom.
Sprinkle the DIY deodorizer of your choice, and let the rug sit for a half hour. Vacuum thoroughly and enjoy. Many small carpets are machine washable, but don't throw them in the dryer. Allow the rug to air dry outside to avoid damaging the carpet fibers.
Invest in Yearly Steam Cleaning to Prolong the Life of Your Carpet
Pets, kids, and household bacteria give your carpets a real beating. The best plan of action if you're concerned about how to keep carpets smelling fresh is to invest in an annual deep clean by a professional carpet cleaner. Mix a simple carpet spot cleaner recipe to keep on hand for emergencies.
A good carpet cleaning comes with a professional's expertise and specialized products like carpet shampoo and Scotch Guard. Kiss that carpet stain goodbye with yearly steam cleaning and carpet fibre maintenance.
We hope you enjoyed this in-depth guide to carpet care. It's possible to prolong the life of your expensive carpets with a bit of elbow grease and a few household ingredients.
Tackle any bad smell or foul odor with tested and reliable methods; vacuum weekly, use an antifungal vinegar spray to kill lingering bacteria, try enzyme cleaners for pet urine, and wash pet beds regularly.
Start a cleaning schedule and make it fun. Reward yourself after you've reached your cleaning goals to stay motivated. Knowing how to make carpet smell good in the face of all life's little inconveniences is a fantastic skill, and you've got it.
If you loved these top tips teaching how to make carpet smell good, please share this how-to guide with friends on Facebook or Pinterest who love odor-free carpets.