Refreshing your favorite clothes can be a breeze with some smart, cost-effective strategies.
Use a vinegar spray.
Apply a DIY deodorizing spray with witch hazel.
Steam clothes with an iron.
Choose the right laundry detergent.
Store clothes with dryer sheets or sachets.
To use a vinegar spray, mix equal parts of white vinegar and water in a spray bottle. Spray your clothes lightly and let them sit for at least 30 minutes before wearing them. The vinegar odor vanishes as it dries, leaving your clothes with a neutral smell.
For a homemade deodorizing spray, blend two cups of witch hazel with about 15 drops of your chosen essential oil, like cedarwood, in a spray bottle. Spritz this onto your clothes to quickly substitute any lingering odors with a pleasant, fresh scent.
If you have access to an iron, take advantage of the steam it produces. Heat the iron, ensuring it has water, and hover the iron a couple of inches above the garment, letting the steam do its job of eliminating odors without any contact.
Selecting a laundry detergent that matches your needs, especially one with a fresh scent, can extend the time between washes. Fabric softeners also add a fragrance and create a barrier that helps prevent bacteria from taking hold.
Lastly, when storing clothes, avoid cardboard boxes that attract moisture. Opt for sealed plastic bins and toss in a couple of scented dryer sheets or sachets to keep your clothes smelling great until their next wear. This simple step ensures your garments stay fresh during storage.
Most of us are content to leave our jeans on the chair or hang a shirt off the doorknob to use again later in the week. There's nothing wrong with trying to prolong the life of your favorite clothes by limiting damage from the washer and dryer. Discover how to make clothes smell good after a day of wear with our helpful hamper hacks.
Many clothing care professionals advise against over-laundering certain fabric types like wool, velvet, and silk. You may be surprised to find out that the washer and dryer cycles cause regular wear and tear to your synthetic fabric over time, too.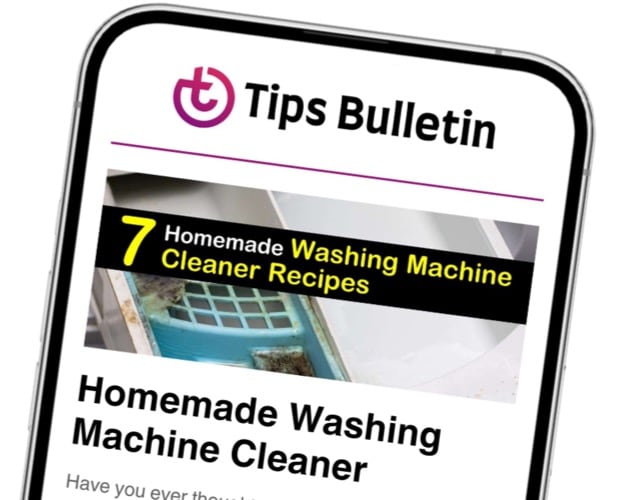 Finally, an email that Transforms Your Home.
Get the latest home and garden tips from our experts, delivered straight to your inbox.
Don't limit the lifespan of your laundry; try our tested strategies for refreshing clothing in between washes. These stink-fighting solutions are great for anyone on-the-go, or those looking to extend the life of their garments. Each tutorial uses simple ingredients and provides the information you need to get the results you want.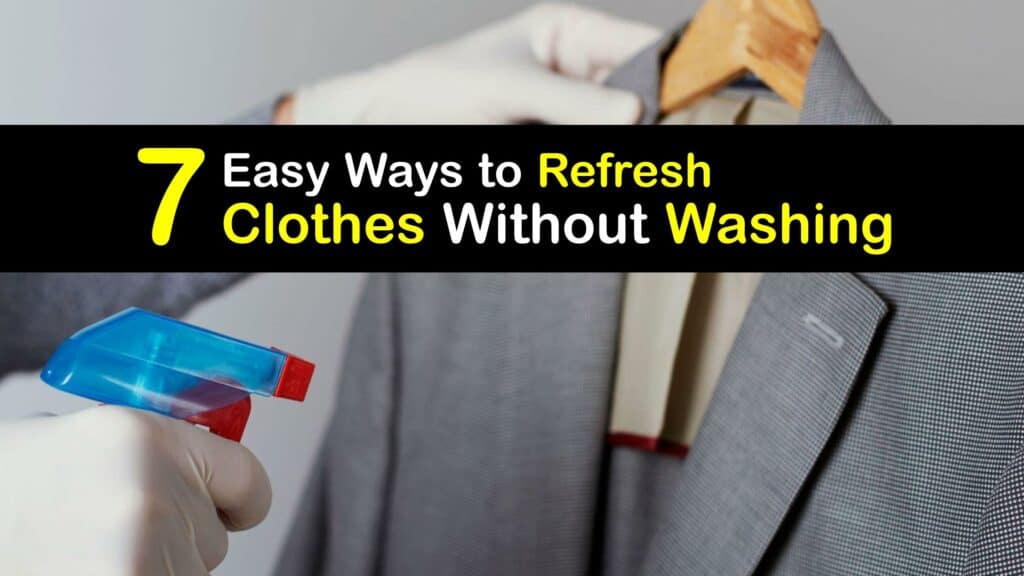 How to Freshen Up Clothes Without Washing
Fresh clothes are at your fingertips. Learn how to give your clothes a renewed, fresh scent and get bad smells out of your clothes without using a washing machine. Discover how to make a DIY deodorizer and pick up tips to deal with the cause of bad odor or dirty laundry aroma.
How to Make Clothes Smell Good in the Dryer
Let's start with how to make dirty clothes smell good fast. The dryer is your secret weapon in the fight against smelly clothes. The unpleasant odor from your clothing is primarily due to bacteria settling on sweaty spots and multiplying overnight. Put your smelly clothes in the dryer on high heat for ten to 15 minutes to kill bacteria, bad odor, and other allergens.
Add some scented dryer sheets for extra fresh smelling laundry, or use a wool dryer ball of tightly compressed wool, rubber, or plastic. If you're short on time, take a dryer sheet and rub it inside your clothing against the smelly areas. While not as effective without the dryer's heat, dryer sheets help in a pinch.
Try White Vinegar Spray for Smelly Clothes
Distilled white vinegar is a handy ingredient to keep around the home if you're into eco-friendly alternatives. It works great as an all-purpose cleaner, laundry booster, or odor-fighting spray for clothing. White vinegar is non-toxic, vegan, and hypoallergenic for sensitive skin.
Learn how to freshen clothes without washing or using a harsh chemical air freshener. Vinegar is very effective against body odor smells and is ideal for moisture-trapping synthetic fabric like nylon and polyester. You can quickly remove oily smells from your clothes with strong smelling vinegar. White vinegar loosens bar soap and deodorant build-up and prevents yellowing from the aluminum in many deodorants.
Most fabrics are safe for vinegar spray, but vinegar is acidic and should be diluted with water before use. Get a spray bottle, rinse it, and fill it with vinegar and water. Spray your DIY vinegar deodorizer on dirty clothes and leave them for 30 minutes or more.
The vinegar smell dissipates after a bit. However, if you want great smelling laundry in a hurry, add ten drops of your preferred essential oil. A lovely lavender, sandalwood, or cedarwood oil adds a pleasant punch and keeps your clothes smelling fresher the entire day.
How to Get Musty Smells Out of Clothing
Packing clean clothes away for the season sometimes means dealing with a musty smell or even a moldy smell when you take them out, depending on how the clothes were stored. Cardboard boxes in the basement or other inadequate storage allow moisture to seep into clothing, causing mold and mildew.
Follow these tips to learn quick ways to get mold spots off clothing and keep your clothes smelling fresh. Unpack the clothes and leave them in the sun for a few hours. Fresh air and UV rays let mold and mildew know it's time to evacuate. Add a cup of baking soda or white vinegar to the washing machine and use the hottest cycle permitted by your clothing's care instructions.
Household items like towels or wet clothes left in the washing machine are prone to the same bad smell. Ditch the bleach and use baking soda or vinegar in your wash cycle to boost your preferred detergent with extra bacteria-busting properties.
Make a DIY Deodorizing Spray for Clean-Smelling Clothes
Have you ever thought about how to make your own version of Febreze without the price tag? This DIY witch hazel spray is a convincing dupe that costs pennies to make at home. It's an excellent alternative to refresh dirty laundry without heavy chemicals.
Witch hazel is a shrub; we harvest the bark and leaves to make medicines and facial astringents. Witch hazel water is an inexpensive liquid distilled from the leaves and branches of the witch hazel plant. It's available at many grocery stores for around five dollars a bottle and lasts a while.
Find out how to make clothes smell good when you're in a hurry. Add witch hazel water and essential oil to a plastic or glass spray bottle. Cedarwood oil has antimicrobial and antibacterial characteristics. Spray a light mist of deodorizer on your clothes, and kiss the dirty laundry smell goodbye.
Steam Smelly Clothes With the Iron
Steam is a helpful tool for any clothing enthusiast; crisp pleats and wrinkle-free fabrics elevate every outfit. Did you know steam is a great way to remove bad smells from clothes, too? Discover how to freshen clothes without washing.
Get your iron, plug it in, and let it heat; ensure you top it up with water first. Run the hot iron along your clothing, holding it two inches above the surface. Allow the steam to penetrate your garment without the iron touching it.
Adding several drops of essential oil to your iron for a fresh scent is tempting, but it may damage the internal steam generator. Instead, try a great-smelling product meant for the inside of an iron.
There are also professional handheld streamers available. These steamers are generally less than 50 dollars and are a good investment for anyone serious about steam-based solutions.
Choose Your Laundry Detergent Wisely
Extend the wearability of your clothing by choosing a laundry detergent to complement your lifestyle. Scented detergent is a convenient way to keep laundry smelling fresher for a bit longer before rewashing.
Combat a foul smell before it starts by giving your clothes a protective coating. Fabric softener, or fabric conditioner, keeps your clothes lubricated and stops bacteria from sticking and causing odors. Use heavily-scented laundry products with caution if you have sensitive skin, as many perfumes and dyes are irritating.
How to Keep Stored Clothes Smelling Fresh
Anyone with an extensive seasonal wardrobe can benefit from tips for how to keep stored clothes smelling fresh. Improper clothing storage leads to trapped moisture and, eventually, mold and mildew damage. Fortunately, several easy tricks help with unwanted odors on stored clothing.
Never store clothing in a cardboard box. Cardboard is not only a sponge for moisture; it's an ideal food source for insects and other pests lurking in the basement. Use rubber containers that have a sealable lid. Layer clothes with a few dryer sheets, or use scented sachets to keep things smelling fresh.
We hope you benefit from our best tips and tricks for how to make clothes smell good without regular washing. A quick refresh goes a long way; these skills are going to serve you well. For fast fixes, throw your clothes in the dryer with a scented dryer sheet, or use your iron on the steam setting to kill allergens and odor-causing bacteria.
Try perfumed drawer liners, scented sachets, or scented dryer sheets to maintain a fresh smell while your clothes wait to be worn. Put seasonal clothes in sealed containers to keep pests away, and avoid storing items in the damp basement, if possible.
Try a laundry service if you have trouble keeping on top of clean clothes. There are many super-convenient clothing care services with plenty of delivery options – clean clothes don't have to be a chore anymore.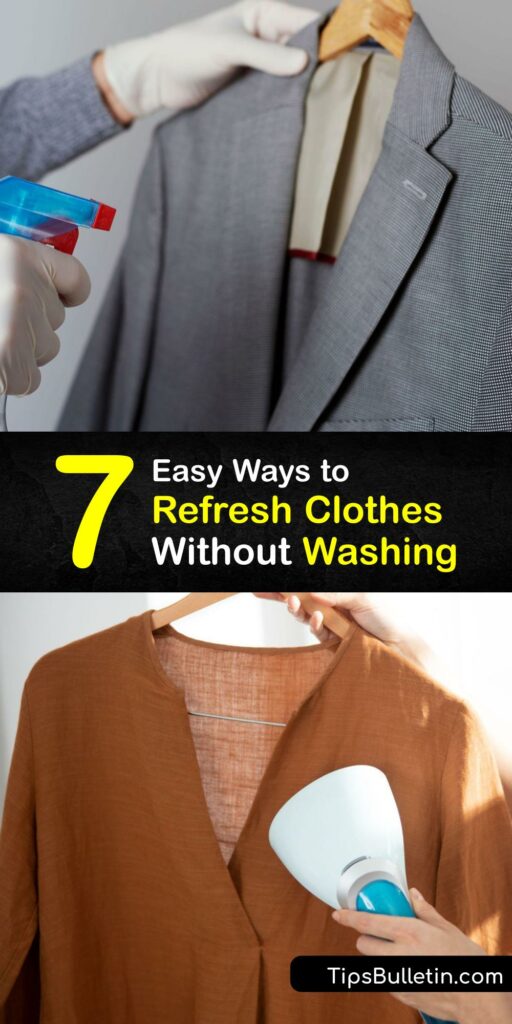 If you enjoyed learning how to make clothes smell good with our amazing DIY laundry tips, share this information with friends on Pinterest or Facebook who love fresh-smelling laundry.