Knowing how to make drains smell better is a valuable skill. Though having a stinky drain is awful, it happens occasionally. No matter how devotedly you clean it, the nature of a drain and the high amounts of moisture and debris make it a prime location for developing foul odors.
Don't fret if your regular maintenance fails and your drain smells terrible. Your kitchen sink drain, shower, bathroom sink drains, and even the garbage disposal may all develop undesirable smells. Taking care of them is effortless once you learn how to deodorize drains.
Discover simple and effective methods to keep drains from smelling bad in your house using home remedies, and be prepared for odors before they arise. Begin by uncovering the source and type of smell and troubleshooting to find the correct action. Avoid corrosive chemical cleaners and choose everyday items like distilled white vinegar, baking soda, and lemon juice to treat your drain.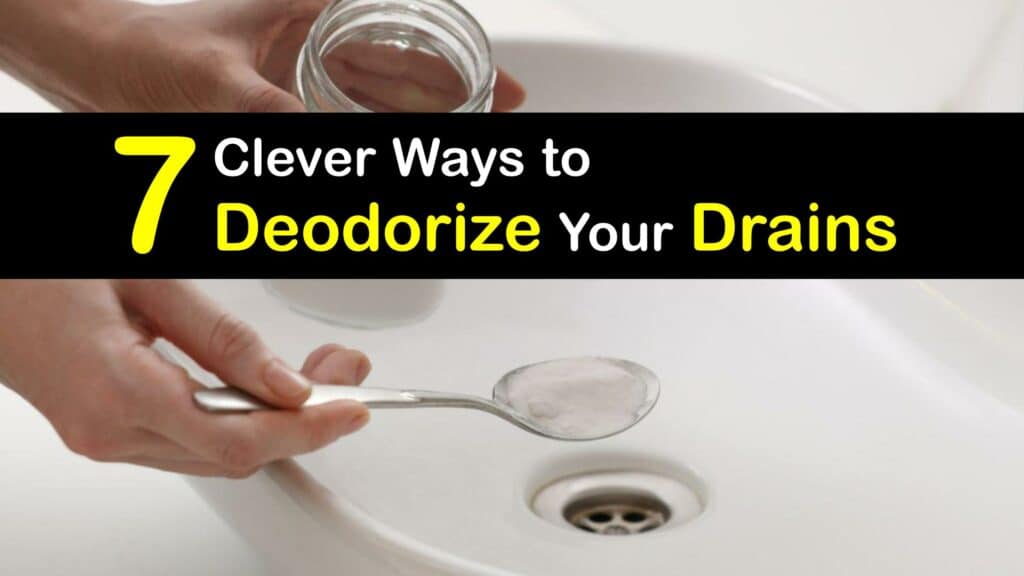 How to Keep Drains Smelling Fresh
Every homeowner has probably thought about how to make drains smell better. Since they carry away waste from the house, drains often become stinky. Thankfully, once you understand how to deodorize drains, it's straightforward to get rid of the stench.
Bacteria and mold love dark, damp spaces with decaying material. Be sure to clean smelly drains in a bathroom and kitchen regularly to avoid bacteria growth. Water from faucets keeps the drain moist, and organic matter like bits of food and hair sustains these microorganisms and causes a bad smell. Oust dirt, debris, and pathogens with these clever tricks to deodorize your drains.
Why Do You Need to Eliminate Drain Odor?
Your kitchen sink drain or shower drain frequently becomes a destination for bacteria due to the fixture's design and the drain pipe connected to it. Food or hair residue and wetness create an atmosphere favorable for the growth of bacteria. The stench makes your bathroom unpleasant and your kitchen a lousy location to prepare food.
These odor causing bacteria and their sewer smell are annihilated by cleaning. Your smelly drain may have the odor of sewer gas or carry more of a musty, moldy smell. Deal with the bad smell quickly using at-home techniques.
How to Make Drains Smell Better with a DIY Drain Cleaner
Clean smelly drains easily by harnessing the cleaning and deodorizing power of baking soda and white vinegar. Distilled white vinegar and baking soda feature in many home cleaning hacks. Make your own kitchen drain deodorizer with these potent compounds to make a fizzing cleaner to eradicate stubborn grime.
Pour the powder and vinegar down the drain one at a time, and leave them for ten minutes to react and fizz to destroy food buildup and microorganisms. Pour boiling water down the pipe to destroy the filth and kill any remaining bacteria in your drain.
How to Deodorize Drains by Removing Plumbing Blockages
If your sink is draining slowly, a blocked drain trap or drain vent is likely the culprit, in addition to the foul odor. The gasses usually released from your lines back up into your home when the plumbing vent is blocked.
Blocked vents are often seen immediately following minimal or no use, such as after a vacation. A reliable plumbing service can unclog the duct, check for issues like a dry p trap or blocked sewer line, and ensure your system operates efficiently and stays odorless.
A Clean Garbage Disposal Will Eliminate Unpleasant Odor
Over time, food accumulates in the pipes and blades of your garbage disposal, rotting away and leaving a foul smell in the drain. Fortunately, cleaning your garbage disposal of food residue with a mild abrasive cleaner is uncomplicated.
Combine the salt, ice, and lemon juice in a bowl and run them through your garbage disposal the same way as food waste. Use the entire mixture, then run a cold water rinse through the disposal for at least 30 seconds. If the drain smell continues, prepare another batch until the blades are clean and odor-free.
Get Rid of Odors in a Drain by Eradicating Mold
The drain smell emanating from your shower or kitchen sink might help you figure out what's causing it. A musty odor typically indicates mold, meaning drain cleaning is required.
Freshen drains and delay mold growth if you want to avoid unpleasant odors in the future. Pour boiling water into your drainpipe twice daily to clear odorous drains and eliminate the mold spores that are the source of the odor. Keep your drain clean, and avoid dropping hair and leftover food down the drain.
A Drain Blockage Makes a Foul Smell
Debris quickly builds up unnoticed down your drain and creates a sewage smell. Loose hair or soap scum from the shower and food pieces in the kitchen slip down the plughole and into the drain. Combined with dampness and humidity, this decaying matter provides an excellent environment for bacteria and odor.
A clogged drain quickly creates a foul smell or sewer odor in the kitchen or bathroom. Take off the drain cover and use a headlamp to visualize the drain pipe and search for sources of blockage.
Reach down and clear any blockages without damaging the pipe with a long, thin drain snake. Use a homemade drain cleaner to thoroughly clean the drain after extracting the clog to ensure bacteria or mold doesn't develop and bring back the stench.
Rule Out a Faulty Water Heater
While you might not immediately consider water heater repair if there is a sewer odor in the kitchen or bathroom, this could be the answer. Sulfate bacteria flourish if hot water sits in your water heater tank for an extended period.
Your water heater is the top suspect if the smell comes from the water rather than the drain or vent. Find a local expert in water heater repair to apply an antibacterial to your water heater tank. Stop drinking from the faucet and take other safety measures until an expert inspects your tank.
Learning how to keep drains smelling fresh ensures your kitchen and bathroom don't embarrass you in front of family and friends with off-putting odors.
Drains are prone to unpleasant smells thanks to the presence of water and waste in a confined space with limited airflow. Rely on home remedies to keep your kitchen and shower drains clean and odor-free.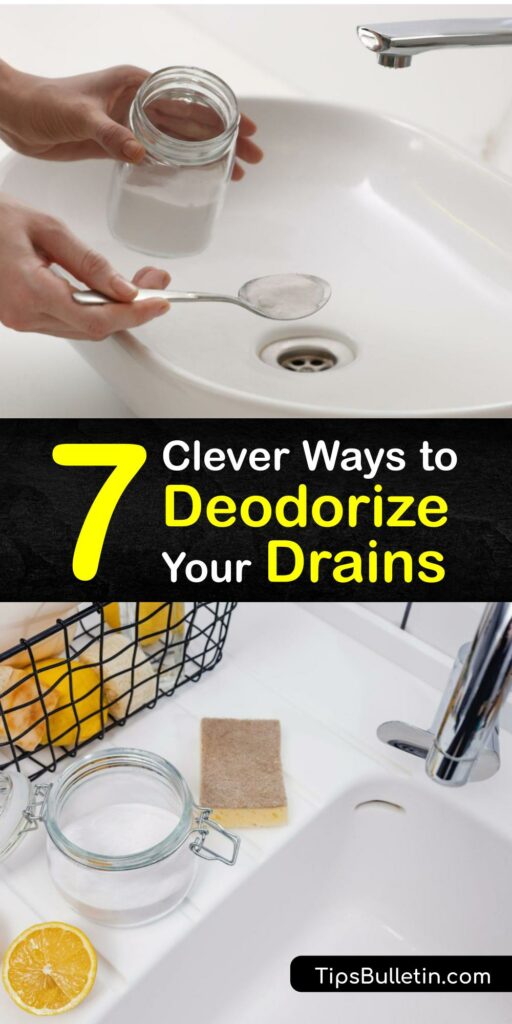 If you loved this article on how to make drains smell better, please share these brilliant ideas on how to deodorize drains with your friends and family on Pinterest and Facebook.