Discover how to make goat manure compost to have unlimited goat manure fertilizer for your garden. While goat dung seems like a waste product, composting is an intelligent way to turn it into an organic gardening tool. Raw manure may burn plants and is often too strong. The composting process turns fresh manure into a safe and efficient organic fertilizer packed with important nutrients to support the growth, development, and disease resistance of your houseplants or garden.
Goats are sweet and intelligent animals who are loved by many. If you keep goats as pets or for meat or milk, learning to make goat poop fertilizer aids in fecal disposal and helps make your home more green and self-sufficient.
Chemical fertilizers are full of toxic chemicals which may harm your family, goats and other pets, and wildlife. Commercial fertilizers are also expensive. Make good use of the goat manure pellets on hand and add them to your compost heap or tumbler to make a nutritious fertilizer for the garden.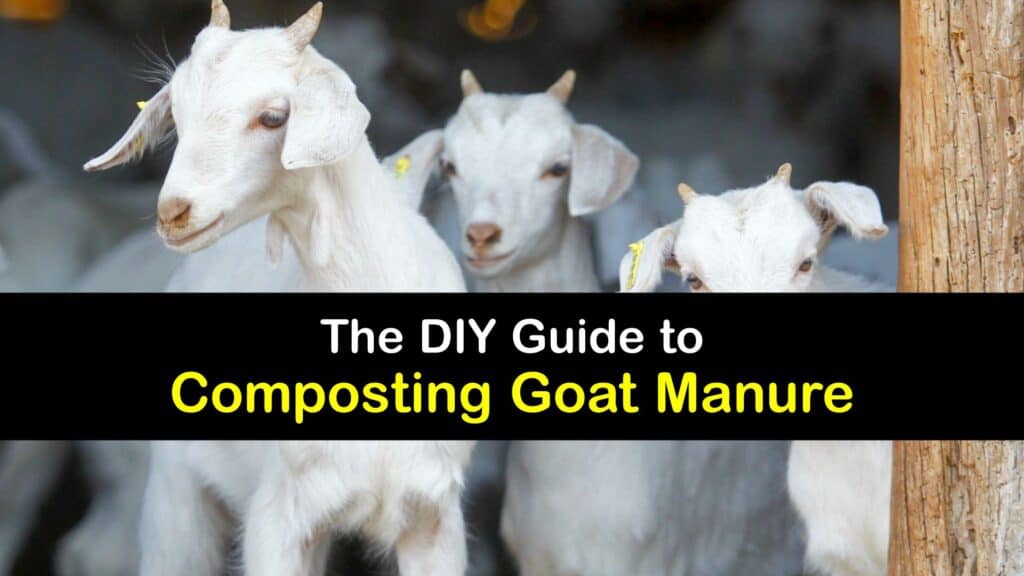 Make Goat Manure Fertilizer for Your Garden
You may be a goat owner who wants to know how to make goat manure compost. While goats are fun pets and prized for their milk or meat, they produce large volumes of goat dung, which is sometimes hard to dispose of.
Allowing goat droppings to build up is unsanitary and unhealthy for your animals; it makes your outdoor space unclean and attracts flies and other insect pests. Compost fecal matter into goat manure fertilizer to transform your animal waste into something useful.
Other types of farm animal waste should also be treated in the same way to make new products, such as sheep poop fertilizer that can be used as healthy plant nutrients.
If you have other types of animals on your farm you can also follow recipes to make other types of fertilizer. Discover ways to make alpaca manure compost if you happen to have alpaca dung on hand.
Can You Compost Goat Dung?
When you raise goats, their manure is in no short supply, leaving you to question what to do with it. Fortunately, goat droppings are compostable – mix them into your compost heap, bin, or tumbler to increase the quality of finished compost.
Some people feel uncomfortable composting manure due to concerns about microorganisms and the smell. When the composting process is executed correctly, the compost system heats up enough to destroy harmful bacteria resulting in a safe end product with no unpleasant odor.
Goat poop is an organic material. It breaks down readily under the right conditions and won't interfere with the balance in your composter.
What is Composting?
Composting is the process of hastening the decay of organic matter like goat poop, kitchen scraps, and garden waste to make finished compost. Organic material is divided into two categories – nitrogen and carbon-rich or green and brown groups.
To optimize decomposition, the material is mixed in a 1:3 ratio, one part green matter to three parts brown. In regular composting, microbes assist in the breakdown, while worms do the work in vermicomposting.
Lots of waste, like animal manure, is compostable, but some items are better for the trash. Putting weeds in your compost pile may spread weed seed around your garden, and non-compostables like plastic slow or completely halt the decomposition procedure.
Composting Methods to Make Goat Manure Fertilizer
The best setup to compost your goat poop depends on the volume of manure your animals produce and how much free and suitable space you have for a composter. When working with manure, composting outdoors is a brilliant way to avoid bringing poop into your home.
A compost pile is a popular choice as it can be made as large or as small as required to accommodate the amount of organic matter and goat poop generated. Piles or heaps are set in a shallow hole dug into the ground, making them inexpensive and uncomplicated.
A compost bin is simple to construct to any proportions based on your requirements. The compost is placed inside the bin or box, which may help avoid pests and improve your composting system's aesthetics. Compost has to be turned regularly, so the material degrades evenly.
A compost tumbler is designed to make this process less laborious as it has a built-in mechanism to turn your compost with little effort. These methods are the best compost for beginners to get you started on your home manure compost bins.
How to Make Goat Manure Compost
There are dozens of advantages to making your fresh goat manure into compost, and the procedure is straightforward. Include goat poop in your composter and other organic matter like grass clipping, food scraps, and shredded paper.
Dig into your composting material and add the goat manure a few layers down to ensure the poop reaches the required temperature to destroy unwanted microbes and produces no odor as it degrades.
Refrain from adding large helpings of goat feces all at once. This may alter the carbon to nitrogen ratio in your compost bin and upset the decomposition process. Aim for less than 20% of your compostables to consist of goat pellets to start, and adjust this amount up and down to balance processing the waste you need to against keeping decomposition moving.
Goat manure takes four to six months to break up, depending on the environment and the efficacy of your composter.
Benefits of Composting Goat Manure
If you're interested in composted goat manure, you're probably looking to use manure in your vegetable garden. Making compost fertilizer with goat droppings has multiple advantages.
Goat poop is rich in vital nutrients like nitrogen to help your plants grow, set fruit and flowers, and thrive. Compost improves your garden soil texture to increase airflow to roots and prevent fungal issues like rot.
While commercial fertilizer pellets and liquids are available, they're costly, often made with unknown substances, and may harm pets and local wildlife. Goat manure compost is all-natural, suitable for organic gardens, and poses no threat to beneficial insects, humans, or animals.
Other Types of Manure to Compost
Other composted manure than goat feces is helpful in the garden. Whatever animal you raise, composting their poop aids in disposal and ensures you always have organic compost for your plants.
Whether you have access to poultry manure or goat poop, aged manure is an excellent addition to the garden. Though it's a waste product, manure contains the remnants of the food consumed by animals. Some nutrients are removed and absorbed, but considerable nutrients remain in the manure.
Using manure in your compost tumbler allows you to harness these nutrients and put them to good use to feed your garden.
Composting has long been a gardening staple. Those with goats have a valuable addition to their compost heap or tumbler in goat droppings. Goat manure blends with other organic matter in the composter and ups the nutritional value of finished compost.
Some of the myths about composting manure are untrue. Goat manure compost is safe and carries no unpleasant smell when appropriately prepared. Upcycle your goat feces into a nourishing compost addition and enjoy nutrient-dense fertilizer for your plants.
If you loved this article on how to make goat manure compost, please share this brilliant information about goat manure fertilizer with your friends and family who compost on Pinterest and Facebook.