It was not uncommon in the past for a pig farmer to spread pig manure over the dirt in the fall and let it decompose for the following year's crop. However, this practice is not as safe as it was and composting is necessary to prevent the spread of disease. Find out how to make pig manure compost safely and use the compost fertilizer in the garden.
These days pig poop may contain parasitic worms, E. coli, salmonella, and other nasty bacteria, and applying fresh manure is unsafe. Fortunately, hot composting animal manure breaks down and kills the organisms that pose a risk to your health.
Composting livestock manure is a natural way to recycle organic material into organic fertilizer, whether it's poultry manure, cow manure, swine manure, or horse manure compost. You end with rich fertilizer, or black gold, at the end of the composting process.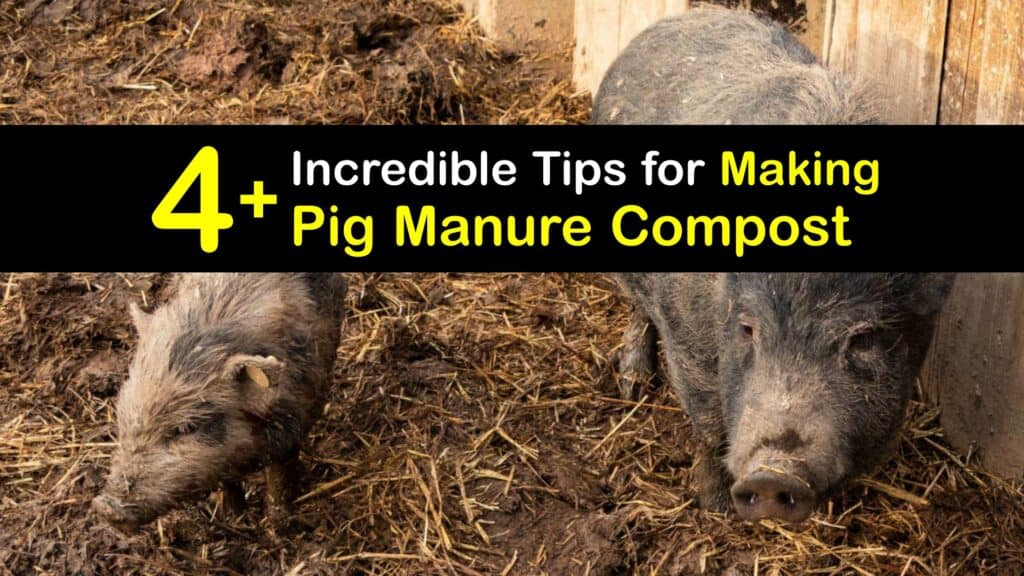 Pig Manure Composting
Composting is an excellent form of waste management, and composted manure is rich in minerals and nutrients for soil health and plant growth, whether you make compost from cow manure or pig poop. Learn the benefits of pig manure fertilizer and how to compost pig manure Use manure in the vegetable garden, for your flowers, and potted plants.
What is Pig Manure Fertilizer?
You're probably familiar with the traditional fertilizers you see at your local hardware store, but what is pig manure fertilizer, and how is it different from chemical fertilizer?
Pig Fertilizer vs Chemical Fertilizer
Like bio organic fertilizer, pig poop fertilizer is all-natural and comes from the decomposition of dead plants and animals. It contains essential ingredients and is a soil additive that is excellent for crop production. Making chicken manure fertilizer is just as beneficial and easy as making pig manure fertilizer.
In contrast, chemical fertilizer pellets are prepared in factories and adversely affect the soil in large quantities.
What Are the Benefits of Adding Pig Dung to Compost?
While it's not necessary to include pig waste in the compost pile, it does have its advantages, similar to rabbit dung or sheep manure. Discover how adding pig dung to compost benefits the composting process.
Pig droppings have plenty of nitrogen, a nutrient necessary for plant function. Unlike chicken manure which has higher levels of nitrogen that may burn plants, pig manure has balanced nutritional levels.
In addition, adding pig droppings to the compost pile speeds up fermentation. Finished compost manure helps retain moisture and aerate the soil, allowing roots to grow easily.
How to Make Pig Manure Compost
Composting pig manure differs from cold composting, and it's essential to take proper steps to ensure you get a safe final product. Explore how to compost pig dung in a few simple steps.
A compost turner, bin, heap, or pile are all suitable choices for making pig manure compost. Start by building a pile with a mix of organic matter, like kitchen scraps, dried grass, leaves, paper, and straw. Add soil and pig manure from the pig farm to the ingredients, and spray the pile with water so it's moist and not wet.
The most important part of composting pig manure is to ensure the pile has high heat. Turn the heap frequently with a shovel or pitchfork by bringing the bottom materials to the top. Turn the compost monthly and maintain the water content so it's slightly damp.
How Long Does Pig Manure Need to Compost?
You've followed all the necessary composting steps, and now you play the waiting game. Find out how long it takes to turn pig slurry and waste into pig manure fertilizer.
Pig Manure Compost Time-Frame
The pig manure fermentation process takes four to six months before you have composted pig manure ready for application. It's a good idea to start composting in the fall at the end of the season while turning it every four weeks until winter.
Cover the compost with a tarp, let it cook throughout the winter, and you will have a finished product ready in the spring for new planting.
Ways to Use Pig Manure Compost for Plant Growth
Enough time has passed, and you now have a bin full of rich, organic fertiliser ready for the yard. Here are a few ways to use pig manure for the garden and lawn to help your grass, plants, and vegetables flourish.
The most straightforward way to use composted pig manure is as mulch. Rake a three-inch layer of compost material over the soil surface in the fall or early spring. The rain or snow leaches nutrients into the dirt to encourage good bacteria and draw worms.
Another way to use pig poop compost is by amending the garden soil before planting. Spread several inches of the material over the bed in the fall, then till it into the top three to five inches of dirt in the springtime. Or, simply pour a handful of compost into the planting hole, add your plant, and cover it with soil.
Compost tea is an excellent option to feed your plants with liquid fertilizer. To make the tea, fill a five-gallon bucket a third up with compost, add water to a couple of inches from the top, and stir it for a few minutes.
Let it steep for five days while stirring a few times daily, and strain it through a mesh screen. Water your plants with the compost tea every five to seven days and watch them thrive.
Using swine poop as a soil amendment and plant fertilizer may seem strange, but composting raw manure from pigs is a great way to turn waste into something useful. While it takes patience, the finished compost is a gardener's delight.
Now that you know how to make pig manure compost safely, we'd love it if you'd share our pig waste composting guide with the home-growers in your life on Pinterest and Facebook.