Climbing into a clean and pleasantly scented bed is a luxury. If you have guests coming by to stay or you want to unwind, clean bed linens are a must. Everyone has wondered how to make sheets smell good. When you don't have time for laundry, it's crucial to understand how to freshen sheets without washing them.
No matter how clean you are, the laundry detergent smell that comes from washing fades quickly. Sometimes odors develop on your bed or while your sheets are in storage. A smelly bed is uninviting. If your bed doesn't smell its best, don't despair. Learning how to keep bed sheets smelling fresh is uncomplicated and doesn't have to be expensive.
Use simple at-home ideas to freshen your sheets in no time. Ditch expensive commercial sprays laden with chemicals. Use essential oils, white vinegar, baking soda, and more to ensure your bed sheets have an enticing scent.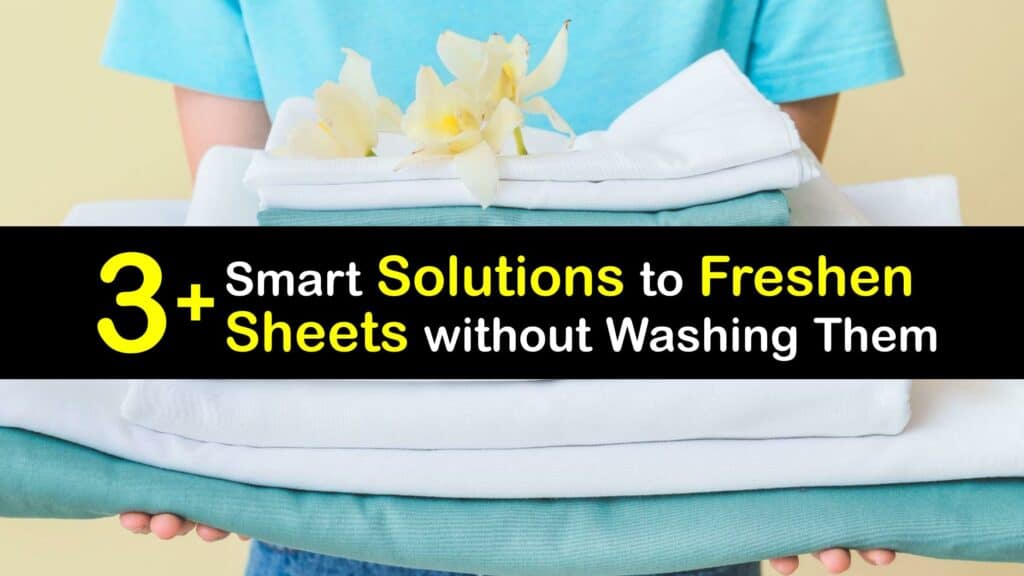 How to Keep Bed Sheets Smelling Fresh
Find out how to make sheets smell good to ensure your bedroom seems clean and inviting. Sometimes you finish your laundry, and though your sheets are clean, they just don't smell great. The same is true for your mattress. Use some of these tips to clean a mattress at home to enjoy restful sleep at night.
Other times, you're between washes but crave the comfort of clean linens on the bed. Discover how to freshen sheets without washing so you're never embarrassed or uncomfortable with a stinky bed.
How to Make Sheets Smell Good
This essential oil linen spray and air freshener gives your sheets a quick burst of freshness. Skip chemical treatments. This is one of the best ways to make your bed smell good while using natural products that won't irritate sensitive skin.
Shake the oils and water in the sprayer, liberally spray your sheets, and allow them to dry naturally.
One favorite for sheets and towels is lavender. Mix an easy to make lavender linen spray recipe to spritz clothes, bedding, and towels for a soothing scent.
How to Freshen Sheets Without Washing in the Dryer
If you don't always have reliable access to a washing machine, other laundry tips may still be helpful. The tumble dryer provides a straightforward option to get a fresh laundry smell without rewashing bedsheets.
Place a wool dryer ball in the drum and tumble as directed to allow the wool fibers to absorb unwanted odors. To leave your sheets smelling fresh, include some homemade dryer sheets.
Add the fabric to the container and pour fabric softener over it until covered. Close the lid and shake the container well. To use a dryer sheet, remove one square of fabric from the container, squeeze it out, and add it to your tumble dryer drum with your sheets.
The fabric softener disperses as the dry cycle runs, leaving your laundry soft to the touch and pleasantly scented. This technique also works to fragrance wet clothes as they dry.
Fragrance Your Dresser Drawers to Make Bedding Smell Nice
Sometimes, storage may be the issue causing your clean sheets to have a musty smell or an old house smell when you put them on your bed. If sheets come out of the dryer smelling like laundry detergent but pick up a bad scent in your linen closet or drawers, it's time to freshen up your storage.
Use an odor eater like activated charcoal or baking soda in small bowls or bags placed at the back of your drawers or closet. The odor eater absorbs any unpleasant odor to prevent must or mildew smells.
Add 12 to 20 drops of your preferred essential oils to gently fragrance your wardrobe and the clean clothes and sheets inside so they smell amazing when you pull them out.
Remove Odor From a Blanket Without Washing It
To remove localized bad odor, whip up a batch of straightforward baking soda and white vinegar deodorizer spray.
Shake ingredients in a spray bottle and spritz heavily over stinky areas on your sheets. Allow the spray to dry and repeat if needed. This spray works well for mattress deodorizing or to deodorize dirty clothes, too.
Whether you just got sheets out of the linen closet and they smell musty, or you notice an unpleasant aroma coming from your bed, learn how to keep stored clothes smelling fresh and bed sheets looking new in your linen closet.
A clean bed is relaxing and helps you sleep, while dirty sheets are distracting and no fun. Keep your sheets smelling their best and make your bedroom a welcoming place.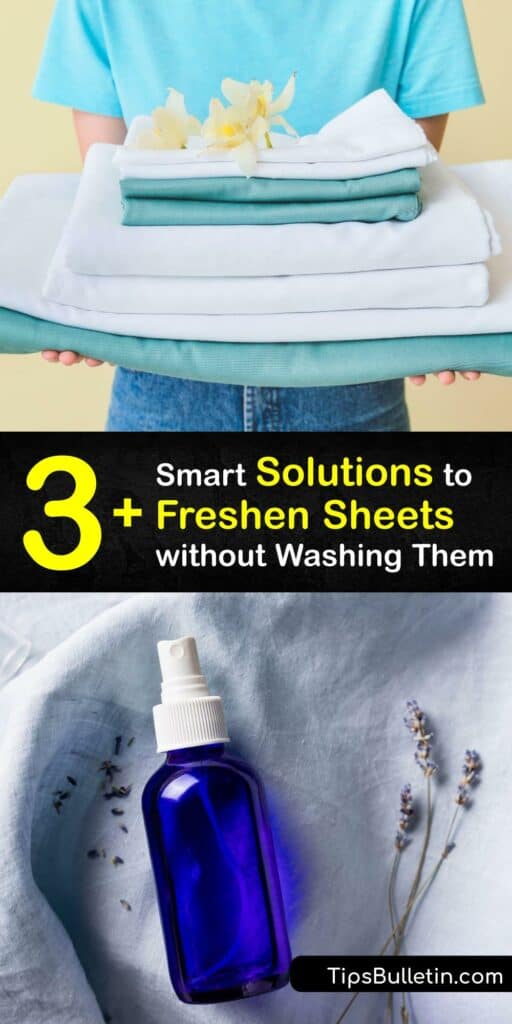 If you loved this article on how to make sheets smell good, please share these fantastic tips on how to keep bed sheets smelling fresh with friends and family on Pinterest and Facebook.