Learning how to make shoes bigger is vital for many of us, as our feet are unique to each of us. Not one person's foot is the same; some have long toes, while others have short ones. Some feet are narrower, while others are wider. Shoes, on the other hand, are carbon copies, mass-produced millions of the same styles are sold in stores around the world.
The problem is our uniquely shaped feet cause the identical shoe to fit each of us differently. We spend hours at the store searching for the perfect pair of shoes, the ones that fit our feet the best and provide the most comfort. Generally, that works, but sometimes we end up falling in love with a shoe style that is just a tad bit too tight.
Most of us want to learn how to stretch shoes wider as we know narrow shoes create a handful of problems for our feet and are just uncomfortable to wear. Luckily, we are here to show several different ways to make your shoes bigger, so you never worry about narrow designs again.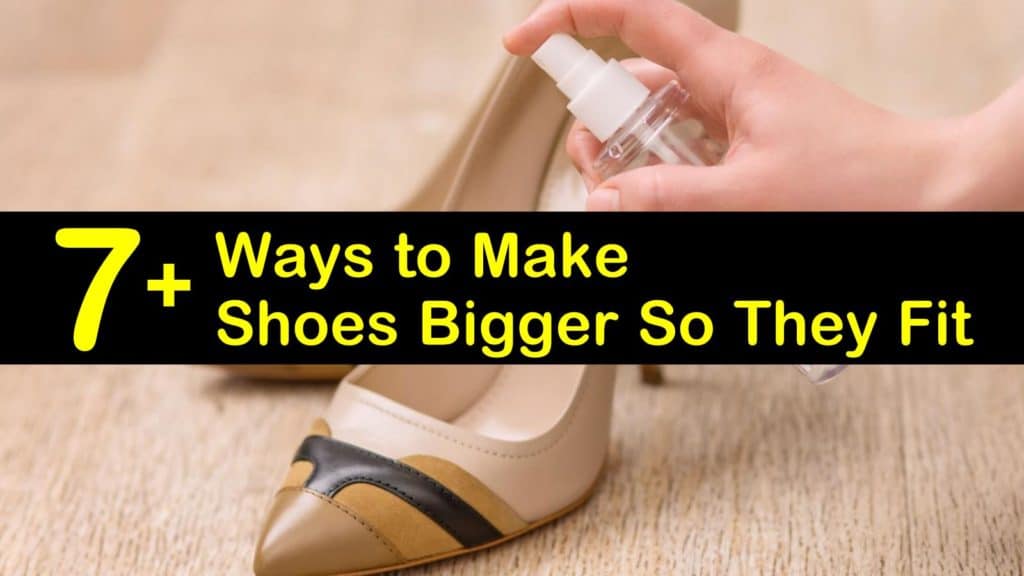 Different Ways to Make Your Shoes Bigger
Whether shoes you already own are fitting a bit too tight or the newest pair you bought is just a bit snug; we want to show you some ways to make shirts bigger and stretch shoes. The best part about learning how to make your shoes bigger is never worrying about blisters or tight-fitting shoes again.
However, if your shoes smell and you want to make them bigger, take care of this problem before stretching. Get rid of stinky shoes with baking soda or kitty litter left sprinkled on the inside overnight. Then, you're ready to tackle the stretching process.
How to Stretch Shoes Wider with Thick Socks
Getting your tight shoes to conform to your feet may seem challenging, but is often possible with a thick pair of socks and a blow dryer. This method works to stretch shoes, allowing them to conform to your feet. Find the thickest pairs of socks you own and put them on your feet.
Slide your feet into your new or used shoes, whether they are leather or canvas, and grab your hair dryer. Using medium heat, apply hot air to the tightest fitting areas, blow drying no more than 30 seconds at a time to prevent damage to the material.
Keep the hairdryer in constant motion to prevent burning. Once shoes fit comfortably, apply a natural leather conditioner to your shoes to restore the leather.
Wearing Shoes is One of the Best Ways to Make Your Shoes Bigger
When shoes are just a bit uncomfortable to wear, there is a simple way to help stretch shoes for wide feet. If yours feel just a bit snug around the sides, try wearing them for a couple of hours each evening until they begin to fit better. Many times, within a few nights, they start to soften up and fit more comfortably.
Before wearing shoes to stretch them out, let your feet air out and rest. As the day progresses, sometimes feet swell a bit, especially if we spent a lot of time walking or standing.
Giving them time to rest ensures they are their standard size and shape. As there is no guarantee this option works, never put sweaty or wet feet inside new shoes and walk only on rugs or carpets inside, so they remain in original condition.
How to Make Shoes Bigger with a Potato
Potatoes are one of the most versatile pantry staples. From frying to mashing, there are several recipes to transform the potato into something edible. Surprisingly they are more than just a great food dish; they serve many other purposes. But, "Can they make shoes fit my feet?" you ask.
Begin by peeling the skin from the potato. Use a paring knife, shape it so it fits snugly inside the top of your shoe. Use a separate potato for each shoe you are stretching.
Once molded to the ideal shape, dry thoroughly with a paper towel and place inside shoes overnight. To prevent starch from leaching into your shoes, wrap the potato with a paper towel before placing it inside.
Remove in the morning and dispose of it in the trash. Then use one of our home remedies to clean shoes afterward.
Freeze Shoes to Stretch Them
Never try this on leather shoes, as you run the risk of ruining the leather. To stretch your nonleather shoes, find a plastic zip-lock bag and fill it partway with water. Place inside the shoe and ensure it is pressing against the tightest spots.
Put everything in the freezer overnight. When the water freezes, it turns to ice and expands, which allows your shoes to stretch. When freezing shoes to stretch them, be careful not to soak the insoles, as wet insoles ruin shoes.
Use two plastic freezer bags if you are concerned about breakage. This one works well with most types of shoes, but narrow toe boxes are harder to stretch as the bag often doesn't reach that far down inside, and you run the risk of the shoe not stretching evenly. Most people see success with open or peep-toe style high heels and athletic shoes.
Use Adjustable Shoe Trees to Make Shoes Bigger
Adjustable shoe trees are no longer a specialty item only used by a cobbler at shoe repair shops. Now, they are available from several retailers for consumers to use in their homes. Several versions are available, including a men's and women's version, as well as a deluxe version.
Adjustable shoe trees work to make shoes longer and broader. If bunions are an issue, purchase bunion plugs to focus on the toe box of the shoe where problems are occurring. To use the adjustable shoe tree, whether it's cedar wood, other types of wood, or stainless steel, you begin by placing the shoes on the tree.
To stretch the length and width of the shoe, turn the adjustment knob and then leave it alone for up to 12 hours. Repeat this process until the shoes reach the wanted width and length. Use an adjustable shoe tree with various stretching liquids and sprays. These liquids and sprays also help get rid of squeaky shoes that are annoying when wearing your footwear.
This technique works well for leather shoes and tennis shoes. For dress shoes, use a shoe stretcher to lengthen it up to one-half size. Shoe stretchers also work to increase the width of a shoe.
Rubbing Alcohol Helps Expand Tight Fitting Shoes
There are two ways to use rubbing alcohol to expand tighter fitting shoes. The first one involves spraying rubbing alcohol directly onto them until they are damp. You then wear shoes around the house until they are dry.
You can repeat this process until the shoes fit how you prefer. Spray on shoes using rubbing alcohol inside a spray bottle.
This is also sometimes the best way to clean Vans if you have a stain or two. Dip the end of a cloth in rubbing alcohol and dab at unwelcome stains until they lift. When the shoe dries, use a brush to swipe away excess dirt.
Another DIY option is to soak a pair of cotton socks in some rubbing alcohol. Squeeze out the excess liquid and put the wet socks on your feet. With wet socks, wear your shoes around the house until the socks dry. Repeat this process until the shoes fit correctly.
Do Shoe Stretching Sprays Work?
To stretch leather shoes and some suede ones, try a shoe stretching spray to achieve your desired fit. You can purchase shoe stretch spray at professional shoe repair shops and other retail locations. Follow the instructions as indicated and test in a small area before applying to the entire shoe.
Shoe stretch spray works to loosen the fibers of the shoe. To use, put the shoe on first and then spray with the product according to the instructions. Continue wearing it until it's dry. As the material dries, it stretches out and conforms to your foot, giving you the ideal shoe size.
Are Rolled up Socks or Newspaper Effective at Stretching Shoes?
Rolled up socks work to stretch your new pair of shoes, but are not as effective as other options. Rolled socks work on stretching tight areas over time slowly, so they are an excellent choice for vintage or other delicate shoes. They are not as effective with stiff ones or those made from flexible materials.
To use this approach, roll up socks and shove them down into the toe box and continue filling the entire shoe with socks. Allow them to sit until you wear them again, but no shorter than overnight. Wet newspaper is another option and provides a bit more stretching ability than rolled socks.
Crumple up the damp newspaper and place inside each shoe until full, making sure to press the paper down into the toe area. As it dries, it expands and begins to stretch your shoe.
When stuffing your shoes, pay attention to how you arrange the paper; you want the instep to stay in the same original shape. Never use this on leather or suede shoes.
Old-Fashioned Method for Stretching Tight Shoes
In years past, people filled plastic bags with grains, oats, or rice. Any ingredient that swells when wet works to help stretch shoes. Place ingredients inside a plastic bag, add only enough water to cover, seal the bag, and place inside the shoe, making sure you work the bag down towards the toes. As the grains expand, the pressure applied to the shoe aids in expanding the material.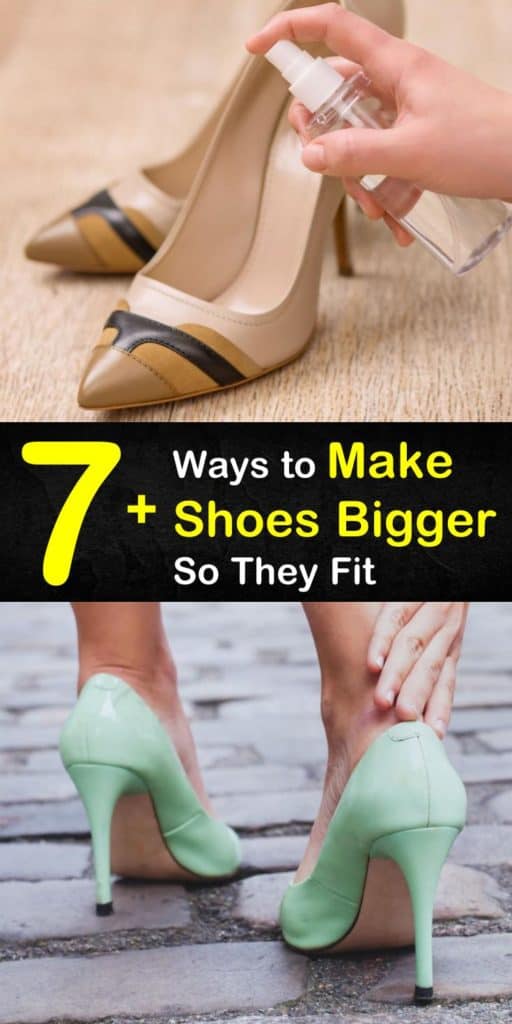 Thank you for reading about all of the different ways to make your shoes bigger. If you found any of our ideas on how to stretch shoes wider, please share these stretching tips with others on Facebook and Pinterest so they can learn how to make shoes bigger, too.