Basements are more than just storage spaces for clutter; however, unpleasant odors make basements challenging to spend time in. If the smell of your basement becomes strong enough, it may permeate through the rest of your house. Learn how to make the basement smell better to take full advantage of all the space in your home.
Eliminating bad basement smells starts with locating the source of the smell. Typically, the musty smells in your basement come from mildew or mold that forms from excess moisture in the basement. Because basements are underground, excess moisture near your house finds its way behind your basement walls.
Cracks, basement windows, and external doors are easy points for water to find its way inside. Leaky plumbing pipes from other floors in the house may also contribute to a water leak in your basement. If left untreated, moisture in your basement leads to water damage and mold growth, affecting indoor air quality.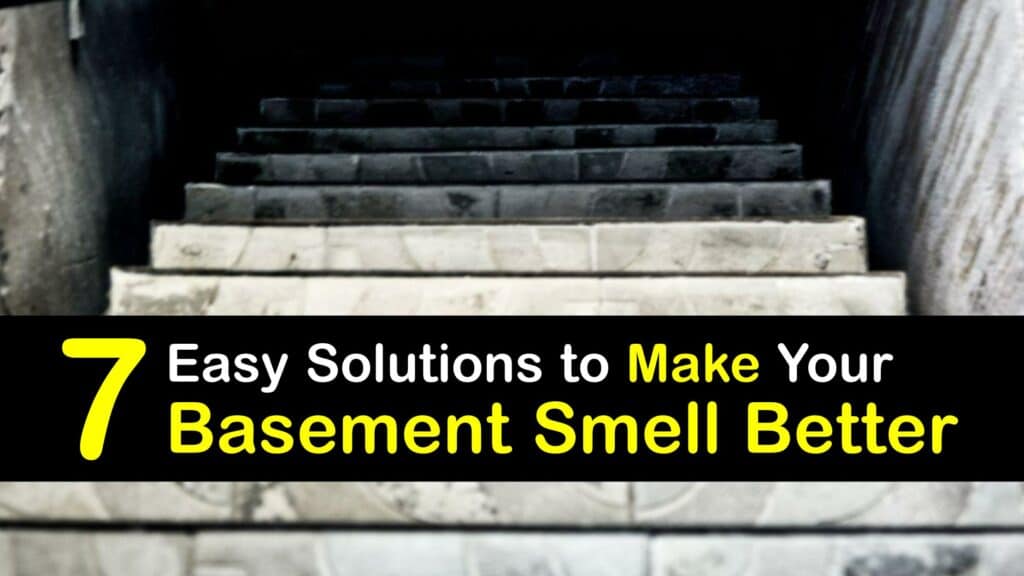 How to Make Your Basement Smell Better
Because basements don't have as much access to fresh air as the rest of your house, eliminating musty basement smells involves controlling the basement humidity and removing mold spores that cause odors.
Professional mold removal is pricey, but home remedies help eliminate musty odors in your basement and keep the basement smelling fresh.
Eliminate Basement Odor from the Floor Drain
Aside from odors caused by mold or mildew, bad odors in your basement may come from the water trap under floor drains. These traps are U-shaped pipes in drains that hold water and block sewer gas from coming back through the drain.
If you notice a foul sewage smell in your basement, evaporated water from a water trap may contribute to this bad smell. A simple method to fix this issue is pouring water into the drain to raise the water level in the trap.
Adding a few tablespoons of vegetable oil into the drain helps create a floating seal to prevent water from evaporating quickly and letting the sewer gas smell in. It usually eliminates having to perform more involved maintenance.
Getting Rid of Sump Pump Odors
Sump pits are stations in some basements that gather water in a basin. The sump pump in the basin redirects the water outside to prevent pooling within the home, typically in the basement.
During the dry season, it's common for water in your home's sump pit to evaporate, resulting in strong gasses coming from the sump pit. Stagnant water in the sump pit also leads to a foul odor filling your basement.
Learn how to make your basement smell better by cleaning your sump pit. Add water to the sump pit and kill odor-causing bacteria with a diluted bleach solution.
Mix hot water with bleach to create a safe solution to pour into your sump pit. If the pit's water level is too low, increase the ratio to help the pump run.
How to Keep a Basement Smelling Fresh
If your basement has a lingering old house smell due to fabric and carpet holding onto bad odors, using a natural odor eliminator is a simple way to make your basement smell good again. Baking soda is a household item that neutralizes foul odors and helps absorb and neutralize any bad odors in the basement.
Fill several bowls with baking soda and leave them in your basement. When you make a simple smell absorber, the amount of baking soda needed depends on the size of the basement. Over a few days, the mildew smell fades as the baking soda absorbs it.
Regularly replacing the baking soda, or adding drops of essential, is a simple solution for how to keep a basement smelling fresh.
How to Make the Basement Smell Better with Vinegar
Eliminating musty basement odor requires cleaning all sources of mildew and mold from your basement. When cleaning mold, removing the visible mold and any roots that penetrate surfaces in your basement is essential.
Cleaning supplies like bleach work well for killing fungus on surfaces, but bleach doesn't penetrate drywall to remove all sources of fungus. To get rid of all mold in your basement, clean it with distilled white vinegar.
To kill mold in your basement, fill a spray bottle with vinegar and spray affected areas—clean mold areas with a sponge. Once the room is clean, spray again and leave the vinegar to dry.
Pour vinegar into a sink or toilet as a homemade drain freshener. Rinse after about 15 minutes with hot water.
Note: If mold covers over ten square feet of your property, hire a professional for mold remediation services.
Freshen the Air with Essential Oils
After resolving the source of foul odors in your basement, use an essential oil spray to freshen the air and eliminate lingering smells. Essential oils mixed with rubbing alcohol or vodka help eliminate any remaining smells in the air while leaving a fresh scent behind.
Mix water and alcohol in the spray bottle before adding ten drops of orange essential oil and five drops of peppermint oil in the bottle. Use the homemade spray on any furniture or fabrics in your basement and in the air.
Using Bleach to Clean Your Basement
One unpleasant source of smells in your basement may come from pests and rodents in your home. Pests like cockroaches release allergens from waste and discarded body parts in the air. Rodents in your basement leave behind urine trails and feces, and the smell may become more noticeable over time. Use a safe bleach solution to clean urine and insect waste.
Pour the water and bleach into a spray bottle to dampen areas with animal waste or mold traces. Leave the bleach on the spot for five minutes before cleaning with a sponge.
Basement Waterproofing to Reduce Moisture
One common source of water in the basement is leaky pipes. If your basement has exposed pipes in the ceiling, traces of condensation are easy to spot. A simple solution is to insulate the pipes by wrapping them with foam wrap. Foam wraps are available at hardware stores and are easy to cut to fit on your pipes.
If basement windows leak, fill the wells outside the windows with gravel to reduce moisture. Check the weather stripping and caulk any windows and exterior basement doors to eliminate cracks for water to get in.
Reduce Humidity to Avoid Mold in the Basement
Basements remain cooler than the upper levels of a home since they are underground. When the warm air upstairs circulates downstairs, it rapidly cools and leaves water vapor on surfaces in your basement. The vapor forms a film of moisture, and a basement with high humidity creates a perfect space for mold to grow.
A hydrometer tests the humidity in the room – mold and mildew thrive when the humidity is above 60 percent. Employ a dehumidifier to lower the moisture in the cellar. After using a dehumidifier, running an air purifier in the basement to remove any lingering mold spores helps improve the air quality.
Learning how to make your basement smell better is an essential skill if you want to enjoy all the space in your house. Over time, with neglect, basements become stale and smelly as moisture gathers in the unvisited areas. Refresh your basement using home remedies.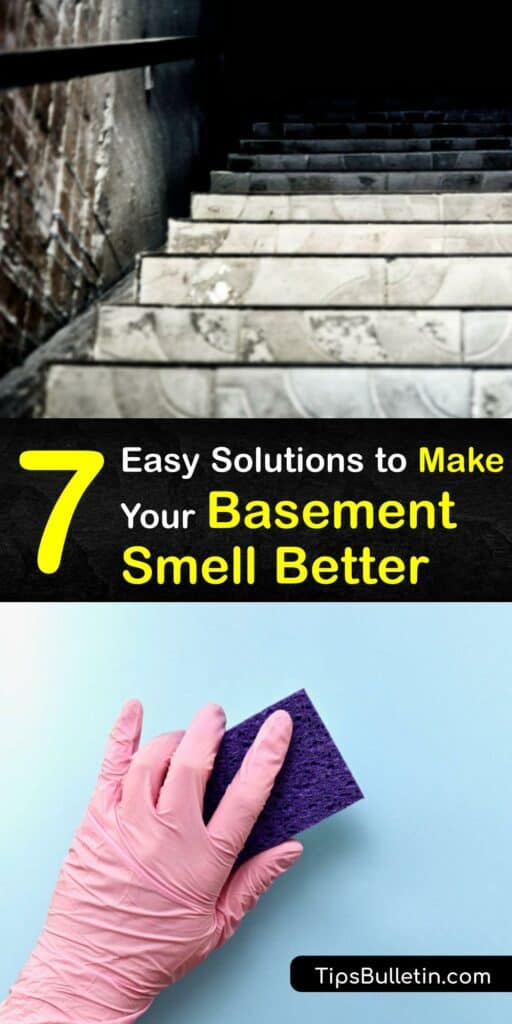 If our article taught you how to make the basement smell better, please share our tips on how to keep a basement smelling fresh with your family on Facebook and Pinterest.