There are many factors to getting a good night's sleep, and smell is among the most underrated. It may be odd to think of your bed as smelly, but a combination of daily sweat and other environmental factors means your bed can smell bad before you get in it. Learn how to make your bed smell good with natural fresheners.
Although we usually only think of sweating when it's hot or during physical activity, the human body sweats at night. Sweating in your sleep comes from sleeping on non-breathable fibers or medical conditions. When mixed with bacteria on your body or in your bed, your sweat causes unpleasant smells on your mattress.
Ventilating your room by leaving the door or windows open and switching out your sheets are two of the most straightforward methods for keeping your bed smelling fresh. Continue reading for valuable tips to eliminate odors and make your bed smell fresher.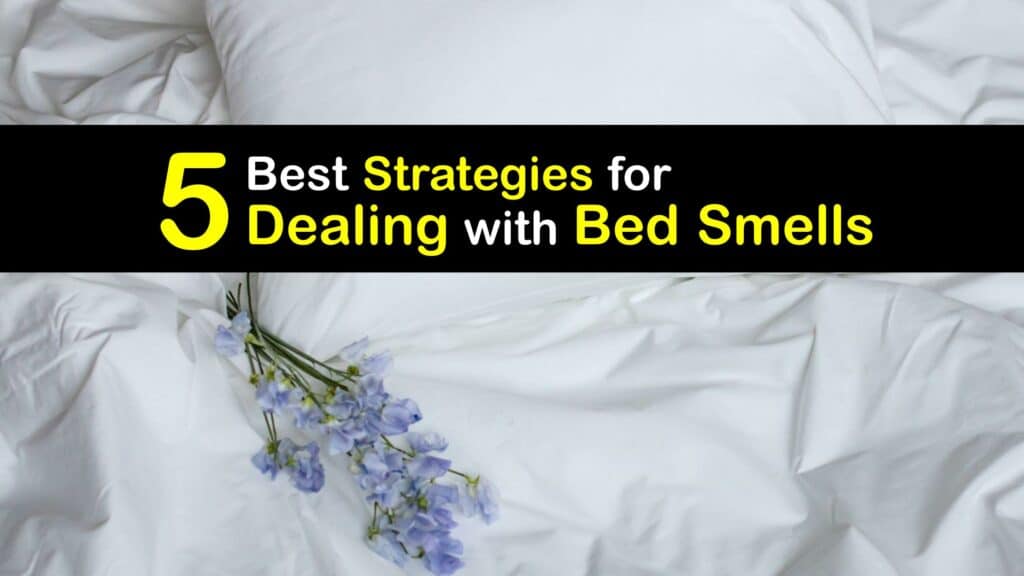 How to Make Your Bed Smell Better
Air fresheners and scented candles are readily available to make your home smell better; however, these only mask foul odors. To eliminate unpleasant smells and leave your bed smelling better, create natural odor eliminators to neutralize the bacteria that cause bad odors in your bed.
Essential Oil Spray for Dust Mites
Over time, your mattress collects odors, moisture, and fallen skin cells. Dust mites feed on these skin cells and thrive in the warm environment of your bed. The droppings they leave trigger allergies and skin conditions.
Vinegar is a natural solution to deodorize a room and disinfect your mattress. Including essential oil in a homemade bed spray helps repel bed bugs and gives your bed a fresh scent.
Fill a 16-ounce bottle with vinegar and water before adding the essential oils and shaking well to combine.
Spray this DIY odor eliminator directly onto your mattress and leave it to dry for a few hours with the windows open to allow fresh air into the room. Use this homemade mattress cleaner spray on urine stains, sweat stains, and other unwelcome marks on your bed to get rid of the stains and odor at the same time.
Getting Rid of Bed Smells From Stains
Without a mattress protector, your sleep foundation or bed is susceptible to food, sweat, and pet urine stains. If these stains are left untreated, they develop foul odors that cause your mattress to smell as bacteria settle in the material of memory foam mattresses.
A natural odor eliminator, baking soda absorbs moisture and neutralizes smells from stains. It also takes care of removing smoke smell from your mattress. Sprinkle baking soda over any recently stained areas on your mattress. If possible, allow sunlight in for a few hours before vacuuming off the baking soda.
Place a mattress cover on your bed to shield your mattress from future stains. The best mattress protectors come with moisture-wicking properties to keep you cool at night and seal moisture away from your mattress.
If you notice a mildew smell, strip the sheets and inspect your mattress. Get rid of mold on a mattress with vinegar and water and a brush or a mixture of peroxide and water. Spritz the stain, gently brush the area, let it sit, and dab excess moisture with a clean cloth. Air out the mattress until it dries.
How to Keep Your Bed Smelling Fresh
Making your home smell good involves keeping the furniture in your home smelling fresh. To remove an unpleasant house smell, you must eliminate the source of the foul odors and the same works in reverse.
If there are strong odors like smoke in your room, these odors seep into your bedding and mattress. To eliminate bad smells and for general mattress deodorizing, create a DIY air purifier from natural resources like citrus fruits and herbs.
Slice two limes and pour vanilla and peppermint extract into a pot with the limes. Fill the pot ¾ of the way with water and bring it to a boil. Remove it from the heat and allow it to cool before straining the liquid to a spray bottle. Use the room spray to make sheets smell good and create a signature home smell in your bedroom.
Removing Unpleasant Odors From Your Bed
If you use a mattress topper in bed, you may notice a bad smell coming through your sheets. Mattress toppers use foam and improve sleep quality by making the bed softer or more firm.
Depending on the material used to create a mattress pad or topper, it may block air circulation and make it challenging to regulate your body temperature through the night. Mattress toppers may begin to smell from an accumulation of sweat or chemicals from the manufacturer.
To effectively clean your topper, use a vacuum cleaner to pull dust and bacteria out. Add a cup of distilled white vinegar to the bathtub and fill it with enough water to submerge your topper.
Gently press the topper into the water to allow the vinegar solution to penetrate the mattress pad. Leave the pad to sit in the tub for at least ten minutes before rinsing with clean water. Squeeze out the excess water without wringing out the pad. Leave your pad in the sun to dry.
How to Make Your Bed Smell Good
To prevent your bed from smelling stale or musty, change and wash your bedding weekly to suppress moisture and keep dust mites away. When washing your sheets, add a few drops of lemon eucalyptus essential oil into the machine to help boost the freshening power of your laundry detergent.
If you change bed sheet sets often, figuring out how to keep your bed smelling fresh could come down to how you store your spare sheets. To avoid your clean sheets gathering dust in the closet, fold your sheets inside a matching pillowcase with a cinnamon stick or dryer sheet to keep them smelling fresh until you use them.
Making DIY Dryer Sheets to Freshen Bedding
Drying your bedding on the line is an excellent way to get a musty smell out of your mattress. If you don't have room to line dry your sheets, create a natural dryer sheet made from essential oils. Pick the best scents for your home to use with cotton to include in your laundry when drying your sheets.
Use a square of cotton cloth, or cut out a piece of fabric from an old shirt. Dampen the cloth and wring out the excess water. Place the cloth in a container and add five drops of essential oil across the fabric. Squeeze the material to incorporate the oil into the entire fabric before using the cloth in the dryer.
Learning how to keep your bed smelling fresh is essential for a good night's sleep and keeping your bedroom smelling good. Because we don't wash our sheets daily, knowing how to make your bed smell better through home remedies is vital to make your bed smell as good as possible between washes.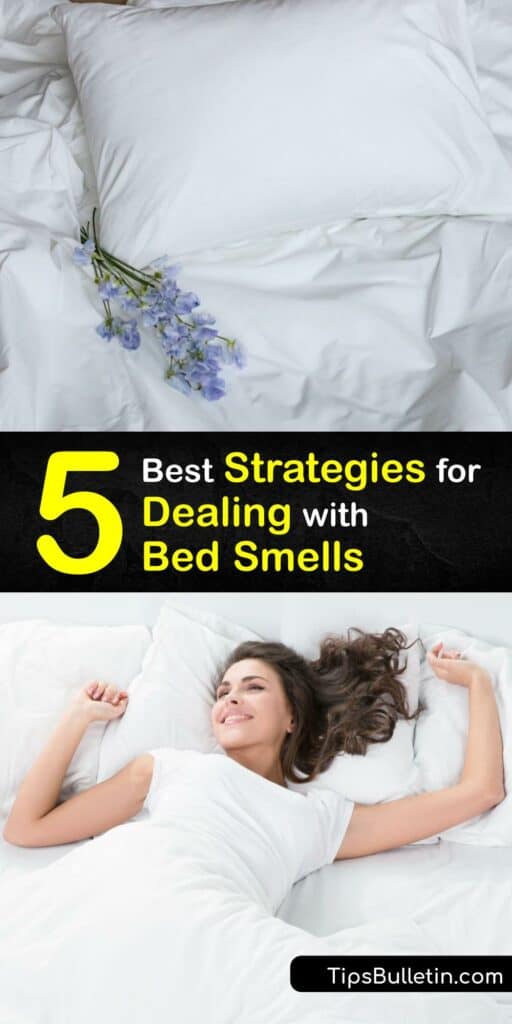 If you learned how to make your bed smell good with help from our guide, please share these tips on how to make your bed smell better with your friends on Facebook and Pinterest.