There's something uniquely special about new vehicles, with their pristine exterior, immaculate leather car seats, and new car smell. However, it's not long before it loses its novelty, as it requires car maintenance, and the cars interior begins to fill with unwanted odors. Learn how to make your car smell good again in a few simple steps and restore its original appeal.
Your vehicle has a lot to contend with on its day-to-day journeys, whether you use it to travel back and forth to work, run errands, or take your kids to school and practice. The carpet and upholstery absorb traffic smells, body odor, smoke smell, and lingering scents from food on the go. It's easy to see why the car interior has a bad smell.
Fortunately, there are ways to remove bad odor from your car. The first step is to determine the reason for the unwanted odors. Is the smell coming from the car seat, air conditioning, or cabin air filter, or is it due to a lack of fresh air? Once you find the culprit, removing nasty smells becomes easier.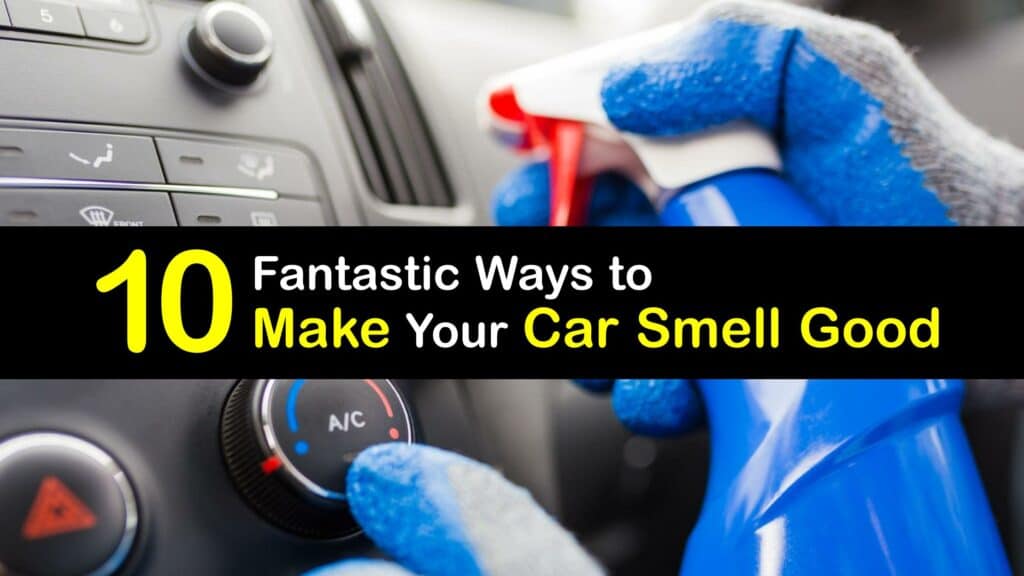 Ways to Make Your Car Smell Good
There are many reasons for bad car odor, from stains and mildew to smoke; removing the smell is not as challenging as you may think. There are several ways to eliminate bad odors from your car and keep it smelling fresh.
How to Keep a Car Smelling Good With Regular Cleaning
The best way to remove car odors if they're from everyday driving is to clean the car seats, carpeting, and other interior surfaces. Discover how to keep a car smelling good by giving it a deep cleaning.
Remove the floor mats from your car and use a vacuum cleaner hose to clean the carpeting and car seats, making sure to get into all the nooks and crannies. Clean the rugs and upholstery with a steam cleaner.
Wash the mats with soapy water, and use an interior car cleaner to wipe down the dashboard, console, cup holder, and seat surfaces. Dip cotton swabs into the soapy water and use them to clean all the air vents to remove dust and odor.
How to Keep the New Car Smell
New car odors signify that your car is unblemished and untouched by anyone other than yourself. Unfortunately, that smell doesn't last as long as we'd like after driving it for a few months. Find out how to keep the new car smell with regular maintenance and light cleaning.
Start by cleaning your car to remove trash and opening the windows to let in the fresh air. This should be a regular practice once you get your vehicle to help it retain the new smell.
Use Armor-All wipes, Chemical Guys Interior Cleaner, or something similar to wipe down the hard surfaces of your car weekly or as needed. Clean the insides of all the windows with glass cleaner and a lint-free cloth.
How to Make Your Car Smell Good
Air fresheners are the best way to make the car smell better quickly. While they don't necessarily absorb odor, they mask it to make your time in your vehicle more enjoyable.
Car Air Fresheners
There are various car air fresheners on the market, and which one you choose depends on your personal preference. Some hang from the rear-view mirror, others clip to the vent, and there are those that come in canisters you place beneath your seat or in the cup holder. They also come in various scents, from vanilla and fruity to pine and lavender.
Using Baking Soda to Absorb Bad Car Smells
Baking soda has many uses indoors and outside; it's the go-to home remedy for absorbing foul odors. It can even get a gasoline smell out of the carpet in your car. Explore how to keep a car smelling good with this miracle powder.
Pour baking soda into a Mason jar, screw the lid in place, and pierce holes in the top with a sharp object. Set the container in the cup holder or place it beneath your seat, and add the fresh powder as needed. Or, shake baking soda over the carpeting, let it rest for a couple of hours, and use a vacuum cleaner to suck up the smelly powder.
Removing Bad Odor From a Car With White Vinegar
While you may consider white vinegar a kitchen staple, the vapors of this liquid neutralize odor by bonding with smelly molecules. Learn how to keep the new car smell with vinegar.
Prepare to use this odor eliminator when you don't plan on driving your car, like overnight. Pour white vinegar into a container and set it on the floor of your vehicle. Keep the windows closed, and remember to remove the bowl in the morning before running errands.
How to Make a Car Smell Good With Coffee
There is no better scent than the aroma of brewed coffee, especially if you're a coffee drinker. Though it's tasty in a mug, the grounds help eliminate the car smell. Use coffee beans or grounds as a car air freshener.
Pour fresh coffee grounds or beans into a container and cover the top with plastic wrap. Secure it with a rubber band, poke holes in the top, and place the container strategically in your car.
Since coffee is such a strong scent, it can eliminate cigarette smoke smell out of your car to keep it smelling clean and welcoming.
Making Homemade Air Freshener for Your Car
You may notice rows and rows of air-freshening products at your local supermarket. However, you don't need to buy an expensive freshener when you can quickly make a car air freshener with essential oils that are cheap and convenient.
Combine a cup of water and a quarter cup of witch hazel in a glass spray bottle, add about 15 drops of your favorite essential oil, or mix oils to create a new scent. Shake the bottle well and spritz the freshener over the upholstery and carpeting in your car whenever it gets stinky.
Make a Do-it-Yourself Car Vent Clip
Car vent clips are convenient and straightforward, and it's effortless to make yourself. Discover how to use a clothespin and your favorite essential oil to create a personalized air freshener clip for your vehicle.
Glue a cotton ball to a clothespin, apply several drops of essential oil to the cotton, and clip the clothespin to the air vent in your car. Any oil is suitable, yet lavender relieves stress, citrus promotes energy, sandalwood calms nerves, and mint helps with focus.
Freshening a Car With a Homemade Scent Sachet
Scent sachets are ideal for keeping all areas of your car smelling fragrant and stink-free. They're simple to make, and you can change them with different aromas to suit your moods and make your car smell better.
Fill a small mesh bag with citrus peels, vanilla beans, cinnamon sticks, or aromatic spices like nutmeg, and tie the bag opening shut with a rubber band or hair tie. Place it beneath your car seat, or secure it to the rear-view mirror with a ribbon.
Tips For Keeping Your Car Smelling Fresh
Car odors are inevitable, from smoke, food, stains, exhaust, or body odor. Luckily, there are ways to keep a lingering smell from becoming a permanent odor. Follow a few tips to keep your car smelling fresh.
Car seats and cargo covers are easier to clean than upholstery, so consider use them to protect fabric from bad smells and stains. Keep windows closed when the weather is damp, and open them when it's warm and dry.
Use air fresheners, like a scented candle or wax melts, dryer sheets, and air sprays to mask an unpleasant smell. Or, use odor absorbers, such as baking soda, activated charcoal, or white vinegar, to soak up the smell.
Clean your car regularly by removing trash promptly, vacuuming, and wiping down the interior to remove dirt, dust, and spills.
Dealing with a foul smell while cruising in your vehicle is unpleasant. The odor takes all the joy out of driving, and you cannot wait to get out of the car. Fortunately, there are ways to eliminate car smells, leaving it with a fresh scent.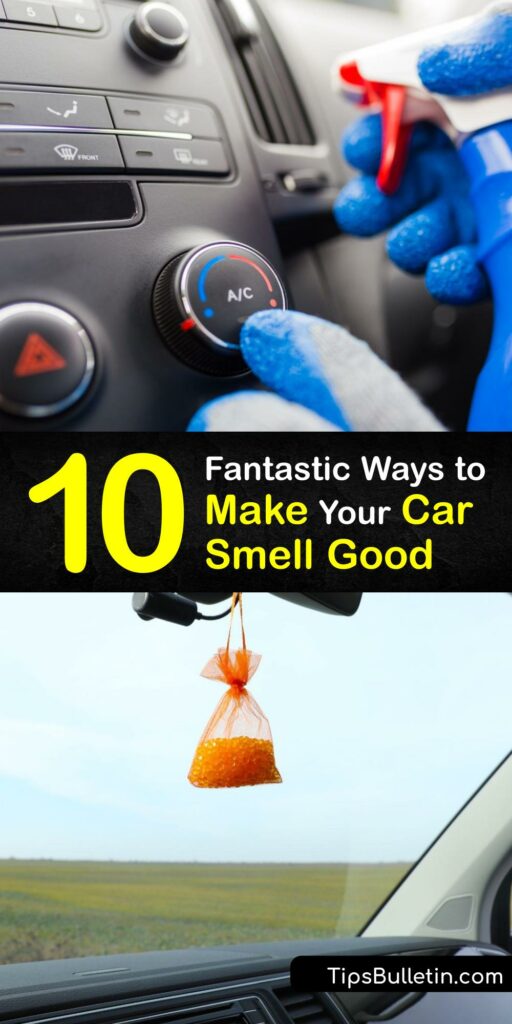 Now that you've learned how to make your car smell good using simple home remedies, why not share our tips for removing bad odors from a car with your friend and family circle on Pinterest and Facebook?