Tile floors are a great addition to various rooms in your home, but they do require some special care if you want to keep the tile and grout looking clean. Like your countertops, you want to do general cleaning, followed by a deep clean once a month or so. Different types of tile flooring require different kinds of care; we are here to teach you how to mop tile floors correctly.
Your house never feels or looks clean until you sweep and mop the tile floors. A quick daily sweeping is often fine to keep tile floors neat but watch for signs of dirt and grime build-up. One way to tell your tile floor requires a bit of extra attention is when they take on a kind of hazy appearance or the grout looks dirty.
After identifying the type of tile you have, you can determine what kind of care it requires so you can clean tile floors correctly. Learning how to mop tile floors the right way includes discovering the best mop for tile floors and the best cleaning products.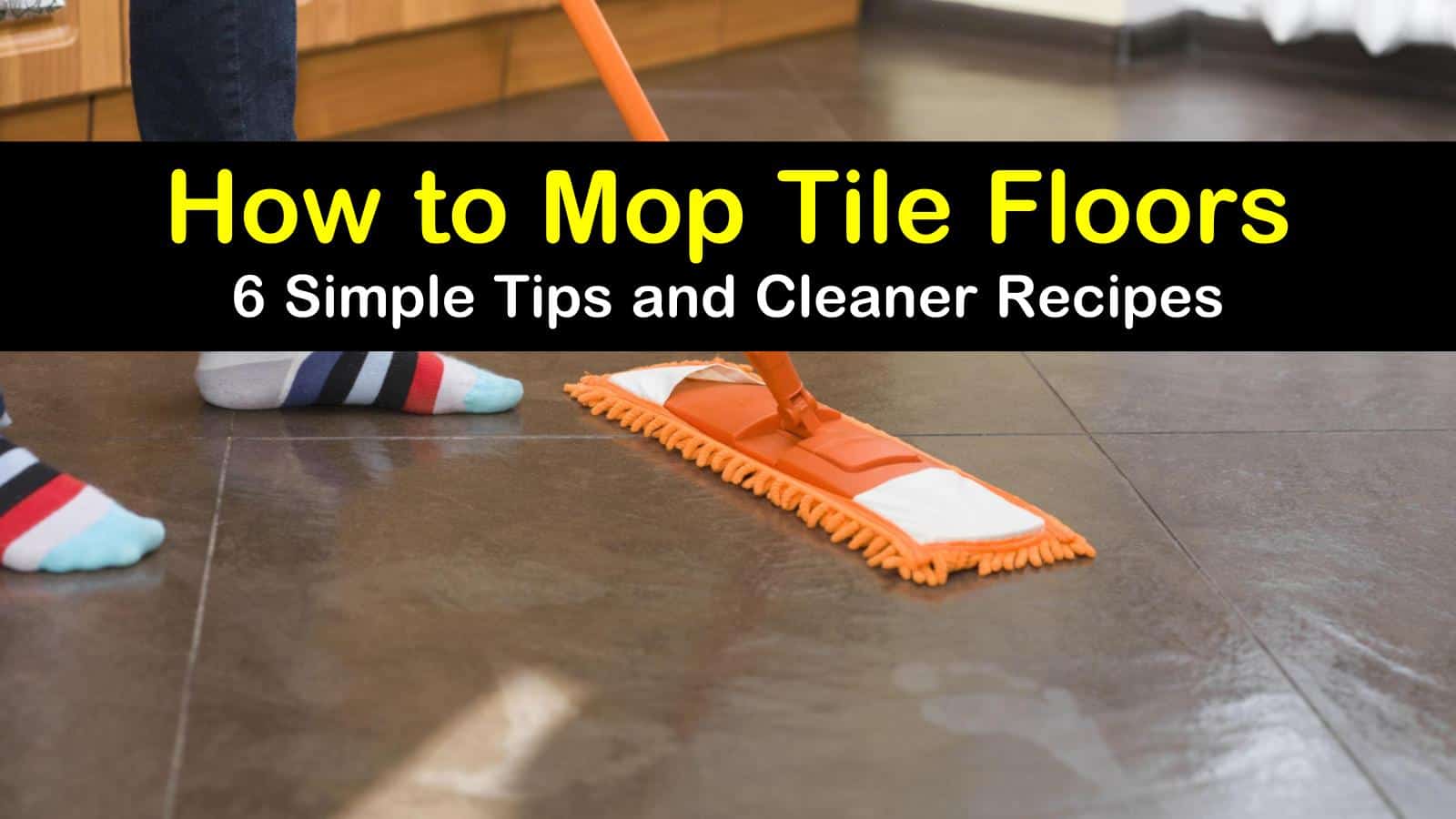 Simple Tips to Mop Tile Floors
Follow these easy tricks for the shiniest floors around.
What is the Best Mop for Tile Floors
When mopping tile floors, you want to choose the best mop for the job, not just grab any old mop you have on hand. Sponge mops are strongly discouraged for tile floors as all they do is push the dirty water around on the floor and into the grout lines.
The best mop for a tile floor is a chamois mop or rag type mop. Regardless of which one you choose, always change your mop water when it gets dirty. Mopping with dirty water increases the chance of a cloudy looking floor.
Tips for Mopping Porcelain and Ceramic Tile Floors
As the most durable floor tiles, ceramic, and porcelain are as easy to care for as a laminate floor. Before mopping, be sure to sweep or vacuum your flooring to pick up dirt and debris. A dust mop will pick up any remaining dust that vacuuming or sweeping leaves behind.
Add all ingredients to a container and stir to make your own DIY tile floor cleaning solution. Pour the all-purpose cleaning solution into a spray bottle and shake to mix. Spray the cleaner onto the floor and wipe clean with a microfiber mop.
Work in small sections and change the microfiber pad as it becomes dirty to prevent dirt from being pushed around. Sometimes after cleaning your porcelain tile floors, they might look hazy. This haze is caused by leftover soap residue on your floors.
To remove the film and clean ceramic tile, use an all-purpose cleaner and a wet mop. Homemade cleaners that contain lemon juice or vinegar can also rid your tile floors of this unsightly haze. Never use on natural stone tiles, these solutions are only for use on ceramic and porcelain.
Watch out for tile stains. If you do notice stains, identify the type of stain so you can figure out the best way to remove it. For coffee, juice, tea, or other similar stains on ceramic tiles, blot the stain with hydrogen peroxide on a rag.
Treat grease stains with club soda and water, while ink and mildew stains respond best to diluted bleach on a rag. Lay the cloth directly on the stain for several hours or until the stain is gone. No matter what stain removal method you employ, rinse the area thoroughly with clean water when done.
Glazed floor tiles, whether they are ceramic or porcelain, should never be allowed to air dry. Allowing the floor tiles to air dry increases the risk of water spots forming due to the water left sitting on the floor.
No matter how well you wring out your mop, water is always left behind. Use a lint-free cloth to wipe the tiles as soon as you are done cleaning them. You don't have to get down on your hands and knees to dry them either; use your foot to slide the towel across the floor.
Correctly Clean Stone Tiles
As with all tile floors, natural stone tile floors require basic sweeping or vacuuming before they are mopped. Once free of dirt, dust, and debris, wash the natural stone tile with a stone specific tile cleaning solution. Avoid traditional floor cleaners on natural stone, as the chemicals can damage the stone's surface.
For slate tiles, avoid using a cleaning solution that contains acidic properties, such as vinegar or lemon. Opt for a mild detergent mixed with water instead. For coated slate, dry the tiles with a soft towel to prevent water spots from appearing.
Marble tile may look nice, but it requires a lot of special care. Never use cleaners with an acidic pH level, such as lemon and vinegar, as the acid in the cleaner etches the marble. Liquid dish soap diluted with warm water is a safe and effective cleaner.
Ammonia or mineral spirits diluted with warm water is a great way to remove tough stains. Microfiber cloths or mop heads are the best choices for cleaning; never use scouring powders or stiff-bristled brushes.
Use a mild detergent cleaner on granite tile as well, something with a neutral pH level. If you use harsh cleaners for how to remove hard water stains from granite, you run the risk of discoloration and streaks. To keep granite looking shiny, buff your polished floors weekly.
Caring for Resilient Tile Floors
Resilient tile floors are low-maintenance and comfortable on your feet and include vinyl, linoleum, and cork tiles. All of these floors require sweeping or vacuuming to remove dust, dirt, and debris. Where care differs is in mopping the floors.
Each flooring type offers a commercial cleaner designed for the specific floor type, but if you are trying to avoid harsh chemicals, create your own floor cleaners.
Vinyl flooring requires the use of a water and vinegar solution. Never use abrasive cleaners on vinyl as it will scratch the floor's finish. For linoleum, make a cleaning solution using Borax and water.
Once you have mopped the floor, rinse and dry it to prevent streaks. Periodically apply liquid wax and buff your linoleum to keep it looking shiny.
For sealed cork floors, use a mild detergent and water to mop and then rinse the floors. For unsealed tile, once the floor is dry, apply liquid or solid wax.
Clean Grout Thoroughly
Tile grout absorbs dirt, grease, and other stains. For your tile floors to look clean, you must also keep the tile grout clean. Even if you regularly sweep and mop your floors, dirty grout leaves your floors looking dingy. It's the same reason why you clean the grout when you clean shower floor tiles.
To make this grout cleaner for cleaning bathroom tile grout or in another location like the kitchen or hallway, create a baking soda paste with water and baking soda. You don't want a super-thin paste, but you also don't want it too thick. Use a stiff nylon brush to apply the baking soda paste to the tile grout.
For tough stains, allow the paste to sit on the grout overnight. Use a nylon brush or grout brush to scrub clean in the morning. Never use metal brushes on grout as it will cause irreparable damage.
A mild bleach solution or a commercial floor grout cleaner may also be used when cleaning grout. When using either of these solutions for cleaning tile floors with bleach or taking care of grout stains, be sure to wear rubber gloves to protect your hands.
When tackling stubborn stains, allow cleaner to sit for ten minutes before scrubbing with a small scrub brush. Rinse with clean water and allow grout to air dry. Apply a sealer to prevent future stains. Your tile flooring and grout will look as good as new!
Find the Best Steam Mop for Tile Floors and Grout
Steam mops are a quick and easy way to sanitize even the dirtiest of floors. With how quickly they clean and how easy they are to use, many people often wonder what the best steam mop for tile floors and grout is. There is no easy answer to this, as there are several top models available.
When choosing the best steam mop for tile floors and grout, look at the features the mop offers, the size of the mop, and how much steam the mop is capable of generating. You need to know that steam mops are not the best choice for all tile floors.
The only type of tile durable enough to withstand the use of a steam mop is a ceramic or porcelain tile floor, as other tile types are susceptible to damage from the steam. Steam mops are also not recommended for hardwood floors as the excess steam and moisture may cause warping and other damage.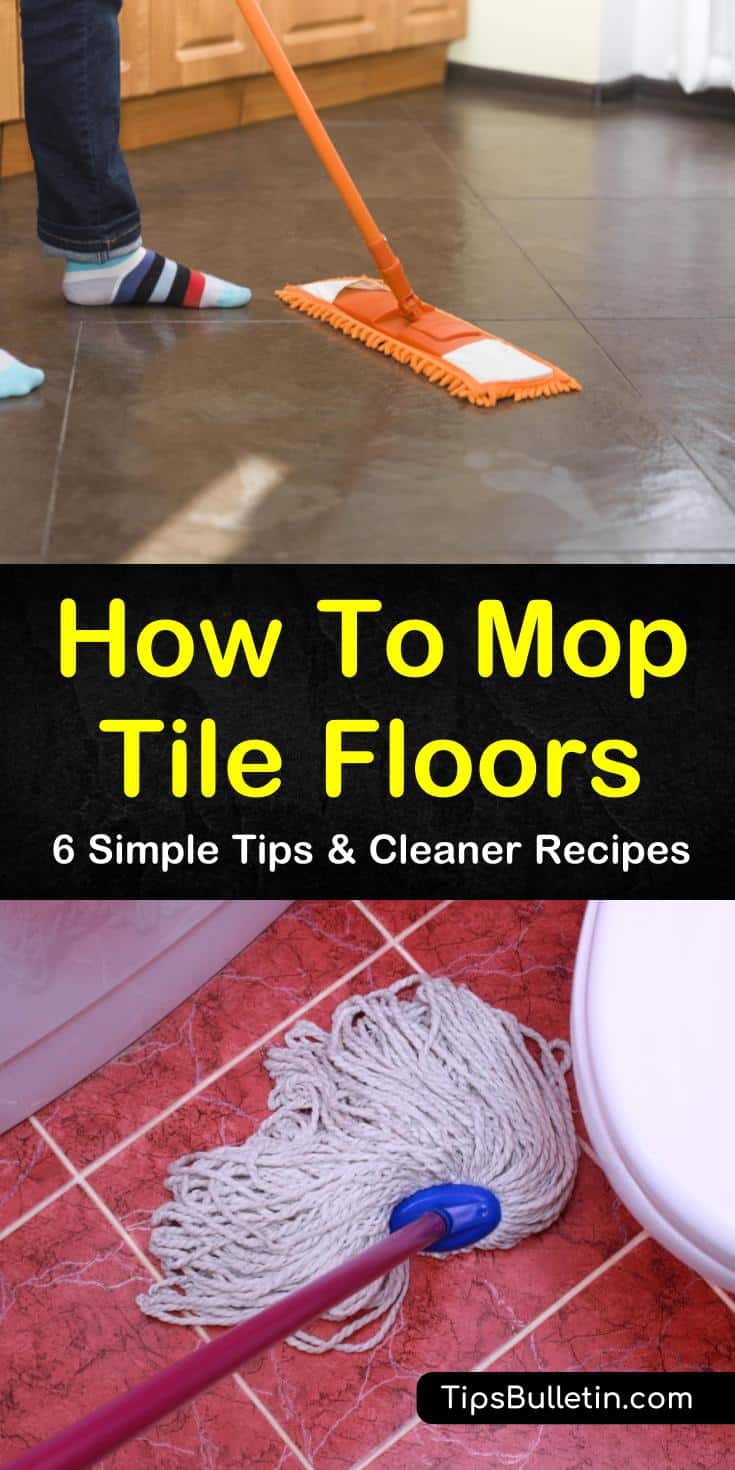 Thank you for reading our recipes for cleaning tile floors. If our tile floor cleaning tips and recipes are helpful, please share these floor cleaning ideas on Facebook and Pinterest so others can learn how to mop tile floors quickly and efficiently.