For those with an abundance of apples this fall season, you can easily juice them, turn them into cider, dehydrate them, make applesauce, and more. You can also learn how to pickle apples.
When it comes to pickling, we think about using cucumbers for pickles or pickling our favorite winter veggies. Pickling fruit isn't something that comes to mind, but that doesn't mean it can't be done.
When pickling apples, remember that not all apples are created equally. The best apples for pickling are the ones that offer a dense and firm texture; they won't easily break apart when cooked.
Many pickled apple recipes call for Honeycrisp or other sweet, crunchy red apples, but they brown quickly. Pink Ladies make a great substitution as they don't brown very fast even when sliced, plus they offer fantastic flavor.
For pickled apples on the tart side, opt for a crisp, green apple like a Granny Smith.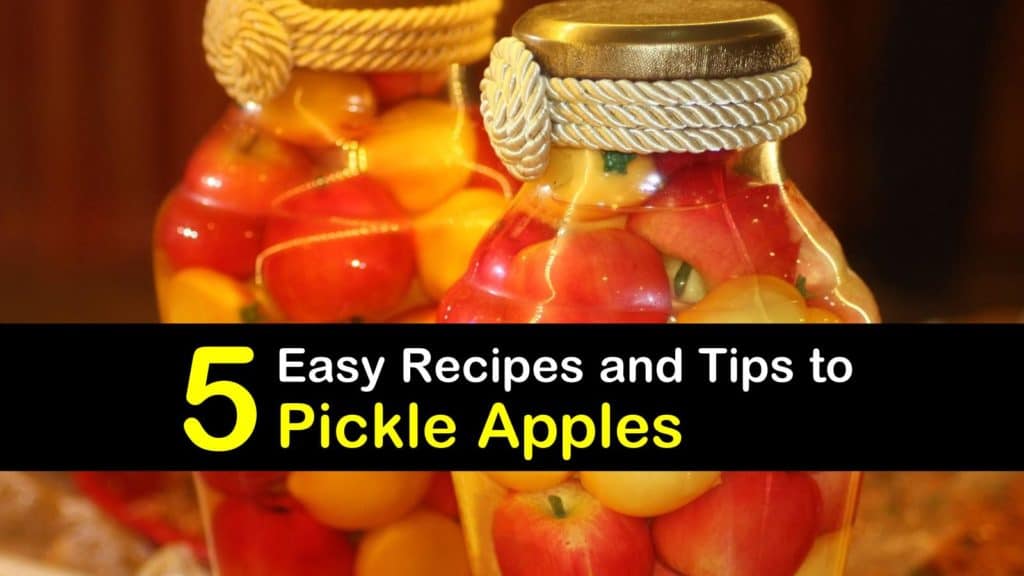 Simple Recipes for Quick Pickled Apples
Before you start pickling, it's important to know how to tell if apples are ripe. You don't want overripe or underripe apples in your pickle jars.
Foods that have been pickled add a little something extra to your table, whether you make a spicy pickled egg recipe or pickle apples or pears.
Pickled apples make a great addition to your holiday cheese board, too. Some pickled apple recipes call for sweeter seasonings, while others use bay leaves and mustard seeds to provide you with a little zest.
If you have been wondering where to store apples that you have an abundance of, pickling is the way to go.
While you can preserve apples by keeping some in the root cellar or in a bowl on the kitchen table, freezing apples and canning them are also viable options.
How to Pickle Apples for Fast Eating
For the best homemade pickled apples, use either Ida Red or Northern Spy apples, because when cut into slices, they retain their crispness. With this quick pickled apple recipe, you enjoy the fruits of your labor faster, as no canning is required.
How to preserve apples with this recipe starts with adding your apple slices to a quart-sized Mason jar. Pour vinegar and water into a saucepan, add the remaining ingredients and cook until sugar dissolves.
Pour pickling liquid over the apples, secure with a lid, and chill in the fridge overnight. Consume within two weeks.
Try this yummy apple recipe as a pickled peaches recipe, too. The results are just as delicious.
How to Make Candied Pickled Apples
The taste of candied pickled apples is unlike any other pickled apples you have ever tasted. For best flavor, use a crunchy red apple like Honeycrisp, although others will work.
For one of the yummy different ways to can apples by pickling, break up the star anise and cinnamon sticks. Place the broken pieces and the peppercorns into a spice ball.
If you don't have a spice ball, use a double layer of cheesecloth and fasten it securely. Core and dice your apples; you can also peel them if desired.
Add all ingredients to a large pot, including the spice ball, and bring to a boil using high heat. Lower the heat, so the mixture is simmering. Gently stir the apples to prevent them from sticking together.
Simmer apples and liquid until the apples are translucent and the syrup thickens. Generally, this takes about 45 minutes. Remove the spice ball and discard the spices inside. Scoop hot apples and syrup into hot jars.
Leave ¼-inch of headspace, wipe rims, and secure jars with lids and rings. Using a water bath canner, process them for ten minutes. Turn off the heat, remove the top, and allow jars to sit for five minutes in hot water.
Remove processed jars to a towel and let cool for 12 hours. Check for a proper seal before storing. Refrigerate unsealed jars immediately.
Pickled Apples Recipe using Whole Apples
We recommend using Lady apples in this recipe, but Crab apples make a great substitution. This is a favorite way to make pickled apples as they decorate the table and delight your taste buds.
Prick the Lady apples in several places with a skewer and then set aside. Add vinegar, water, salt, sugars, cinnamon, allspice, peppercorns, bay leaf, and cloves to a pan and cook until it boils. Stir frequently until the sugars dissolve.
Add whole apples to the liquid and heat until boiling again. Cover the pan and lower the heat to allow the apples to simmer for eight minutes. Stir in the fresh cranberries and then pour everything into a second bowl.
Allow the apple mixture to cool before covering. Refrigerate for at least eight hours before serving cold or at room temperature. Apples last in the fridge for up to one month.
Try this recipe or a variation when making your own pickled okra recipes or one with another fruit or veggie. There are limitless spice possibilities.
How to Pickle Apples for Long Term Storage
Canning is the best way to pickle apples for long term storage, as well as how to pickle beans so you'll have some for a couple of years. For maximum flavor, allow the homemade pickled apples to sit for up to one week before consuming.
Place all the ingredients minus the apples into a large pot and bring to a boil. Cook the brining liquid for three minutes. Wash and prepare the apples by coring, peeling, and slicing them. Place two apples into each hot canning jar.
Using a ladle, add brining liquid to each pint-sized jar. Cover the apples with the liquid; leave ¼ inch of headspace. Use a clean, damp cloth and wipe the rims of the jars. Secure the clean jars with lids and rings.
Process in a water bath canner for 12 minutes and remove the canner from the heat. Leave them in hot water for five minutes before removing to prevent siphoning. Let the jars cool on a towel for 12 to 24 hours. Pickled apple slices are shelf-stable for up to one year.
Homemade Spiced Pickled Apples
When making spiced pickled apples, use a sweeter tasting apple, such as Honeycrisp, Golden Delicious, or Ambrosia. These apples provide you with a sweet flavor rather than a zesty one.
Wash, core, and then quarter the apples. Pour water, vinegar, and spices into a large pot and bring the solution to a boil. Add the apples and honey to the brine and stir to mix.
Bring all ingredients to a boil, then lower heat to maintain a simmer. Cook until apples are tender. Scoop out the apples and place equal amounts into hot canning jars.
Pour the hot syrup over the apples, leave ¼-inch of headspace. Wipe down the rims, seal with lids and rings. Process them for ten minutes in a water bath.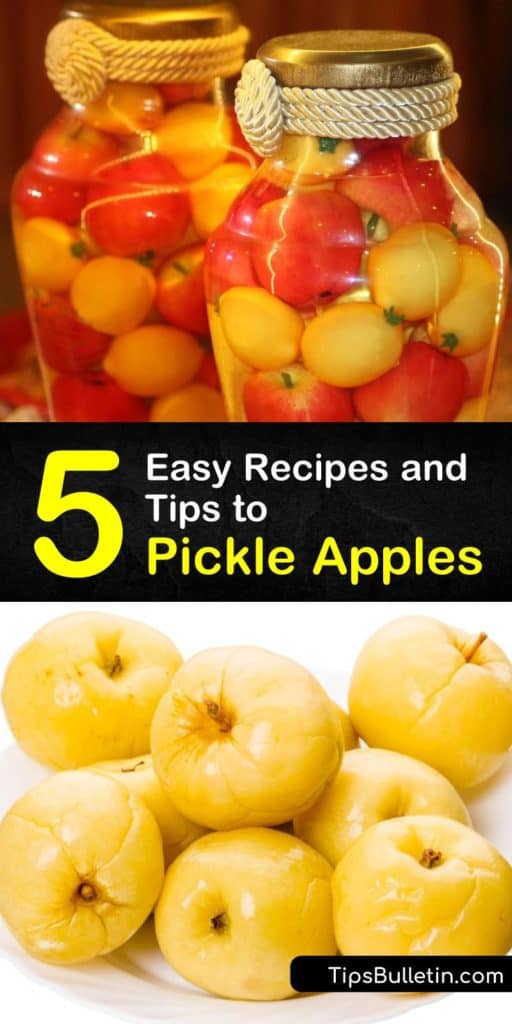 Thank you for showing some interest in all our recipes for quick pickled apples. If you found just one of the recipes for pickling apples helpful, please take a moment to share your favorite pickled apples recipe on Facebook and Pinterest so your friends and family can also learn how to pickle apples, too.