Banana peppers are a favorite topping of choice for many sandwiches and hot dogs lovers alike. These yummy condiments add the perfect punch to entrees and appetizers and provide numerous health benefits, as well. When it comes to storing them long-term, learning how to pickle banana peppers not only allows you to enjoy them longer but also significantly enhances the flavor.
Choose from sweet, spicy, and salty pickled banana pepper recipes until you find the one you like the most. Banana peppers are a low-calorie food that's rich in benefits and vitamins. The vitamin A in banana peppers provides antioxidants that promote eye health, while vitamin C and capsaicin improve metabolic functions.
Add other yummy veggies to the mix, such as hot peppers, onions, or red pepper to give your peppers that extra punch. Whether trying to make quick pickled banana peppers or something to refrigerate and enjoy later, we've got the perfect pepper recipes for you.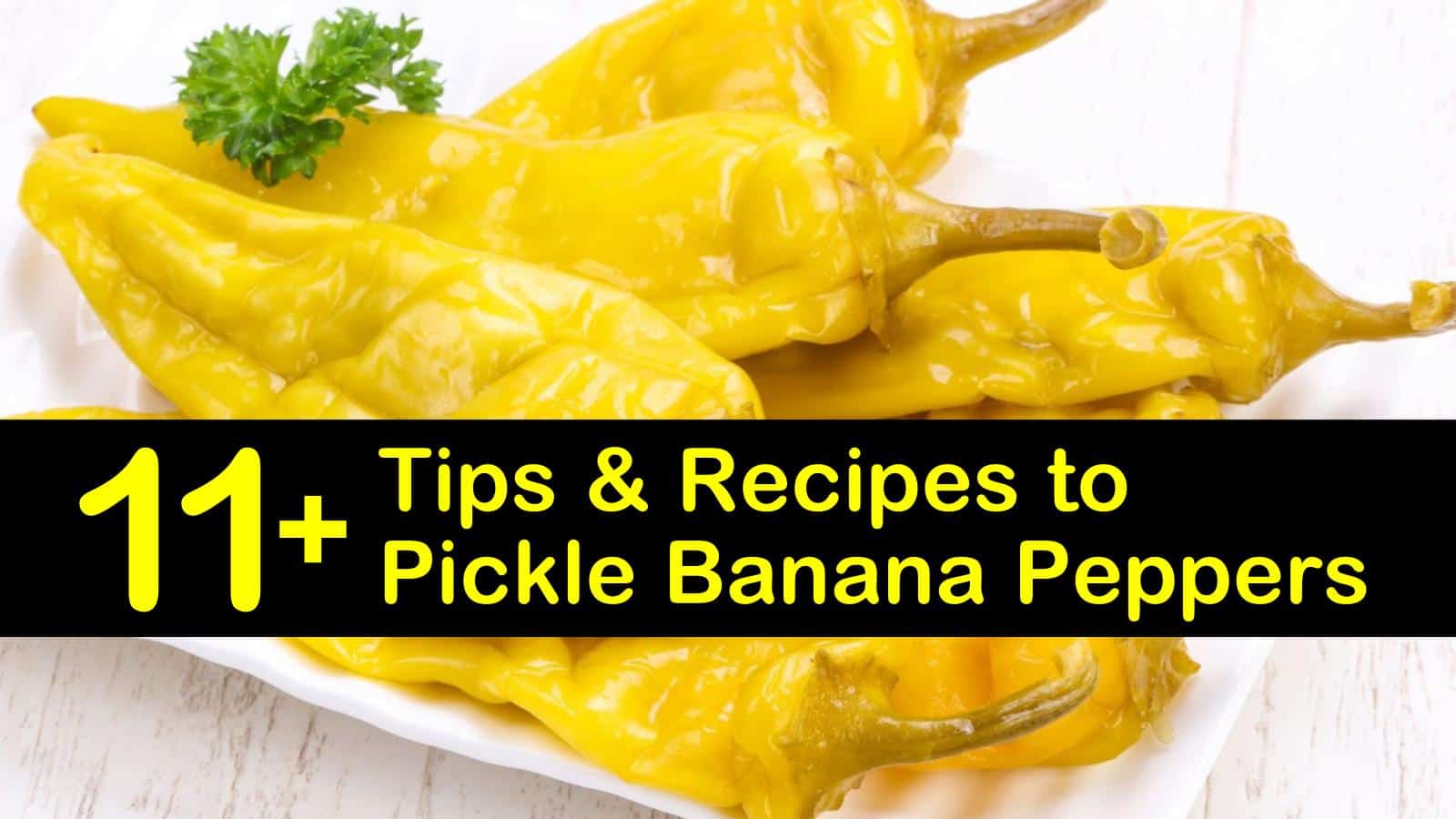 Delicious Tips and Recipes for How to Pickle Banana Peppers
There are so many pepper types and just as many recipes to use them. What are banana peppers? These yellowish oblong peppers are delicious are delightful on a sandwich or in a salad.
If your banana pepper plants had an excellent harvest this year, why wouldn't you want to hold onto those hard-earned peppers for as long as you can? There are a variety of ways to preserve your peppers. Where to store bell peppers and banana peppers depends on preference and how you want to use them later.
Pickling increases the shelf-life of your banana peppers from one week to six months. If you can your pickled peppers, then storing them at room temperature is perfectly acceptable.
Otherwise, keep them refrigerated. There are many different types of pickled peppers recipes from which to choose. First, however, you need to get the peppers ready to pickle.
Pick the Best Peppers for Pickling
The first step to take when getting your banana peppers ready for pickling is to choose the freshest ingredients. So how do you know if a banana pepper is right for pickling? The texture is the biggest giveaway.
Select peppers that are firm and crisp. If they are too soft to eat right now, then they will be too soft to eat further down the road. Always check for any discolored patches, spots, or diseased peppers, also.
If they have holes in them, they aren't ideal for pickling and should be thrown out. Another thing to check for is size. If canning whole peppers, choose smaller ones to make the process easier.
Prepare Banana Peppers for Packaging
When it comes to preparing the banana peppers, start by washing them first. Usually, rinsing them with cold water does the trick. Depending on how you are packaging them, cut them up into smaller slices to package more in one container, or leave them whole.
This choice is entirely up to you, however, and depends on how you intend to use them in the future. In most cases, the decision to cut banana peppers into discs comes from the ease of packaging. Smaller pepper rings fit inside the Mason jars better than whole peppers, so most prefer doing this.
It also makes it easier to use them as a topping. Some prefer to leave the peppers whole to increase the spiciness of the pepper, which can still sometimes occur in banana peppers. Because banana peppers tend to be surprisingly hot at times, always wear gloves while cutting your peppers up to prevent burning your hands.
Many of the interesting spice combinations can also be used in a pickled eggs recipe or for pickling a variety of other vegetables. If you have time, experimenting with your brine can lead to unusual yet delicious results. Canning eggs is just as easy as pickling banana peppers, carrots, and cucumbers and yields a delightful product.
Basic Pickling Recipe
Now it's time to move to the pickling process, but you're not entirely sure where to start. As a beginner's step, use a basic brine recipe to pickle banana peppers until you're comfortable adding more ingredients.
Pickling jalapenos without boiling is not really possible but it just takes a few extra minutes to bring the pickling liquid to a boil. If you're already an expert or enjoy a challenge, then tackle any of the recipes here. Use this same brine when canning sweet peppers, as well.
To make the brine, add it to a saucepan, then bring it to a boil. Afterward, add it to the jar along with the banana peppers for pickling.
If you plan on using this brine for canning pickled peppers as well, increase the vinegar to three cups instead of one. Other recipes use these same ingredients, adding spices and other veggies for added taste.
Quick Pickled Banana Peppers
After you've mastered the basic pickling brine, it's time to take it up a notch. This next recipe has a recipe rating of five out of five and is very easy to make on your own. Instead of one type of vinegar, incorporate apple cider vinegar, along with some other yummy spices to bring out the flavor.
Combine all of the ingredients, excluding the banana peppers, in a large saucepan, and bring them to a boil. Package the banana peppers into the canning jars, then pour the brine over the top of them.
Leave at least one half an inch of headspace at the top. Seal the jars, then place them in the refrigerator to pickle for at least one week before eating.
Banana Pepper Refrigerator Pickles
Another great recipe to try is refrigerator pickles. This type of pickled banana peppers is easy to make and only requires the use of a fridge to preserve them properly. This combination makes approximately one-quart jar, so increase the amounts depending on how many you intend to make.
To use this recipe, start by peeling and crushing the garlic cloves. Add them to the jar with the dill and peppercorn. For the next step, make the brine, starting with the vinegar and water.
After you bring these two to a boil, add in the sugar and salt, then stir until they dissolve. Add the peppers and the brine to the jars, then leave them in the refrigerator for about two or three weeks.
Sample them occasionally to see how the flavor progresses. Once the pickled peppers are at the point you like, it's time to eat to your heart's content.
Sweet Banana Peppers with Honey
If sweet peppers are more your style, then this next pepper recipe will make your mouth water. Not only does it incorporate some of the same delicious ingredients as other recipes, but it also adds a touch of honey to bring out the sweet side of those yellow veggies. This recipe makes about four cups.
Start by slicing the peppers into rings for easier storage in the containers. Next, add all of the remaining ingredients into a large pot to boil. After it boils, add in the banana peppers, then boil again.
Pour the peppers, along with the hot liquid brine, into the canning jars. Let them cool, seal the jars, then place them in the refrigerator for at least 24 hours before eating them.
Spicy Pickled Banana Pepper Recipes
While a little sweetness goes a long way in the culinary world, one of the best things about peppers is their spiciness level. For those of you who enjoy foods with a little kick, this next recipe won't disappoint.
This method only takes about 15 minutes to prepare, makes four separate pint jars, and requires canning to complete.
Remove the stems and seeds from the peppers and cut them into rings. Next, create the pickling brine by adding the water, vinegar, salt, and sugar together in a saucepan. Add the remaining ingredients to the pint jars by adding the same amount to each.
Each jar should have about one teaspoon of salt, one-half teaspoon of celery seeds, and so forth. Pour the brine into the jars, then prepare them for the canning process.
How to Pickle Banana Peppers with Hot Peppers
For a new spicy recipe, this one blends hot peppers with banana peppers. To increase the heat level, cut the peppers up into rings before pickling. This recipe takes about 15 minutes to prepare and creates about six servings.
Start by toasting the cumin and coriander in a skillet. Toss these toasty seeds, along with the peppers, peppercorn, garlic, and bay leaves into the jars. Make sure you evenly distribute the ingredients across multiple jars.
Boil the remaining ingredients to make the brine. Pour the boiling liquid over the peppers and seal them. Place the peppers in the fridge for at least three days before eating.
Spicy Pickled Peppers Blend
If you're looking for a spicy pickled banana pepper recipe that also incorporates some of your other favorite pickles, this might be your favorite recipe yet! This recipe requires canning afterward, so there's no need to alter the portion sizes of the ingredients. These spicy pepper pickles have a prep time of about 15 minutes and are ready to eat in 30.
Cut your blend of peppers into one-inch pieces and chop the onion. Place all of these, as well as the remaining ingredients into a pot for boiling. Bring them to a boiling point, then lower the heat and let them simmer for another five minutes.
Spoon out the mixture into the Mason jars and leave only about one-quarter inch of headspace from the top of the container. Remove all the air bubbles, then prepare them for canning.
Make a Pickled Pepper Relish
Another great way to pickle banana peppers is by packaging them as a relish. Not only do they retain the perfect flavor to cover your hot dogs, but all the prep work is done by the time you're ready to use this condiment.
This particular recipe also uses other peppers and requires canning to complete. However, it makes up to 90 servings.
Chop up all the peppers first into fine, small pieces. Place the chopped peppers into a large bowl with two tablespoons of salt. Add one teaspoon mustard seeds, sugar, and vinegar into a large pot, along with the remaining to jalapeno peppers.
The jalapeno peppers should be cut open, but not chopped up into small pieces. Bring the ingredients in the pot to a rolling boil, and then reduce heat and combine the remaining veggies.
Allow the combination to simmer for approximately ten minutes before removing the whole peppers and portioning the remnants into pint jars. Leave about one quarter inch headspace from the top, then process them with a water bath canner.
Canning Banana Peppers for Long-Term Storage
Canning pickled banana peppers is a little different than canning raw ones. The USDA recommends using a pressure cooker or canner for fresh banana peppers. However, if canning pickled ones, like all of the recipes here, use a water bath canner instead.
Increase the vinegar and water ratio in some recipes to three times as much vinegar as water. Otherwise, the pickled peppers are fine on their own.After you've prepared your pickling recipe and packed your peppers into their jars, it's time to place them in the boiling water canner.
Make sure to get all the air bubbles out of the jar before setting them in the boiling water. Leave them to process for about ten to 15 minutes. Set them out on a clean, dry towel to cool. This process increases the shelf life of your peppers to two years.
Use Your Canned Peppers in a Delicious New Recipe
Now that you have your various pickling methods to choose from, add a new kind of recipe to your list. This one is for after the pickling process and is a great way to use those processed banana peppers once they're ready. The incredible recipe below takes about ten minutes and provides up to eight servings.
Slice the banana peppers down the middle and remove the seeds. Make sure you don't cut them all the way through. Instead, leave them partially open like a pocket or coin pouch. Next, dice the remaining peppers, onions, and tomatoes.
Combine the ingredients in a large bowl with the cheese, salt, and pepper. Blend them well, then spoon the mixture into each banana pepper.
Wrap the stuffed banana peppers up with two slices of bacon, then set them on broiling pan in the oven. Broil them for approximately five minutes, remove from heat, then enjoy!
We hope you enjoyed learning everything there is to know about pickling banana peppers. Whether the recipe you've chosen is delightfully sweet, pleasantly salty, or delivers a powerful, spicy kick, these quick pickled banana peppers tips are just what you need to keep your taste buds happy.
Still unsure which one to choose? Try all the different combinations until you find your favorite!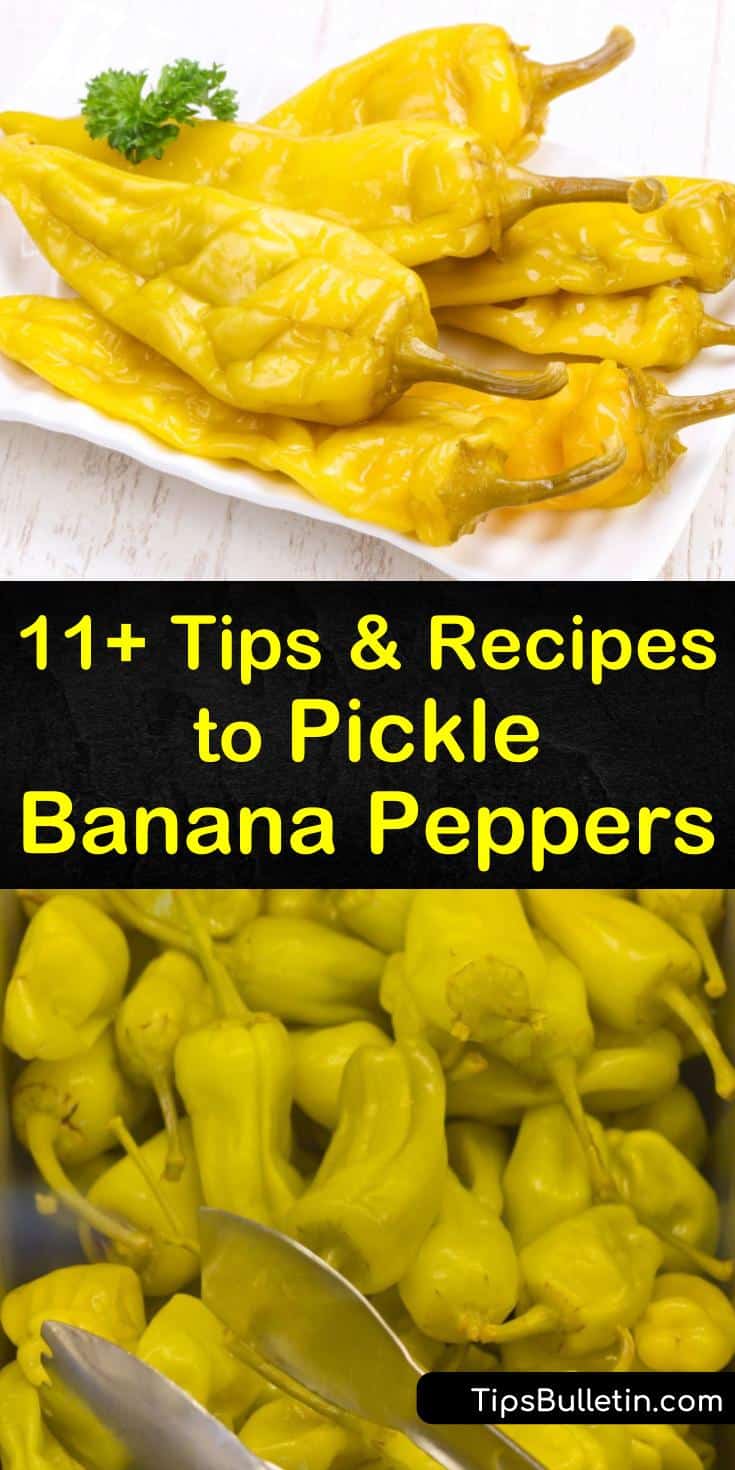 If you loved these pickled banana pepper recipes, don't forget to pass them on and share how to pickle banana peppers with everyone you know on Facebook and Pinterest.