Those with kids know that not everyone is quick to warm up to Brussels sprouts. Though these small green veggies taste like the perfect bite of cabbage, we understand that they may not be for everyone. However, you may change a few people's minds after you learn how to pickle Brussels sprouts.
Quick pickled Brusselss sprouts have been shifting people's feelings towards these veggies for a while. The pickling liquid takes the intense veggie flavor and cuts through it with acidity and spices.
What was once less appealing then turns into a delicious snack or side dish. Brussels sprouts originated in Rome and became a popular crop around the 16th century.
French settlers eventually brought them to Louisiana around 1800, and they have slowly grown more popular as time has passed.
You may think that a pickled Brussels sprouts recipe is your only way to transform them, yet you'd be surprised just how versatile they are.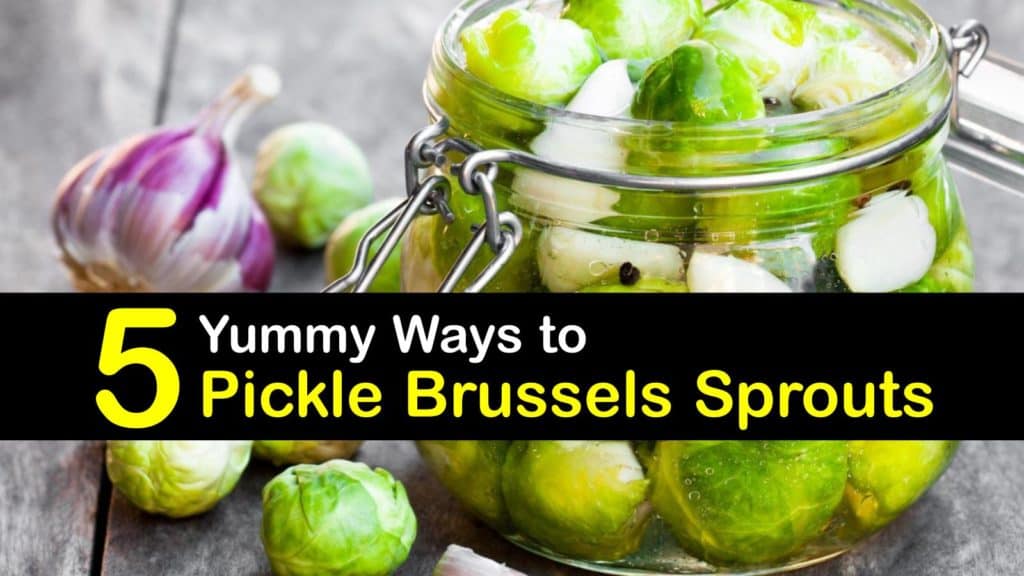 About Brussels Sprouts
Brussels sprouts belong to the brassica family of veggies. Some of their closest relatives include kale, mustard greens, and cauliflower. They are also easy to identify because they look like miniature cabbages.
Whether you discovered the best time to plant and harvest Brussel sprouts or you bought a bunch from the store, knowing how to pickle Brussels sprouts is ideal for a charcuterie board or as condiments for a Bloody Mary. It's also possible to learn the best way to freeze Brussel sprouts for eating later.
However, there is a lot more to these unique crops. Whether you grow Brussel sprouts yourself or find a great deal at the farmer's market, Brussels sprouts are incredibly nutritious and benefit our health in many ways. Here is a general look at the nutrition information for one cup of Brussels sprouts.
These veggies are rich in antioxidants that are crucial for reducing oxidative stress in the body. This level of antioxidants lowers your risk of chronic disease and cancer cell growth.
Sprouts are also high in fiber and promote digestive health by feeding the beneficial bacteria found in your gut.
How to Pickle Brussels Sprouts
Finding a pickled Brussels sprouts recipe isn't too hard. Still, you want to find one that tastes delicious and combines many different ingredients so that each batch has a unique flavor.
When shopping for the recipe ingredients, you'll find that the sprouts are sold on or off the stalk. Either type is acceptable, but the ones on the stem require a little more prep work.
A Traditional Quick Pickled Brusselss Sprouts Recipe
Quick pickled Brusselss sprouts are a fan favorite because they don't usually require the use of a canner. You can definitely can them if you prefer, but it isn't necessary with pickled recipes.
Either way, this is a delicious appetizer that is ready in a short amount of time. If you're not interested in pickling Brusselss sprouts, this is also a great recipe for green beans.
Cook your halved sprouts in a pot of boiling water for five minutes or until they are bright green. Drain the sprouts and then run them under cold water to stop the cooking process.
Bring your water, vinegar, and salt to a simmer in a large pot until the salt dissolves. Add the peppercorns, garlic, red pepper, mustard seeds, and bay leaves to the hot water.
Cook everything for two minutes and set the cooked Brussels sprouts in a sterilized pint jar. Pour the hot mixture over the sprouts and allow it to cool to room temperature.
Replace the lid to the container and refrigerate. How long are Brussel sprouts good for when pickled this way? The pickles last up to one month. The flavor of the pickles starts to taste its best after four days in the fridge.
Another Simple Pickled Brussels Sprouts Recipe
While the basic ingredients for making homemade pickled Brussels sprouts are the same, this is the perfect opportunity to experiment with your own flavor profiles.
Adding a pinch of celery seed or another seasoning can make a big difference in the way your pickles taste.
Grab a large stockpot and set five individual pint jars inside before filling the pot with water. Bring the water to a boil for 15 minutes to sterilize your canning jars.
While the jars boil, trim the ends of the sprouts and remove the outer leaves. Cut each sprout in half lengthwise and then set them in a bowl of cold, salted water for 15 minutes.
Mix the water, white vinegar, and salt in a separate pot and bring it to a simmer. Remove the hot, sterile jars from the hot water and fill them with the Brussels sprouts.
Evenly distribute the garlic and hot peppers between the jars as well. Pour the Brussels pickling liquid over the sprouts, leaving a 1 or 2 inch headspace at the top.
Gently tap the glass canning jars on the counter to remove any air bubbles, and then place the seals and lids on the canning jars. Use a jar lifter to carefully set each one into a boiling water bath in your large stockpot.
Boil the pickles for 15 minutes before lifting them out of the water and placing them on the counter. Do not touch the jars.
Allow them to hang out on the counter at room temperature for 24 hours before checking that the seals have closed. If it hasn't sealed right, either can the jar again or put it in the fridge to use that batch first.
Spices to Add to Pickled Brussels Sprouts
You'd be surprised how different a pickling recipe can taste after a few minor additions to the recipe. There are endless spice combinations to choose from.
The most popular spices for pickling foods include allspice, pepper, cardamom, celery seed, chili peppers, mustard, and bay leaves.
This isn't where the possibilities end, though. Other tasty spices you might want to try are cloves, dill, fennel, ginger, nutmeg, and even cinnamon.
Ways to Use Brussels Sprout Pickles
If you can use a traditional cucumber pickle in one recipe, then swapping it out for a Brussels sprout pickle is an intelligent move.
Use these pickles for Bloody Marys and martinis, to spice up your chicken piccata, or even stir them into hummus.
These pickles are even great on a salad, as a meat marinade, mixed into potato salad, or even making a dip or pizza. The more ways you eat them, the more you're going to fall in love with Brussels sprouts.
How to Store Pickled Brussels Sprouts
Storage for pickles is pretty self-explanatory. While the pickling liquid doesn't require you to can the food for safe food storage, it isn't possible to store them at room temperature unless they have been canned in a water bath or pressure canner.
Once opened, or if you choose not to can them, storing Brussel sprouts you made into pickles is best inside your fridge for up to one month.
We love the tangy crunch that a pickle provides, and these recipes of Brussels sprouts pickles have quickly become a new favorite.
Pickling foods is one of the best long-term storage methods. It doesn't only keep our food fresh longer, but it tastes even more delicious than it did before.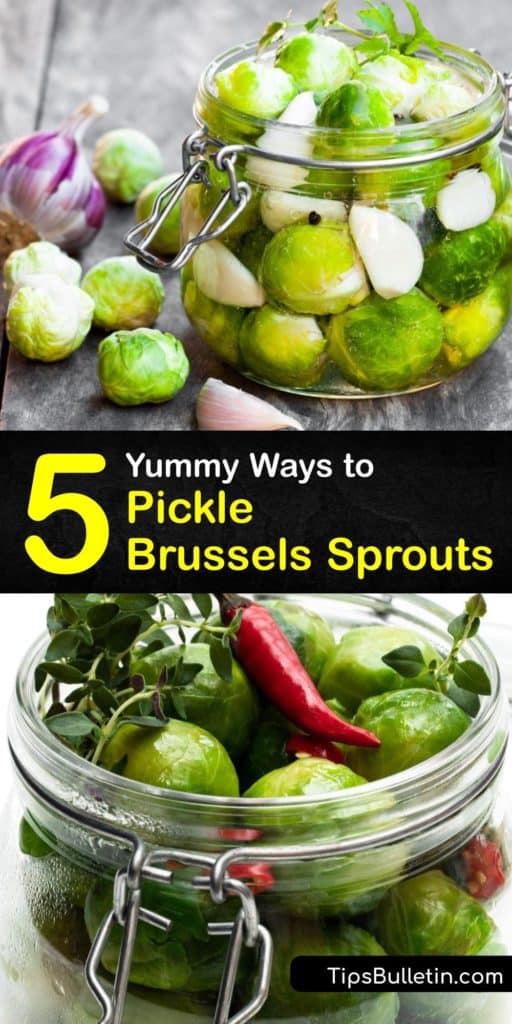 If learning how to pickle Brussels sprouts has helped you store food longer, share these recipes for quick pickled Brusselss sprouts on Facebook and Pinterest.