Who doesn't enjoy the delicious crunch and tangy taste of pickled cucumbers? They are the perfect way to bring flavor and texture to almost any entree, as well as an excellent alternative for celery in macaroni salads. If you want to learn how to pickle cucumbers on your own at home, there are also plenty of recipes and resources available to make that happen.
With something that tastes this amazing and that is well within your realm of abilities to tackle at home, why not attempt your very first pickled cucumber recipe?
After you've raided your local farmers market or grocery stores for the best quality cucumbers available, you may be wondering what you'll need to get started.
There are several factors to consider, including how long you want to preserve your pickles and what flavoring you'd like to give them. Luckily, these tips for how to make pickled cucumbers will provide you with all the help you need to succeed.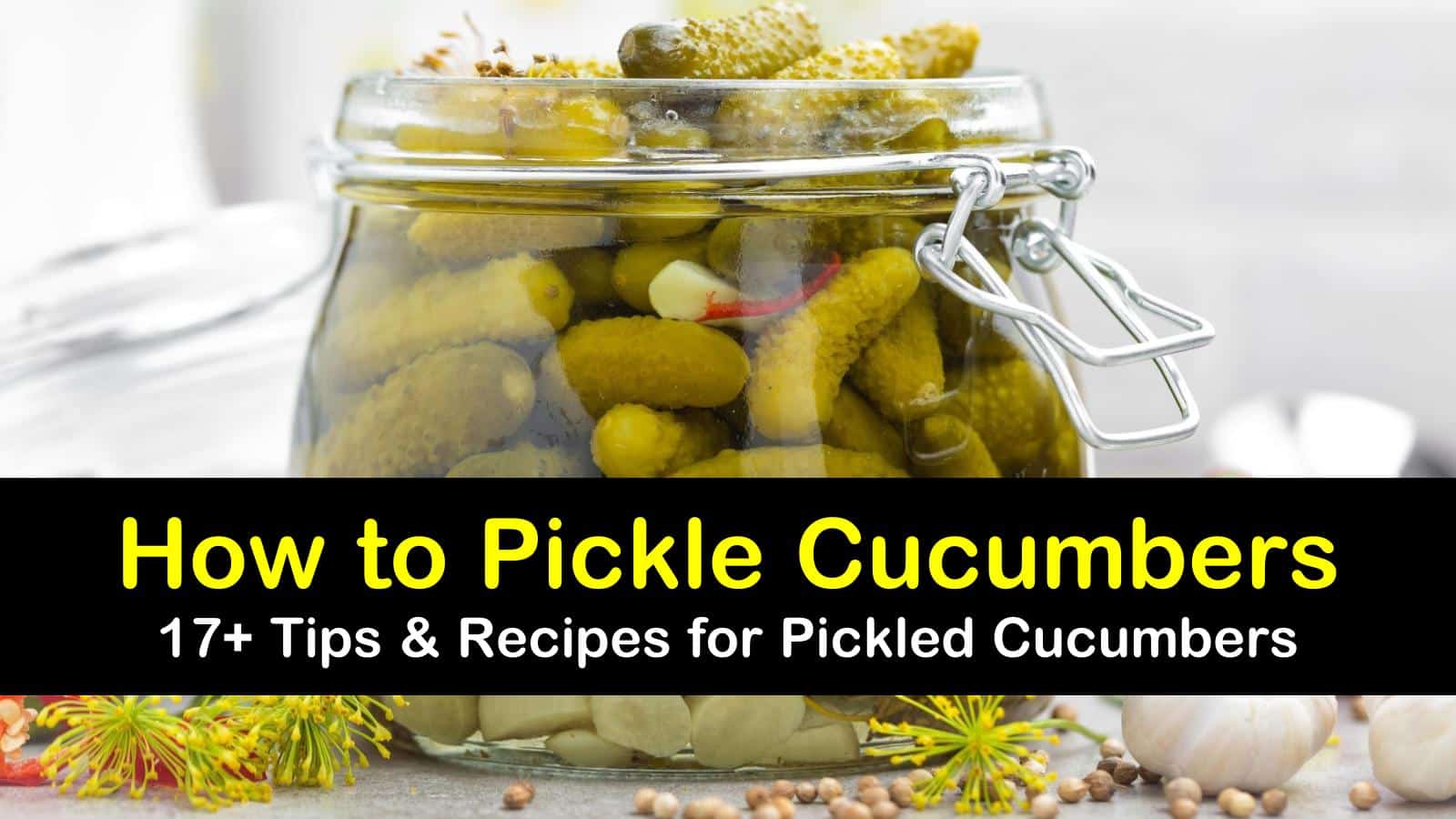 Incredible Ideas for How to Make Pickled Cucumbers
Canned produce lasts much longer than other ways to preserve foods. While it's a great idea to store cukes in the fridge or freezer like onions, how long do cucumbers and frozen onions last? Only a few months. Get more "bang for your buck" by pickling and canning.
Getting your pickles ready to eat requires a little patience. While the prep time is usually short, the chilling process can take anywhere between one to two days before the pickles are good enough to eat. Just as with anything worth waiting for, however, these delicious pickles get better with age.
Choose the Right Kind of Cucumbers
Are pickles and cucumbers the same? No. Not all cucumbers become pickles and not all pickles are made from cucumbers.
Before you take the first step in the pickling process, ensure you have the best cucumbers for the task. Selecting crispy and fresh cucumbers is a must when it comes to creating the best pickles, no matter the flavor. There are also many different types of cucumbers out there to make the decision-making process that much more difficult.
Not only do you have the traditional Kirby cucumbers to choose from, but there are also English and Persian cucumbers to differentiate between, as well. Persian cucumbers tend to hold up better than their English counterparts, however, and are an excellent variety of cucumber for stuffing into pint jars.
How to Make Pickled Cucumbers Properly
Just like when you want to make a quick pickled radish recipe or one for cauliflower, start by cleaning and preparing your regular cucumbers for pickling.
This stage includes cleaning them thoroughly with cool water and brushing off any bacteria or dirt that may exist on the surface.
Doing this will prevent outside elements from seeping into the pickling juices or contaminating the pickle's interior when cutting. Cut away any stems, blossoms, or other unruly plant parts still attached to the cucumber. These may contain elements that will wear down the structure of the pickle over time.
Cut Them up into Perfect Sizes
The fantastic thing about making pickles is the different sizes and shapes they come in, too. However, you want your cukes in the jar; this is the time to prep them.
While you are free to pickle them whole, it is recommended only to do this with the smaller ones. It makes the pickling process more manageable when they are cut into smaller one to two-inch pieces.
Different shapes you can slice your pickles in include long spears as long as they fit inside the jars, flat disks, or thin slices for sandwiches. Determine what you want to use your pickles for when deciding how to cut them.
Cutting and slicing also apply to veggies like carrots. Your quick pickled carrots recipe will be easier if the carrots are in thin slices or rings.
Soak Cucumbers Overnight
One other helpful tip to consider before beginning the pickling process is letting your cucumbers soak overnight in some preserving solution. This solution may consist of an ice water bath, a lime and water solution, or salt water.
Leaving them to soak overnight improves their texture and taste throughout the pickling and canning process. While this step in the process is not always necessary, it does increase the quality of your pickles. So why wouldn't you take the extra time to pickle your cucumbers the best way possible?
Collect All the Necessary Supplies
The good news is that a ton of complicated supplies isn't required to pickle your cucumbers or for how to pickle daikon correctly. The primary resources you'll need are already permanent residents in your kitchen and easily within your reach. The must-have supplies for pickling cucumbers are listed here.
The main items you need to collect before you begin pickling are the ingredients for whatever flavor pickles you want. Most recipes include several spices that you may not have stocked in your pantry. Ensure you have every supply and ingredient you need before starting the pickling process.
Basic Brine for Pickled Cucumber Recipes
No matter what flavor you want your homemade pickles to taste like, start your pickling process with a basic brine. This brine consists of three simple ingredients, vinegar, water, and pickling salt. Follow this easy recipe for pickling brine.
Mix the ingredients in a pot and heat the brine first before adding it to the pickles. This combination of ingredients also works with foods like banana peppers, zucchini, canned jalapeno peppers, and green beans. In many cases, you can even pickle peppers along with pickles at the same time for a delicious mixture of flavors that will add some zest to any meal.
Bread and Butter Pickling Recipe
Another popular flavor to try is bread and butter pickles. These pickles produce just the right amount of sweet and savory for even the pickiest of pickle connoisseurs. Even if you haven't tried this mouthwatering delight, this simple recipe is well worth a try. This pickling recipe only takes about 20 minutes of prep time.
Start by slicing your cucumbers into thin disks. Place them in a bowl with salt sprinkled over them and leave them in the fridge for around one and a half hours. Place the sliced onions along with them. In a saucepan, separate from the onions and cucumbers, combine all of the other ingredients, and bring them to a gentle simmer.
Apply only a little heat until the sugar completely dissolves in the mixture.Pour the saucepan formula over the cucumbers and leave them to sit for an additional hour.
Once the hour is complete, cover them with plastic wrap or sealed jars and place them in the fridge for an extra 24 hours. After that, they will be ready to add to your favorite snacks.
Pickled Cucumber Recipe for Spicy Pickles
If you are a fan of hot and spicy flavor, this next recipe is the one for you! This jalapeno pickle recipe adds the right amount of heat level to your pickles, while still bringing you that pickled taste you love. This recipe requires around 12 cucumbers and takes about 20 minutes to make. That doesn't include the time for chilling them, though.
Bring the combined ingredients, minus the cucumbers, to a boil in a large saucepan. Afterward, pour over the cucumbers, which should already be in their jars. Cover the cucumbers, then store them for up to 24 hours before taste testing them. Add some black peppercorns to give the recipe an extra kick.
Dill Pickle Flavor Recipe
The classic flavor most people know and love belongs to dill pickles. These tart-flavored treats are the perfect complement for hamburgers and potato salad appetizers. When selecting the right ingredients, use dill seeds over fresh dill sprigs for a better concentration of flavor. This dill pickle recipe fills approximately two small pint jars.
Start by peeling the garlic cloves. Cut them up, along with the Kirby cucumbers, and toss them into the pint jars. Add seasonings, excluding the ingredients for the brine, by evenly distributing each different pickling spice between the two containers.
Heat the vinegar mixture on the stovetop before adding it to the pickles. You can also swap out the red pepper flakes for peppercorns to change things up.
Recipe for Delicious Relish
If you are searching for a yummy new way to make a relish with sweet pickles, then you've stopped at the right place. This mouthwatering recipe is the perfect addition for hot dogs and any other entree that needs a little punching up in the flavor department. For this recipe, you will need two bell peppers, one medium-sized onion, and about six pickles.
Grate the onions, cucumbers, and peppers, then toss them into a large pot with one cup of vinegar. Cook at a low simmer, then drain the vinegar when finished. Next, add the other cup of vinegar to the pot, along with the other spices, and cook for an additional five minutes.
After the five minutes is up, move away from the heat and spoon the ingredients into pint jars. Process these with a canner for at least ten minutes. Once the relish has cooled, it will be ready to eat and enjoy.
Choose the Right Vinegar
Vinegar is an essential ingredient in the pickling process. Not only does it act as a powerful preservative, but it also kills off most microorganisms and prevents bacterial growth.
Because vinegar is such a crucial part of the pickling process, ensure you are selecting the right type of vinegar for the task. There are multiple types of vinegar you may come across during the pickling process. Below are just a few standard selections.
Each type of vinegar brings its unique qualities to the pickling process. Darker kinds of vinegar like malt and apple cider vinegar provide mild flavors that blend perfectly with spices in more complex pickle recipes. White vinegar is better for a neutral taste and doesn't discolor lighter foods like cauliflower.
While you may use these various kinds of vinegar depending on what pickling flavor you're pursuing, the most common types are white and apple cider vinegar. These two are the safest to use due to their higher acidic levels. Unless otherwise stated, only use these two primary options.
Properly Packaging the Pickles
One of the first factors you want to determine before storing your pickles is how long you plan on keeping them. Whether for a long-term or short-term time frame, this makes a difference in choosing the best storage options. If storing them in the fridge, your pickles will keep fresh and acceptable anywhere between three and four months.
When canned, they can last up to two years. Pickles placed in the freezer will last approximately one year. After you've determined the time frame, how you store them is relatively the same, at least as far as what to place them in, which would be glass jars.
When packaging pickles in the jar, leave a half an inch of headspace separating the top of the jar from the pickles. Doing this will leave you with enough space between the food and the top to accept the brine and adequately seal the jar. If you are placing these cucumbers in the freezer, seal them in a plastic bag or container instead.
Clean Jars Appropriately Before Storing
Depending on how you intend to store your pickles, you also want to adjust your cleaning techniques to accommodate this step. The most common ways of preserving and storing pickles are either by placing them in the fridge or through the canning process.
Both require storage in a glass jar. If you plan on storing your pickles in the refrigerator for a short-term supply of pickles, then washing them with soapy water is more than enough to prepare your Mason jars for use. If you plan on canning them, however, sterilize them first.
Can You Freeze Pickles?
Yes, you can freeze pickles, though they will last about as long as they would during the canning process. If you want to forgo this canning process altogether, however, and want to preserve them longer than you would in the fridge, then the freezer is your next best option.
Storing cucumbers in the freezer uses a similar process as pickling. Before placing the fresh cucumbers in a brine, season them with salt and leave them for approximately two hours.
Rinse them off and soak them in the brine. The pickles do not have to remain in the brine for an extended period, though. Instead, ladle them back out of the brine mixture then toss them as-is into a freezer bag for storage.
They will stay fresh and crispy in the freezer for up to one year. To thaw them, place them in the fridge to slowly defrost overnight or for several hours.
Pickling Cucumbers in the Refrigerator
If you plan on making refrigerator pickles, the steps are relatively straightforward. Add your favorite pickle recipe to the glass jars then seal the lid tightly. Shake the canister and its contents well to mix up the ingredients thoroughly.
The next step requires a little bit of patience, as you'll have to wait at least two days before taste-testing your pickles. After you refrigerate them for 48 hours, however, they should be more than ready to eat.
How to Pickle Cucumbers Using the Canning Method
For more extended storage options, process your jar of pickles with a water bath canner. This step may be as simple as placing them inside a cooker with boiling water after you've already sealed them in the canning jars. Once you put them in hot water, wait until they reach the boiling point again.
Leave them in the boiling water for approximately five minutes before removing them with a pair of tongs. The lids should appear indented, signifying a vacuum-tight seal. This option is an excellent way to increase the shelf life of your pickles to about one to two years, though it may also result in a softer texture for your cucumbers over time.
Remove All Air Bubbles Before Packaging
Another step you want to take care of before sealing your pickles is removing all the air bubbles from the jar. This step is vital for both refrigerating and canning, as it ensures your pickles have a tight enough seal and less susceptibility to bacteria.
It also avoids issues like discoloration and loss of both texture and flavor. This step is especially critical to take during the canning process. The heat generated during canning eliminates remaining pockets of air for a vacuum-tight seal.
If there is too much air left behind, however, then the jar will not seal properly. The best way to prevent these bubbles is by running a plastic spatula or wooden spoon along the inner walls of the container.
Move the spatula between the glass and the cucumbers. Making this simple motion releases trapped air bubbles from within the jar.
Allow Pickle Jars to Cool Before Storing
If you opted for using a canning cucumber recipe, your freshly pickled cucumbers are safe to store at room temperature afterward, as long as they remain unopened. Once you open a jar, store the pickles in the refrigerator. No matter which route you choose, give your glass jars some time to cool before you store them, whether in the pantry or the fridge.
Wait until they reach room temperature, then give them at least 48 hours to soak up the juices from the brine and make even more delicious pickles. The longer you wait to open that pickle jar, the better the taste. Of course, don't wait too long before taking a bite out of these yummy pickled veggies.
Even if this is your first time pickling cucumbers, you can't go wrong with these amazing and steps and tips. Not sure which flavor to start with? Try all the flavors until you find your favorite.
Don't take our word for how incredible each pickles recipe tastes. Judge for yourself and enjoy the tangy taste of delight only pickling provides. Your taste buds will thank you.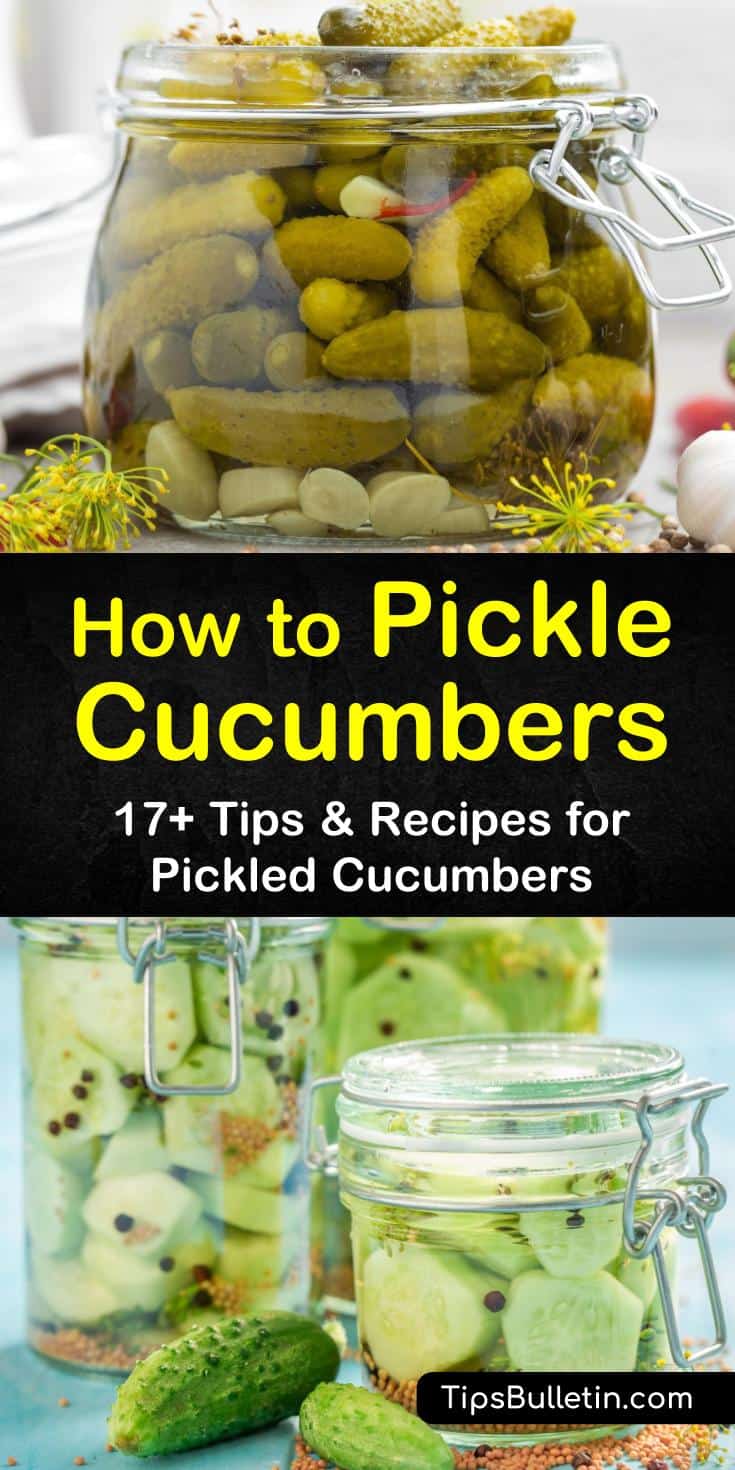 If you found the pickled cucumber recipe of your dreams, don't forget to pass it on and share how to pickle cucumbers with friends and family on Facebook and Pinterest.