If you've ever been to a Korean BBQ restaurant, then you've probably already tasted a pickled daikon radish and fallen in love. Once you discover how to pickle daikon, it's an easy way to add flavor to sandwiches, salads, noodles, and more.
If you haven't heard of daikon before, that's because it goes by various names like the white radish, Japanese radish, Chinese radish, winter radish, or luobo. The daikon radish is like a large, white carrot and is edible when raw, pickled, or cooked.
Despite the many ways to use this vegetable, using a pickled daikon recipe is one of the tastiest ways to enjoy it. Daikon originated in the southeast and eastern parts of Asia.
This root veggie tastes similar to watermelon radishes. These radishes often get peeled and thinly sliced to be used as a garnish, condiment, or to make daikon pickles.
They get added to baked goods and savory meals as well. Daikons are slightly sweet and spicy and milder than the traditional red radish. One of the most common ways home cooks use them is to turn them into quick pickled daikon.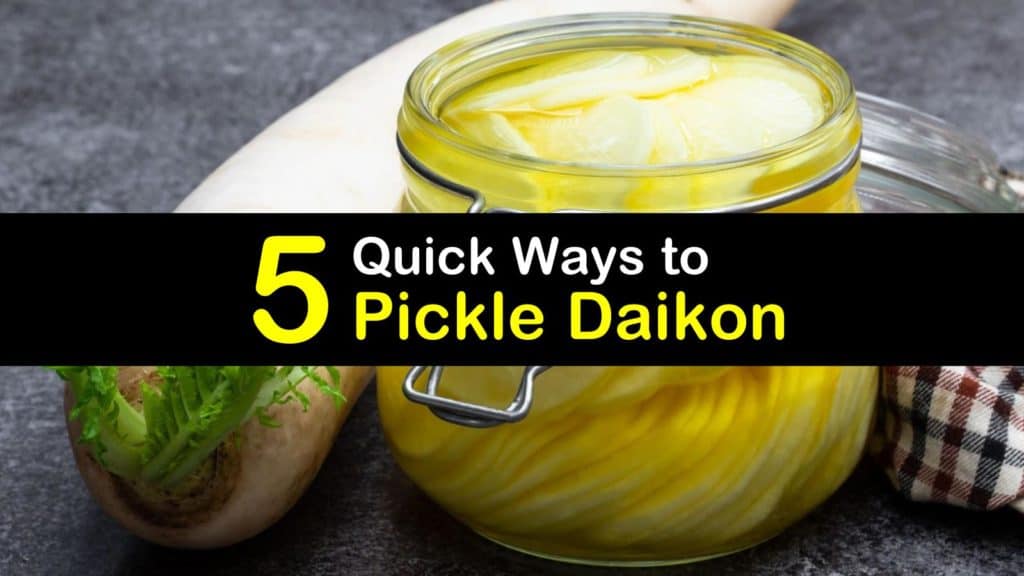 More about Daikon Radishes
Daikon isn't always an easily accessible vegetable found at any neighborhood grocery store. Although these veggies do pop up from time to time, it's still rare.
The best places to find daikon are in Japanese, Chinese, and Vietnamese markets. The radishes are in season during the winter and are usually packaged by the pound in the stores.
Daikon radishes usually reach six or more inches and resemble a carrot. Avoid veggies with cuts and dark or soft spots. Once you bring the radish home, remove the leaves and store the root in a plastic bag in the fridge for around two weeks.
Eating daikon isn't the only thing it's suitable for. Daikon is also used for livestock, made into oil and cosmetics, and helps improve the soil for farmers.
When consumed, daikon is low in calories but high in calcium, potassium, magnesium, folate, and vitamin C. It also helps prevent heart disease, diabetes, cancer, and other chronic diseases.
How to Pickle Daikon
Making pickles is an excellent way to store bell peppers long term, as well as many other veggies. Along with cucumbers, carrots, cabbage, and beets, daikon is one of the best vegetables to pickle. Pickling daikon is relatively easy to do, and there are tons of recipes to experiment with.
When you're finding your favorite way to make pickled daikon, don't be afraid to play around with the pickling ingredients and make it your own recipe based on what you like to eat.
Quick Pickled Daikon
The most common and best way to pickle daikon is by adding other pickled vegetables like carrots to the mix and doing a quick pickle. This quick pickled daikon is fast, easy, and makes for a dynamite topping on an authentic, Vietnamese banh mi sandwich.
If the best way to store radish doesn't float your boat, daikon pickles make for a crunchy appetizer or side dish with your favorite Asian foods.
You can also make quick pickled okra, cucumbers, and a variety of other veggies. Quick pickles require refrigeration since they are not preserved in a pressure or water canner.
For pickling carrots and daikon, wash the carrots and daikon and cut them into matchsticks. Place the veggies into a sterilized Mason jar or similar glass jar. Bring the white vinegar, rice vinegar, water, sugar, and salt to a boil in a saucepan over medium-high heat.
Remove the pickling liquid from the stovetop and pour it over the veggies, so they're entirely covered. Allow the glass jar to cool to room temperature and place the lid on tightly. Put the closed jar in the refrigerator and store it there for about three weeks.
Spicy Pickled Daikon Recipe
Another fun way to pickle daikon is to add some new spices to the recipe. For those who like their pickles hot, this may be the recipe for you.
Place the sliced daikon in a large bowl. In a saucepan, mix the remaining ingredients and bring it to a boil.
Pour the pickling liquid over the daikon and let it brine for two hours at room temperature. Transfer the daikon pickles to an airtight container and refrigerate for one month.
Of course, if you want a really spicy pickle, experiment with pickled whole jalapenos. There's plenty of zing to go around with these peppers.
How to Make Radish Kimchi
The daikon radish is one of the main ingredients in kimchi, a Korean condiment made from fermented vegetables. This recipe focuses on the daikon and becomes a bold flavor once it's finished.
Cut the radish into half-inch cubes and put them in a large mixing bowl with the sugar and salt. Let them sit for one hour on your kitchen counter. Chop the green onion and set aside. Blend the fish sauce, onion, and apple and set aside.
Mix the water and rice flour in a small glass bowl and heat it for one minute in the microwave until it resembles porridge. In a medium bowl, mix the green onion, blended apple and onion, and flour mixture.
Put the daikon radish in a colander and rinse for five minutes under cold water. Transfer the daikon to a clean mixing bowl and toss with the Korean chili flakes and the liquid from the medium mixing bowl.
Transfer the daikon to a large glass jar, tightly close the lid, and let the veggies sit at room temperature for six to 24 hours before storing it in the fridge. Now you have a vegan friendly snack that is sure to impress your friends and family.
A Faster Way to Pickle Daikon
Although pickling daikon is a pretty fast process, there's another shortcut to make it even quicker. While boiling your pickling liquid, add the raw daikon directly to the boiling liquid and let it simmer for 20 minutes.
Zero-Heat Pickled Daikon
For those who consider boiling water to be cooking, we don't blame you for looking for an even more straightforward pickled daikon recipe. Instead of boiling the pickling liquid, add it straight to the jar of daikon and let it sit in your fridge for one week before eating it. You can also use this method for pickle cabbage recipes if you're in a hurry.
Daikon may or may not be a new ingredient to you. Regardless, once you've tasted it, you're sure to crave its zesty flavor more and more.
Daikon pickles are a unique substitution for some of our favorite toppings and can transform a dish in a way we've never experienced before. These quick pickled daikon recipes are easy enough for even a beginner cook to handle.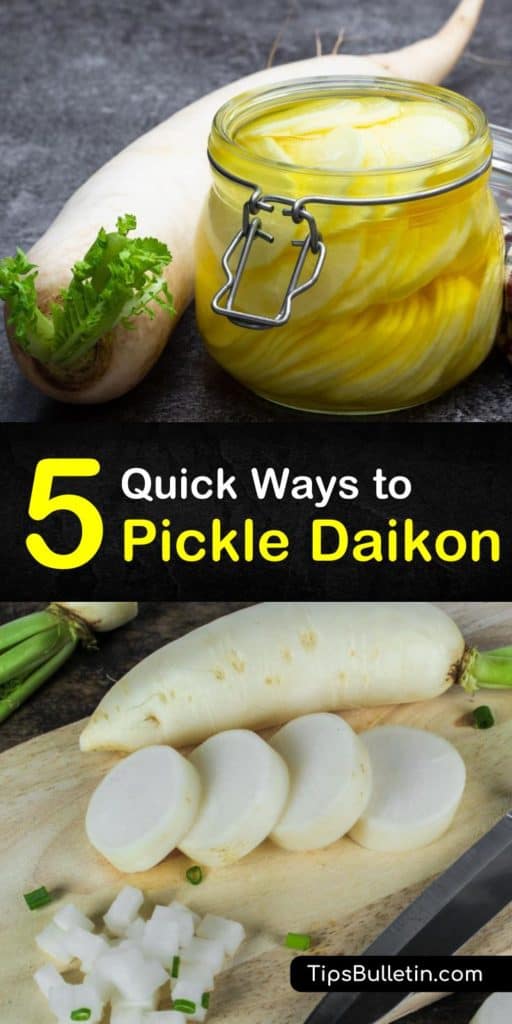 If you took your cooking up a notch using this information on how to pickle daikon, share these pickled daikon recipes on Facebook and Pinterest.