Ice cream or a cold soda is typically people's go-to snack on a hot summer day, but we believe there's nothing better than biting into a crunchy, briny pickle straight from the refrigerator. Cucumbers aren't the only vegetable you can make into a tasty summer treat. Learning how to pickle green beans turns you into the new favorite host among your family and friends.
Pickled green beans offer an appetizing taste that comes in a variety of flavor combinations and makes excellent appetizers, garnishes for a bloody Mary, or side dishes. People pickle just about anything they can get their hands on – eggs, watermelon rinds, lemons, and even shrimp.
It may seem strange, but there's just something about soaking food in vinegar and salt that turns everyday food items into a tangy treat that meat-eaters, vegetarians, and vegans can't resist.
Try out one pickled green beans recipe listed below, and we guarantee you won't be able to stop yourself from taking a few extra snack trips to the fridge this summer.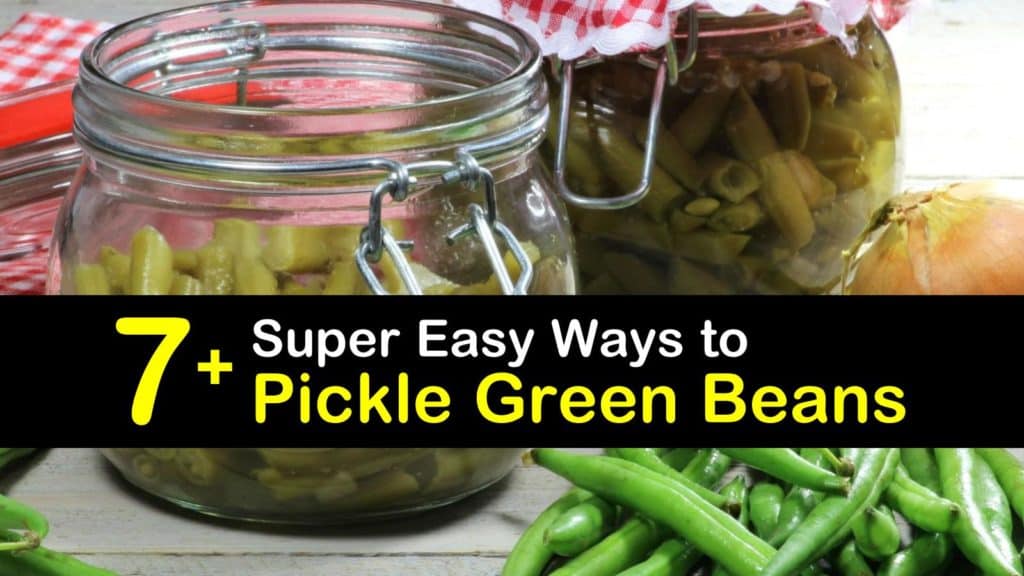 Canning History
Canning first started in the late 1700s to continue feeding Napoleon's army. The French government said that they would even pay a reward to the first person to find a better preservation method than the available options at the time.
Believe it or not, canning is one of the newer food preservation methods. More modern techniques are freezing and freeze drying, both of which are less sustainable than canning.
You may wonder can pickled jalapenos go bad, or green beans or even carrots. Yes, they can spoil, but it takes a while – up to a couple of years or more as long as the jars remain well-sealed.
Benefits of Green Beans
There are over 130 green bean varieties, but many fans of pickled beans prefer to use either green beans, string beans or snap beans to make this crispy snack. These beans are rich in vitamin C, vitamin A, and vitamin K.
They're also gluten-free with a healthy dose of protein and fiber. Nutrition facts state that one cup of pickled green beans only has 38 calories, with only three percent fat, 78 percent carbs, and 20 percent protein.
Swapping out a bag of chips for pickled beans is a simple way to eat healthier and incorporate more nutrients into your diet. There are tons of added health benefits to green beans as well.
Whether you eat fresh green beans or pickled, these veggies contain large amounts of chlorophyll that helps block carcinogens consumed when we grill meat. Studies have shown that they also promote fertility when paired with iron-rich foods.
If that wasn't enough, green beans may also help with depression and improve bone health. Green beans are edible when fresh, frozen, or canned. However, for lovers of canned beans, drain and rinse them to help reduce the sodium content by at least 41 percent.
Risks Associated with Green Beans
If you have specific health conditions, you may want to avoid eating green beans. People who take daily blood thinners may want to pass on this veggie because the high levels of vitamin K may play a role in blood clotting.
Green beans also contain phytic acid that binds to other minerals. This bonding prevents the minerals from being absorbed by the body, which means that green beans may not be safe for people with a mineral deficiency.
Always ask your doctor what foods are safe to eat if you have ongoing health conditions. Overall, though, green beans are typically safe and tasty treats for numerous people to enjoy.
When do green beans go bad? If not properly preserved, green beans don't last very long. Pickling and canning allows you to eat these yummy veggies up to a couple of years or more as long as the seal on the jars remains intact.
If you're interested in incorporating more of these beans into your life, you don't need a cookbook. Simply snap off the stems and eat them raw or with hummus, throw them in a casserole, or top cooked beans with marinara and Parmesan for a healthy dinner. Our favorite recipe, however, is quick pickled green beans.
How to Pickle Green Beans
When pickling green beans, either give them a quick pickle or can them and storage fresh green beans at room temperature. Canning pickled green beans may take longer and require more equipment, but they last much longer than quick-pickled beans.
Regardless of what way you decide to make them, this article provides step-by-step instructions for both. Pickling is always best with super fresh vegetables.
Our favorite place to buy produce is at the local farmers market, but most grocery stores have a great selection of fresh vegetables. Before you pickle your green beans, blanch them to preserve their color and nutrients.
Blanching is optional but highly recommended because you'll notice a big difference in quality compared to unblanched beans. Once your veggies are blanched, pickle them whole or cut them into whichever shape you desire.
Pressure Canning vs. Boiling Water Bath Canning
There are two types of canning: pressure canning or boiling water bath canning. Special equipment is required for pressure canning but not boiling water bath canning. Be careful when purchasing a pressure canner; lots of people mistake a pressure canner and a pressure cooker as the same thing, but they are not.
All low acid or alkaline foods must process in a pressure canner. That means any vegetable that isn't pickled is only safe when canned in a pressure canner. This is because botulism spores may still survive in a boiling water bath.
How to Blanch Green Beans
Fill a large saucepan with water and boil it. While you wait for the water to boil, fill a large glass bowl with ice water. Place green beans, or other kinds of beans, in the boiling water for two to three minutes.
Lay the green beans in the ice water bath to stop the cooking process. Spread out paper towels or a clean dishcloth. Remove the beans from the water bath and spread them out on the towels to dry. Your green beans are now ready to be quick pickled or canned.
How to Make Quick Pickled Green Beans
Quick pickled vegetables are often referred to as refrigerator pickles. They are quick and easy to make because they are simply placed in vinegar, salt, and water and placed in the fridge.
Although they don't develop as deep of a flavor profile as canned pickles, they take a shorter time to brine.
Wash the pint jars, lids, and rings in hot, soapy water. Rinse thoroughly and set aside to dry. Wash, trim and blanch the beans. Divide the dill, peppercorns, coriander, and garlic between jars.
Tightly pack the vegetable into the jars, leaving a half-inch headspace from the rim. Combine the water, vinegar, salt, and sugar in a small saucepan and bring it to a boil. Pour the brine over the beans, leaving a half-inch headspace from the rim again.
Gently tap the jars against the counter to remove air bubbles. Place the lids and rings on tightly. Cool the jars at room temperature and store them in the refrigerator for two days before opening and eating them.
How long do green beans last that have been quick pickled? These quick pickles last up to two weeks in the fridge.
The recipe for canned jalapenos has similar ingredients and an almost identical process, just like when you make pickled okra.
Canned Pickled Green Beans Recipe
Canning recipes are a great way to store your pickled beans for long periods. They last for anywhere from 3-5 years and won't take up room in your fridge when stored at room temperature.
Add a variety of ingredients to your jars to customize a flavor to your taste buds' preference. Because you're canning pickled green beans and not fresh, it is safe to use a water canner instead of a pressure cooker.
Thoroughly wash and dry jar, lid, and rim. Wash, trim, and blanch beans. Place the garlic, dill, red pepper, and mustard seed into the jar and tightly pack the green beans into the jar. Bring salt, vinegar, and water to a boil in a small pan.
Pour the solution over the beans, leaving a half-inch headspace at the top. Tap the jar on the counter to eliminate air bubbles and secure the lid and ring. Set the jar the water canner and process for 15 minutes.
Turn off heat and remove the cover from the water canner. Let jars sit five minutes before removing. Once removed, let sit for 24 hours and check to ensure all the lids are adequately sealed.
This pickled green beans recipe is pretty traditional, but there's a reason for it. Dill and vinegar are a match made in heaven, and you'll find yourself coming back time and again for this tried-and-true recipe.
Pickled Green Beans for Spice Lovers
Be careful with this recipe. The added cayenne pepper and jalapeno adds an extra kick for spicy food lovers. To tone down the heat, de-seed the jalapeno.
This recipe is a delicious way to can string beans and snap beans as well. If you love heat in your food, this is the recipe for you.
Thoroughly wash and dry jars, lids, and rims. Wash, trim, and blanch beans. Divide cayenne, dill, jalapeno, and garlic between jars. Tightly pack the beans into the jars. Combine the salt, water, and vinegar in a large pan and bring to a boil.
Pour brine into jars, leaving a half-inch headspace at the top. Remove the air bubbles by softly tapping the jars on the counter and secure the lids and rims. Use a boiling water canner to process the jars for ten minutes.
Turn off the heat and remove the cover from the water canner. Let jars sit five minutes before removing. Once removed, let sit for 24 hours and check to ensure all the lids adequately sealed.
Although pickle fans love the original recipes that use cucumbers, there are many more options for pickling veggies that have the same, if not more, flavor as their traditional counterparts. The flavor profiles are endless when learning how to pickle green beans.
Make your own recipe and add ingredients like fennel seeds, cloves, allspice, sliced ginger, fresh chilies, celery seeds, star anise, cumin seeds, and more. The sky is the limit when pickling green beans, and some experimentation might lead you to create a recipe that friends and family beg for.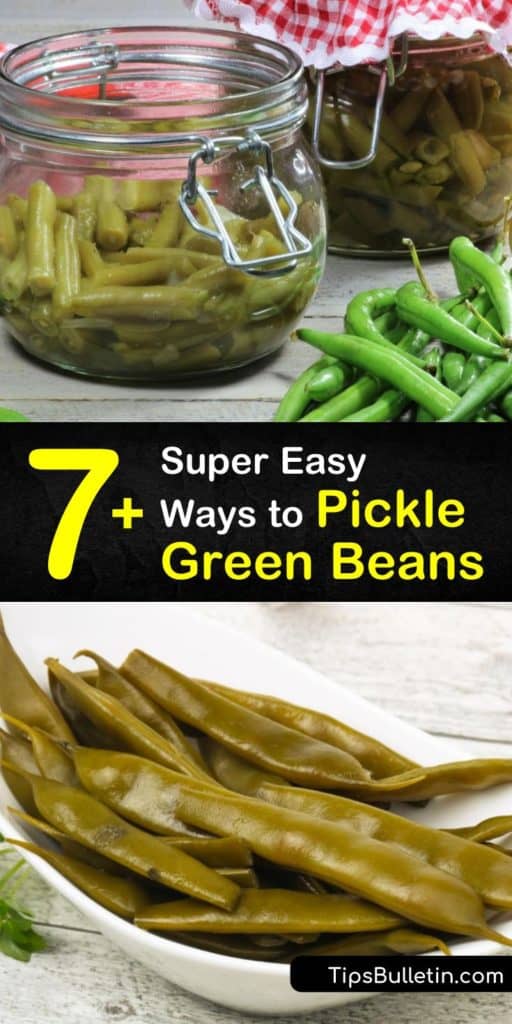 We genuinely hope you enjoyed learning how simple it is to pickle green beans and that you can apply these recipes to any vegetable. If you found it interesting to learn how to pickle green beans, share these pickle recipes on Facebook and Pinterest.