People enjoy Jalapeno peppers across the world, and pickling them is a great way to enjoy them even when they are not in season. These crunchy, zesty, colorful delights are used in various Mexican dishes from tacos to spicy appetizers. We'll show you how to pickle jalapenos utilizing a variety of methods so that you can enjoy jalapeno recipes year-round.
Jalapeno peppers are hot peppers that are crispy with a little bit of bite. Unlike bell peppers that have no heat level, jalapenos have a Scoville heat unit that ranges from two to eight thousand.
Jalapenos are generally used when they are green, but you can also use the mature variety of jalapeno, which will be red with a little less heat and more sweetness.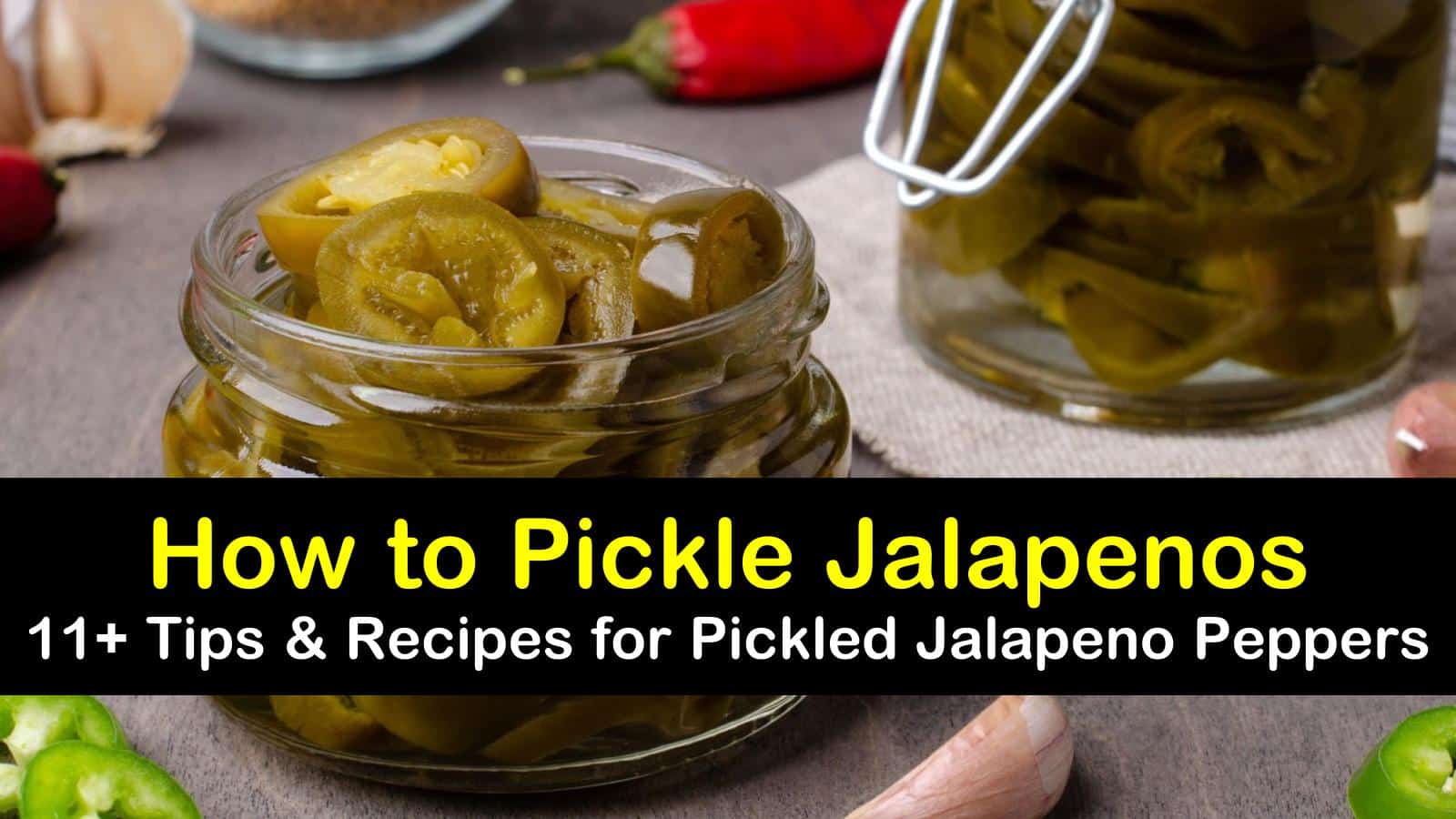 Tricks to Pickle Jalapenos
Like all other fruits and vegetables, there is a specific jalapeno growing season in most climates. Keep your spicy peppers longer by pickling them.
Many people think that pickles are reserved strictly for cucumbers. While you can easily pickle cucumbers at home, you can also store many other vegetables and even fruits this way.
Preserving jalapenos is a simple process, as there are a variety of ways to do it, depending on when you plan to eat them and how you use them. Choose your favorite varieties of jalapenos or use several options. Can you freeze jalapenos? Yes! What about drying? Sure.
Many people believe that pickling is the best way to store jalapenos. If you are considering pickling jalapeno peppers for storage, you may be pleasantly surprised to discover that there are various methods and recipes to do this.
Follow these helpful at home methods to can jalapenos and pickle them, with a choice of sweet, dill, spicy, and many other pickling recipes.
We'll show you how to start with the perfect pickling method and easy recipes, and finish up with several ways those pickled jalapenos can be used in meals. You'll end up with lots of jalapenos to enjoy for months or even years to come.
How to Pick the Perfect Jalapeno for Pickling
Before you can pickle those jalapenos, you'll need to pick the perfect ones, whether you are buying them from the grocery store or harvesting them from jalapeno plants in your garden.
Picking the Right Jalapeno
If you are purchasing jalapeno peppers from the store, you will probably only come across the green variety. Choose peppers that are plump and firm to the touch with a bright sheen on its surface. Pass on any peppers that have soft or wrinkly skins.
Growing your jalapeno peppers will give you more options for pickling. Most people think that jalapenos are green hot pepper, but gardeners will tell you that these peppers can range from green to red. When are jalapenos ripe?
Jalapenos turn green and grow to approximately four to six inches in length. They can be harvested at this time. If you'd prefer to have red jalapeno peppers, then you will have to wait a while longer.
They will turn from green to black and then finally red. This change in color also alters the taste of the pepper. The green variety is hotter, while the red is milder with a sweet flavor.
Pickling Jalapeno Peppers the Easy Way
The first thoughts that people may have when they hear the words, pickling or canning, is that this is an all-day process or that it is reserved just for preserving a cucumber. This is just not true. You can pickle almost any veggie.
The amount of time it takes depends on your recipe. This recipe shows you how to pickle those jalapenos with a prep time of five minutes and a total time of 25 minutes.
Pour water and vinegar into a pan over high heat and add the salt, sugar, oregano, and garlic. Bring the vinegar solution to a boil and remove it from the heat.
Add the rings of jalapenos and let them sit for about ten minutes. Use tongs to pack the peppers into a Mason jar or two, and add the vinegar solution. Seal the jars and refrigerate.
For a little variety, add some onions to this recipe or pickle fresh onions in a similar way. Veggie combinations for pickling are almost endless. You can even try to make pickled okra the same way or choose another favorite vegetable.
Quick Pickled Jalapenos
Don't have a lot of time for pickling? This quick pickled jalapenos recipe only takes ten minutes. There is no canning involved because it uses vinegar and salt as natural preservatives. You can also add other peppers and veggies such as carrots to change things up a little and add some variety to your pickles.
To make this simple recipe, place a pan on medium heat and then add the water, vinegar, garlic, sugar, and salt and bring the mixture to a boil. Remove from the heat and add the jalapeno rings. Let the mixture rest for about eight minutes.
Remove the jalapenos from the brine with tongs and pack them into a jar. Cover the peppers with the vinegar liquid and seal. They last in the refrigerator for up to two months.
How to Pickle Jalapeno Peppers with a Water Bath
If you plan on storing your pickled jalapenos for a long time, you may want to pickle them using a canner. Canned pickled jalapeno peppers can last up to two years on the shelf. This method is ideal for beginners.
Prepare the peppers by washing them, cutting off the stem, and slicing them into 1/4 inch rings. You may need to wear gloves while cutting the peppers. Place a rack into the bottom of a large pot on the stove.
Fill the pot with water and add the empty jars. Bring them to a boil and simmer for about ten minutes. In another pot, add the water, vinegar, and salt and boil for five minutes. Remove the hot jars from the large pan and pack them full with the peppers, leaving an inch of headspace.
Ladle the brine liquid into the jars until the peppers are covered. Use a knife to push down into the sides of the jars to release any air bubbles. Place the jar lids and rims onto the jars and tighten until finger tight.
Set the jars back into the pot of water, making sure that they are submerged in one to two inches of water. Place a lid onto the pan and bring back to a boil. Process the peppers for ten minutes, remove from the heat, and remove the cover.
Allow the jars to cool for five minutes before removing the jars from the water. Let the jars of peppers cool for 24 hours and then check to be sure that the lids have sealed.
Pickled Jalapenos Recipe with Apple Cider Vinegar
If you'd prefer not to use white vinegar for pickling your peppers, you can use apple cider vinegar. The following recipe is packed full of flavorful and aromatic herbs and spices.
Begin by washing and removing the stems of the peppers. Slice the jalapenos into eighth-inch rings. Combine the cider vinegar, water, and honey into the pan and heat to the point right before boiling.
Add half teaspoon kosher salt, half teaspoon peppercorns, one whole peeled garlic clove, one bay leaf, quarter teaspoon cumin seeds, and quarter teaspoon of coriander seeds into the pint jars.
Place the jalapeño slices into each jar and pack them down. Pour the vinegar pickling liquid into the jars, making sure to leave half an inch of headspace. Remove any air bubbles by pressing a knife down the side of each jar.
Place the rims and lids onto the jars and make then finger tight. Cool the jars at room temperature and then refrigerate for several months.
Whole Pickled Jalapeno Recipe
Jalapeno peppers do not need to be cut up into rings for pickling. If you'd prefer to leave the peppers whole, you can use this pickled jalapeno recipe.
Pierce the skin of each pepper three times with a pairing knife and pack into a large preserving jar. Place the pot on high heat and add all of the other ingredients. Bring the liquid to a boil and simmer for five minutes.
Pour the vinegar brine in the jar until the peppers are covered. Place a lid on the jar and refrigerate for one week before eating.
Make Sweet Pickled Jalapenos
Sweet pickled peppers are hot and spicy with a kick of sweetness that goes well with cream cheese and crackers and other snacks. They are also a great way to add some punch to hot dogs, brats, and hamburgers.
Put the cider vinegar, garlic powder, sugar, celery seed, and cayenne into the pot. Bring the pot of brine to a boil and simmer for about five minutes. Add the sliced and diced peppers and simmer for another four minutes.
Scoop out the peppers with a slotted spoon and place them into canning jars until almost full, leaving half an inch of headspace. Turn the heat to high and bring the liquid to a boil for five minutes.
Use a spoon to scoop out the syrup and into the jars until the peppers are covered. Use a knife to push out any air bubbles. Place the rims and lids onto the jars and allow them to cool at room temperature for an hour before refrigerating.
Making Dill Pickled Jalapeno Peppers
If you enjoy dill pickles but also want a spicy zing, you can make a batch of dill pickles and jalapenos to make those everyday pickles a little more interesting.
Wash the peppers and slice them into quarter-inch rings, and wash and slice the cucumbers into half-inch chips. Bring the water and vinegar to a boil in a large pot. Add the mustard seeds, coriander, peppercorns, and salt into the liquid and simmer for about five minutes.
Place two garlic cloves, two fresh dill pieces, and up to eight pepper slices into each jar. Pack the cucumber slices over the top. Ladle the hot water and vinegar brine into each jar until the cucumbers and peppers are covered, leaving half an inch of headspace.
Allow the jars an hour of cooling time on the counter. Place the lids and rings onto the jars and refrigerate for up to two weeks. Wait at least 24 hours before eating.
Pickled Jalapenos without Boiling
If heating up the kitchen is not your thing, then we have the perfect recipe for you. These easy pickled jalapenos take a matter of minutes to make without even turning on the stove.
Place the sliced peppers, peppercorns, and garlic into the Mason jar. Combine the white vinegar and salt in a large bowl and stir until the salt has dissolved. Pour the mixture into the jar until the peppers are covered.
Add some water to the top and seal the jar shut. Shake the jar gently to distribute the brine throughout. Refrigerate for two days or more before eating.
Pickled Jalapeno Relish Recipe
If you enjoy spreading some relish on those grilled hot dogs and burgers, try some relish with a little kick. We'll show you how to make pickled jalapeno relish to add the perfect amount of zing to your favorite food.
Begin by washing the peppers and removing the stems. Half the jalapenos lengthwise, and remove the membranes and seeds. Place the garlic into the blender or food processor and blend until the garlic is in small pieces. Add the peppers and process until the peppers have chopped down to small chunks.
Mix in the cider and salt. Pour the mixture into a jar, and put the lid and rim into place. Refrigerate one hour before eating. Store leftover relish in the fridge for up to two weeks.
How to Make a Cheesy Jalapeno Dip
You have all of those jars of pickled jalapenos, so now what do you do with them? How about starting with a Queso Blanco Dip? This Mexican style creamy white cheese dip is delicious and, even better, is this recipe is vegan!
Begin by putting all of the ingredients, minus 1/4 cup of the pickled jalapenos, into a blender or food processor. Blend until smooth and creamy. Pour in the leftover peppers and pulse the blender to chop them into the creamy mixture. Doing this will give the dip some added texture.
Pour the cream into a saucepan on medium heat and cook until the sauce begins to thicken. Cook for approximately ten minutes while stirring to prevent sticking. Serve hot or warm with a side of tortilla chips and enjoy!
Using Jalapeno Pickles on Nachos
Have some friends over for movie night? Grab a jar of your homemade pickled jalapeno peppers and make a platter of delicious nachos.
Layer tortilla chips into a baking dish and sprinkle both kinds of cheese over the top. Cover this with chopped onion and chili con carne. Bake at 350°F for about four minutes or until the cheese has melted. Remove from the oven and top with pickled jalapenos, diced tomatoes, sour cream, and any of your other favorite toppings.
Pickling whole jalapenos and jalapeno slices will provide you with a delicious and natural addition to your meals year-round. They can be used in dips and sauces, or as toppings for tacos, nachos, hamburgers, and hot dogs. When it comes to these zesty peppers, there is a wide assortment of uses, and pickling them can be done in as little as ten minutes.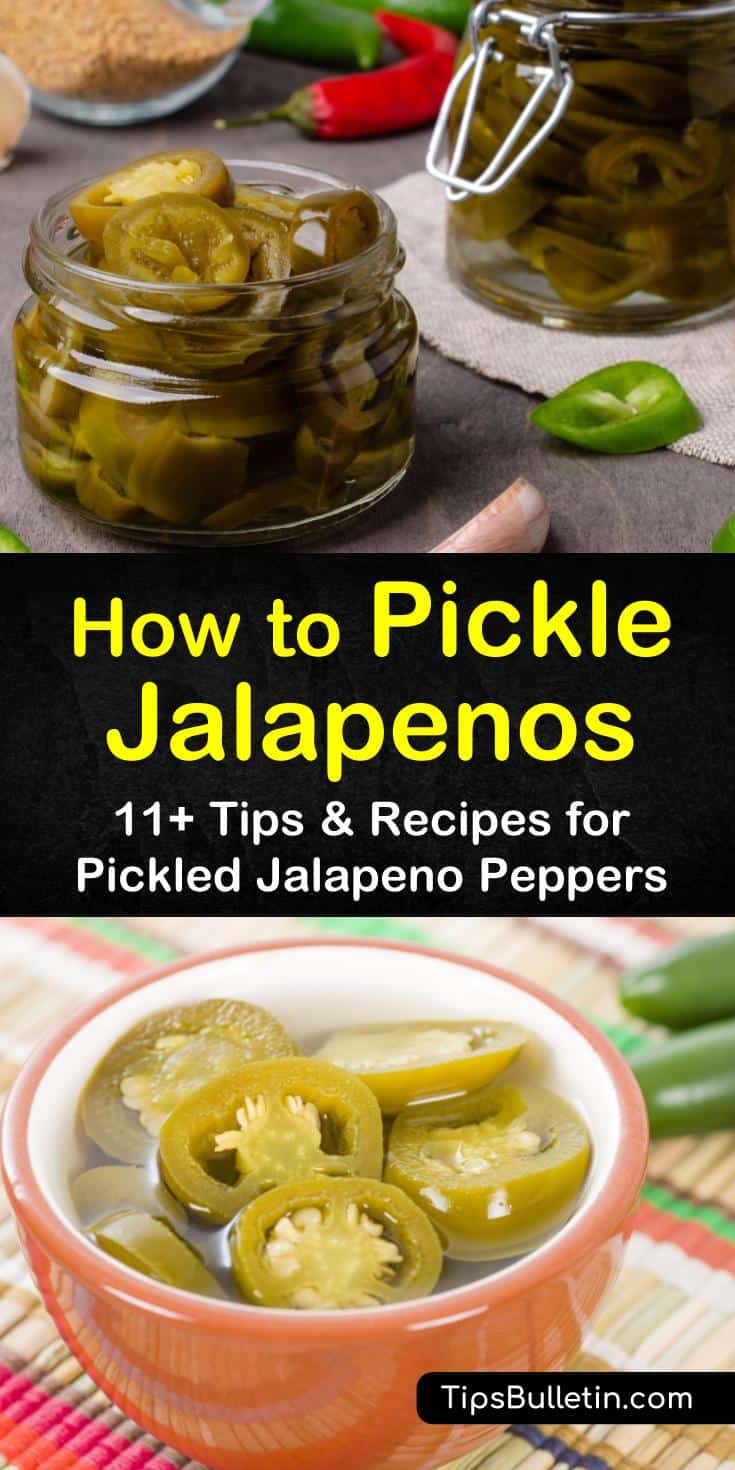 Knowing how to pickle jalapenos can provide you with zesty condiments all year, so why not share these pickled jalapeno recipes and tips with your friends and family on Pinterest and Facebook so they can enjoy them, too?