Ah, sweet and succulent peaches, our favorite summer-time fruit. Unfortunately, the peach season only lasts so long, and saying goodbye to shorts and sandals means saying goodbye to fresh peaches. We'll show you how to pickle peaches so that you get to enjoy their healthy deliciousness all year-round.
Yes, pickling peaches is a thing. Not only is pickling a great way to lengthen the shelf life of everything from cucumbers and peppers to peaches, but pickled peaches have many tasty uses.
Munch on them from the jar, use them as a topping on ice cream or pound cake or eat them alongside a plate of fried chicken. Not only is the functionality of these tasty treats almost endless, but they have many health benefits.
Peaches are packed full of nutrients and antioxidants, are low in carbohydrates, and may lower cholesterol levels, improve digestion, and help maintain weight. All the more reason to pickle them to eat when they are off-season.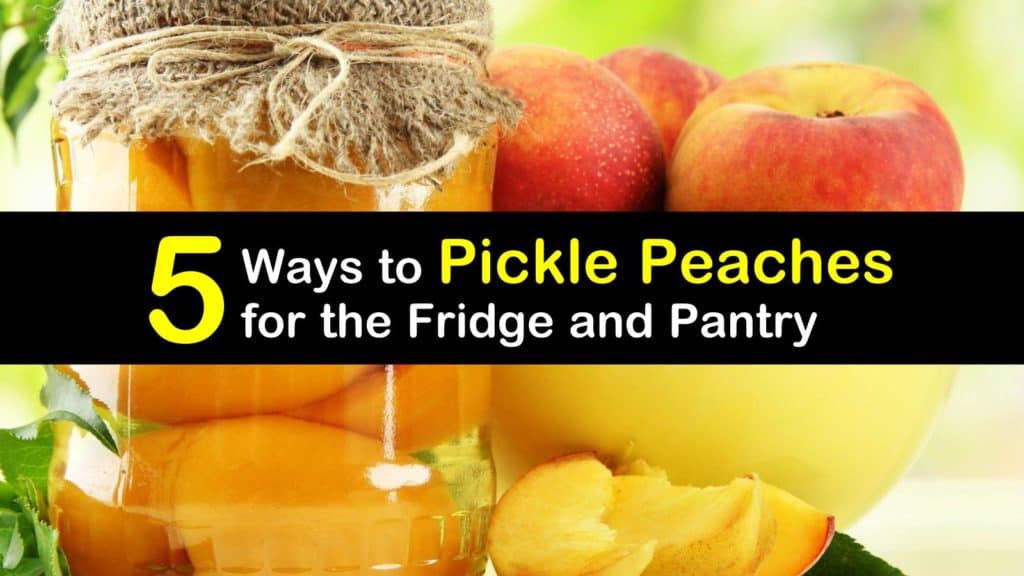 Ways to Pickle Peaches Short and Long Term
There are many ways to preserve peaches, from canning peaches in juice to making preserves and jams.
Can peaches be frozen? Sure, but pickling them is a surprising treat.
Believe it or not, but there is more than one way to pickle a peach. Some recipes are quick and perfect for keeping pickled peaches in the fridge, while others are ideal for storing peaches in the pantry.
We'll show you both easy and advanced forms of pickling and how to use up your pickled fruits.
Making a Batch of Quick Pickled Peaches
Pickling peaches doesn't always have to be an all-day event. If you want to have these sweet-tart fruits as a snack or addition to your next meal, consider making a batch of quick pickled peaches.
Mix the vinegar, water, sugar, salt, and red pepper in a large pot. Break the cinnamon stick into small pieces and put them into the pan, and bring it to a boil for two minutes until the sugar dissolves.
Slice the peaches into twelve wedges, place them into a container, and pour the vinegar liquid over the top. Let them sit for about 20-minutes before eating them or store peaches in the fridge.
Pickled Peaches Recipe for Long Term Storage
Canned peaches are great for storing in the pantry, and they last up to one year. Be sure you know how to tell if a peach is ripe so you have the most delicious fruits for this tasty treat. This pickled peaches recipe is relatively basic, but it's easy to spruce up by adding some of your favorite spices.
To make homemade pickled peaches, begin by washing and peeling the fruits and slicing them in half. To make the job of removing the skins easier, boil the whole peaches for a minute, transfer them to ice water, and then use a paring knife to remove the skins.
Place the vinegar, water, sugar, and cinnamon sticks into a large pot or Dutch oven. Wrap the cloves and allspice in a cheesecloth and add it to the liquid, and simmer it, covered, for half an hour.
Place the peaches into the syrup and simmer it for a cook time of 20-minutes. Use a slotted spoon to transfer the peaches to the sterile jars and then pour the hot liquid over the top, leaving a half-inch of headspace.
Wipe the rims with a towel and insert a knife into the liquid to remove air bubbles. Screw the lids in place before processing them in a hot water bath canner for ten minutes.
Take the canning jars out of the boiling water with tongs and let them cool at room temperature before storing them.
How to Pickle Peaches with a Spicy Kick
Like things a little spicy? The best way to pickle peaches with a kick is to add some hot peppers to the recipe. While it seems strange to combine peaches, vinegar, and peppers, this combination is perfect if you love sweet-heat.
Wash, peel, and prepare the peaches by removing the pit and slicing them into desired pieces. Bring the cider vinegar and sugar to a boil and simmer until the sugar dissolves.
Pack the jars with the peaches and add half of a habanero chili, one cinnamon stick, and two whole cloves into each jar.
Pour the hot brine over the fruits to cover them, leaving a quarter-inch of headspace. How long do peaches last with this recipe? Screw the lids in place and store them in the fridge for up to one month.
How to Make Refrigerator Pickled Peaches
Refrigerator pickles are ideal for preserving peaches short term. This pickled peaches recipe takes little to no time at all to prepare and is perfect for keeping healthy snacks in the fridge.
Combine the vinegar, maple syrup, sugar, and cinnamon in a large saucepan and simmer the mixture for about five minutes to dissolve the sugar. While the liquid cooks, peel and slice the peaches into wedges and pack them into a jar or container.
Add the sliced ginger and then pour the hot brine over the top to cover the fruit. Secure a lid in place and refrigerate the pickles for one to two weeks.
Instead of peaches, try a variation and make sweet pickled carrots with this recipe. It's delicious!
Ways to Use Pickled Peaches
After choosing your favorite way to make pickled peaches, you're probably wondering what to do with all of those pickles. While the most obvious is to eat them right from the jar, there are other ways to incorporate them into dishes.
Pickled peaches are perfect for adding to a relish tray or charcuterie board. They are also a great sidekick to grilled chicken and pork and heavenly poured over pound cake or as an ice cream topping.
However, our favorite way to eat pickled peaches is with cheese. Spread a decent layer of cream cheese over the top of a cracker, toast, or warm bagel, and add a big spoonful of pickled peaches to the top. This recipe is wonderful for a quick breakfast or a healthy midday snack.
You can pickle almost any fruit or vegetable. Experiment with flavors for your peaches or when making a yummy Korean pickled daikon recipe. There are so many possibilities.
Who would've thought that pickled peaches were popular? Not only is pickling the perfect way to preserve these versatile fruits short and long term, but their sweet and tangy flavor is hard to resist and delicious on everything from hamburgers and salad to cake.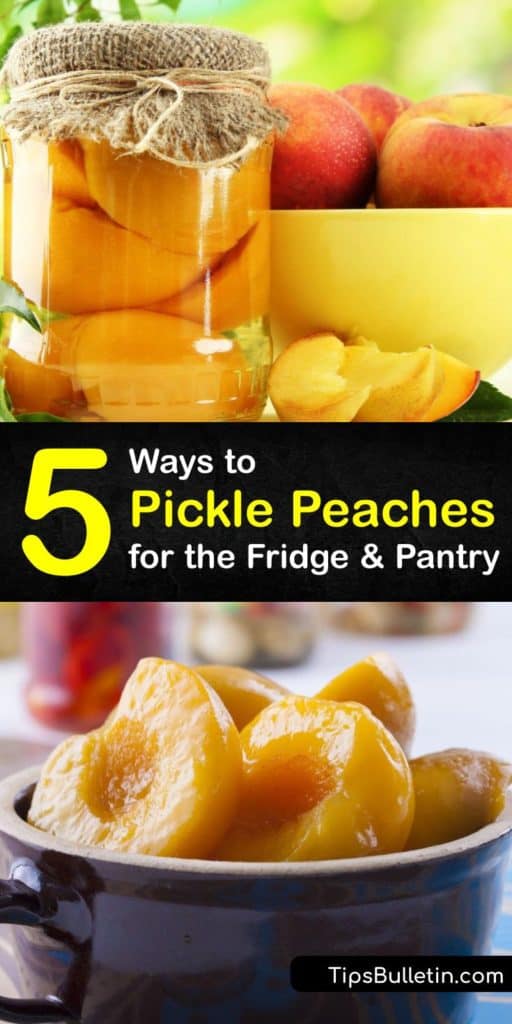 Knowing how to pickle peaches keeps your favorite fruit tasty even during the winter, so why not share our peach pickling recipes with your family and friends on Facebook and Pinterest?