The pickling process isn't exclusively for cucumbers. Pickling is a food preservation method used on all types of food like pickled onions, garlic, grapes, eggs, watermelon rind, and, our favorite, radishes. When you learn how to pickle radish, you're expanding the flavor range in some of your favorite meals.
A pickled radish recipe leads you to add them on burgers, tacos, salads, and more. There are endless quick pickled radish recipes out there, but this article shows you the best way to make them and teaches you all about these root veggies along the way.
Pickling is a preservation process that helps extend the shelf life of some of our favorite fresh foods. It typically includes submerging food in a brine made from vinegar.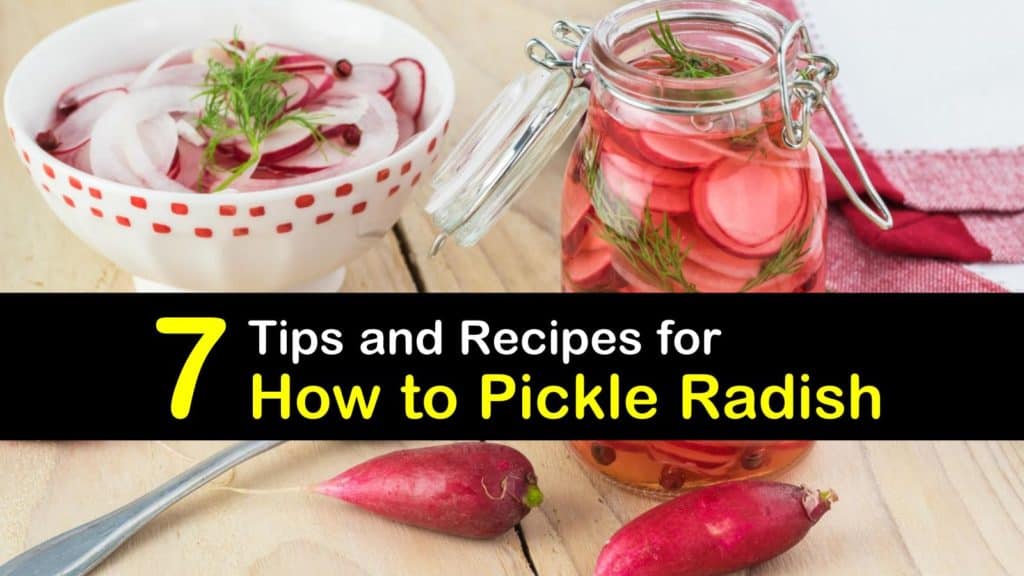 Nutrition Information of Red Radishes
Pickling radish and other foods affect the food's texture and taste, but it usually makes them even more flavorful than before. People pickle fruits, vegetables, meat, fish, and dairy products and they have become loved by millions around the world.
Raw, fresh radishes probably aren't the most popular veggies on your radar, just like knowing about how to preserve ginger root. However, it's unfortunate because radishes and ginger are some of the healthiest things to eat.
About half of a cup of radish slices has only 12 calories and is made mainly from carbs and water with no fat. This serving size contains 14 percent of your daily vitamin C requirement as well as healthy amounts of potassium, folate, calcium, zinc, manganese, and vitamins B6 and K.
On top of that, radishes help prevent cancer, support a healthy digestive system, and are antifungal. The only nutritional difference between raw radishes and pickled radishes is an increase in sodium.
There are many different types of radishes you could try to pickle, too. Add some new veggies to your cooking repertoire. How about experimenting with a pickled daikon recipe? You may be surprised at how delicious it is.
Tips and Information on How to Pickle Radish
Before you learn how to make radish pickles, it's essential to learn about the veggies you're consuming. We always recommend researching your food to get a deep understanding of where it comes from and how it fuels your body.
Whether you are making sweet pickled okra, radishes, or carrots, knowing more about the vegetables helps you create more balanced meals with a variety of flavors.
Learn about Radishes
Radishes are root vegetables and a part of the Brassica family, meaning they are closely related to kale, broccoli, cauliflower, turnips, mustard seeds, and cabbage. The leaves are tough and bitter but are edible as well.
They've been cultivated for over 3,000 years in China and grow in various colors and sizes. Their interior flesh is white, but the outsides vary from brown to pink to red.
One of the best things about these root vegetables is that they are fast growers. Radish seeds germinate within three days and are ready to be brought to the table in as little as four weeks.
Growing your own vegetable garden is the best way to guarantee fresh radishes, but store-bought options are equally delicious.
How to Grow Radishes
Radish seeds are available for purchase at your local nursery or garden center. Plant them in either the spring or fall to avoid hot summer temperatures. These vegetables are one of the easiest to grow and are harvested multiple times throughout the growing season.
Plant radish seeds in a sunny spot because the shade causes them to focus on the leaves instead of the fruit. Ensure that the soil is fertile with organic matter and loose to help drainage.
Remove rocks or clumps from the planting site and sow the seeds a half-inch deep, four weeks after the last spring frost. Keep the soil consistently moist and plant them every ten days for a season full of fresh radishes.
Harvesting Radishes
How long do radishes take to grow? Not long. Expect them to be ready up to six weeks after planting.
Harvest your radishes after the weather has been dry for several days. Allowing the root hairs to dry out helps for easier removal. Whether harvested from your garden or bought from your local store, fresh radishes are firm to the touch.
There are no visual signs of decay, soft spots, or brown spots. Fresh radishes have a subtle aroma, so off-putting smells signal you have a bad veggie. The best way to pickle radish is to start with the freshest ingredients.
The Right Way to Slice Radishes
Homemade pickled radish recipes all tell you to slice your radishes thinly, but they don't tell you a secret to cutting them that doesn't involve a knife.
A mandoline slicer not only saves you time but makes your radishes extra thin to help soak up all the tasty brine and make them extra crisp. If you're not already using a mandolin to slice your radishes, it makes a noticeable difference in your pickles' taste and texture.
A mandolin can also be beneficial when making canned pickled carrots, as it creates even slices that are more attractive.
How to Make a Quick Pickled Radish
Now that you have the freshest radishes and the necessary tools, it's time to learn how to pickle radish with this quick pickled radish recipe or for storing daikon.
Use this simple recipe for quick pickled cabbage or another of your favorite veggies, as well.
How to preserve radish this way involves washing and trimming the radishes first. Use a regular globe radish as a substitute for daikon in this recipe or vice versa. Thinly slice them with a mandolin and stuff the raw radishes into Mason jars. In a glass bowl, combine the vinegar, salt, sugar, and boiling water and stir until everything dissolves and mixes well.
Pour the radish pickling liquid into the Mason jar until all the radishes are covered. Let the radishes sit for an hour at room temperature, then seal the lid and refrigerate for three to four weeks.
Eat the pickle radishes individually as a gluten free snack or as a tangy condiment on your favorite foods.
Vegan Pickled Radish Recipe for Tacos
A fun way to make pickled radish is to add ingredients that complement another dish. One of our favorite ways to use a pickled radish recipe is to add them to beef tacos.
Bring the vinegar, salt, and sugar to a rolling boil in a small saucepan. Add the peppercorns and red pepper flakes, turn off the heat, and set to the side.
Evenly distribute the radishes, cilantro, jalapeño, red onions, and garlic in Mason jars. Pour the pickling liquid over the tops until covered, seal the lids, and store in the refrigerator 24 hours before eating.
Be sure that all of the ingredients you add to your pickled radish recipe are fresh. Dropping in rotten onion pieces will ruin the entire jar.
How to Store Radishes
Pickling radishes is a safe way to store them for extended periods, but that isn't always possible with our busy schedules. There are several other ways to store radish for either shorter or longer amounts of time.
Fill a bowl with cold water and store them in the water bath, with the stems attached, for up to three days on the counter or eight days in the fridge.
Another way to store radishes is to remove the stems and keep them in a plastic bag lined with a paper towel. The towel absorbs the moisture, and the radishes stay fresh in the fridge for up to two weeks.
Radishes are often underappreciated and underutilized. These crunchy bites are the perfect topping for added texture and flavor. They may not be your go-to snack when you're hungry, but we think they have the potential to significantly impact your life.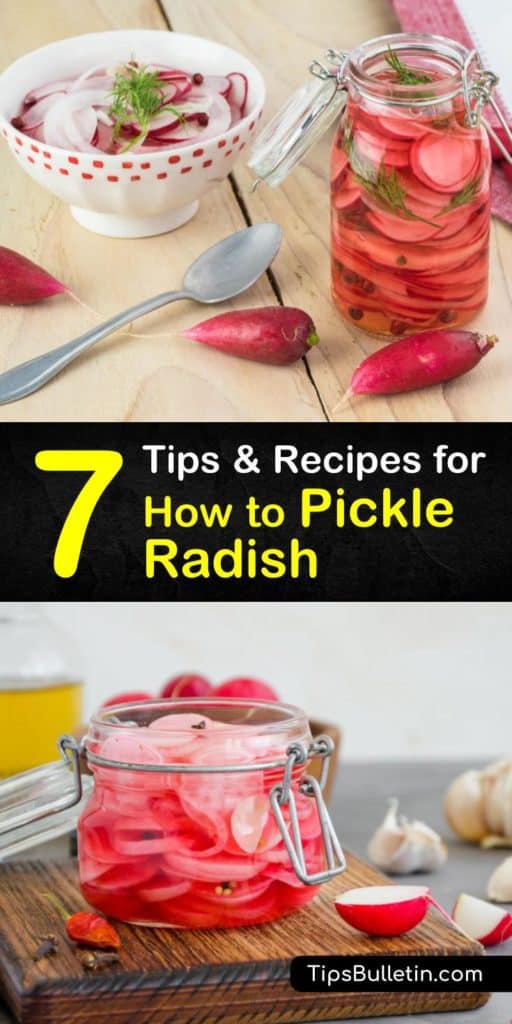 If you enjoyed learning about all the tips for how to pickle radish, share these pickled radish recipes with friends and family on Facebook and Pinterest.