There's nothing better than a bountiful day at the farmers market, other than a great harvest from your garden. Those baskets of fresh vegetables are awaiting proper pickling, and they cannot pickle themselves. We'll show you how to pickle vegetables using basic techniques, along with variations of pickled veggies that are sweet, zesty, and flavorful.
Pickling is an effective way to preserve just about any type of vegetable, including cucumbers, asparagus, radishes, zucchini, green beans, and cauliflower. Adding fresh herbs and spices to the pickling recipe is a great way to add some zest and a personal touch to the veggies.
These tangy and sometimes zesty veggies are great as a topping on tacos, hot dogs, and hamburgers, or served as a side dish at your summer-time BBQ. Pickled vegetables are not only a great way to add a kick to the meal, but they provide you with a good serving of daily vitamins and nutrients.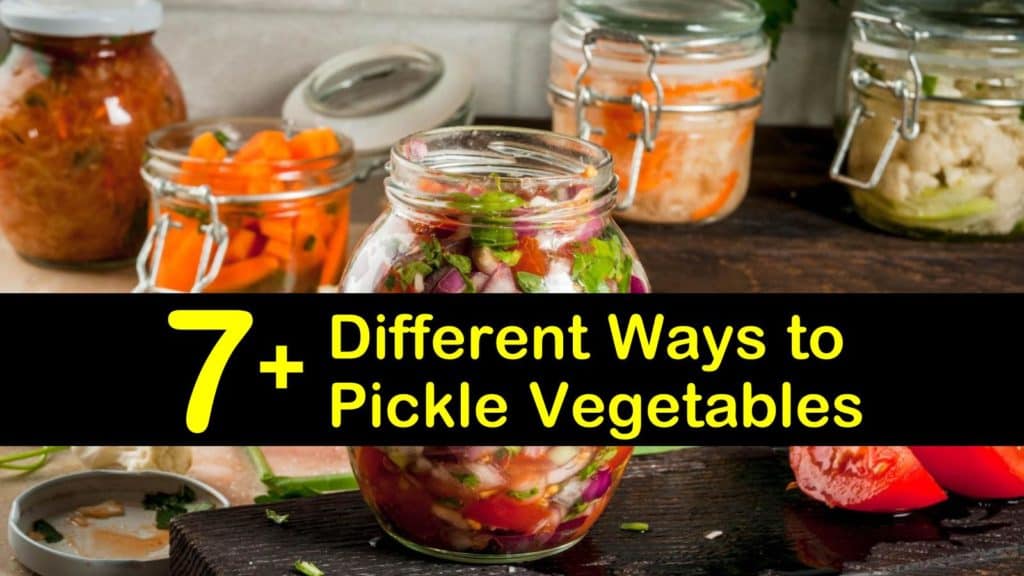 Pickling Vegetables
While most of us think of cucumbers when considering pickled veggies, there are other options. There are also several ways to pickle vegetables from quick refrigerator pickles for storing short-term to canned pickles for long term storage.
You can also pickle veggies while avoiding the use of sugar, salt, and even vinegar. So, roll up those sleeves, gather your ingredients, and start pickling.
Choosing and Preparing Vegetables for Pickling
Almost any type of vegetable is an ideal candidate for pickling, from carrots, shade veggies like turnips and cauliflower florets, to tomatoes, green beans, and bell peppers. Rutabagas make a good substitute for turnips. The key is to choose fresh, unblemished veggies for optimal flavor.
When does a cauliflower go bad? What about other veggies? Make sure they are firm to the touch and do not have any soft spots or mold growth.
Choose from vegetables that can be grown in pots, in your garden, from the farmers market, or from a great sale at the grocery store. Growing your own veggies ensures that you know exactly what goes into them and you don't have to worry about pesticides.
Use a homemade fruit and vegetable wash to clean the vegetables thoroughly before preparing them for pickling to remove any grime and dirt. The shape and size of the pickled veggies are entirely up to you, but there are some ways to prepare them that improve the final result.
For example, cherry tomatoes are pickled whole, while larger tomatoes are better when cut into quarters. Carrots are peeled and cut into matchsticks or coin shapes.
Slice cucumbers, squash, fresh ginger, and red onion into thin slices. Pickle beets in sticks, rounds, or quarters. Tiny ones can be preserved whole. Green vegetables such as asparagus and green beans are blanched to preserve their color.
Storing fresh asparagus, beans, carrots, and cabbage by pickling offers a delicious and unusual flavor that you don't usually get when eating them otherwise.
Making Quick Pickled Vegetables
Quick pickled vegetables are also known as refrigerator pickles. These veggies are easy to prepare using simple ingredients and do not require canning.
Store quick pickle carrots or your other favorite vegetable in the fridge for short term storage and enjoy them whenever you get the urge. This recipe is also ideal for quick pickled zucchini or cucumbers. They won't last long once everyone has a taste!
For this pickled green beans recipe (or asparagus, snap peas, or turnips), divide the dill, fennel, peppercorns, and garlic between each clean Mason jar.
If you don't have any fennel, use anise as a substitute for fennel for a similar flavor.
Wash and cut your favorite veggies into the desired shapes and sizes and pack them into the jars, whether you are using this as a pickled Brussels sprouts recipe or one for carrots. Combine the water, cider vinegar, salt, and sugar in a saucepan, bring it to a boil, and stir the liquid until the sugar and salt dissolve.
Pour the pickled liquid over the top of the veggies, leaving half an inch of headspace. Tap the jars on the counter gently to remove any air bubbles. Screw the lids on tight and let them cool at room temperature. Store unopened, quick pickled vegetables in the fridge for up to two months.
Basic Pickled Vegetables Recipe for Canning
Pickled veggies are a refreshing way to enjoy fresh vegetables with a twist, and canning them is ideal for long term storage. This pickled vegetables recipe uses a combination of veggies with basic ingredients, but there are no rules when it comes to pickling. Consider adding a jalapeño pepper, red pepper flakes, and cumin to give the veggies extra spice.
Place the jars in a water canner and cover with water. Heat to a simmer, and keep them hot until ready to use. Combine the water, vinegar, salt, and sugar, in a large saucepot and bring it to a boil. White wine vinegar is a good substitute for white vinegar, but balsamic vinegar tends to be overpowering.
Place the bay leaves, garlic, and peppercorns in a square of cheesecloth, tie it into a spice bag and add it to the boiling liquid for five minutes. Pack the prepared vegetables into each hot Mason jar, leaving one inch of space at the top. Pour the pickling liquid over the veggies until there is half an inch of headspace left.
Use a knife or thin spatula to push out any air bubbles and secure the lids on each jar before placing them back into the canner. Bring the water to a boil and process the pickled veggies for ten minutes. Remove the bath canner lid and allow the jars to cool for five minutes before removing them.
Cool the jars on the counter for 24 hours and check the tops to make sure they seal correctly. Store your pickled vegetables in the pantry for up to one year.
Pickling Vegetables without Sugar
Most pickling recipes call for sugar or some other sweetener. While it does enhance the flavor of the vegetables by creating a balance between sweet and salty, it is not necessary for the pickling process.
Here is a simple, sugar-free recipe for pickling veggies. We've opted to use asparagus for this recipe, but any vegetable works well. Try this recipe for how to can jalapeno peppers or beets, too.
Begin by slicing the ends off of a half bunch of fresh asparagus. Wash the vegetables and pack them into a Mason jar. Combine all of the other ingredients into a small saucepot and bring the mixture to a boil.
Stir the brine until the salt dissolves and then pour the liquid over the top of the veggies, making sure to leave a half-inch of headspace. Allow the jar to cool completely before storing in the refrigerator.
How to Pickle Vegetables without Vinegar
These days many pickling recipes call for vinegar, but traditionally, vegetables were fermented for long term storage. The process of pickling without vinegar is called Lacto-fermentation.
This method not only creates tasty pickled veggies, but it is a great way to introduce good gut bacteria to your body. Try this recipe for pickled fresh red onions, cabbage, or any other veggie. You'll be pleased with the results.
Place the crushed garlic into the bottom of a Mason jar and then add the cut vegetables, making sure to press them down as you fill the jar. Add the pepper flakes, salt, and any other seasoning to the veggies.
Dissolve the sea salt in the water and pour the liquid over the vegetables until they are barely covered. Use a knife or thin spatula to push out any air bubbles and secure the lid on the jar. Place the jar in an area of the home where the temperature is between 60 to 70°F and let the veggies ferment for five days.
Open the lid once a day during the fermentation process to burp out excess pressure. Place the jar in the fridge and enjoy pickled veggies whenever you choose.
Pickling Vegetables without Salt
These days, we add salt to just about anything and everything, which is difficult if you are on a low-salt diet. The good news is that pickled vegetables are still crispy and tangy, even without adding salt.
Cut and slice approximately eight cups of any veggies you desire and pack them into the Mason jars. Combine the remaining ingredients in a medium saucepot and bring it to a simmer over high heat.
Pour the brine liquid over the veggies until they are submerged and allow them to cool. Secure the tops on the jars and refrigerate for up to four hours to marinate before eating.
Making Korean Style Pickled Vegetables
Korean style pickles have a sweet and tangy flavor with an extra kick that livens just about any vegetable and makes a great side dish to a variety of meaty main dishes. This quick pickling recipe is easy to make and lasts in the refrigerator for up to two months if unopened.
Combine the vinegar, sugar, salt, and chili flakes in a large pot and bring it to a boil. Remove the saucepan from the heat and add the sliced veggies.
If you're unsure which vegetables to use, consider cabbage, radishes, cucumbers, and carrots. Let the pan cool before pouring the pickled vegetables into an airtight container and placing it in the refrigerator.
Make a Pickled Vegetable Relish
Pickled relish is an everyday staple in the fridge, and making your own is not only easy but a great way to create a healthy topping for burgers, brats, hot dogs, and tacos. This recipe uses traditional vegetables, but there are no rules when it comes to making homemade pickles.
Place the cauliflower florets in a pot, cover with water, and bring them to a boil for five minutes. Drain the florets into a colander and add the rest of the veggies. Replace the pan to the stove and combine all other ingredients into the pot. Bring the pickle brine to a boil and then add all of the vegetables.
Simmer for two minutes before removing from the heat. Pack the jars with the vegetables, leaving a half-inch of headspace. Use a ladle to add bring to each jar until the veggies are covered.
Seal the jars with the lids and place them in a water bath cooker for a processing time of ten minutes. Remove them from the bath canner and allow them to cool completely before storing them.
Pickling goes way beyond your standard dill pickles. Not only is it an excellent way to preserve fresh vegetables from a bountiful harvest or trip to the farmers market, but pickling turns an ordinary veggie into a tangy and zesty condiment. Add these recipes to your cookbook and liven up your meals with pickled relish or enjoy pickled carrots as a vegan side dish.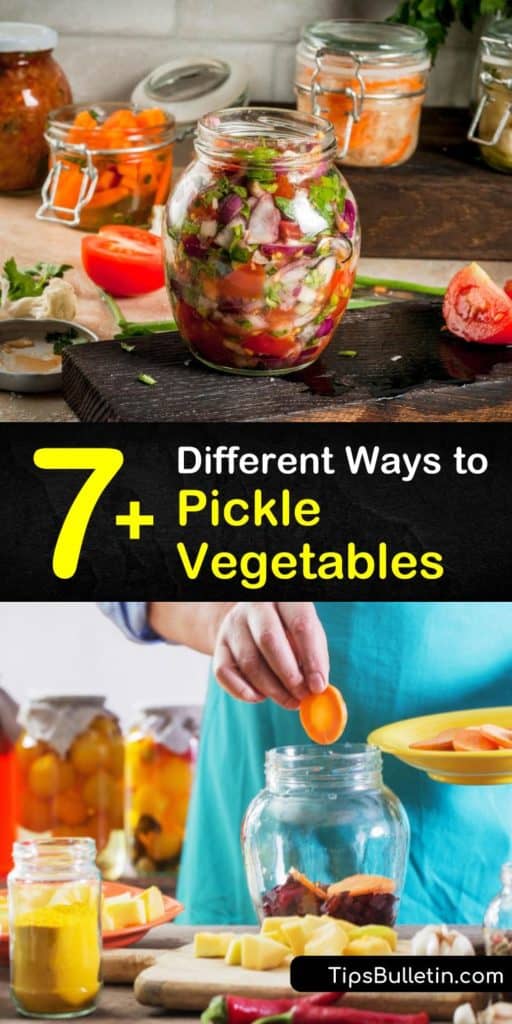 We're happy to show you how to pickle vegetables so that your garden harvest doesn't go to waste, and we'd love it if you'd share our veggie pickling recipes with your family on Pinterest and Facebook.