Home gardeners are always trying to put a dent in their zucchini supply. After a hot summer and a prosperous yield, it feels impossible to get rid of all your garden veggies before they rot. Learning how to pickle zucchini is something you'll thank yourself for in the future.
A standard pickled zucchini recipe doesn't only use up your squash supply but it allows you to use other ingredients from your garden during the process.
Quick pickled zucchini is only one method, but pickling zucchini doesn't always have to be a short-term solution. Pickling zucchini is a great way to stock your pantry with canned goods that are packed full of flavor.
Finding the best way to pickle zucchini might seem like a tedious process, but this article provides you with the most flavorful recipes we could find.
Spend one day learning to make homemade pickled zucchini and perform a taste test at the end to determine which recipe is your family's favorite.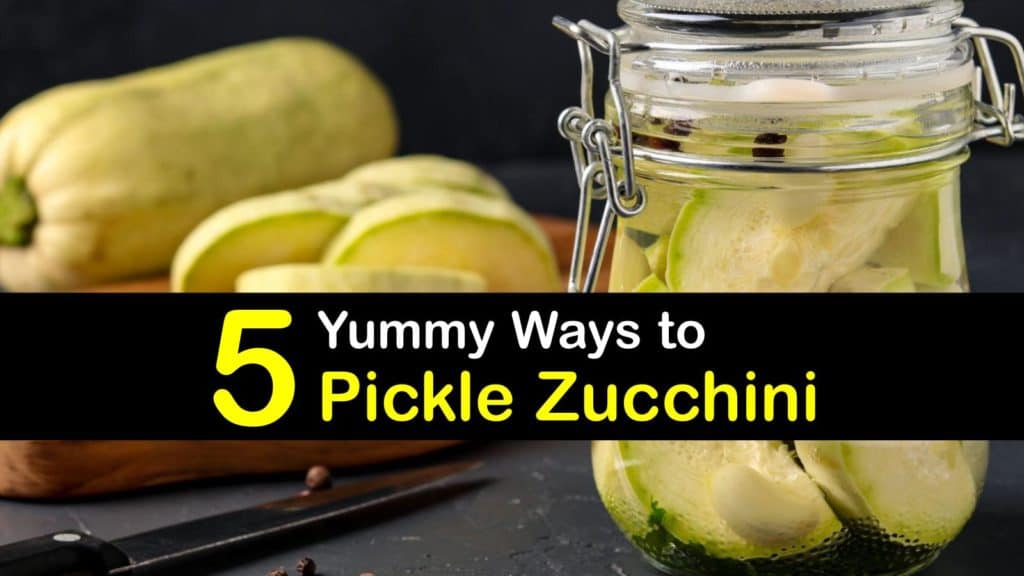 Things to Know about Zucchini
Zucchini is a type of summer squash, similar to eggplant and pumpkins. Most varieties of zucchini have long, green bodies that look like cucumbers, but they have a different texture.
Fresh zucchinis range from light green to dark green, and some have stripes on their skin. They may grow to reach over a foot long, but that depends on when you harvest them. Most are harvested when they reach five to eight inches long.
Fresh zucchini and zucchini pickles are some of the healthiest snacks to munch on. One cup of cooked zucchini has less than 20 calories while being packed with manganese, potassium, magnesium, folate, phosphorus, and vitamins A, B, C, and K.
Zucchini is rich in antioxidants that benefit the skin, heart, and eyes. Regularly consuming zucchini reduces blood sugar levels, aids in weight loss, and supports healthy digestion and heart health. Learning how to pickle zucchini isn't only a fun hobby; it is a healthy one.
Before making a yummy zucchini pickle recipe, learn the way to know when zucchini is bad so you don't waste your time on spoiled veggies. If you are out of zucchini, cucumbers make a good substitute for zucchini in pickles and other recipes.
How to Pickle Zucchini
Although you can freeze shredded zucchini and zucchini slices for later eating, pickling is another option.
Because of the high acid in vinegar, it is not necessary to can pickles in a boiling water bath or pressure cooker. Keep in mind, though, that pickles that don't go through one of these processes won't last for years like other canned food.
Quick pickled zucchini stays fresh in the fridge for up to two weeks. On the other hand, properly canning them allows you to enjoy their tangy flavor throughout the entire year. Here are some of the most delicious pickle recipes to try at the end of the growing season.
Quick Pickled Zucchini
When learning how to pickle zucchini, quick pickles are ideal if you don't enjoy the canning process.
Quick pickled zucchini involves a hot brine ready in a matter of minutes to pour over veggies and refrigerate for a quick snack. Use these pickles as a condiment for burgers, or eat them straight out of the jar.
Use a sharp chef's knife to slice the zucchini into your desired pickle shape. Place the zucchini, onion, salt, and shallots in a colander and place it over a bowl to catch the liquids.
Toss the ingredients in the colander and cover the bowl with plastic wrap. Refrigerate the colander and bowl for two hours to let the liquid drain.
In a quart-sized Mason jar, add the dill, peppers, and mustard seeds. Bring the vinegar and sugar to a boil over medium heat in a small saucepan.
Once simmering, ensure the sugar dissolves. Pack the zucchini, onions, and shallots into the jar and pour the liquid over the top. Seal the jar and let it cool in the refrigerator for two days before eating.
Traditional Pickled Zucchini Recipe
The best way to make pickled zucchini is similar to traditional dill pickles. Make these refrigerator pickles by putting two pounds of zucchini into separate pint jars with a few fresh dill sprigs, garlic cloves, and black peppercorns.
Use a medium saucepan to boil a cup of cold water, two cups of white vinegar, ¼ cup of sugar, and a teaspoon of turmeric. Pour the boiling water over the zucchini and enjoy these refrigerator pickles as an appetizer after only one day of marinating.
Homemade Bread and Butter Pickles
Some people swear by butter pickles. Cucumber pickles have made this flavor combination popular, and they are just as tasty when made with zucchini, green beans, and other vegetables. Store squash and zucchini by using this delicious recipe.
Toss the zucchini and onion with two tablespoons of salt in a large bowl and cover it with ice water for 45 minutes. Drain the veggies and pat them dry. Add a tablespoon of salt with the vinegar, sugar, mustard, turmeric, and half a cup of water to a boil over medium-high heat.
Allow the hot liquid to cool to room temperature while you prepare the canning jars. Bring about 16 to 20 cups of water to a boil in a large stockpot.
Place the zucchini and onions in the canning jars, pour the liquid on top, and put on the seal and lid. Process the pickle jars in a boiling water bath for 15 minutes before removing them. Don't disturb the cans for 24 hours before checking they closed adequately.
Sweet Pickles with a Kick
Sweet and spicy is an unforgettable flavor combination. It is also easy to experiment with your recipe based on how sweet or spicy you want it.
It is safe to use a traditional pickled zucchini recipe to create a sour flavor. To add some spice, throw in a couple of jalapeños and process them in a boiling water bath for the same cook time as the bread and butter pickles – about 15 minutes.
New Ideas for Zucchini Pickles
If you are sick of eating quick pickled zucchini right from the fridge, consider frying them for a more indulgent snack.
Remove your pickles from the jar and dry them with paper towels. Dip them in a little bit of egg wash and then in some seasoned flour. Heat three to four inches of regular vegetable oil to 300°F and fry the pickles until they are golden and crunchy.
Your options for pickling zucchini are endless, whether you are pressure canning zucchini soup or making another tasty recipe. It is easy to experiment with a variety of spices and ingredients to create the perfect flavor combination specifically for your taste buds. Pickles are also a great way to use your remaining harvest so that nothing from the garden goes to waste.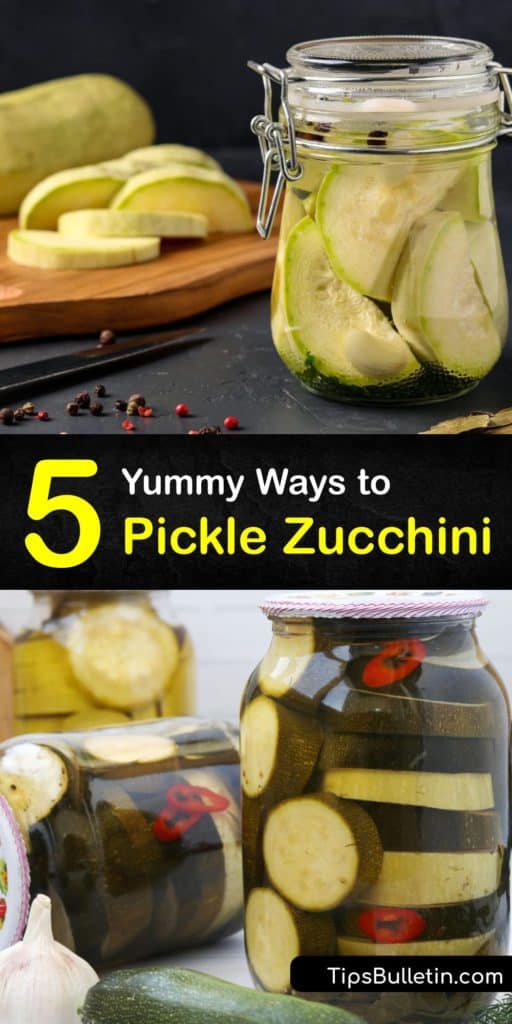 If learning how to pickle zucchini has given you tons of new snack ideas, share these quick pickled zucchini recipes on Facebook and Pinterest.