Beets are a perfect enhancement to add a unique taste to any salad or a great side dish. As one of the easiest foods to include in a garden, learning how to plant beets is simple for any level gardener.
Although planting beets is more straightforward than other veggies, take specific steps to ensure you produce healthy beets in your garden. Throughout this article, we provide you with the information you need to plant beets, care for the beets in your vegetable garden, and how to harvest beets.
Even if you have never tried a beet before in your life, we still recommend planting them. Beets contain insane nutritional value, as they are rich in vitamin C, fiber, iron, potassium, and folate.
Additionally, beets improve blood flow, lower blood pressure, and increase overall energy.
Not only do beets carry exceptional health benefits, but they also make excellent companion plants. Beets promote steady growth in other vegetables like onions, lettuce, and radishes.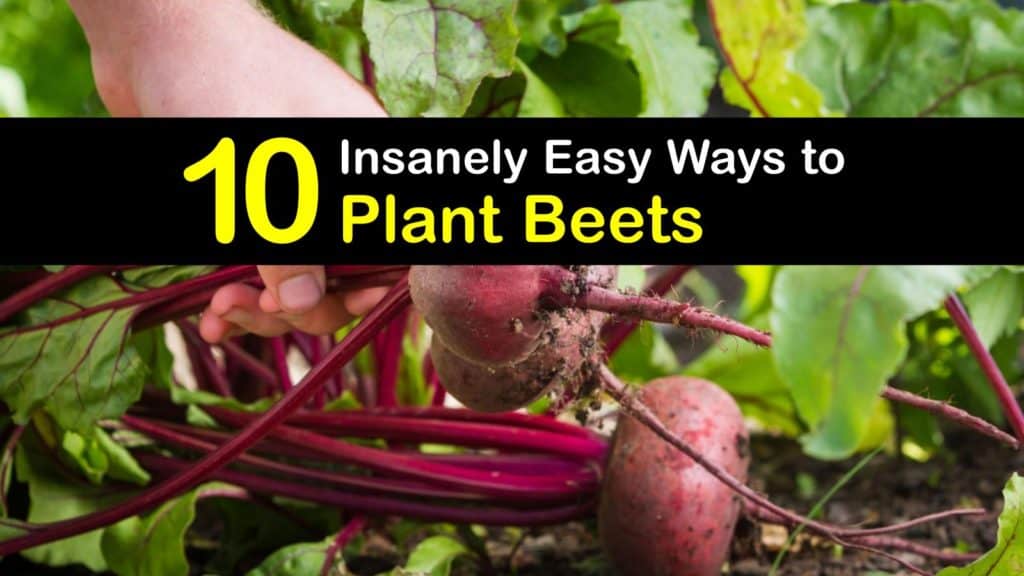 Beets Grow in Many Locations
You may be wondering how you can grow beet seeds if you live in an area with cold weather. Fortunately, growing beetroot in a container indoors is feasible and produces the same quality fruit as beet varieties planted outdoors.
Even if you choose to grow beets indoors, make sure that the vegetable is appropriately taken care of. Understanding when to plant your beet seeds, maintaining your beets, and harvesting your crop is manageable when you have the right techniques.
It's important to know when to plant beets in zone 7 as opposed to zone 2. Research your hardiness zone to ensure that the weather isn't too hot or too cold to plant beet seeds or seedlings.
The Best Planting Beets for Gardeners
There are several varieties of the biennial vegetable; however, two types grow best in a backyard garden. One of the kinds of beets to include is the Red Ace Hybrid beet.
Reed Ace Hybrid beet seedlings have shallow roots, so they do not develop too deep in the soil and invade other plants nearby. Three heirloom beet varieties are the Detroit Dark Red, Chioggia, and Formanova beet.
These beet types produce large fruit that is ideal for cooking and pickling. Before you learn when to plant beets, it is important to understand what beet varieties grow the best in a backyard garden.
When to Plant Beets in Your Garden
One of the most asked questions about beet germination is, "What month do you plant beets?" An advantage of planting beets is that they can grow during a cool-season. Sow seeds two or three weeks before the last frost date in the early spring.
If the soil temperatures are too cold, we suggest starting your beet seeds in a container indoors. To plant beets in the summer, sow your beet seeds in the late months of summer, about eight weeks before the first frost in the fall.
Beets are a cool-season crop that survives colder than average temperatures. To protect your vegetable's soil, cover the area with a row cover until the beet seedlings break through the earth.
How to Plant Beets in the Right Type of Soil
One crucial aspect of planting beets is spacing the seeds far enough apart, so the vegetables develop. Of course, root crops like beet also demand adequate soil to provide nutrients to the plant.
Use a potting mix with a loamy soil pH between 6.0 and 7.0. Good draining soil allows air to circulate through the roots. Sow beet seeds about a ½ inch into the ground and separate each seedling about two inches apart.
With the right spacing between seeds, the beet roots have ample space to secure themselves into the soil while obtaining nutrients from the ground and water. Beet plant spacing is a critical initial step when learning how to plant beets.
Fertilizer gives Beets Necessary Nutrition
Although the proper potting mix helps a beet plant grow, other elements promote even quicker root growth and development. Fertilizer speeds up the germination process by giving a beet plant nutrients that are not commonly found in the earth.
Choose a fertilizer with equal levels of nitrogen, phosphorus, and potassium when planting beets. Before you sow beet seeds, work a ⅓ cup of fertilizer into the soil of your raised beds or pot.
Mix the fertilizer in with the ground so the nutrients spread evenly throughout your entire garden instead of gathering at the surface. Knowing when to plant beets is only helpful if you understand what elements promote steady growth.
How to Transplant Your Beets in Containers
If you grow beets, scientifically referred to as beta Vulgaris, you need to understand how to transplant the veggie to an outdoor environment from a pot.
Move your beet plant outdoors in the early spring when the temperatures are above freezing. If the ground is still frozen, the beet roots do not grow.
Over a week, set your beet plant outdoors for increasing amounts of time as each day passes. As the beet grows accustomed to outdoor conditions, it improves the vegetable's hardiness and prevents bolting.
Providing Your Beets with Enough Sunlight
Before making a delicious beet greens dish, your plant needs plenty of sunlight to sprout and produce fruit. Sunlight allows a plant to turn the UV rays into organic matter that the beets use to mature.
Ensure your beets receive at least six hours of full sun every day. If there is significantly hot weather, we recommend setting up a cover, so the plant does not dry out.
When temperatures are sweltering, laying down a layer of mulch helps lock in moisture. Spread a little mulch on the top of the soil to prevent hot temperatures from drying your beets.
If you grow beets indoors, it is just as necessary to ensure your beets get plenty of sunlight. Place your container in a well-lit window or use a grow light for indoor plants.
How to Harvest Beets
After you have learned how to plant beets and when to plant beets, it's time to discover how to harvest beets. Harvesting beets is quite simple when you know what signs to look for that indicate a beet is ready.
The best way to harvest beets is to gently dig up the soil around the top of the plant. When are beets ready to harvest? A mature beet has crowns that break through the soil line about one or two inches in height.
Another indicator that beets are ready to pull is when the veggie's diameter is about one to three inches. With a firm grip, pull the beet out of the soil.
Where to Store Harvested Beets
Now that you know how to harvest beets from your backyard garden, it is time to learn how and where to store them. Storing raw beets under the proper conditions allows the veggie to have a long shelf life.
After picking beets, wash the dirt off the plant and let it sit out until it dries completely. One place to store beets is in a root cellar. However, if you do not have a root cellar, keeping them in a fridge is also adequate.
Transfer all your beets into a sealable plastic bag, ensuring you squeeze out as much air as possible. Set the bag in the crisper drawer of the refrigerator. When your beets are stored the right way, they stay fresh for up to three weeks.
Common Pests on a Beet Plant
Learning how to plant beets is more challenging when pests and other diseases overtake your plant. There are many common fungal diseases and insects to be aware of so your beets stay healthy.
Some of the most prevalent insects that suck the nutrients out of beet leaves include aphids, flea beetles, and leaf miners. If you observe damaged beet leaves or a wilted plant or notice small black bugs on your plant, your beets are likely home to harmful pests.
A popular disease that impacts a beet plant is Cercospora leaf spot disease. Indicators of Cercospora leaf spot include brown leaves, a dying plant, and distinct rings on the plant.
One easy way to treat any fungal infection in plants is to be watchful of overwatering. Overwatering is avoidable when you use well-draining soil, as the moisture does not build up at the root's base.
How to Repel Pests on Your Beet Plant
Some people believe that repelling pests on a beet plant is nearly impossible. However, when you use dish soap, vinegar, and essential oils, you deter any harmful pests that try to steal the health of your plants.
Mix the ingredients in a spray bottle and shake the contents thoroughly to ensure the oils absorb in with the water.
Mist a light layer of the all-natural bug repellent on your affected plants. Spray your beet plants once every three days to repel any pests.
After you learn when to plant and grow beets, the entire germination process becomes much more manageable.
Planting beets is simple when you know the proper care a beet plant calls for. With plenty of sunshine, the right soil, and an effective pest repellent, growing healthy and fast-sprouting beets is easy.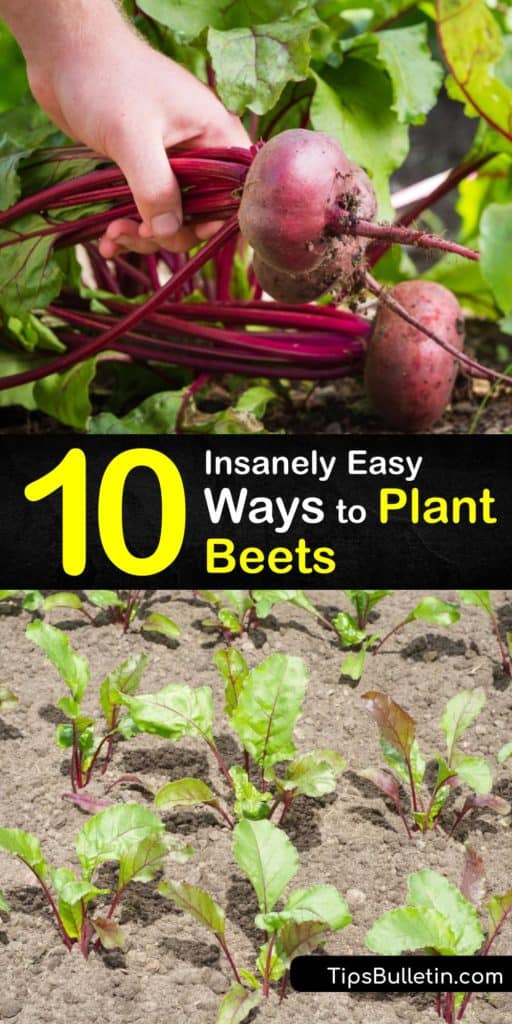 If you found out how to plant beets, share this article with tricks for planting beets on Facebook and Pinterest with your friends and family members.