Peppers are a versatile vegetable and a must-have in the kitchen. Imagine having an almost endless supply of fresh green peppers for salad, sweet peppers for backyard grilling, and hot peppers for salsa. We show you how to plant bell peppers of all types to enjoy their tasty goodness throughout the growing season.
Peppers range in flavor and heat, from the California wonder pepper, with its mild taste, to the habanero pepper with its intense and fiery kick. Unlike peppers such as the jalapeno, sweet bell peppers have little to no heat and taste great eaten raw or tossed into your favorite recipes.
Many vegetables are perfect for home growing, and bell pepper plants are one of the easiest. If you give them a healthy start and the right conditions, these plants pretty much take care of themselves and provide you with an abundance of peppers.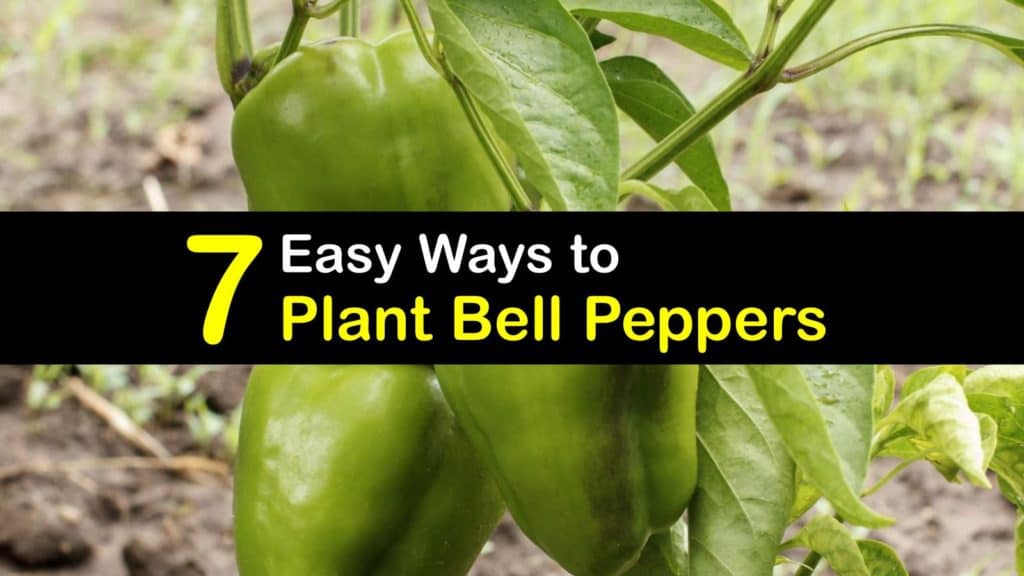 How to Plant Bell Peppers from Seed and Grow Healthy Plants
If you've ever visited the grocery store in search of the right peppers to discover all of the good ones are gone, then how about picking them fresh from the garden? Learn how to grow your own bell peppers and enjoy fresh vegetables whenever you fancy.
What to Know before Planting Bell Peppers
There are a few important facts to understand before planting bell peppers in the garden or pot. Are you planting bell pepper seeds or young plants? How much sunshine do they need? Where is the ideal place to grow them? We answer these questions and you will learn more about bell pepper growth stages as you care for them.
Bell Peppers
Bell peppers are a nightshade plant from the Capsicum annuum group. They do not have capsaicin, and there are many different types of bell peppers.
The most common is the green variety, but this type is not as ripe as the yellow, orange, or red and has a slightly bitter taste. Red bell peppers go through the entire ripening process and are the sweetest but take a little longer to mature.
They all have a slightly sweet flavor with a hint of fruitiness, depending on the color. If you choose to start your peppers from seed, plant them indoors about two months before the last frost when the nighttime temperatures are not too cold to ensure good germination.
All pepper types require a lot of sunshine to thrive. Pick an area of the yard or patio where they receive at least six to eight hours of full sun every day.
How to Plant Bell Peppers from Seeds
To start your plants from seed, it's vital to begin the process indoors until the outdoor soil temperature is just right. Learn how to plant bell peppers from seeds indoors before the last frost.
Begin by soaking the seeds in a bowl of warm water for two to eight hours to loosen the shells. Fill small pots or a seedling tray with seed starting soil and poke a hole in the center about a quarter-inch deep. Set a seed into each hole and cover them loosely with dirt.
Set the pots or tray in a warm location so that the soil maintains a temperature of about 70°F and keep them moist by spraying them regularly with a spray bottle.
How to Plant Bell Peppers in the Garden or Containers
Transplanting peppers outdoors is a relatively simple task, whether you plant bell pepper seeds or purchase young pepper plants from the garden center. They grow well in both a garden bed and containers, as long as they receive the right conditions. Learn what peppers companion plants are to grow mutually beneficial plants near each other to keep pests away.
If you're planting seedlings, make sure there are two sets of true leaves before transplanting them to the garden or pot, and harden them off before planting them permanently outside.
Treat the soil with organic matter before planting to create a rich environment for growth. Fill a container with soil or dig a hole in the garden that is large enough to accommodate the new plant.
Gently wiggle the seedling from the tray and place it into the hole. Fill it in with dirt and pat it down lightly. Give it some water right after planting to help it settle in the soil and encourage root growth.
Caring for Bell Pepper Plants
Planting bell peppers outside is only the first step when you grow-bell-peppers. They all require the care of your green thumb to thrive and flourish, no matter which of the pepper varieties you choose.
Always spread mulch or black plastic over the area around the plants to retain moisture and stop weeds. Keep them well-watered, especially when fruits are set, but avoid overwatering to prevent fungal diseases and rot.
Fertilizing is an important step to provide them with nutrients, so fertilize the soil with a slow-release granular product by following your brand's instructions. You can use many household products to fertilize your plants. Epsom salt is good for bell peppers and enriches them with magnesium.
Common Problems When Growing Bell Peppers
Knowing how to plant bell peppers from seeds is great. However, it's just as important to know what to look for if your plants start suffering from disease or pests. Once you are aware of potential problems and know how to tell if a pepper is bad, the remedy is usually simple.
Several insects love eating and destroying bell pepper plants. Aphids are tiny bugs that hide beneath leaves and suck the life out of plants. Pluck them off with your hands or a damp paper towel as soon as you spot them.
Other pests include cutworms and flea beetles, and these insects damage the stems and leaves. Apply talcum powder or a neem oil insecticide to the plants to get rid of flea beetles and use diatomaceous earth to kill cutworms.
An even better way to get rid of pests is to learn what to plant with bell peppers to repel bugs, also known as companion planting.
Many diseases affect bell peppers, but blossom end rot is the most common. This is sometimes due to a calcium deficiency, common in sandy, clay, and loamy soil. Consider altering the soil pH by adding bone meal or oyster shell to the dirt.
How Long do Bell Peppers Take to Grow?
There are several stages in a pepper plant's growth. There is germination, flowering, fruiting, and finally harvesting, and each one has its own time-frame.
We explain the differences between stages, how long they last, and which peppers take the longest to mature.
Bell Pepper Growth Rate
A pepper plant takes roughly a week to germinate, depending on the type. At this stage, they begin sprouting and grow their true leaves.
Once you transplant them outside, they begin to produce flowers, which then change to fruit. Finally, the peppers are ready to harvest. The entire process takes roughly 60 to 90 days, with the red pepper taking the longest.
When to Harvest Bell Peppers
Harvesting is always the best part when you grow vegetables. But, how can you tell when bell peppers are ready for the picking? It depends on the variety you grow and the color of the pepper.
Harvesting Bell Peppers
The harvesting time depends on whether you want your peppers green, red, or somewhere in between. If you enjoy green bell peppers, harvest them as soon as they are a deep, green color with a full, mature shape and size.
If you leave them on the plant, they ripen to yellow, orange, and then red. If you prefer a red pepper, let it come to full ripeness. To harvest them, use a garden clipper or sharp scissors to clip the stem between the fruit and the plant.
How to keep bell peppers fresh depends on how you plan to use them. Can or pickle the peppers, or freeze or dry them.
There are many different vegetables to grow in the garden, from zucchini and sweet peas to tomatoes and carrots.
However, bell peppers are one of the easiest, and these versatile veggies provide so much fruit production, you'll be enjoying fresh peppers non-stop throughout the growing season.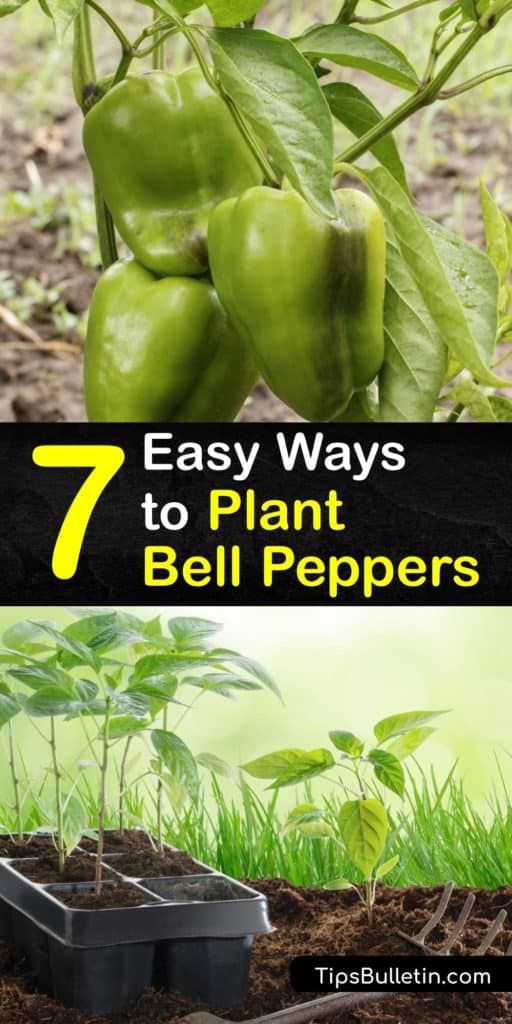 Knowing how to plant bell peppers and reaping the benefits of a healthy harvest is a satisfying experience, so why not share our bell pepper growing guide with your family and friends on Facebook and Pinterest?