Nothing says summer like fresh, juicy blueberries. In this article, you'll learn how to plant blueberries and keep them flourishing in your garden year after year. These hardy perennial shrubs take a few years to become established, but they continue producing for decades with proper care.
Blueberries aren't just a deliciously fruity treat. They're also full of antioxidants, vitamins, and minerals that offer a wide range of health benefits. These superfruits improve brain and heart function, boost digestive and skin health, and strengthen bones.
As long as you provide them with the optimal growing conditions, planting blueberry bushes in your home garden is straightforward. Your efforts will be rewarded with a yearly crop of tasty homegrown berries.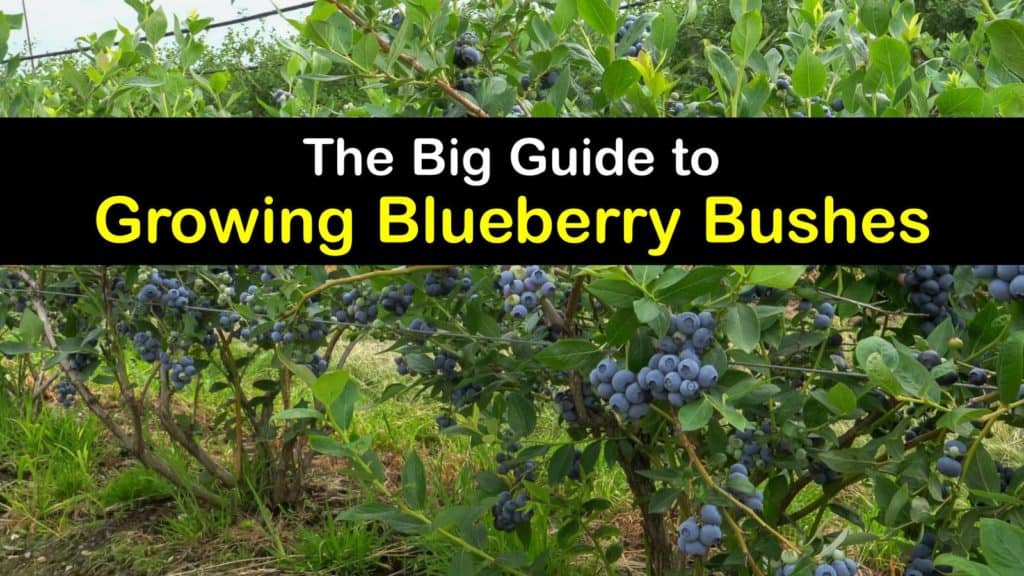 Best Tips and Tricks for Planting Blueberry Bushes
Enjoy blueberries fresh off the vine, baked into your favorite sweet treats, frozen, or blended into a healthy smoothie. Read on to find the best advice for planting blueberries in your garden plot, raised beds, or patio pots.
Planting blueberries requires a bit of patience. If you plant blueberry seeds, it will take a long time to get some edible berries. Blueberry bushes may produce a small crop in the third year, but it often takes up to six years before they're mature enough to grow a full harvest of berries.
Blueberry bushes are typically available for purchase at your local garden center or from an online supplier in spring. This is also the best time to plant blueberries. Here, there is no difference between bilberry vs blueberry plants. They are most commonly sold in three or five-gallon pots.
However, some growers prefer starting with bare-root plants because they have more root mass thanks to not becoming root-bound from growing in a container. Bare-root plants are often less expensive, as well.
It's also possible to grow a blueberry bush from seed, like when you plant blackberry seeds, although it takes much longer than starting with two or three-year-old plants. Most growers opt for planting blueberry seeds indoors in January or February to get a head start in the spring.
There is little difference between huckleberry and blueberry regarding soil type. These acid-loving plants grow best with a soil pH between 4.5-5.5. Contact your local cooperative extension office for a soil test if you're unsure of the pH level in your intended planting area.
Where do elderberries grow naturally? Is is similar to blueberries? Though elderberries prefer soil with a 5.5-6.5 pH, they are versatile and can grow in almost any soil type.
Types of Blueberries
Blueberries are members of the Vaccinium genus, along with cranberries and huckleberries. While looking quite similar, bilberries or blueberries have differences.
Blueberries are also related to rhododendrons and azaleas. Are huckleberries and blueberries the same? Though they are related, they are different species.
There are four principal types of blueberries: highbush, lowbush, rabbiteye, and half-high. Highbush blueberry cultivars are the most common and sometimes grow as tall as eight feet.
Northern highbush blueberries have been bred to withstand cold winters and thrive in USDA hardiness zones 3-7. Southern highbush blueberries prefer warmer temperatures and are best suited for USDA hardiness zones 7-10.
Lowbush blueberries are closer to their wild ancestors and grow in blueberry growing zones 3-6. They typically have a more compact growth habit and produce smaller, sweeter fruits. Half-high blueberries are a hybrid cross between lowbush and highbush varieties.
Rabbiteye blueberries are native to the eastern United States from North Carolina to Florida and as far west as Texas. They're unique because the berries turn pink before they ripen to blueish-purple.
Rabbiteye blueberry bushes grow much larger than other blueberry varieties, sometimes reaching 20 feet tall unless aggressively pruned. They grow in USDA zones 6-9.
Which types of blueberries to grow depends on your climate and intended uses. Here are a few of the best blueberry cultivars to grow at home.
Preparing the Blueberry Planting Site
The best way to plant blueberries depends on your growing conditions and available space. If you're planting blueberry bushes in an established garden, just like elderberry spacing, make sure they have enough room to fully mature and aren't crowded or blocked by taller trees and shrubs.
Note that it's also possible to practice the way to grow blueberries in a pot. Ensure the container is large enough and pay attention to watering, as container plants lose water faster than in the garden.
How much sun do blueberries need? Although they tolerate partial shade, blueberries perform best when planted in full sun. Blueberry and raspberry bush sun requirements are virtually the same.
Raised beds are ideal for planting blueberry bushes because they provide excellent drainage. It's also easier to control the pH levels and amend the soil with organic matter as needed.
Container gardening is a wonderful option for growers with limited space. Choose compact blueberry varieties, and make sure your pot has drainage holes at the bottom to reduce the risk of fungal diseases and root rot.
The key to successfully growing blueberry plants is providing them with acidic soil. Before transplanting blueberries, it's helpful to amend the site with ammonium sulfate, sphagnum peat moss, pine needles, or sawdust from coniferous trees to lower the soil pH level.
Ensure that your garden soil has adequate drainage, too. Blueberries have shallow roots and suffer if the ground is saturated for too long.
How to Plant Blueberries
The best time for planting blueberries is late spring. Growing blueberries is also possible in the fall in all but the coldest climates.
Once you've prepared your garden beds, dig a hole that's roughly twice the size of the plant's root ball. Add one tablespoon of organic fertilizer designed for acid-loving plants to the bottom of the planting hole.
Bury the root ball with a 50/50 mixture of garden soil and compost. Be sure to water it thoroughly. For the best results, give your blueberries about one inch of water per week.
Mulching around the base of the plants using organic material like grass clippings, leaves, pine needles, and wood chips helps retain moisture, insulate the soil, and minimize weed growth.
Coffee grounds, wood ash, and sawdust are also useful as mulch to add nitrogen and gradually lower the soil pH. They also make great homemade fertilizer for grapes and other fruiting plants in the yard.
Choosing the Proper Fertilizer for Blueberries
Like most other fruiting plants, blueberries are heavy feeders. The best time to fertilize blueberry bushes is every year in the spring and fall once they become established.
However, don't fertilize after transplanting new plants the first year. Their roots are sensitive to salt levels in the soil and may get damaged.
Look for organic plant fertilizer specifically designed for acid-loving plants like blueberries, azaleas, and rhododendrons.
Peat moss is an outstanding soil amendment for your blueberry plants because it gradually acidifies the soil, absorbs excess water for plants to take up as needed, and releases nutrients as it breaks down. Mix it into the top few inches of dirt each spring.
How Far Apart to Plant Blueberry Bushes
How far apart to plant blueberry bushes depends on which variety you grow. To form a hedgerow, plant blueberries two to three feet apart. For larger types, blueberry plant spacing should be more like six to eight feet.
Although blueberry flowers are self-pollinating, it's often beneficial to plant several bushes close together. Cross-pollination may occur if different types of blueberries are cultivated together. Check the plant label for recommendations on compatible varieties.
Pruning Blueberry Bushes
During the first year or two, it's best not to allow your blueberry bushes to produce fruit. Pinching off the flower buds encourages the plant to focus its energy on developing its branches and root system.
Blueberry plants produce fruit on second-year growth, so it's essential to regularly prune off old branches to make space for vigorous new growth. In general, this type of pruning isn't necessary until the fourth year.
The best time for pruning blueberries is late winter or early spring, while the plants are still dormant. Use a sterile, sharp set of pruners to trim off any dead or damaged wood in addition to the oldest, thickest branches.
The goal is to open up airflow and light to the center of the plant and encourage new production. Aged wood develops a grayish color, while young branches have a red tinge.
Harvesting and Storing Blueberries
Blueberries are usually ripe for harvest in July and August. Most blueberry varieties turn from green to bluish-purple when ripe.
For the best flavor and texture, wait several days after the different varieties of blueberries first turn blue before picking your blueberries. When fully ripened, they should feel somewhat soft and easily come off of the plant.
After removing the stems and rinsing them, use fresh blueberries within two weeks. To extend their shelf life, freeze your blueberries in an airtight container for up to six months.
If you get some juice on your shirt while blueberry picking, learn to get blueberry out of clothes fast so it doesn't leave a permanent stain.
Solving Pest and Disease Problems
Unfortunately, we're not the only ones who find blueberries irresistible. One of the biggest pest control problems for blueberry growers is keeping the birds from stealing your crop. Cover your bushes with bird netting, and use bird deterrents like aluminum foil and predator decoys.
Sometimes slugs and snails can be a problem, too. Eggshells are good for your blueberry plants by deterring these slimy creatures while providing your plants with extra calcium. Sprinkle dry, crushed eggshells around the base of the plants.
Blueberry plants are sometimes susceptible to fungal diseases like leaf spot, powdery mildew, and rust. These diseases thrive in damp environments and often spread through water droplets.
Ensure that the plants have adequate airflow and utilize drip irrigation to prevent water from splashing the leaves.
Mummy berry is a fungal blueberry disease that affects blueberry crops. It causes the berries to turn white, shrivel up, and fall off of the plants.
The spores usually infect the plants in spring and early summer when they're flowering. Heavy mulching over the winter and spring and preventative lime sulfur sprays are effective treatments.
Companion Planting with Blueberries
Since blueberries require acidic soil, it's essential to choose companion plants with similar environmental needs. Consider each plant's mature size, light and water preferences, and fertilizing blueberries schedule before adding companions nearby.
Grape hyacinth is a beautiful, low-growing perennial bulb that pairs nicely with blueberry bushes. Companion planting blueberries with herbs like basil and thyme is ideal since they tolerate acidic soils and don't grow large enough to block the light. Ferns also thrive in acidic soil and benefit from the shade of the taller shrubs.
Blueberries grow well next to evergreen trees. Just make sure to leave ample space around each plant so they don't overcrowd one another. Flowering shrubs like lilacs and azaleas have the extra benefit of attracting pollinators, too.
Planting blueberry bushes in your home garden is amazingly easy. Although you won't get much fruit until the third or fourth growing season, know that the years of bountiful blueberry harvests are worth the wait.
All that's required is a sunny location with well-draining, nutrient-rich soil with an acidic pH level. How far apart to plant blueberry bushes depends on which varieties you grow.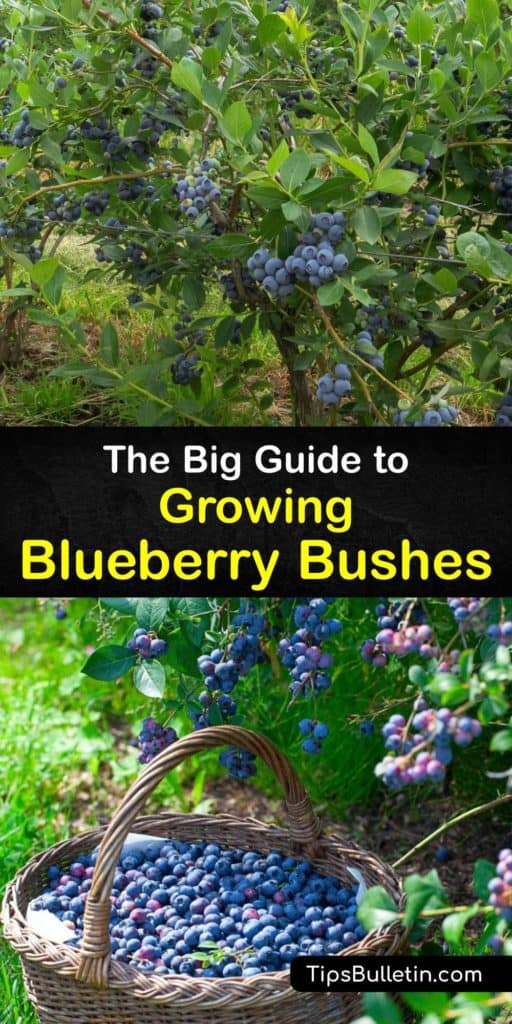 If you found these gardening tips helpful, please share this article about how to plant blueberries with your green thumb friends and family on Pinterest and Facebook.