There is nothing better than cutting into a fresh cantaloupe and scooping out tender, sweet, and juicy chunks of melon on a sunny summer day. The flavor of these fruits is simply irresistible, and a perfectly ripe melon seems to melt in your mouth. Learn how to plant cantaloupe in your backyard garden and give melon plants the care they need to produce the sweetest, tastiest fruit.
Cantaloupes are related to honeydew, watermelon, and ambrosia melons, and people often confuse them for muskmelons, but they are not quite the same. While all cantaloupes are muskmelons, not all muskmelons are cantaloupes.
There are different types of cantaloupe, including North American, European, Asian, Japanese, Galia, and Charentais cantaloupe. Melons are a cucurbit and the perfect nature food without all the calories if you have a sweet tooth, and cantaloupes are one of our favorites.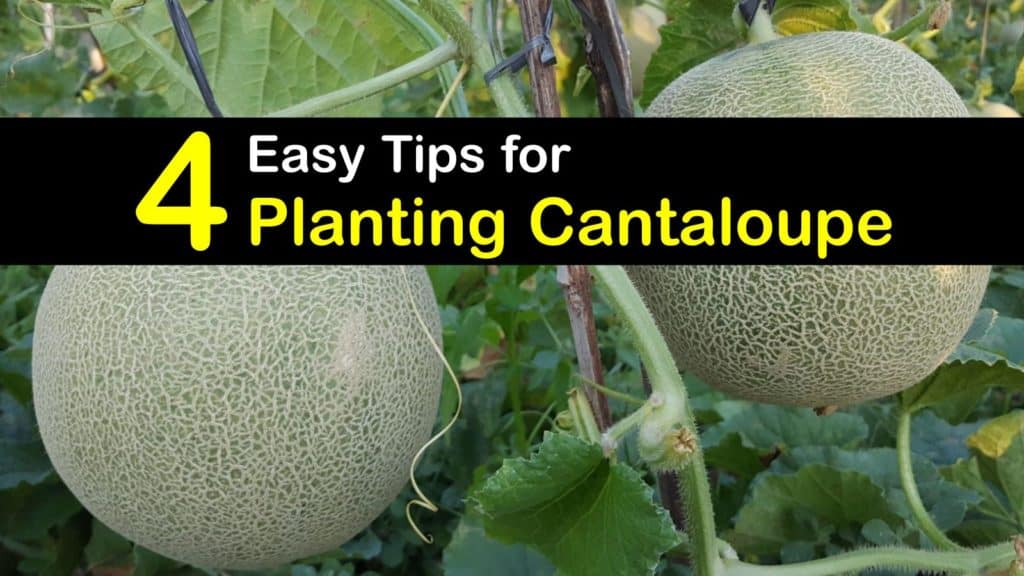 Planting, Growing and Enjoying Cantaloupe
Cantaloupes are rich in folate, potassium, vitamin A and C, and beta carotene and have zero cholesterol. A garden full of these delicious fruits takes 65 to 90 days to mature, and there are many ways to store them short and long term.
Growing melons may seem intimidating, but they are easier to grow than you think, whether you grow them in a garden or raised bed.
How do cantaloupes grow? Learn how to start them from seeds and the conditions cantaloupe plants require to thrive and produce a crop of healthy melons. Discover a fun way to prepare them at the end of the growing season.
How to Prepare for Planting Cantaloupe
There are a few things to do before planting cantaloupe, including preparing the garden bed. There is no muskmelon vs cantaloupe difference in this regard. The same applies to the difference between cantaloupe and honeydew melon – they all grow the same. These plants prefer the right soil and sunlight to produce, and understanding their needs goes a long way in the gardening process.
The first step in garden preparation is to test the ground. Garden cantaloupes (Cucumis melo var. Cantalupensis) love loose, well draining soil with a pH between 6.0 and 6.5, so amend the garden with compost or nutrient-rich organic matter before planting.
Expect to get four to eight melons per plant. Plan the garden space accordingly so that you don't end up with more melons than you have room for, and position it in an area where they receive eight to ten hours of full sun daily.
How Far Apart to Plant Cantaloupe
Cantaloupe vines reach up to 72 inches in length and 18 inches tall and take up quite a lot of space. Find out how deep to sow seeds and how far apart to plant cantaloupe to ensure they have enough room to stretch their vines without overcrowding.
Cantaloupe plant spacing is essential for healthy growth and proper air circulation, and different types have varying space requirements, so check your seed packet before planting.
As a general rule of thumb, sow seeds a half-inch deep and space the plants 18 to 24 inches apart. If you are planting rows of cantaloupe plants, make the rows 36 inches apart.
How to Plant Cantaloupe from Seeds
The best way to plant cantaloupe is to start them from seeds. However, it's a good idea to start them indoors about a month before the last frost, especially if you reside in a cooler region since the cantaloupe growing season is a long one.
Here is how to sow cantaloupe seeds indoors and transplant them in the garden. Germinate watermelon seeds the same way.
For this simple way to grow cantaloupe from seed, fill a seed-starting tray with soil and press a seed down a half-inch deep into each section. Cover the seeds with dirt and spray them with water until gently moist.
Keep the seed tray in a warm area where the temperature is consistently above 70°F. After planting cantaloupe seeds and during germination, keep the dirt damp and warm until the seedlings are ready to move outdoors.
Once the danger of frost is gone and the soil temperature reaches 70°F, harden off your plants outdoors by taking them outside a couple of hours each day for a week.
How far apart to plant cantaloupe outside? When transplanting cantaloupe in the garden, make sure to space them about 24 inches apart with rows 36 inches apart.
Dig holes slightly larger than the plant's base, carefully remove the seedlings and set them in the ground. Pat the dirt around them and water the plants right away to help the roots settle in their new home.
If you are growing small cantaloupe cultivars, position a trellis beside the plants. Growing cantaloupe in containers is also possible if you plant some of the smaller varieties.
If the soil temperature is still not warm enough, consider using floating row covers or spreading black plastic or mulch over the garden to retain warmth.
Cantaloupes have both female and male flowers for pollination. If you do not have enough beneficial insects and pollinators, consider hand pollinating the female flowers by using a Q-tip or small paintbrush to move pollen from the male flowers to the female flowers.
Give your plants one to two inches of water each week without getting the leaves wet to prevent bacterial and fungal diseases like powdery mildew, or use a drip irrigation system.
Wilting leaves are a sign that your plant needs water. It's not necessary to fertilize the garden if you start with good soil. Instead, consider a monthly treatment of fish emulsion, compost tea, or kelp to give your plants a boost.
Keep an eye out for common melon pests, such as squash bugs, aphids, and cucumber beetles that damage melon plants' stems, leaves, and flowers.
Remove these insects by hand right away and apply an insecticidal soap that is not harmful to pollinators. In 75 to 80 days, the fruits are the perfect ripeness for harvesting.
Since cantaloupe and watermelon don't ripen off the vine, learn when to pick watermelon and cantaloupe by giving the fruit a close examination. Harvesting cantaloupe is the best part. Ripe cantaloupe easily pulls right off the vine.
How to Make Sorbet with Cantaloupes
When we think of cantaloupe, we think of summer, and what better way to enjoy this fruit than to make a dessert? This cantaloupe sorbet is delicious and refreshing, takes 15 minutes to prepare, and contains zero fat.
Combine the sugar and water in a saucepot and bring it to a boil. Reduce the heat and simmer it for ten minutes to make a simple syrup. Set the pot aside to cool as you prepare the melons.
Cut the rind off the cantaloupe, remove the seeds, and slice the flesh into cubes. Puree them in a food processor, then add the sugar syrup, and blend them.
Pour the sorbet into a bowl and refrigerate it for an hour before transferring it to an ice cream maker. Churn the sorbet according to instructions on your unit and enjoy.
If you have a successful harvest, learn to preserve cut watermelon and cantaloupe in the fridge and freezer to enjoy it during the cooler months of the year. You can even pickle these fruits.
How long does uncut watermelon or cantaloupe last? Refrigerate the fruit for up to ten days.
Growing cantaloupe is just as easy as growing any other veggie or fruit. The key is to provide them with the right soil and growing conditions. Nurture your plants throughout the season, and each plant rewards you with up to eight delicious melons.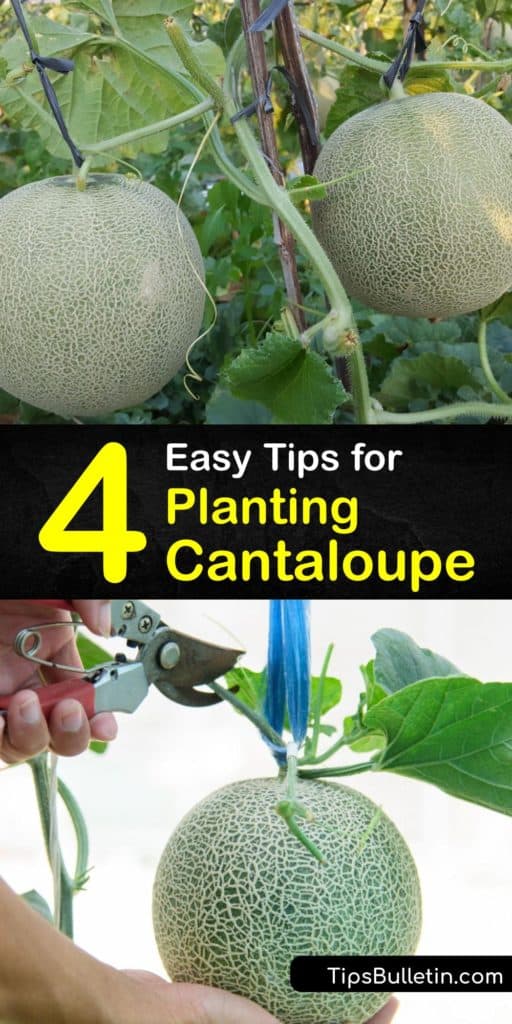 Now that you know how to plant cantaloupe and care for your plants for a healthy crop of sweet melons, why not share our cantaloupe growing guide and tips with your family and friends on Pinterest and Facebook?