Collard greens are highly nutritious members of the cabbage family and are an excellent addition to your cool-season crops. Read on to discover all the gardening know-how you need about how to plant collard greens and keep them flourishing throughout the growing season.
Although they're most prevalent in the South, collard greens have gained popularity throughout other regions of the US in recent years. Since they grow best in cool weather, planting collard greens for a spring and fall harvest is ideal.
In mild climates, it's possible to grow collard greens throughout the winter. Collard plants tolerate temperatures as low as 20℉. In addition, many growers attest that collard leaves actually taste sweeter after a light frost.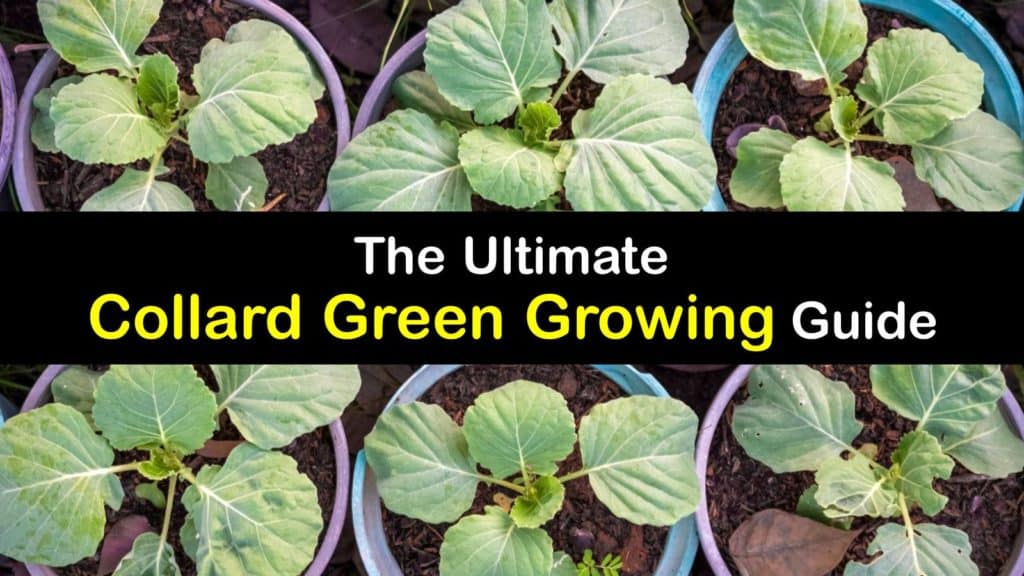 Easy Tips for Planting Collard Greens
Collard greens are enjoyable when eaten cooked or raw. The flavor and texture are similar to kale but slightly less bitter. Try collard leaves chopped in a fresh salad, steamed, sautéed, or cooked in soups and stews. Some people even enjoy them as gluten-free wraps.
All that's required to grow collard greens is a location that gets full sun and well-draining soil rich in organic matter. Collard plants prefer somewhat acidic soil with a pH between 6.0 and 6.8. There is no difference between collard greens and mustard greens regarding soil pH and growing conditions.
Applying used coffee grounds as mulch around your plants helps add nitrogen to the soil and slightly lowers the pH.
Collard greens, or Brassica oleracea var. Viridis by their botanical name, are members of the Acephala group of the Brassica family, meaning they don't form a central head.
Other Brassica plant family members include broccoli, Brussels sprouts, cabbage, kale, kohlrabi, radishes, and turnips. They are commonly referred to as cole crops.
These plants are biennial, meaning that they grow new leaves and roots in their first year, followed by flowering and seed production in the second year.
Leafy greens are one of the most nutrient-dense foods available. Collard greens are an outstanding source of vitamins A, B-6, C, and K and calcium, iron, and magnesium.
Some of the health benefits of regularly eating collard greens include lowering cholesterol, boosting bone and liver health, promoting healthy digestion, and even improving sleep.
How to Plant Collard Greens From Seed
The many types of collard greens seeds will sprout at temperatures as low as 45℉, but germination takes a bit longer. Like when to plant arugula seeds, it's helpful to cover your garden bed with a layer of dark-colored mulch, compost, or a black plastic sheet a week or two before planting to warm the soil. There is little difference between collard greens and mustard greens when planting the seeds so plant a variety of greens at the same time if you like.
Plant the seeds a quarter to half-inch deep and lightly cover them with soil and compost. You may be wondering how far apart to plant collard greens or how far apart to plant kale. Kale and collard greens plant spacing should be approximately 18-24 inches.
Keeping the soil moist is necessary when you plant turnips and collard greens seeds so they can germinate. The seedlings typically begin emerging in about five to ten days. To speed germination, soak the seeds in water 24 hours prior to planting to help break down their protective outer coating.
When to Plant Collard Greens
When to plant collard greens depends on your USDA growing zone. The best way to plant collard greens is by direct-seeding anytime the soil is 45℉ or warmer in early spring.
To get a head start in climates with late spring frosts, planting collard greens seeds indoors three or four weeks before your average last frost date is helpful. Once it's warm enough, they'll be ready for transplanting outdoors.
For a winter harvest, plant collard greens in late summer or early autumn. In climates with freezing winters, sow seeds about two months before your average first frost date. Use row covers, low-growing tunnels, or a cold frame to protect the plants from hard frosts.
Best Varieties of Collard Greens
One of the many terrific advantages of growing your own groceries is the ability to try unusual varieties of your favorite veggies.
As with the different types of spinach plants to grow, traditional heirloom cultivars date back many years. Carefully selected hybrids are bred for desirable traits like disease resistance and high yields. There are dozens of types of collard greens to choose from. Here are a few of our favorites.
Ideal Growing Conditions for Collard Greens
When the weather gets hotter than 85℉, the plants may bolt and send up a flower stalk. When this happens, the leaves turn bitter and inedible. It's possible to slow the bolting process by trimming off the flowers as they appear.
Like other leafy greens and growing kale from seeds, collards require a regular supply of water. Keep the soil consistently moist, providing approximately an inch to an inch and a half of water each week.
However, be careful not to overwater, as soggy soil prevents the roots from absorbing oxygen and nutrients.
Depending on the variety, collard greens often get quite large. Ensure that you leave an ample amount of space between each plant to allow adequate airflow and avoid stunting the plants by overcrowding them. Check the seed packet for variety-specific instructions.
Collard plants have shallow roots and suffer when competing with weeds for water and nutrients. Use organic material like grass clippings, dry leaves, or pine needles as mulch around the plants to minimize weed growth and hold in the soil moisture.
Harvesting Collard Greens
Harvest your collard greens when the leaves are between five and ten inches long and are still young and tender. Old leaves become bitter, tough, and stringy.
Although most varieties of collard greens reach maturity in about 70-80 days, it's possible to start harvesting baby greens within 30 days.
Picking the greens is the best part of the growing process. One of the premier ways to harvest collard greens is to harvest leaves starting from the bottom of the plant first, allowing the new leaves at the top to continue growing.
In regions with especially hot summers, it's best to harvest your spring crop of collard greens before the weather is consistently above 85℉. Use a nice clean, sharp knife or scissors to harvest the entire plant a few inches above the base.
Keep harvesting collard greens planted in late summer for as long as your growing season allows. Collard greens growing season lasts well into late fall and even winter in many regions.
Pest and Disease Concerns for Collard Greens
It's imperative to closely monitor your plants for signs of damage or distress. Plants are more vulnerable to attacks from insects and pathogens when they're stressed.
The best defense is providing them with fertile soil and adequate amounts of water and sunlight. Use an organic collard green plant fertilizer to boost the nutrients in the soil. To avoid potential diseases building up in your soil over time, practice crop rotation by changing your planting areas every two or three years.
Some of the most frequent insects that feed on collard greens include aphids, cabbage loopers, cabbage worms, cutworms, flea beetles, and slugs.
Protect tender young plants with row covers for several weeks after they sprout to prevent insects from laying eggs on them.
To avoid problems with slugs and cutworms, insert a plastic collar several inches deep in the topsoil around the base of the plant when the plants come up.
Spray aphids off of infested plants with water or treat the plant with an organic insecticide like neem oil or insecticidal soap.
The most prevalent diseases for collard plants are black rot, leaf spot, and clubroot. Bacterial and fungal diseases often get spread through insect activity and splashing water.
Control pest infestations as they occur, and use drip irrigation to minimize water on the plants' leaves.
Clubroot is a soil-borne fungal disease that's usually introduced to the garden via contaminated transplants. Maintaining a soil pH of 6.5 to 6.8 helps to eliminate clubroot spores.
Companion Plants for Collard Greens
Companion planting is a profitable garden design technique that growers have been using for generations to take advantage of the mutually beneficial qualities of certain plants, creating a naturally resilient garden ecosystem.
Some plants attract beneficial pollinators and predatory insects, and others repel various garden pests. Specialized plant pairings improve each other's vitality and flavor when grown together.
However, some plants have detrimental effects on one another's growth and must live far apart.
Aromatic herbs and flowers are excellent for attracting beneficial insects as well as deterring pests. Desirable companions for collard greens include chives, garlic, mint, rosemary, sage, and thyme.
These plants repel pests like aphids, cabbage loopers, cabbage worms, and slugs. Catnip and basil repel flea beetles. Cilantro, chamomile, dill, and parsley attract predatory insects like ladybugs and lacewings.
Several plants improve the flavor of collard greens when planted nearby and include chamomile, dill, garlic, and mint, which do double duty with pest control.
Collard greens aren't just for traditional Southern cooking anymore. These delicious and nutritious leafy greens are an excellent addition to your collection of cole crops.
They tend to be a bit more heat tolerant than other members of the cabbage family, and the collard greens growing season is one of the longest of any vegetable. When to plant collard greens depends on your USDA growing zone.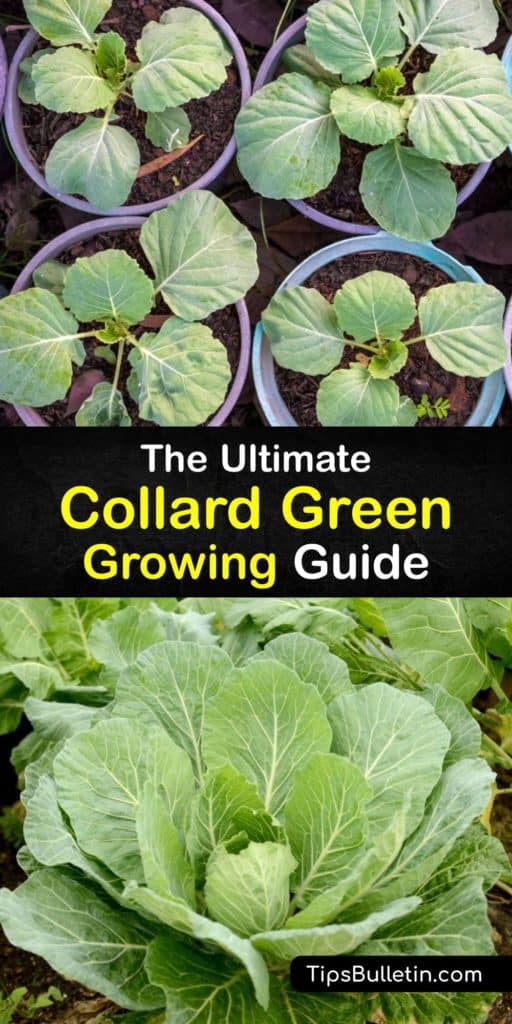 If you found these tips for planting collard greens helpful, please feel free to share this article about how to plant collard greens with your fellow gardening enthusiasts on Facebook and Pinterest.