Green onions are one of the easiest veggies to grow. Whether you have a garden bed or a pot on your kitchen windowsill, planting green onions is possible just about anywhere. In this article, discover how to plant green onions and enjoy a continuous supply any time of the year.
Sometimes referred to as bunching onions, spring onions, or scallions, Allium fistulosum is a perennial plant in the onion family that forms a large clump of edible green leaves with small bulbs. They are related to bulb onions, chives, garlic, leeks, and shallots.
Occasionally, regular onions, or Allium cepa, are harvested before forming a mature bulb and sold as green onions. They don't take up much space and repel numerous common garden pests. As such, green onions are excellent companion plants for numerous other fruits and veggies around the garden.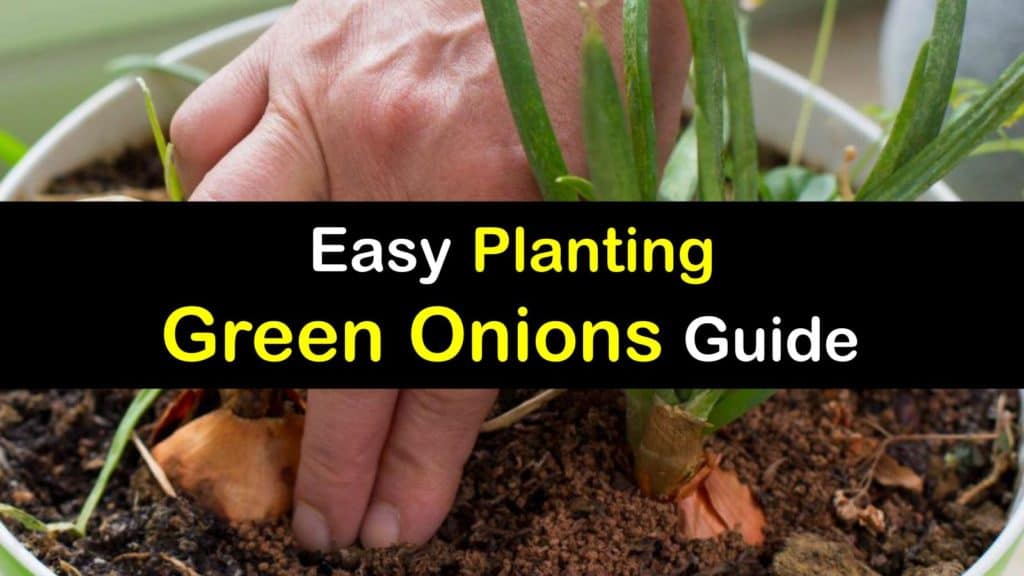 Helpful Tips and Tricks for Planting Green Onions
With a remarkably short growing season, growing green onions from seed takes as little as 20-30 days. All they require is an area that gets full sun and has rich, moist soil. Read on to learn all about planting green onions in your garden at home.
The best way to plant green onions depends on your growing climate and available garden space. Are scallions the same as green onions? Yes. If you're growing perennial scallion plants, choose a location where they can grow undisturbed for many years.
They're ideal for USDA planting zones 5-9, and some of the most cold-hardy varieties can withstand temperatures as low as -10℉.
Whether you're growing shallots vs green onions indoors or out in your garden, make sure your green onion plants get around six or more hours of direct sunlight every day. They grow best in consistently moist soil that's rich in organic matter.
Of course, it's also easy to grow scallions at home in water with leftovers you usually throw in the trash.
A week or two ahead of planting green onion seeds, add several inches of organic compost to your garden soil. It's helpful to cover the garden bed with a layer of dark-colored mulch or black plastic to warm the soil to help the seeds germinate faster.
To make the most of your kitchen scraps, regrowing green onions from the root end is a fun and rewarding DIY project. Cut the stem just above where it turns white and place it root side down in a shallow glass of fresh water on a sunny windowsill.
Within a few days, you'll see new green shoots begin to emerge. Replace the water every few days. It's often possible to get three or four harvests from the small bulbs. There is no difference between green onion and spring onion when it comes to regrowing them from scraps.
Growing Green Onions from Seed
If you're using the direct-sow method, plant the green onion seeds a quarter-inch deep and loosely top-dress them with a thin layer of garden soil and compost. Water them gently, taking care not to displace the seeds.
If you're planting green onion seeds indoors, fill a seedling tray, peat pots, or a cardboard egg carton with a nutrient-rich seed starting potting mix. Pre-moisten the potting soil, then sow seeds a quarter-inch deep.
The optimal soil temperature range for seed germination is between 60-75℉. However, they will germinate at temperatures as low as 40℉, albeit much slower. Green onion seeds usually germinate in seven to 14 days.
Another technique for planting green onions is by using onion sets, which are usually Allium cepa, or bulb onions, which means they are harvested early while they still have small bulbs. Plant onion sets an inch to an inch and a half deep and close enough together that they touch.
When to Plant Green Onions
Have you ever wondered, "What month do you plant green onions?" The best time to plant green onions is generally in early spring as soon as you can work the soil or grow scallions in water at any time.
However, they're also an excellent fall crop. Since they grow so fast, most gardeners sow seeds directly in the garden bed or container.
For a spring crop, sow seeds around the typical last frost date for your area. In the fall, plant green onion seeds approximately one month before your intended harvest date.
It's possible to keep your green onions growing throughout the winter in a cold frame or unheated greenhouse if you live in a mild climate.
Optimal Growing Conditions for Green Onions
Green onions are remarkably easy to grow in a wide variety of conditions. While they prefer full sun, the plants also tolerate partial shade. Green onions will grow in neutral to slightly acidic soil pH, between 6.0 and 7.0.
Give your green onion plants approximately one inch of water per week and more during periods of especially dry or hot weather. They have shallow root systems and suffer when competing with weeds for water and nutrients.
Use mulch to insulate the soil, retain moisture, and minimize weed growth. Be careful when weeding to avoid damaging the onions' shallow root systems.
In general, onion plants tend to be heavy feeders. Apply a high-nitrogen fertilizer every four to six weeks throughout the growing season for optimal results. For a cost-effective alternative, try this easy recipe for a nitrogen-rich homemade fertilizer blend.
Mix all the ingredients inside a large container with a lid. Store it in a cool, dry location and apply it at a ratio of one tablespoon per plant as needed throughout the growing season. This fertilizer blend is also ideal for leafy greens like cabbage, chard, kale, lettuce, and spinach.
How to Plant Green Onions in Containers
If you don't have any space at home for a garden bed, it's also possible to grow-green-onions in a container on your porch, patio, or a sunny kitchen windowsill. There is really no difference between chives and green onions when growing them.
Choose a soil mix that drains well and is rich in organic matter. Look for potting soil with added perlite for drainage, coconut coir or peat moss for moisture retention, and compost or fertilizer for slow-release nutrients, or make your own DIY potting mix.
Use a spade, hand trowel, or garden fork to combine the ingredients in a wheelbarrow or large bucket. It's best to use up your homemade potting mix right away if possible. Otherwise, store the mixture in a sealed container in a cool, dry location.
In addition to providing the plants with nutrient-rich soil, it's also crucial to regularly fertilize your container-grown green onions. Plants use water and fertilizer faster when growing in pots than in the ground.
For liquid fertilizer, apply it every two to three weeks. Applications should be spaced five or six weeks apart if you're using granular fertilizer.
Harvesting and Storing Homegrown Green Onions
There are two options when it comes to harvesting green onions. Collect the leaves as soon as they're at least six inches tall, or harvest the entire plant after four to six weeks to use the white stalk and small bulb as well as the leaves.
When harvesting scallions, snip the green tops as needed throughout the growing season and use them for soups, salads, and garnishes. To keep the plant growing, cut no more than a third of the leaves at a time. Snip them several inches above the soil level to encourage quick regrowth.
To harvest the entire green onion, gently loosen the soil around the base of the plant. Either pull up the plant as a whole or carefully separate several stalks from the central cluster and rebury the rest.
Keep your green onions fresh in the fridge by storing them wrapped in a damp paper towel inside a plastic bag. They normally stay fresh for up to two weeks.
Troubleshooting Common Pest and Disease Issues
Although green onions are usually straightforward to grow, they sometimes suffer from pest and disease issues.
Plants are more resistant to attacks by insects or pathogens when they're healthy. Giving them appropriate amounts of light, water, and fertilizer is their best defense.
Aphids, leafminers, onion maggots, and thrips are the most common insects that feed on green onions. Cover your seedlings with floating row covers in the spring to prevent insects from laying eggs on the tender young plants.
Additionally, cedar mulch deters numerous insect pests, including aphids, ants, mosquitoes, and thrips. When you see the first signs of an infestation, spray all parts of the plants with an organic insecticide treatment like neem oil or insecticidal soap.
Downy mildew is a prevalent fungal disease that develops from persistently damp conditions. The leaves develop yellow and brown blotches and eventually form darker spots with fuzzy-looking grey, brown, or purple fungal spores.
Always allow your garden soil to dry out completely between watering. In addition, ensure that the plants have adequate airflow. Treat any affected plants with organic copper or sulfur fungicide.
Growing green onions from seed is amazingly simple and rewarding. In just four to six weeks, enjoy a generous harvest of fresh green onions.
Whether you're growing them in a garden bed or in a pot on your kitchen windowsill, all they require is four to six hours of bright light, consistently moist soil, and regular applications of nitrogen-rich fertilizer.
Harvest the green tops as needed, or dig up the whole plant to use the white stalks and small bulbs. Homegrown produce is always tastier and more nutritious than what's available at the grocery store.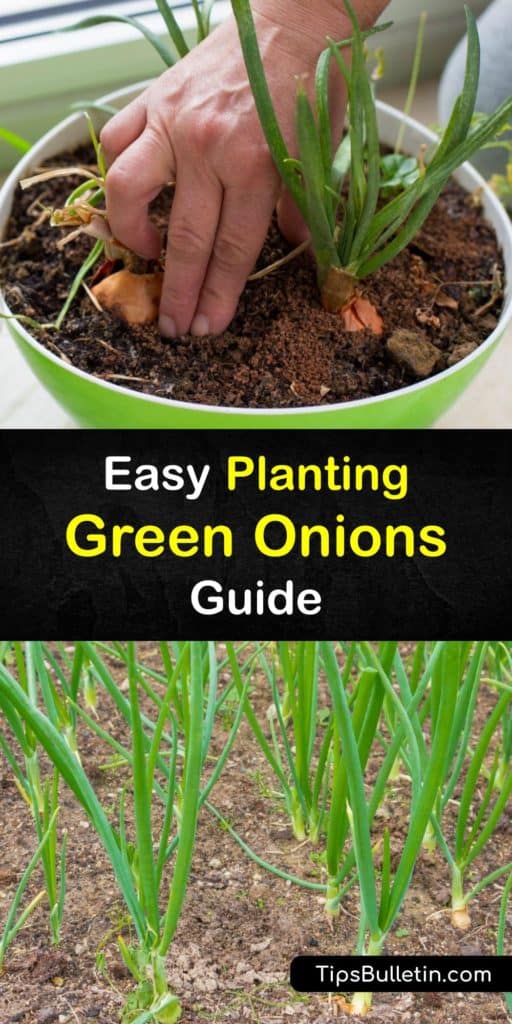 If you found these gardening tips useful, please feel free to share this article about how to plant green onions with your family and friends on Pinterest and Facebook.