Jalapeno peppers are a staple ingredient in many classic Mexican dishes. They're easy to grow as long as you provide the right growing conditions. Read on to learn how to plant jalapenos and enjoy the best harvest possible.
Capsicum annuum, or pepper plants, are part of the nightshade family. Chili peppers are rated on the Scoville scale for hotness based on their capsaicin levels. Jalapeno peppers measure 2,500-8,000 Scoville Heat Units (SHU).
For reference, a bell pepper has a 0 rating. Banana peppers measure 100-500 SHU, serrano peppers measure 5,000-15,000 SHU, cayenne peppers measure 30,000-50,000 SHU, and habanero peppers measure 100,000-350,000 SHU.
Pepper plants are perennial, meaning they'll keep growing and producing fruit for many years under the proper circumstances. Some gardeners prefer planting jalapenos in pots and overwintering them indoors.
Grow lights are usually required to keep the plants fruiting throughout the winter. In areas with a shorter growing season, plant jalapeno seeds indoors in early spring. It gives the plants a head start when it's time to transplant them.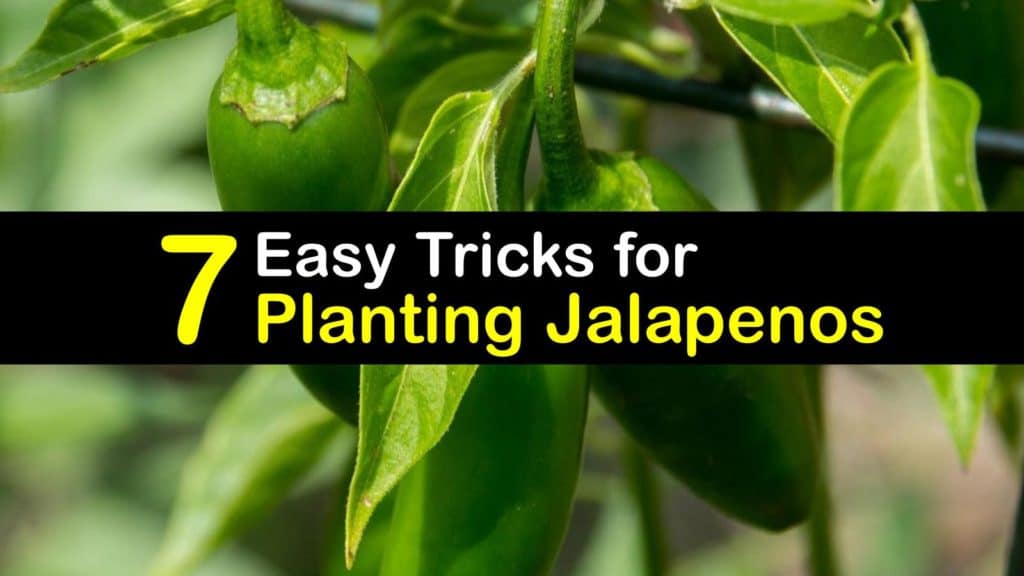 Tips and Tricks for Planting Jalapenos
The jalapeno pepper plant originated in Mexico. Now the different types of jalapenos are grown worldwide thanks to their distinctive flavor and mild heat level.
Most pepper varieties love heat and sunshine. Grow hot peppers in an area that receives full sun. When growing peppers in pots, it's beneficial to use a dark-colored container to keep the soil warmer.
Pepper plants grow best at temperatures between 65-85℉. Wait to transplant your jalapeño seedlings outdoors until the last danger of frost has passed.
To overwinter your jalapeno pepper plants indoors, bring the pots inside before the first frost in autumn. Move the plants outdoors on warm days and back in when nighttime temperatures drop below 65℉.
Best Way to Plant Jalapeno Seeds
When do you plant jalapenos? Plant jalapeno seeds indoors eight to 12 weeks before the average last frost date. Keeping the soil consistently warm and moist is essential for the seeds to germinate.
The best way to grow jalapeno peppers starts with filling your seedling tray with a nutrient-rich seed-starting mix. Plant the seeds a quarter-inch deep and lightly cover them with soil. Use the spray bottle to saturate the soil. Cover the tray with a humidity dome or sheet of plastic to hold in moisture.
The optimal soil temperature for germinating pepper seeds is between 80-85℉. It's helpful to use a heat mat to keep the soil consistently warm during germination.
Once the seedlings begin sprouting, move the tray to a sunny windowsill that receives at least six hours of direct sunlight daily. Consider supplementing natural light with grow lights on short days in early spring.
When you grow serrano peppers or other types of pepper plants, know that they are extremely cold-sensitive, so avoid putting them out too soon. Begin hardening your seedlings off when daytime temperatures are consistently above 65℉.
Leave them out for short periods with minimal wind levels at first, and progressively acclimatize them to staying out in the elements for longer times.
How to Plant Jalapenos in Raised Beds
Planting jalapenos in raised beds is advantageous for numerous reasons. Raised beds' soil warms up faster, and it's easier to control weeds, prevent the soil from compacting, and cover the plants on cold nights.
Transplant your pepper seedlings two to three weeks after the average last frost in your area once soil temperatures are warmer. It's important to apply a generous layer of dark-colored mulch to the area about one week before transplanting.
Mulching helps to keep the soil warmer and retain moisture. Dig a hole double in size to the plant's root ball, plant your jalapeno, and fill it in with a blend of equal parts compost and soil.
Apply two tablespoons of organic, all-purpose fertilizer around the plant's base and thoroughly water it.
Keep in mind how far apart to plant jalapenos when planning your garden layout. Jalapeno peppers grow 24-30 inches tall and 16-18 inches wide when mature. Jalapeno plant spacing should be approximately 14-16 inches.
Planting Jalapeno Peppers in Pots
Jalapeno pepper plants are perfect candidates for container gardening, thanks to their compact size. To ensure the root system has enough space to grow, choose a five-gallon pot with holes at the bottom for water drainage.
When growing jalapenos in containers in the spring and summer, place your pepper pot in a sunny location where it's protected from the elements. It's beneficial to situate the container next to a house wall in cooler climates, which provides radiant heat.
When the temperatures get cooler in the fall, bring your jalapeno plant indoors at night when it's below 50℉.
Put the pot outdoors on warm days with temperatures above 60℉ during the fall, then find a warm location with plenty of light for it to spend the winter indoors.
To keep the plant producing fruit throughout the winter, grow lights are usually necessary. Otherwise, the pepper plant will stay alive as long as you maintain temperatures consistently above 70℉, provide at least six hours of light daily, and keep the soil moist.
Best Soil and Fertilizer for Growing Jalapenos
Pepper plants, whether you are growing ghost peppers, jalapenos, or bell peppers, require well-draining soil rich in organic matter. If you're growing jalapeno peppers in your garden or raised beds, work several inches of compost into the ground about a week before transplanting the seedlings.
Adding compost helps sandy soil retain moisture better and breaks up heavy clay soil to ensure that the plants' roots get enough nutrients and oxygen.
For growing jalapeno peppers in pots or if you grow habanero peppers in a container, select a soil blend with added perlite for drainage and coconut coir or peat moss for moisture retention. Or, try making your own potting mix.
Blend the ingredients in a wheelbarrow using a trowel or hand rake. It's best to use all of the mixture at once. Otherwise, store it in a cool, dry location in a sealed container.
In addition to nutrient-rich potting soil, fertilizing the plants once per month is critical. There are three primary nutrients present in plant fertilizer: nitrogen (N), phosphorus (P), and potassium (K).
Nitrogen promotes leafy growth, phosphorus supports robust root systems, and potassium stimulates fruiting and flowering processes. Use all-purpose organic fertilizer until the plant begins flowering.
Then, switch to a fertilizer with higher levels of phosphorus and potassium. To prevent blossom end rot, ensure your plants get enough calcium by adding bone meal or lime sulfate to the soil when the plant starts to flower.
Harvesting Jalapenos
Jalapenos are one of the few peppers that are harvested while still green. Green peppers are not yet ripe and have a different flavor profile from fully ripe fruits.
Jalapenos are still edible when they ripen to a bright red color and are generally spicier. Green jalapenos taste more fresh and tart.
Most growers recommend harvesting jalapeno peppers when they're a rich, dark green. Use a clean, sharp knife or scissors when harvesting jalapeno peppers to avoid damaging the plant. Snip the stem a half-inch from the main branch.
If you have a nice harvest of jalapenos, learn the best place for storing fresh jalapenos to use in your favorite spicy recipes. Pickling, freezing, and drying are all excellent options.
Companion Plants for Jalapeno Peppers
Companion planting is a popular garden design technique utilizing various plants' beneficial qualities to create a healthy garden ecosystem. Before you learn when to harvest jalapenos, you should know what plants to grow with them. Certain plants attract pollinators and other beneficial insects, while others ward off pests.
However, certain plants don't make good neighbors. Keep these plant relationships in mind when designing your garden layout.
Aromatic herbs are valuable for pest control. Basil repels thrips, flies, and mosquitoes. Flowering parsley attracts predatory wasps that prey on aphids, beetles, and caterpillars. Chives, onions, and garlic deter aphids, rodents, and deer.
Various plants make suitable neighbors based on their root depth and growth habits. Leafy greens like spinach and lettuce grow quickly and help suppress weed growth.
Root crops like beets, carrots, radishes, and parsnips fit nicely between pepper plants and help suppress weeds, loosen compacted soil, and preserve soil moisture.
Avoid planting your peppers near fennel, pole beans, and brassicas like cabbage, kale, and broccoli. These plants tend to stunt one another's growth.
Since peppers are in the nightshade family with tomatoes, eggplants, and potatoes, it's best to grow these plants in separate areas. They tend to be susceptible to the same pest and disease problems, which spread faster through similarly vulnerable plant pairings.
Common Pest and Disease Problems with Jalapeno Pepper Plants
Closely monitor your jalapeno pepper plants for any signs of distress, which may include curled or wilted leaves, discoloration on the leaves and stems, and fruit shriveling and dropping off the plant prematurely.
Some of the most prevalent insect pests that attack peppers are aphids, cutworms, flea beetles, and spider mites. Spray all parts of the affected plants with organic pesticides like neem oil or insecticidal soap.
Take extra care to cover the leaves' undersides, a favorite hiding spot for insects. Powdery mildew and bacterial leaf spot are some of the most prevalent plant diseases for jalapenos.
Remove all of the damaged foliage and thoroughly wash your tools afterward. Treat the affected plants with organic copper or sulfur fungicide. In mild cases, neem oil is also effective.
Jalapenos are one of the most popular hot peppers for home gardeners. Whether you use them in your favorite hot sauce, chili or love making jalapeno poppers, homegrown peppers have superior flavor and nutritional value.
With a milder heat level than cayenne pepper, jalapenos are perfect for growing as your first pepper plant.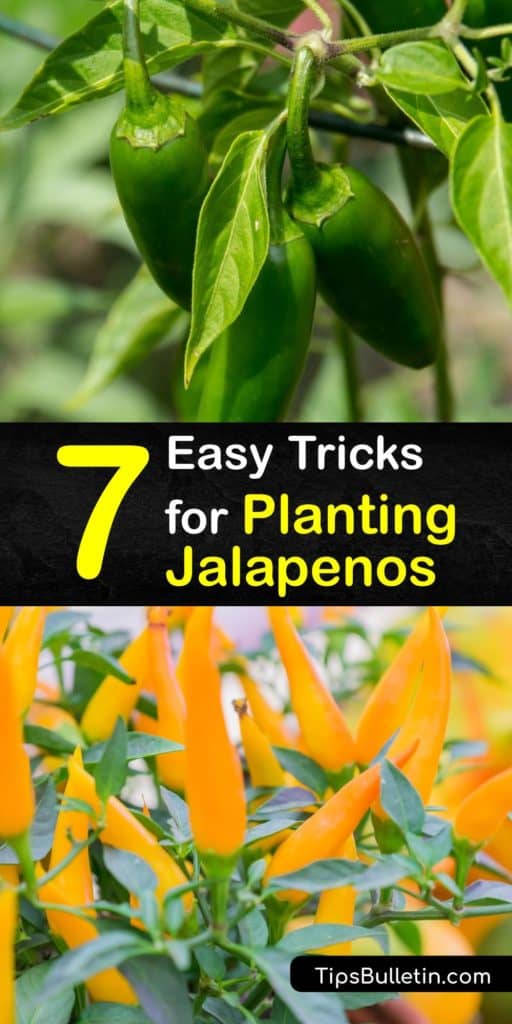 If you found these tips for planting jalapeno seeds helpful, please feel free to share this article about how to plant jalapenos with your friends and family on Facebook and Pinterest.