Okra is a Southern cooking staple for traditional recipes like gumbo and stewed okra and tomatoes. However, in recent years, it has grown in popularity throughout other US regions. In this article, learn how to plant okra and keep it flourishing in your garden throughout the growing season.
If you aren't familiar with this unusual and tasty vegetable, okra is part of the mallow plant family. Abelmoschus esculentus is the botanical name for okra, and it's related to cotton, hibiscus, and hollyhock. Native to Africa, okra is grown as an annual for its edible seed pods in most parts of North America.
Temperature is the most critical factor when planting okra. Due to their tropical origins, okra plants require warm weather to produce those savory seed pods, with daytime temperatures above 70 degrees F and nights above 55 degrees F. This is what makes okra so well-suited to Southern climates. If you follow these essential gardening tips, it's possible to grow okra in cooler regions, too.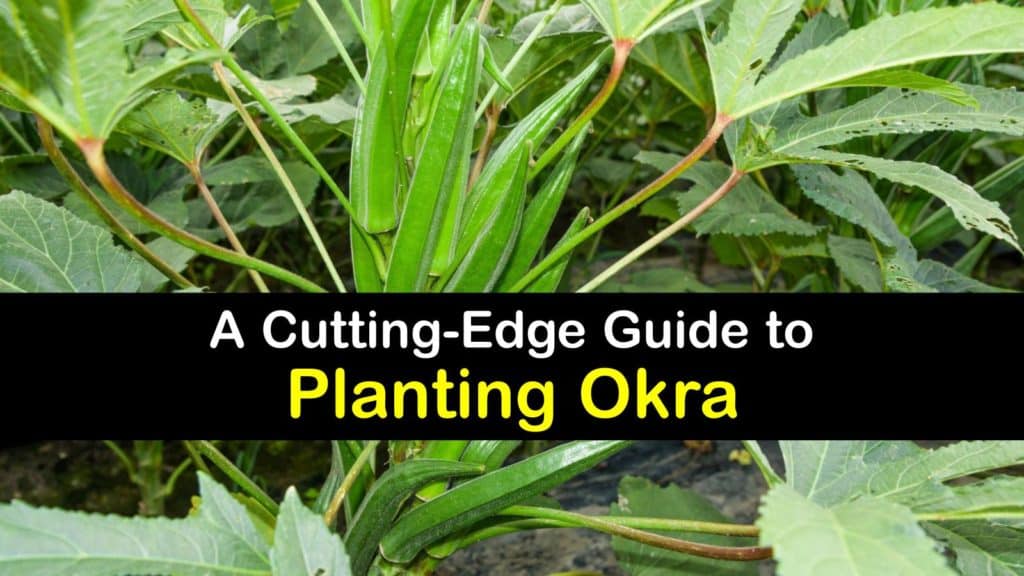 Handy Tips and Tricks for Planting Okra
Learn how to germinate seeds, how far apart to plant okra, and when these delectable pods are ready to harvest. Aside from harvesting okra and cooking the okra pods, these plants add an appealing aesthetic to the garden with their beautiful hibiscus-like flowers. Depending on the variety, okra blooms can be white, yellow, or pink.
In addition to its warm-weather needs, okra must grow in full sun, which means six or more hours of direct sunlight each day. If conditions are too cool and shady, even for a short period, okra plants may not produce their seed pods.
They're also highly cold-sensitive and tend to suffer if temperatures are below 60 degrees Fahrenheit. Okra has a relatively short growing season. Depending on the cultivar, okra pods are ready to harvest after about 50-60 days.
Other than their light and temperature sensitivity, okra plants are relatively flexible concerning their growing environment. They're tolerant of poor soils and dry conditions and thrive in a wide range of soil pH levels.
However, okra grows best in well-draining soil rich in organic matter, with about an inch of water per week. Apply a mulch layer around the base of the plant to hold moisture, insulate the ground, and minimize weed growth.
Outside of the South, okra isn't commonly available in most supermarkets. Also, it's always fun to try new and exciting veggie varieties in your garden. Here are a few ideal okra cultivars for home gardens.
How to Plant Okra from Seeds
The best way to plant okra seeds depends on which USDA growing zone you live in. Regardless, it's critical to warm the soil by top-dressing with a dark-colored mulch, organic compost, or a sheet of black plastic a week or two before planting okra seeds.
The optimal soil temperature for planting okra is 65-70 degrees F. Sow seeds a half-inch to an inch deep in moist soil that you've amended with organic compost.
On average, okra seeds germinate in seven to ten days. To speed up germination, soak the seeds in water overnight to break down their protective outer coating.
If you're starting seeds indoors, wait until the soil has warmed enough before transplanting the seedlings outdoors. The way to grow okra in containers includes hardening them off before transplanting. Leave them out in the elements for progressively longer periods over a week or two.
Okra plants are heavy feeders, so fertilize them every three or four weeks throughout the season. Use an organic okra plant fertilizer and apply according to the instructions on the product label.
When to Plant Okra
In cooler climates, it's helpful to get a head start on the growing season by planting okra seeds indoors three or four weeks before your area's last frost date.
When to plant okra starts with sowing seeds in a seedling tray, peat pots, or a cardboard egg carton and keeping them on a sunny windowsill until the last danger of frost passes.
If you live in a warm climate, sow seeds anytime the soil is warmer than 65 degrees F and nighttime air temperatures don't drop below 55 degrees F. Cover the tender seedlings with a cold frame or row covers in chilly weather.
How Far Apart to Plant Okra
You may be wondering how far apart to plant okra. Depending on which cultivar you're growing, okra plant spacing should be one to two feet. Refer to the plant's label or seed packet for variety-specific recommendations.
When direct-sowing seeds, some gardeners prefer to plant okra seeds six to eight inches apart, then thin out the weakest seedlings once they've grown three or four inches tall. This way, you'll be able to select the healthiest plants to grow to maturity.
Harvesting and Storing Okra
About two months after planting okra seeds, the plants begin flowering. The seed pods form three or four days later. The flowers only open for one day, so companion planting with aromatic herbs and flowers to attract pollinators is beneficial.
For the best flavor and texture, harvest okra pods when they're two to four inches long. If they stay on the plant too long, they turn bitter and stringy. Certain okra varieties produce seed pods that stay tender at larger sizes.
For optimal production, harvest okra pods every other day. Use a sterile, sharp knife or pruning shears and cut the pods just above their caps.
Many types of okra have tiny spines that irritate gardeners' skin. Unless you're growing spineless okra varieties, be sure to wear gloves and long sleeves when harvesting. The spines dissolve during the cooking process.
Refrigerate unwashed okra pods in the crisper drawer for up to five days. For more extended storage, freeze or can them. Use frozen okra within nine months.
Solutions for Common Pest and Disease Issues
Stressed plants are far more susceptible to attacks from insects and pathogens. Your best protection for the plants is keeping them warm enough and providing ample light, nutrients, and water. Practice companion planting for vegetables to take advantage of other plants' beneficial properties. Okra is a great companion plant for peppers, just as it is for lettuce.
Some of the most commonplace insects that feed on okra plants include aphids, corn earworms, flea beetles, stink bugs, and root-knot nematodes. These pests damage crops by feeding on leaves, flowers, seed pods, or roots.
The best way to grow okra is to cover tender seedlings with row covers to prevent insects from laying eggs on them. At the first sign of an infestation, promptly spray all parts of the plant with an organic insecticide like horticultural oil or neem oil for okra plants. What to plant with okra includes French marigolds. They serve as a trap crop to reduce root knot nematode populations.
The most prevalent diseases for okra crops are verticillium and fusarium wilts, caused by soil-borne fungi. These fungal diseases may persist in the soil for many years.
Unfortunately, there is no known remedy while the plants are growing. Be sure to purchase certified disease-free seed and practice regular crop rotation to prevent pathogens from building up in your soil.
Solarization is an effective way to kill fusarium and verticillium fungi. Remove the affected plants and dispose of them in an outdoor garbage container.
Do not compost the plant material, as that could spread the fungi to your compost. Cover the soil with a large sheet of black plastic and leave it for several weeks during warm weather. The top six inches of soil heats up enough to kill the fungi.
If you've never tried planting okra before, why not give it a try? The flavorful pods are an excellent addition to soups, stews, and side dishes. The leaves also make a tasty addition to fresh salads.
While okra plants are highly temperature and light-sensitive, they can tolerate poor soil conditions and dry spells better than some other crops.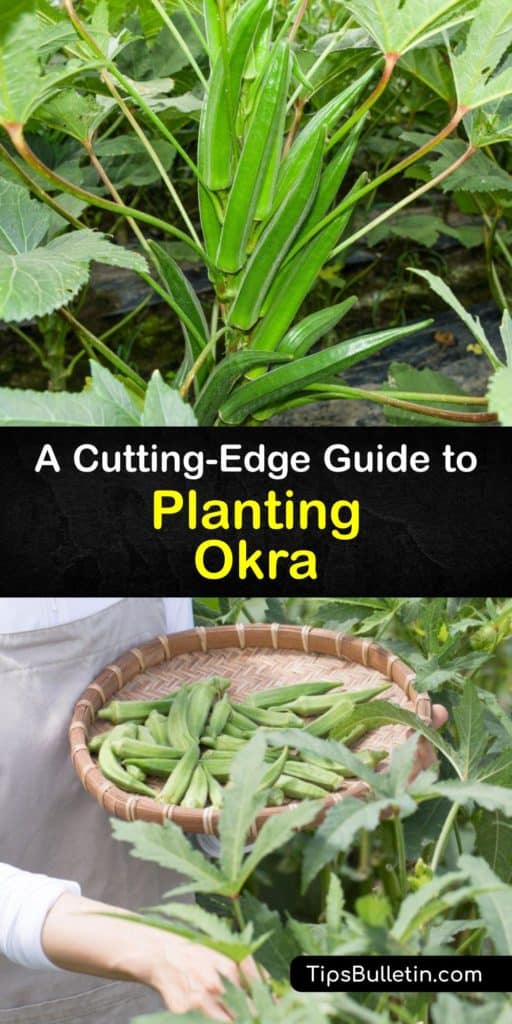 If you found these gardening tips useful, please share this article about how to plant okra with your fellow green thumbs on Facebook and Pinterest.