Who doesn't love peanut butter sandwiches for lunch and honey roasted peanuts for snacking? They are delicious and healthy, and growing your own in a home garden is easier than you think. Learn when and how to plant peanuts and everything there is to know about producing a healthy crop of nuts.
There is just something about peanuts that is hard to resist. They are crunchy with a creamy flavor and taste delicious raw, roasted, fried, boiled, and mashed. They are also very nutritious, contain more protein than many types of meat, and are an excellent source of vitamins, minerals, and fiber. If that doesn't convince you, peanut plants are also easy growers.
Growing peanuts or groundnuts in the yard is super simple, and you don't need acres of property to grow nuts. One plant produces up to 50 peanuts, only demands about two feet of space to thrive, and grows well in a garden bed or patio container.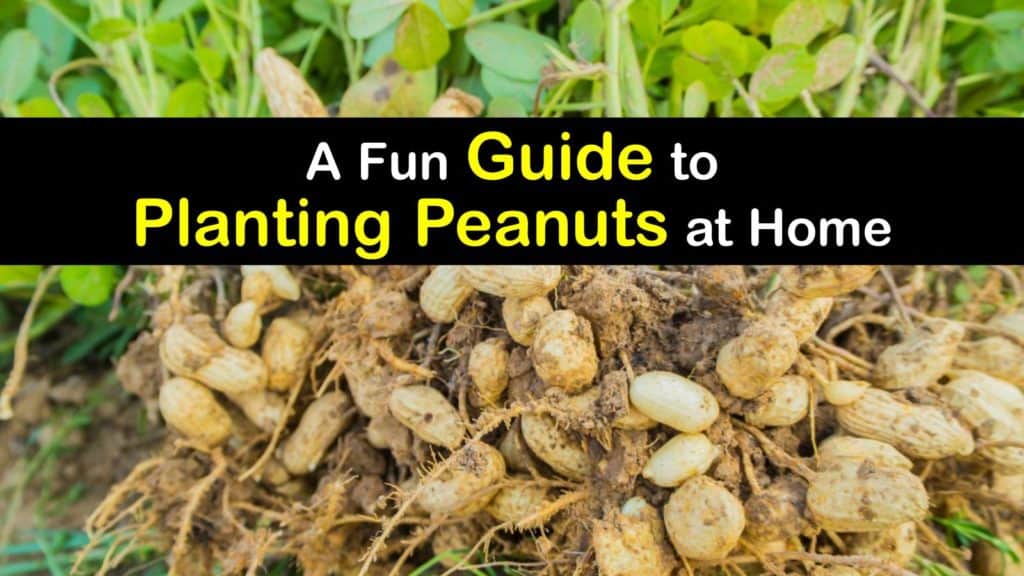 Planting and Growing Your Own Peanut Plants
Planting peanuts at home is a fun project and a way to enjoy organic nuts from your own container garden or bed. There are many suitable types for small and large gardens, and all they ask from you is the right soil conditions, sunshine, water, food, and a little TLC.
However, some peanut plants want more space than others. Learn about the different types of peanuts to grow according to your area, space limitations, and tastes.
Find out how and when to plant peanuts for germination and optimal growth and the care they require for a healthy peanut harvest.
Things to Know Before Planting Peanuts
While planting peanuts is reasonably straightforward, there are some things to understand about them before going through the gardening process.
Some peanut types take more space, and all peanuts need proper soil and fertilizer to grow and produce nuts. Here is everything to know to prepare for growing peanut plants in your garden.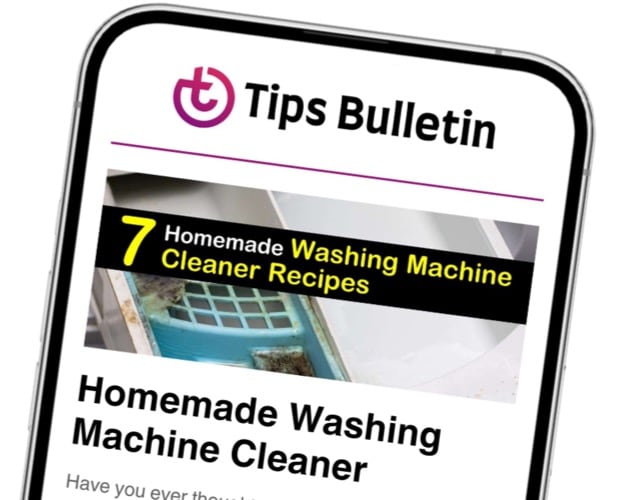 Finally, an email that Transforms Your Home.
Get the latest home and garden tips from our experts, delivered straight to your inbox.
An interesting fact about peanuts is that they are not actually nuts. What about beans? Are legumes and beans the same thing? Peanuts are legumes or edible seeds that grow in pods. They produce pea-like yellow flowers above ground, with pods developing beneath the soil.
After the self-pollinating blossoms fertilize, the stalks beneath the ovaries elongate, bend towards the earth and grow in the soil where the ovary enlarges to form a peanut pod.
They desire full sun and loose, well-draining soil for the entire process to complete and produce a healthy crop, whether you are growing peanuts in containers or the garden.
A common question when growing peanut plants (Arachis hypogaea) is how far apart to plant peanuts, and the answer depends on the type. Most types are suitable if you plant them eight inches apart with rows two to three feet from each other.
There are four main peanut types: Virginia, Spanish, Valencia, and Runner peanuts, and they all have a distinct flavor and size.
The Virginia types, like Jumbo Virginia, are the largest and most common types you purchase roasted or in shells. They grow up to 24-inches tall with a 30-inch spread.
Spanish peanuts have smaller kernels with reddish-brown skin, higher oil content and are popular for peanut candy.
Valencia peanuts are very sweet, have three or more seeds in each pod, and are excellent for eating boiled or as raw peanuts. These types grow about 50 inches in height and 30 inches wide.
Finally, runner peanuts are the dominant peanut in the United States, accounting for 85% of total production. They grow on runners of about a foot in length, have an attractive kernel size, and are famous for making peanut butter.
Where and When to Plant Peanuts
Unfortunately, just like when planting bush beans from seed, peanut plants do not grow in all regions, and it's vital to know your hardiness zone before you decide to grow them in the garden. Discover which zones are ideal, when to plant peanuts outside, and how long they take to develop and produce nuts.
The origins of peanuts do not include the US. Peanuts are native to South America and enjoy growing in hot conditions with long summers. However, they grow well in USDA hardiness zones 6 through 11.
Prepare to sow seeds outdoors after a few weeks of frost-free days pass when the soil temperature reaches 65°F at the four-inch level. Flower formations are damaged when the temperatures rise above 93°F, and growth stops below 57°F.
Valencia peanuts take 95 to 100 days to reach maturity, Virginia and Runner types grow 130 to 150, and Spanish peanuts take about 120 days before producing peanuts.
How to Plant Peanuts
The best way to plant peanuts is to sow them directly in the ground or container after the last frost.
Explore how to amend the soil, sow the seeds at the proper depth and spacing, and how to give your plants care after planting peanut seeds. Determine the fertilizer type your plants require and how much to water them throughout the season.
The most important part about growing peanuts is to use fresh and raw, uncooked peanuts still in their shells. To start, shell the desired amount of peanuts and set them aside.
While starting peanut seeds indoors in potting soil and transplanting them outdoors is fine, we prefer to sow seeds directly in the garden. The way to grow peanuts indoors or out is to first prepare the garden bed or container by using loose soil that is slightly sandy.
If the dirt is heavy, add sand, compost, or organic matter to loosen it. Peanut plant spacing is crucial, so make two-inch deep holes with eight-inch spacing between them and set a peanut in each hole.
Push dirt over the top, press it down lightly, and give them a good watering to help them settle. Peanuts produce their own nitrogen, so keep this in mind when you feed them. Use a 5-10-10 fertilizer and add calcium or gypsum to amend the soil if necessary.
Water the seeds two to four times a week whenever the soil feels dry to the touch. Pull weeds as needed, but be careful while weeding not to damage the peanut plant roots.
After the plants reach six inches in height, cultivate around them by loosening the dirt or hilling, so the pegs penetrate the ground easily. Hill around the plants and mulch with grass clippings or straw, just like you do potatoes.
It's time to start harvesting once the foliage begins to turn yellow in autumn. Pick peanuts by pulling the whole plant out of the ground before the first frost.
Dig around the plant's base first with a hand shovel to loosen the tubers, and use your hands to pull them from the sandy soil gently. Shake off the excess soil, lay it on the ground in a dry place with the leaf side down.
Let the peanuts dry for a few days to a few weeks, depending on your location, and pull the peanut shells from the plant. Store the peanuts in mesh bags and keep them in a well-ventilated area.
Who would have thought that planting peanuts at home is so easy? While it's simple to pick up a can of nuts at the grocery store, growing your own is a fun experience, and harvesting fresh, organic peanuts at the end of the season keeps your snack cupboard well-stocked.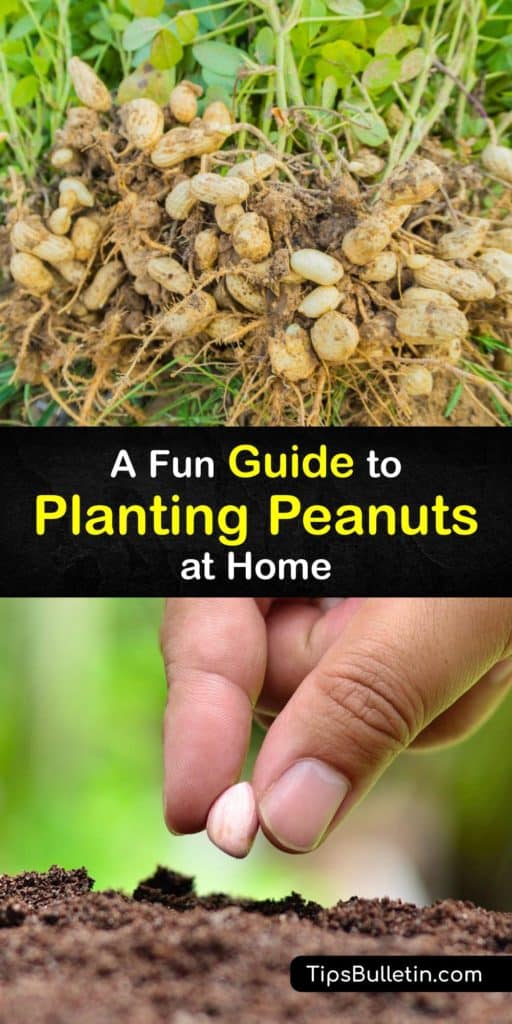 Now that you know how to plant peanuts in your own garden, why not impress your friends by sharing our peanut growing guide and plant care tips with them on Facebook and Pinterest?