Potato plants are highly productive plants for home gardeners and one of the most low-maintenance root veggies. There are a few different gardening methods for planting potatoes, but we've found that learning how to plant seed potatoes is what people find the most simple.
Planting seed potatoes is a great way to increase your yields, considering that every pound of seed potatoes planted typically gives three to five pounds in return.
What are seed potatoes, and why should you use them? Seed potatoes are like taking a shortcut in the gardening process.
Instead of growing spuds from seed pieces or tubers and chitting them, they were cured in the ground during the previous year and are ready to be planted again in the next growing season.
If you're dying to have some more potatoes in the house, it's time to visit some local garden centers and grab some seed potatoes for the garden.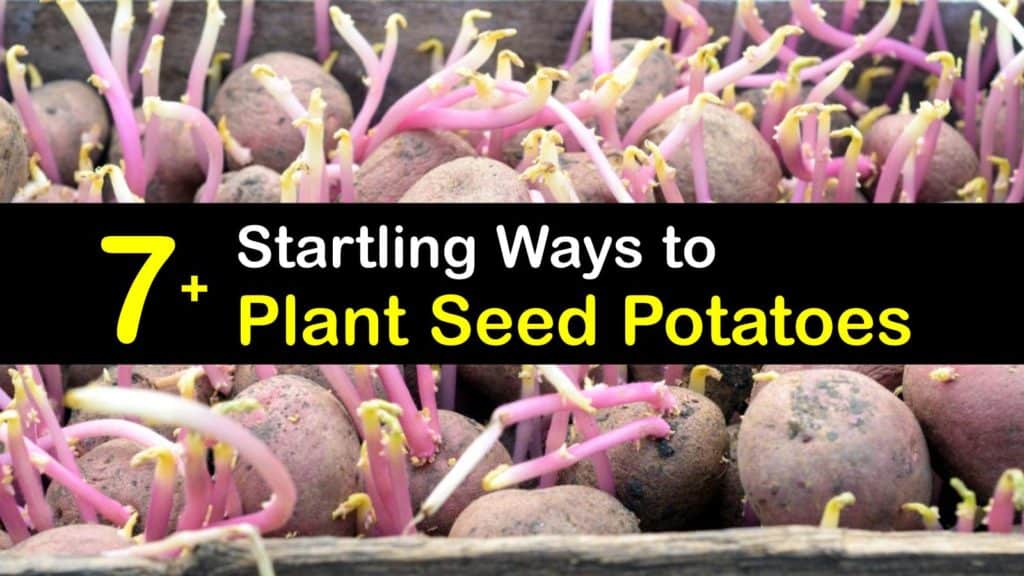 What are Seed Potatoes?
What is a seed potato? Do potatoes have seeds? You're right to think that you've never actually seen a potato seed. Instead, seed potatoes look precisely like the potatoes you grow but with a few significant differences from the ones you buy from the grocery store.
Most potatoes that you buy are treated with growth inhibitors to prevent sprouting. Seed potatoes are never treated this way, which is one of the main differences between those that grow well and those that don't.
Only buy certified disease-free seed potatoes because they are tested for various diseases before being certified and sold. Without this assurance, you could introduce deadly problems into your soil that could last for many years.
When learning how to plant seed potatoes, gardeners often wonder if these excellent growers can be executed at home. While it's technically possible, the risk of transmitting diseases to your next crop is high.
You could end up losing your entire seed crop during storage because the tubers aren't mature yet.
In general, seed potatoes are just mature potatoes that have cured in the ground before being harvested. You can then store them to help you supply the crop for the next growing season.
Most potatoes are grown in states like Idaho, Maine, and Colorado, where the climates are good enough to produce high-quality, heirloom seed crops free from disease. Those raised in southern regions are called new potatoes.
Whether they're the size of a golf ball or a softball, these potatoes have fragile skins that won't cure in the ground during summer. Now that you understand what these potatoes are, let's learn how to plant seed potatoes successfully.
How to Plant Seed Potatoes
Planting seed potatoes is easy, yet there are still quite a few steps to grow big, healthy crops. Seed potatoes are available for many potato varieties.
Kennebec, Fingerling, Russet, and Yukon Gold are some of our favorites. Many universities offer cooperative extension services for you to reach out to if you run into any challenges.
Planting Seed Potatoes in Fertile Soil
The last thing you want to do is plant potatoes in an area without fertile soil. Always perform a soil test in your garden beds before planting seed potatoes. Potatoes prefer a soil pH range between 5.0 and 6.5.
Lower pH levels do a better job at minimizing issues with potato scab. You may amend the soil with organic matter, like mulch, compost, or other macronutrients that contain potassium and phosphorus.
The Number of Potatoes to Plant
How many seed potatoes you plant depends on how many you want to eat. Small seed potatoes may be planted as is, and larger ones must be cut into several smaller pieces before being sown. Try to have at least one eye for every piece. More eyes are better.
Spacing is another important consideration. Do you know how far apart to plant potatoes? Keep eight to 12 inches between standard potato varieties and 12 to 16 inches between fingerling varieties. The further apart you plant them, the larger the potatoes grow and vice versa.
Keep these small details in mind if you are growing them in a raised bed or grow bags. Every pound of seed potatoes usually yields three to five pounds of fresh ones. They should also be grown in a location that receives full sun.
How to Plant Them
Try to amend your soil in the fall to be ready to use in the early spring once the last frost passes, although they tolerate light frost when the soil temperature is around 45°F.
Do not plant your potatoes when there is still decomposing green matter in the beds. About two weeks before planting, "wake" your seed potatoes.
Place the seed potatoes in a single layer in a box between 60 degrees Fahrenheit and 85 degrees Fahrenheit until the eyes start to pop. Be careful not to break them off when handling them!
Prepare the soil by digging a trench in your bed that is four to six inches deep. If you have larger potatoes, place the cut side down. If not, lay them with the eyes facing up.
Cover your seeds with several inches of soil and tamp them down lightly. Keep an eye out for pests throughout the season. Potato beetles are most common. If you find them, remove them by hand or spray some insecticide to get rid of them.
Hilling Seed Potatoes
You may not know that you have to hill potatoes to protect them. Hilling has many different benefits. It keeps weeds from growing and competing for resources.
Potatoes must be kept in the dark, or else they photosynthesize and turn green. Greening is toxic, and you should avoid eating any green potatoes. Hilling improves drainage as well. While they need water, they don't want to sit in a puddle.
Watering Requirements
Potatoes require different water levels at different times. In general, give potatoes about one to two inches of water every week. Water isn't critical during the first 30 days of life.
However, increase the amount as they grow until they reach the 90-day mark. This time is when the tops start to yellow and die back. Water is still needed at this stage but not as much as before.
When Do You Harvest Potatoes?
Always try to find out the days to maturity for the types of potatoes you're working with. The growing time for potatoes from planting to harvest is about 90 days. Some mature for as long as 120 days.
How to Harvest Potatoes
You won't have to do a lot of digging to harvest. Still, you'll definitely have to get your hands dirty to get the potatoes out of the ground. Start harvesting at the edge of your bed, and be careful not to damage your potatoes.
Allow them to dry on top of the bed for 30 minutes or less before collecting them and taking them inside. The skins are very sensitive at this point. Store your potatoes in a cool, dark place until they are ready to be eaten.
How Long Do Potatoes Last?
Potatoes last for quite a while at room temperature, but each type is a little different. Most potatoes stay fresh for up to three months. Some last a little longer. After this time, they start to dehydrate and lose quality. Try to turn them into something delicious before this happens.
Wash your potatoes and cut them into one-inch chunks. Spread them over a baking sheet and toss with the oil, mustard, syrup, pepper, herbs, paprika, and salt. Place them in a heated oven at 375°F and roast for 35 to 40 minutes or until browned and crisp.
What are seed potatoes? We hope you learned just how easy it can be to grow potatoes. In no time, you'll have dozens of potatoes that thrive under your care.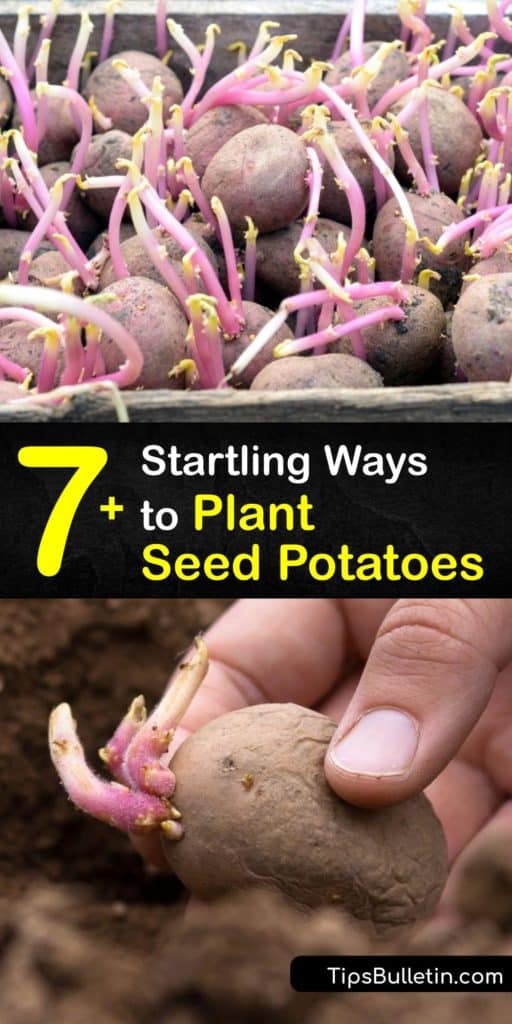 If learning how to plant seed potatoes has changed the way you grow these root veggies, share this guide for planting seed potatoes on Facebook and Pinterest.