Spaghetti squash is a fantastic vegetable that, on the outside, looks like any other squash belonging to the family of Cucurbita pepo. Once cooked, spaghetti squash lives up to its name as a replacement for traditional spaghetti noodles. If you're ready to take your pasta night up a healthy notch, continue reading for tips on how to plant spaghetti squash.
Spaghetti squash plants produce squash of varying shapes and colors like white, yellow, and orange and come packed with nutrients like potassium, vitamin A, and beta carotene. As it's also known, vegetable spaghetti is a kind of winter squash along with acorn squash and butternut. Winter squash plants have tough rinds, which allow them to be kept for longer periods out of their growing season compared to softer summer squash.
Unlike other winter squash, this variety has smooth and creamy flesh. Once cooked, use a fork to scrape away the flesh of spaghetti squash from its rind and watch as ribbons of noodle-like flesh fall away.
What to Know about Planting Spaghetti Squash
This article covers how to plant this miracle squash and properly cook it to enjoy a healthy spaghetti alternative that is perfect for anyone looking to include more veggies in their diet.
Before you start planting spaghetti squash seeds, it's essential to know that most cultivars of spaghetti squash require a growth period of 100 days to ripen in rich soil. There's little difference between pumpkin and squash growing time. When you begin planting spaghetti squash is crucial if you want to enjoy the flesh inside.
Spaghetti squash plants possess both male and female flowers, meaning pollination occurs without other plants being in the area. You may create a hybrid from your squash seeds by planting different varieties. Spaghetti squash cross-pollinates with zucchini easily.
Growing Spaghetti Squash in Colder Climates
Home gardeners who live in a zone to the north often have growing seasons with less than 100 days (just over three months) between frost dates. The best time to plant butternut squash and spaghetti squash is by starting seeds indoors four weeks before the last spring frost date.
The way to plant zucchini seeds or other squash varieties is to sow squash seeds indoors in three-inch pots with three to four seeds in each pot about one inch deep into your potting soil. When you grow from spaghetti squash seeds, it's important to know that spaghetti squash requires full sun for germination, so place them on a sunny windowsill. If this is not possible for your location, the best way to grow squash in a container is to consider putting them under a grow light.
When growing gourds in a container or pot, if the average temperature in the area is regularly at or below 50°F, consider placing a layer of plastic over the pot to conserve warmth or placing the pot on a heating pad. Keep soil moist when you grow squash in a pot until your plant produces several true leaves and is ready for transplanting.
Start Growing Spaghetti Squash in Warm Climates
In areas with a growing season with more than 100 days without frost, you're in luck as spaghetti squash is best planted directly in garden beds. Because squash seedlings do not enjoy transplanting, growing indoors isn't recommended when you can avoid it.
When to plant spaghetti squash seeds in warm locations is easy. Plant squash seeds in your vegetable garden a week or two after the danger of frost is gone. A few recommended methods are based on soil and spacing when planting seeds outdoors.
Mound planting is ideal for growers with soil that does not drain well. Create a mound of soil mixed with compost three to six feet wide and at least eight inches high—plant three to four seeds of your chosen varieties of squash in the mound several inches apart. Add organic matter mulch to the top of the mound and the surrounding soil.
Consider ground planting your squash seeds for gardens with decent drainage and lots of space. Although it depends on the squash variety, most spaghetti squashes grow vines eight feet or more.
Spaghetti squash plant spacing differs from mound planting in that you only plant two seeds three to four inches apart. Once your seeds sprout, remove the weaker of the two to allow one seedling per hole. Add mulch to keep weeds away and keep your squash from touching the ground as it grows.
Planting in squash rounds involves creating a fenced-in area for your squash and is an excellent choice when space is limited in your vegetable garden. Using chicken wire, create a cylindrical fence at least three feet tall and four feet across filled with organic matter like compost, leaves, or lawn clippings.
Planting seeds in raised beds helps keep squash fruits from touching the ground as they grow; plant them near a trellis to further aid growth by allowing your vine to grow vertically.
How to Plant Spaghetti Squash from a Transplant
After the last frost date passes and your squash has hardened off, they're ready to transplant. Prepare any of the previously mentioned growing areas for your squash, or create a garden row or hill along an existing trellis.
Growing along a trellis is usually the best way to plant spaghetti squash. Squash are voracious vining plants, so your frame should be sturdy enough to support growing squash.
Water weekly, and as your plants grow, provide them with assistance in growing on the trellis by guiding them into the trellis openings. Weed the area and add mulch as needed to limit competition for nutrients with weeds and grasses.
How Far Apart to Plant Spaghetti Squash
Because they tend to grow long vines, knowing how far apart to plant spaghetti squash is essential for their growth. Specific spacing varies by variety. Follow the directions on the tag that comes with the package of seeds for particular spacing recommendations for your heirloom seeds.
The general rule of thumb among home growers is to place plants 24 to 72 inches apart because some squash varieties may grow vines up to eight feet; these measurements may vary.
Growing along a trellis or in a fence round may lessen the need for space as most of your squash grows vertically. Review your garden to determine what planting method works best for you and how much space you're willing to provide for your squash to grow.
Harvesting and Storing Spaghetti Squash
Use your fingernail to test the rind to know if your squash is ready for harvest. For winter squash, pressing your nail into the rind should require some effort. If piecing the outside is easy, your squash needs more time on the vine. Use shears to cut the squash from the vine, leaving one to two inches of the stem intact.
Spaghetti squash can be stored for weeks to months as long as you keep it in a dry place at room temperature (60°F).
Common Pests and Disease for Spaghetti Squash
Squash vine borers, squash bugs, and cucumber beetles are common pests on your squash plants. Growing your plants under row covers early in the season is a great way to prevent pests from damaging your crop or apply an insecticide.
Powdery mildew is a typical concern for growers when it comes to disease. Mildew spores are carried by the wind from contaminated plants and thrive in damp environments. Neem oil is effective at treating powdery mildew when applied to affected plants.
Planting spaghetti squash is a fun and rewarding project, and the unique veggie is sure to be a hit after harvest that makes you want to grow even more once you get a taste of its noodle-like flesh.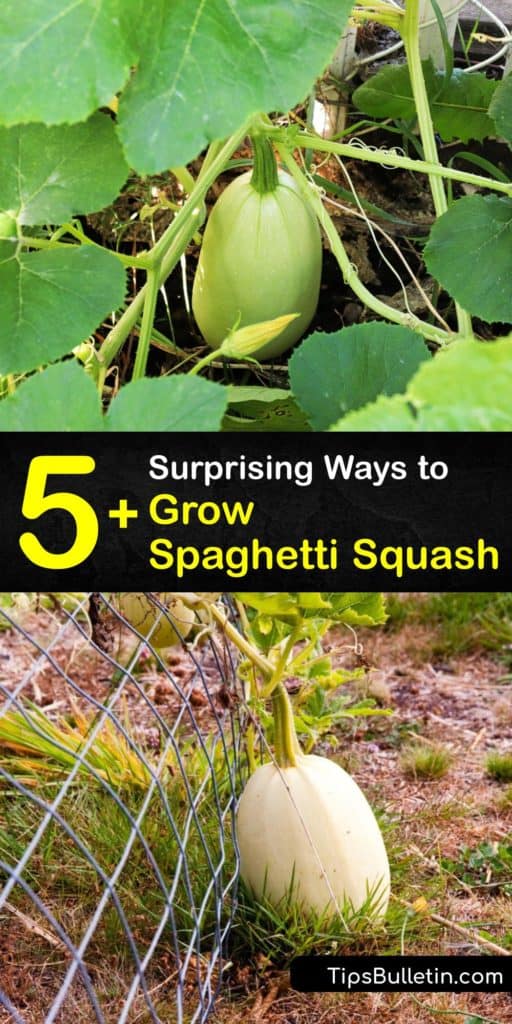 We hope you found our guide on how to plant spaghetti squash helpful and consider sharing our tips on how far apart to plant spaghetti squash with your friends on Facebook and Pinterest.