The common onion, or Allium cepa, is a biennial bulb related to garlic, shallots, leeks, and chives. The yellow onion is delicious, crisp, and slightly sweet, making it well worth learning how to plant yellow onions. Onions feature hollow, tubular, green leaves sprouting from a bulb, a multilayered modified leaf structure. A shallow system of roots extends from the bulb's bottom, and as the plant matures, the bulb may push partially above ground.
Despite the common misconception that planting yellow onions is challenging, these tasty veggies are relatively straightforward to cultivate. Onions are best sown in the spring and have a slow growth rate. They can be grown from seeds, transplants, or sets (small onion bulbs ready to begin their second and last year of growing).
Because onions contain chemical compounds hazardous to pets, growers must be careful when deciding where to plant them. This article explains how to plant yellow onions from seeds or sets and care for your crop for a bountiful harvest.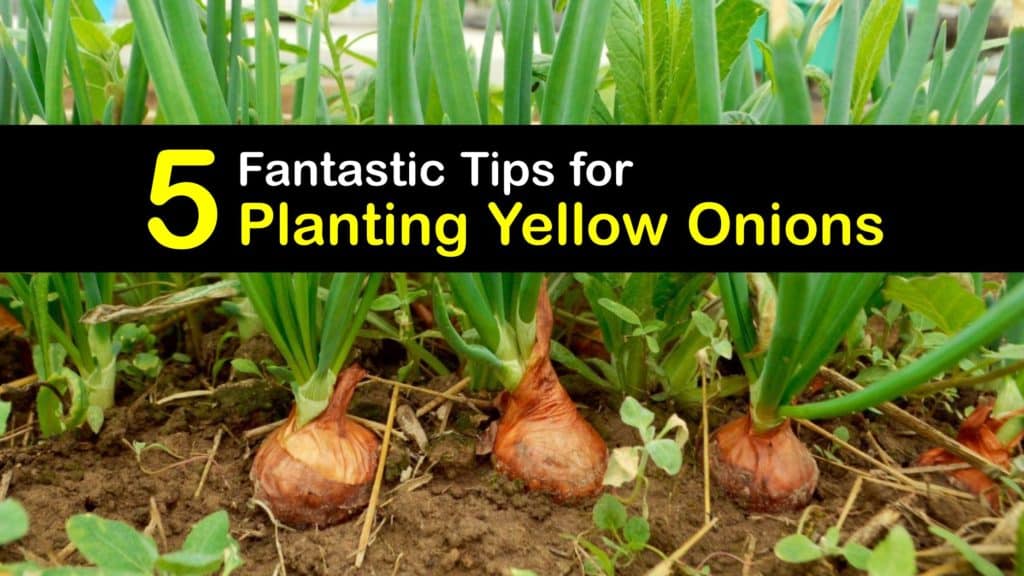 Planting Yellow Onions from Seeds at Home
Learning how to plant yellow onions from seeds or sets gives growers multiple options for planting yellow onions. For the first-time onion growers, working with onion sets may be more beneficial as they are generally easier to care for and have more chance of producing well.
Select an appropriate onion variety for your area based on day length and choose a planting site where other alliums have not been grown for at least one year before planting.
Gardeners who know how to plant yellow onions enjoy homegrown produce right from their backyard, and many plant onions in early spring and late fall for two harvests each year.
Onion Categories by Climate
Onions are put into three main categories based on the day length in the climate where they grow. Choose the right category from the different kinds of onions for your area when buying onion sets to plant onion in your garden.
Select the correct onions category for your location to ensure your plants grow nicely, undergo bulbing, and produce a good harvest.
How to Plant Yellow Onions – Preparation
Whether you are planting yellow vs white onion, start planting onion sets in early spring after the last frost date when the ground thaws through early summer. Onion seeds are often allowed to start seeding indoors six weeks before the outdoor soil temperature reaches 50 degrees Fahrenheit to ensure germination.
In warmer climates, growers plant in the fall. In zone 6 plant your onions mid-September to October. Over the winter, the onions go dormant in cool weather and grow again in the spring.
Select a full sun location with loose soil, as bulb growth is hampered by compacted or rocky soil. Avoid planting in beds where other alliums grew the previous year, as pests and illnesses stay in the ground when you grow yellow onions or another type. If the soil properties in your garden are unsuitable, onions thrive in containers with high-quality potting soil.
Spacing for Planting Yellow Onions from Yellow Onions Seeds or Sets
Once you decide whether the best way to plant yellow onions is from seeds or sets, it's crucial to space them correctly. The way to plant onion sets is by pressing the small bulbs into the soil. Plant onions about 1 inch deep until only the onion tops are visible.
Sets should be four inches apart, with rows 12 to 18 inches apart. Leave the sets alone once they've been planted, and don't build more dirt around them. The sets are expected to peep out of the earth.
Store your seeds in a dry place until planting day. Sow seeds a quarter-inch deep and make rows about 12 to 18 inches apart, thin seedlings to roughly four inches apart. In most cases, a support structure is not required.
How to Plant Yellow Onions from Seeds – Care
Good soil is vital to grow onions successfully. The soil must be exceedingly well-drained and have a significant amount of organic matter. It's preferable if the soil pH is neutral to slightly acidic.
Onions require constant water to keep their bulbs from expanding. One inch of water each week is ideal; however, don't overwater the bulbs or leave them in moist soil, as this promotes bulb rot. A light covering of mulch aids in soil moisture retention. The ideal growing temperature for onions is between 68 and 77°F.
Onions are voracious eaters. Fertilize them with high-nitrogen feed and continue fertilizing every few weeks to encourage leaf growth, resulting in large bulbs. Onions are often grown as annuals and harvested before a flower stalk forms.
Insects and the wind pollinate onion blooms. Inspect your plants regularly for pests like onion maggots and thrips and promptly treat any issues as they arise.
Onion Varieties
After planting yellow onion bulbs, many growers are interested in adding more varieties of onions to their home gardens. In many cases, you can substitute onions for shallots and vice versa in your favorite recipes, but it's fun to grow different types.
When checking local garden centers for onion seeds, onion bulbs, and onion sets, consider each variety's growing season and your garden conditions to give your small onion seedlings the best chance of producing well.
Onions are notorious for being tough to cultivate, but most gardeners manage them with a little effort. Start by growing from sets, as they have a high success rate.
Onions are biennial, having two growing seasons to complete their life cycle. Most gardeners, however, treat them as annuals, harvesting the bulb before the plant blooms and goes to seed. Give growing yellow onions a try for a year or two and enjoy crisp, tasty onions from your own backyard.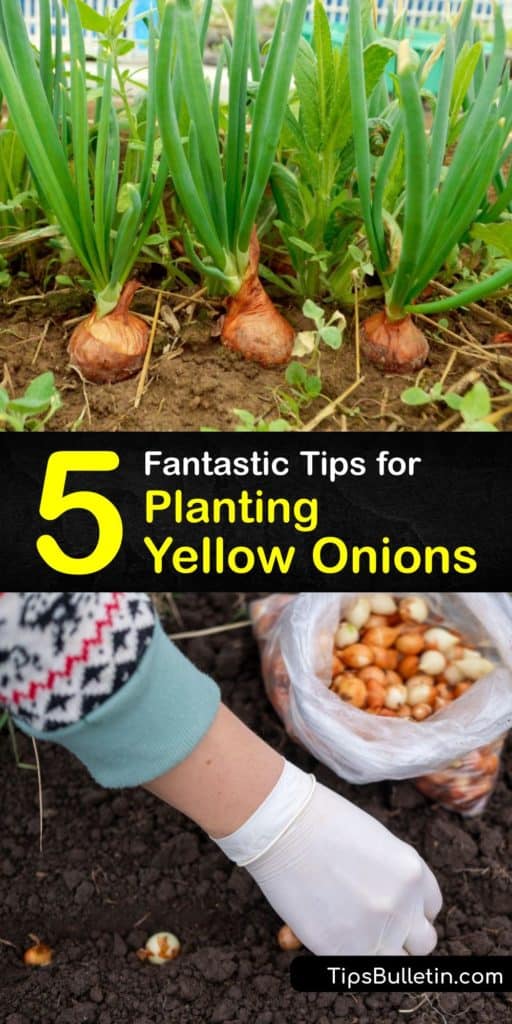 If you loved this article on how to plant yellow onions, please share this helpful information on planting yellow onions with your friends and family on Pinterest and Facebook.