Zucchini is a simple vegetable to work with in the kitchen, and it's highly beneficial to your health. It's also an easy squash to grow in the home garden. Learn how to plant zucchini in the garden bed by starting them from seeds and caring for your plants as they mature.
Zucchini (Cucurbita pepo) is an interesting garden veggie that isn't actually a vegetable. Instead, it's a young fruit that looks a little bit like a cucumber. This fruit belongs to the Cucurbitaceae family and is categorized as a type of summer squash.
Unlike winter squash like crookneck squash, zucchini has tender skin, and there are different types of heirloom and hybrid zucchini plants to grow in the vegetable garden.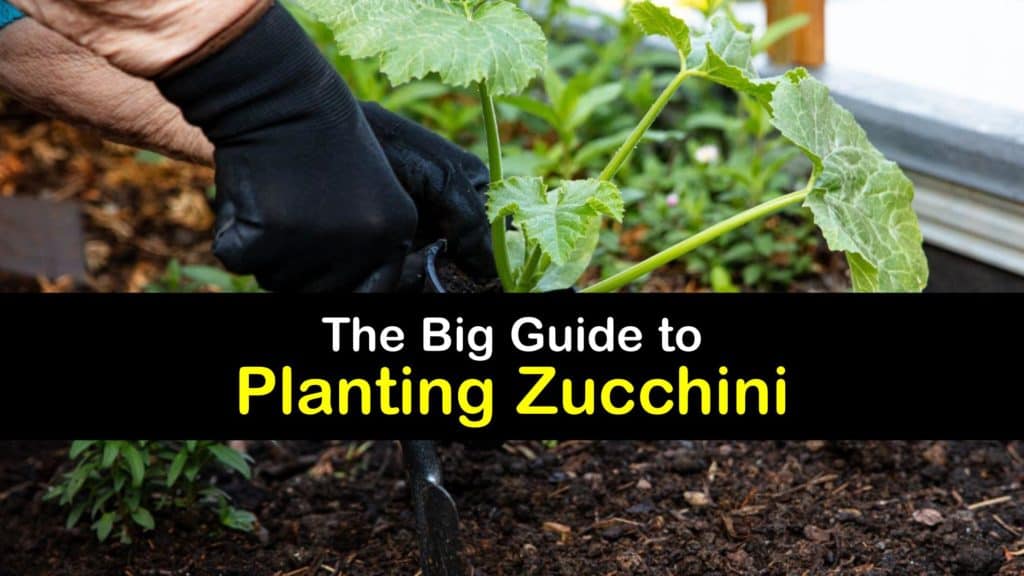 Planting and Growing Zucchini at Home
Vining squash plants produce tendrils that require support from a trellis, while bush varieties grow as shrub-like plants. Both types are easy to plant in the garden or container as long as you provide them with adequate space for air circulation and proper growing conditions.
Like other garden vegetables, zucchinis are excellent veggies for the home grower. However, it's essential to know how far apart to plant zucchini to ensure the plants have room to grow and flourish.
Planting zucchini seeds is a great way to give your plants a head start on the growing season, whether vining or bush types. Find out how to sow zucchini seeds with the proper spacing and depth, what these squash plants need to thrive and produce fruits, and how to use fresh zucchini to prepare a tasty dish.
How Far Apart to Plant Zucchini
Proper plant spacing is vital to ensure the plant doesn't suffer from poor air circulation and disease. Learn how far apart to plant zucchini as seeds and transplants to ensure they have ample room to grow.
Zucchini Plant Spacing
There are two main types of zucchini plants with many varieties of each, and zucchini plant spacing differs from plant to plant. Vining types grow best if you space them 36 inches apart, and bush types require about 24-inches of spacing in the garden bed with rows three feet apart.
How to Plant Zucchini
The best way to plant zucchini to get a head start on the season is to sow seeds indoors and transplant them outside after the danger of frost is gone. Start your plants early and discover when to move your seedlings to the outdoor garden.
If you reside in a warm area, the best time to plant zucchini seeds in the garden is when the nighttime temperatures are regularly above 55°F. Otherwise, start them indoors before the last frost. Sow seeds in peat pots of potting soil and press them a half-inch deep in the dirt.
Mist the pots after planting and keep the dirt moist but not soggy to encourage germination. After the last frost, harden off the plants and transplant the pots directly into the garden with the proper spacing or use the way to grow zucchini in a container for your deck or balcony..
Amend the dirt with organic matter before planting and pick a garden area that receives full sun. After planting zucchini seeds indoors and transplanting them in the garden, position a trellis four inches away from where you plant vining zucchinis.
Practice companion planting for natural zucchini pest control. What to plant near zucchini includes beans, peas, and marigolds.
Plant Care After Planting Zucchini
As you watch the seedlings grow into young plants, it's time to help them along with some TLC. After planting zucchini, it's essential to know how to water and feed your plants as they mature and things to watch for during the season.
Once the young plants have two sets of true leaves, spread straw or mulch around them to retain soil moisture and discourage weed growth. Ensure the garden gets at least one inch of water each week, especially during periods of low rainfall, and water the plants at the base with a soaker hose or drip irrigation.
Zucchini plants are heavy feeders. However, fertilizer is unnecessary if your garden soil is rich or you amend it at the beginning of the season. If you have poor soil, fertilize your plants with an all-purpose plant food at bloom time or make a homemade fertilizer for zucchini with banana peels, eggshells, or coffee grounds. Add some Epsom salt for zucchini around the base of your plants to deter slug and snail visitors.
Common zucchini plant pests are squash bugs, cucumber beetles, and squash vine borers. Consider using row covers to deter the bugs since insecticides kill beneficial insects necessary for pollinating zucchini flowers. You can also make a DIY neem oil spray to get rid of zucchini bugs without harming the plant.
Pollinators travel from male flowers to pollinate the female flowers, and fruit production decreases without proper pollination.
Other issues to watch for are powdery mildew and blossom end rot. These diseases result from calcium deficiency and poor air circulation. Spacing your plants properly at planting time and spreading crushed eggshells over the soil help solve these problems and alleviate any issues with yellow spots on zucchini leaves.
At zucchini harvest time, look for fruits that are shiny and about five to seven inches long. Bigger is not always better – they contain more seeds.
Using Fresh Garden Zucchini to Make Healthy Chips
We love using our air fryer as a healthy alternative to other cooking methods, and one of our favorite recipes is air fryer zucchini chips. They are juicy in the middle and crispy on the outside and perfect for a side dish or snack.
Preheat the air fryer to 370°F and slice the zucchini into quarter-inch rounds. Whisk the egg in a small bowl and combine the bread crumbs, flour, Parmesan cheese, salt, and pepper in a separate bowl. Dip the zucchini rounds in the egg, followed by the bread crumb mixture, and set them on a plate.
Drizzle the slices with oil, spread them in a single layer in the air fryer, and fry them for eleven to thirteen minutes, or until golden brown. Serve with a side of marinara sauce for dipping.
There is nothing like using fresh zucchini to prepare a delicious side dish for dinner, and it's even better when it comes from your own garden. While growing zucchini takes a little bit of know-how, it's relatively easy to plant, and giving your squash TLC through the season rewards you with a bountiful crop.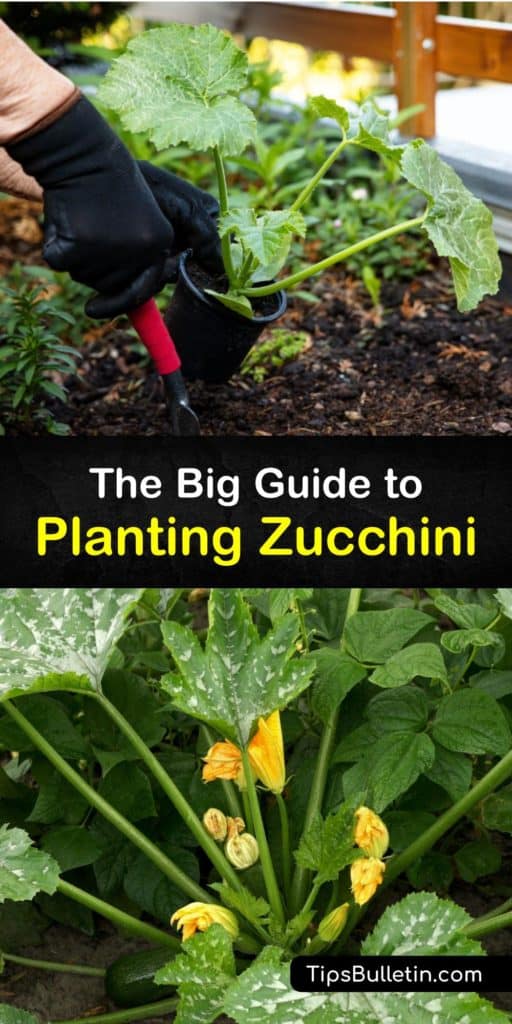 We hope that you enjoyed reading how to plant zucchini from start to finish, and we'd love it if you'd share our zucchini planting and growing guide with your friends and family on Pinterest and Facebook.