Aluminum is a versatile and attractive metal, and you probably have more aluminum in and around your home than you realize. Unfortunately, aluminum oxidizes and gets filthy as time goes by and requires regular maintenance like many other metals. Learn how to polish aluminum, whether everyday household items, aluminum sheet metal, wheels, or a boat.
Aluminum is a shiny-white metal that is the most widespread metal on the planet. We use it for everything from foil, cans, and kitchen utensils to appliances, motors, and building materials. While this material is highly durable, its appearance diminishes over time if you do not take care of it. An aluminum surface doesn't tarnish but it has a high affinity to oxygen which causes a thin layer of aluminum oxide to develop.
Oxidation is what makes aluminum corrosion and rust-resistant. It occurs when you expose the metal to air or an oxidizing agent and appears as a dull gray or powdery white coating. This substance causes aluminum surfaces to look worn and unattractive. Fortunately, aluminum items are easy to restore using the proper technique, cleaner, and metal polish.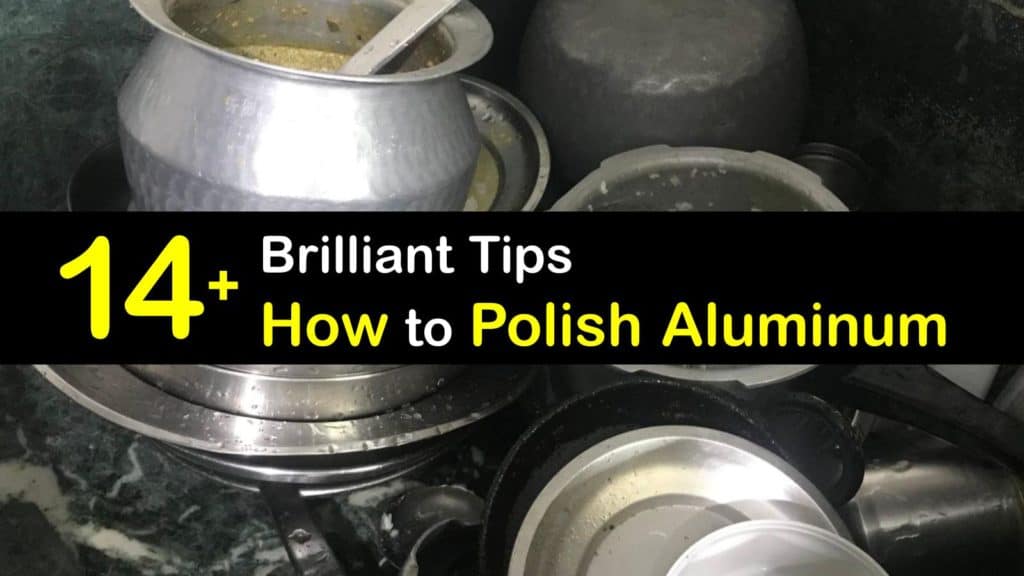 Cleaning and Polishing Aluminum Surfaces
All metals require cleaning now and then, whether it is stainless steel, copper, or aluminum. While it takes a bit of elbow grease and a little bit of time, polished aluminum looks stunning. Learn how to clean aluminum window frames and polish everything from pots and pans to aluminum rims using various methods and cleaners.
Things to Know about Polishing Aluminum
Before polishing aluminum, it's a good idea to understand this metal and learn what to avoid when cleaning it. There are also some precautions to take when using aluminum items in everyday life.
Aluminum
When cleaning aluminum, or anodized aluminum, avoid chlorine bleach, ammonia, strong alkalis, and scouring products. Bleach corrodes and discolors aluminum, ammonia may mottle and pit the surface, strong alkalis cause discoloration, and some abrasives like steel wool cause scratches.
Avoid cooking with acidic foods, like tomato sauce, rhubarb, highly salted foods, pickled foods, fruits, and juices when using aluminum pans and utensils. These food items react with aluminum which causes pitting, resulting in aluminum leaching into the food.
Cleaning Aluminum with Soapy Water
The easiest way to polish aluminum is to use a basic solution of soap and water. While this process doesn't remove oxidation, it cleans away dirt and grime, making the polishing process more efficient.
Fill a large container or sink with water and add several squirts of a mild dish detergent. Use a cloth or sponge to clean all areas of the aluminum item gently.
If the object is extra dirty, soak it in the soapy water before scrubbing it with a soft-bristled toothbrush to loosen stuck-on grime from edges and corners. Rinse the aluminum under running water and dry it thoroughly with a clean cloth.
Sanding Aluminum to Polish
If your aluminum is white and powdery, it's possible to restore the surface so that it has a mirror finish. While not everyone loves to sand, sanding the metal is the best way to restore the surface to look new.
Start with a 320 grit sandpaper, move on to a 400 grit, and finish with a 600 grit. Use the sandpaper to sand smaller pieces by hand and larger pieces with an orbital sander or angle grinder. Use careful, circular motions as you move across the metal until the surface feels smooth to the touch and has a mirror-like appearance.
Sometimes this option is the best way to buff aluminum wheels to a pristine finish after cleaning them and removing spots of rust and brake dust.
Best Way to Polish Aluminum Naturally
If you'd rather skip sanding your aluminum, the next best way to polish aluminum naturally is to use a mild abrasive to scrub the surface gently. While we often consider cream of tartar a food additive, this powder works wonders at cleaning aluminum.
For this homemade cleaner to make aluminum shine, pour a little warm water and cream of tartar into a bowl to form a paste, depending on the size of your cleaning project. Dip a soft cloth into the mixture and rub it on the aluminum in small circles. After you finish cleaning and polishing the entire piece, rinse it with clean water and dry it with a towel.
How to Polish Aluminum with White Vinegar
While it's simple to pick up a commercial aluminum polish or polishing compound at your local hardware store, some of these products are expensive. Fortunately, there are many natural ways to polish aluminum for a clean finish, and one of our favorites is white vinegar.
To polish metal at home, pour equal amounts warm water and vinegar in a bottle sprayer and shake the liquid to mix it well. Spray the cleaner on the aluminum by working in sections and wipe it into the surface with a soft cloth using circular motions.
If you'd rather not use a spray bottle, pour equal amounts of vinegar and water into a bucket or sink and clean the item with a sponge. Rinse the item thoroughly once it's clean and dry it with a towel.
Polishing Aluminum Pans with Baking Soda
Baking soda is a natural, alkaline powder with many uses, including washing cast aluminum pans. It's inexpensive, and you undoubtedly have a box sitting in your kitchen cabinet right now.
For this DIY aluminum polish, sprinkle some baking soda over the metal surface and use a spray bottle to spray hydrogen peroxide over the top. Wipe the aluminum clean with a soft cloth. It's best to work in sections, especially if you're working with a large item.
It's essential to rinse the metal with water after polishing with baking soda since residue may cause the aluminum to oxidize.
How to Use Aluminum Polish
One of the simplest methods for polishing aluminum is to use a pre-made commercial aluminum polish. However, it's necessary to choose the right polish for your project, follow the manufacturer's instructions, and do not use a polish on cookware. Here is how to polish aluminum with commercial polish.
Dip a cloth into the polish and apply it to the metal. Use another cloth to wipe the polish away, using the same movements. Pay special attention to crevices, corners, and other small areas. Finally, use a microfiber cloth for buffing the entire piece until it has a shiny, new appearance.
Polishing Aluminum Sheet Metal
Sheet metal is another common form of aluminum, and cleaning it is slightly different from cleaning aluminum utensils or pots and pans. Find the best way to polish aluminum sheet metal to restore its surface.
Ensure the aluminum sheet metal is clean before polishing it and put on protective eyewear and a mask. Start by sanding the piece with medium sandpaper and work your way toward a fine grit paper.
Rub aluminum polish on the metal and apply the cutting compound to the buffing pad. Use circular motions to buff the metal surface with a rotating buffing wheel, and wipe off all traces of the compound with a microfiber towel.
Ways to Clean Polished Aluminum
Polished aluminum is common in classic vehicles and used for outer trim, engine covers, and other aluminum parts. Unfortunately, day-to-day driving causes the metal to accumulate grime and dirt, and it's essential to use the right methods to polish the aluminum.
To clean an engine cover, put on protective gear and apply a dab of toothpaste to a polishing ball. Touch the ball to the aluminum while holding the drill in both hands and glide it over the surface using the low speed. When done, get a clean cloth damp with water, wipe away the residue, and dry it with a towel.
Cleaning Aluminum Wheels before Polishing
Aluminum wheels accumulate road dirt and brake dust over time, which lessens the overall appearance of your car, and it's important to give them a regular polish, whether they are a standard or forged billet wheel. However, it's vital to clean the wheels before polishing them to get optimal results.
Spray the wheel surface with a hose, including inside the wheel spokes, and around the lug nuts to loosen brake dust and grime. Follow the directions for your brand of wheel cleaner and spray it directly over the surface of the wheels.
Scrub each wheel with a soft-bristled brush, making sure to get into all the nooks and crannies. Use a cone brush and lug nut brush to get into tiny areas. Spray the wheels with water until the water runs clean and dry them with a towel.
How to Polish Aluminum Wheels
After you remove all the grime from your bare aluminum wheels with a cleaner, it's time to give them a good polish. Polishing cast aluminum wheels is reasonably straightforward as long as you use the proper polishing wheel techniques.
Apply aluminum polish to a rag and work in small sections by rubbing the polish along the grain into the metal. As you move around the wheel section by section, cover all areas and finish by polishing the lug nuts.
To polish hard-to-reach areas, wrap the end of a toothbrush with a cloth. Buff the wheel with the grain using a clean microfiber cloth.
Sealing Aluminum Wheels after Polishing
The final step in restoring your aluminum wheels is to seal them. The sealing process protects the metal surface and helps the wheels stay cleaner longer, giving you more time in between wheel maintenance.
Liberally apply wheel wax to a soft cloth and rub it with the grain over the entire wheel, reapplying more wax as needed. Let the wheel dry for about fifteen minutes, and use a clean, soft towel to buff the dry wax off the wheel. Repeat the steps weekly to avoid the process of polishing your wheels as often.
How to Polish an Aluminum Trailer
Old aluminum trailers have a nostalgic feel that's hard to resist. However, oftentimes they are left to sit outdoors, subjected to the environment, which leads to dirt buildup and oxidation. Here is one way of removing oxidation from aluminum and how to restore an aluminum trailer to look like new.
Before you polish an aluminum trailer, clean the entire surface of the trailer with soapy water and rinse it thoroughly with clean water to remove dust, dirt, and debris. Mask off lights, painted surfaces, plastic pieces, and other areas with plastic and tape to prevent damage during the polishing process.
If necessary, remove the old clear coat finish with paint thinner and a putty knife, use 600 grit wet sandpaper to remove heavy oxidation, and rewash the trailer to remove residue.
Use a 7-inch angle grinder to compound the trailer from top to bottom. Start with a coarse grit polishing compound, followed by a medium grit, and finish with a fine grit compound.
Polishing an Aluminum Boat
Cleaning an aluminum pan or another household item is one thing, but polishing an aluminum boat takes quite a bit more time and effort since it is a magnet for grime, mineral deposits, and algae. Learn how to clean your boat, treat oxidation, and polish it for a clean finish.
Begin by parking your boat on a flat surface, and spray the hull with a pressure washer, squirting all aluminum surfaces to remove algae, grime, grease, and minerals.
Put on rubber gloves and protective eyewear and follow the instructions for your brand of aluminum cleaner. Spray the cleaner in an even layer over the hull and scrub the surface with a plastic mesh scrubbing pad. Once the entire surface is clean, spray the hull with water to remove all the residue and let it dry before polishing.
Add three to four drops of polish to a wool buffing pad and rub it evenly over small sections in circular motions. Overlap each section and reapply the polish as needed. Repeat this process yearly to reduce oxidation and keep your boat in tip-top shape.
Making an All-Purpose Aluminum Polish
An expensive, commercial polish is not necessary for polishing bare aluminum. This all-purpose aluminum cleaner cleans any of your small aluminum items, from utensils to pots and pans, and it uses ingredients you probably have in your home right now.
Combine a cup each of water and vinegar in a spray bottle and add two tablespoons of cream of tartar. Shake the bottle gently and label it for storage purposes. When you are ready to polish aluminum or use this solution as a brass polish, spray the solution over the surface and use a soft cloth to buff the area dry.
While aluminum is a highly versatile and durable metal found almost everywhere, it requires routine maintenance. Fortunately, it's easy to keep the metal surface clean and remove or prevent oxidation with a commercial polish like Flitz or homemade aluminum polish.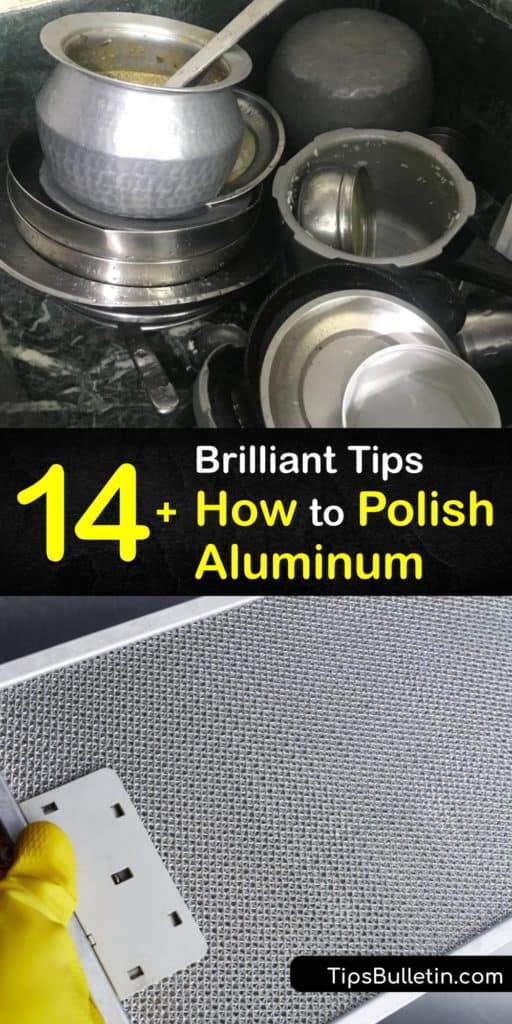 We hope you enjoyed learning how to polish aluminum to restore its shiny surface, and we'd love it if you'd share our aluminum cleaning and polishing guide with your circle of family and friends on Pinterest and Facebook.