There are a variety of metal types, and unfortunately, many of these tarnish over time. They get dull and discolored, losing their luster and beauty. We'll show you how to polish metal to remove discoloration, water stains, and tarnish.
The most common types of metal are steel, silver, aluminum, copper, iron, brass, and bronze, and are found in everything, including silverware, cookware, home decor, and furniture. Keeping these metals clean and polished is relatively easy using the right polishing solutions.
Lacquered metal is the easiest to polish using a damp, soft cloth. Metal lacquer is a clear protective coating applied to decorative metal items. However, many metals found in the home are not lacquered and become tarnished and require specific polishing techniques. If this is the case, clean the metal before polishing it.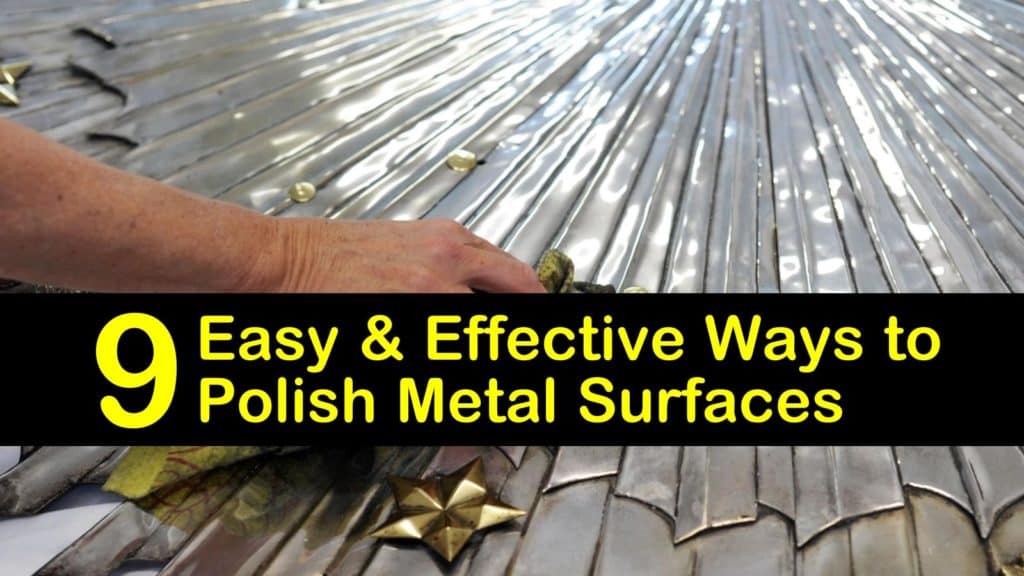 Polishing Metal
Before you polish metal, it's important to clean it so there is a smooth surface to work with. You will find that there are different ways to clean galvanized metal and other types of metals. Use the appropriate method first and then you are ready for polishing.
Be sure to clean rust off a blade or other metal before attempting to polish it or your work will be for nothing.
There are a variety of techniques for polishing metal, and it depends on the type of metal you have. We'll show you how to clean popular metal surfaces to remove tarnish and how to perform metal polishing to restore its original shine.
Ways to Polish Metal
One of the simplest ways to clean tarnished metal is to use a commercial polish explicitly designed for the metal you are cleaning. Many of these polishes contain a tarnish retardant, so it removes tarnish while polishing.
Make sure you purchase a polish designed for your metal and follow the instructions on your polish. Generally, you apply the polish to a microfiber cloth and rub the metal with it using a circular motion. Use a soft towel to wipe away the excess polish and buff the surface with a clean cloth.
Polishing Metal by Hand
Polishing metal by hand is the best way to get a mirror finish without taking it to a detailer. While this process is a little more time consuming and tedious, the final result is worth it.
Start by sanding the metal surface with your hand using 40 grit sandpaper. For large metal parts, use tools such as a sand grinder, buffing wheel, or electric drill sander to speed up the process. After sanding the entire surface, re-sand the metal using finer grit sandpaper.
Apply buffing compound to the metal using a sisal mop. Buff away significant scratches left behind from the sanding process.
Switch to a white stitched mop and apply the compound again to increase smoothness and shine. Finally, apply a white compound with a calico mop to give the metal surface a mirror-like finish.
How to Clean and Polish Outdoor Metal Surfaces
Outdoor metal furniture takes a lot of abuse from the elements, including the sun, rain, snow, and severe temperature changes. Over time, their once shiny surface becomes dull and unattractive. Here is how to clean metal patio furniture and polish it to look new.
Pour warm water in a bucket and add several squirts of dishwashing detergent. Dunk a scrub brush into the soapy water and scrub the surface area of the metal furniture gently to remove dirt, rust, and debris. Continue doing this in sections until the metal is clean.
Rinse the entire surface with a garden hose and dry with a towel. Follow the instructions on your metal polish according to the metal type to give the furniture luster.
How to Polish Metal Surfaces
Metals are common in various items throughout the home. There are times when it is hard to tell exactly which type of metal your item is, too.
For common metals such as copper, brass, chrome, aluminum, bronze, pewter, and stainless steel, use a basic metal cleaner and polisher to clean away dirt and bring back shine. This DIY cleaner for metal is easy to make and contains ingredients that you already have at home.
For general cleaning and polishing and stainless steel jewelry care or for the way to clean aluminum wheels, mix equal parts white vinegar, salt, and flour in a container to form a polish in the form of a paste. Use a soft cloth to rub the entire metal surface until it is fully coated.
Allow the polish to sit on the metal surface for one to two hours. Rinse the metal item under running water and buff the surface with a soft cloth to shine up aluminum or other metals. To remove tarnish while polishing, pour three quarts of water into a large container, and add one ounce of citric acid.
Place the metal in the solution for five minutes. Use a toothbrush for scrubbing away tarnish and rinse the metal in clean water. Use a soft towel to buff the surface dry.
Cleaning and Polishing Silver
Silver is a standard metal in many households, from silverware to jewelry. This polishing technique not only removes tarnish but brings back the silver's natural shine
Line a large bowl with aluminum foil. Bring a small pot of water to a boil and pour the hot water into the foil-lined bowl. Add the salt, baking soda, and vinegar to the water and place the silver items in the container.
Let the silver sit for 30 seconds before removing it. Use a soft cloth to buff the pieces dry.
Use this recipe as the best way to clean silver coins. However, don't attempt to clean collectible coins, as you may damage them and decrease their value.
Polishing Stainless Steel with Olive Oil
Many appliances and kitchen cookware are stainless steel these days. This stain-resistant metal is highly durable and easy to clean and polish.
The best homemade stainless steel cleaner and polisher for natural cleaning is white vinegar and olive oil. This solution also works well for polishing wheels.
Pour the water and white vinegar into a bottle sprayer and add a couple of drops of dish soap. Shake the container to mix and spray the solution onto the stainless steel surface.
Use a soft sponge to wipe away dirt, grime, and stains. Rinse the sponge with warm water and wipe the steel surface to remove soapy residue.
To bring out the stainless steel's natural shine, pour some olive oil onto a soft cloth and use it to buff the metal surface using circular motions. After wiping down the entire surface, use a soft, clean cloth to buff away oily residue.
Cleaning and Polishing Bronze Surfaces
Over time, this soft metal loses its original color and shine due to exposure to moisture and air. What was once a shiny, attractive metal, now appears dull and green. Cleaning and polishing bronze using natural ingredients restore it to its former glory.
Pour a small amount of flour and salt into a bowl and add just enough white vinegar to create a paste. Dip a soft cloth into the bronze polish and use it to smear the surface of the metal. Let the polish sit for about half an hour.
Rinse the bronze off under the kitchen faucet, using your fingertips to clean polish from hard to reach areas. Buff the metal surface dry with a soft cloth.
How to Polish Brass Metal
You find brass in household decor, musical instruments, awards, and other decorative items. This natural brass polish cleans and revives metal using natural ingredients.
Squeeze the juice of a lemon onto a sponge and pour the salt over the top. Use the sponge to scrub the brass gently, using circular motions. Continue polishing the oxidized brass until the surface loses dullness. Rinse the metal under warm water and use a dry cloth to buff it dry.
Making a Homemade Copper Metal Polish
While copper is an essential metal for electronics, it's also in jewelry, old coins, and other household trinkets. Make a homemade polish using the power of baking soda and vinegar to clean away old dirt while polishing the surface back to its original shine. You can also use this simple recipe to take care of polished pewter items. For pewter with a brushed surface, add just a little bit of salt.
Pour the white vinegar into a bowl or container and add the baking soda. Dip the soft cloth into the polish and apply it to the copper in sections.
Use circular motions to work the paste over the surface, cleaning away old dirt and bringing out its original luster. Rinse the copper with clean water and buff the surface dry with a clean cloth.
Polishing metal at home instead of taking it to the jewelers is easier than you think, whether you decide to use a commercial polisher and buffing compound or make your own. Restore your metal surfaces to their original state by cleaning away tarnish and buffing away years of dullness to bring back luster.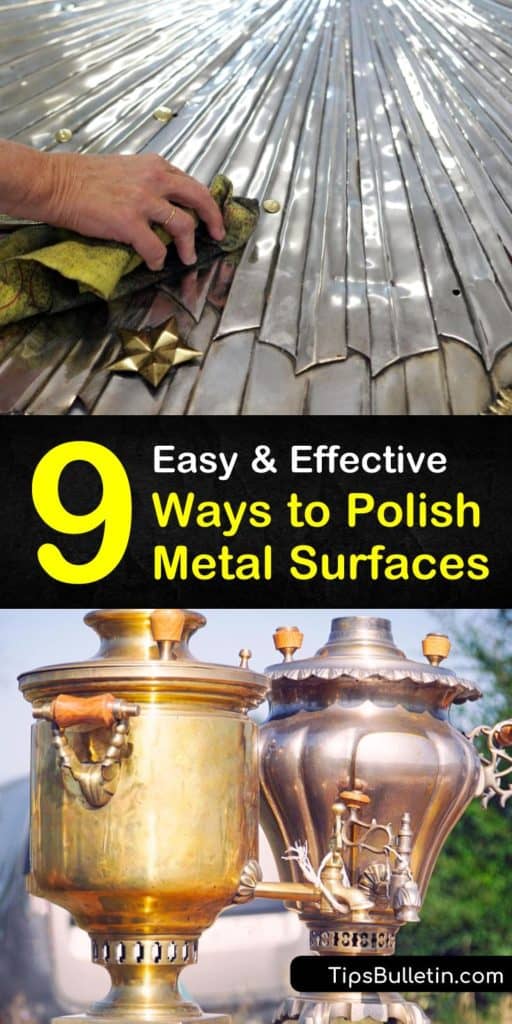 We're glad that we could show you how to polish metal to bring back its original beauty, and we'd love it if you'd share our metal polishing tips with your friends and family on Pinterest and Facebook.