Basil is the ultimate summer garden herb with the best taste and aroma, and the plants are incredibly prolific. By the end of the summer, don't be surprised if you start wondering how to preserve basil so that it doesn't go to waste.
It's hard to use all of the fresh leaves before they spoil, so learning all the ways to preserve basil is beneficial. Basil dries nicely, so stop buying basil from the store and dry all of the leaves you harvest at home.
Turn fresh basil into pesto for dinners throughout the cold winter months. The best way to preserve basil is however you will use it the most. If no one likes pesto, don't bother making cubes.
The way you choose to preserve fresh basil should be the most useful for you, so let's look at the different methods and how you can quickly save basil for the winter months.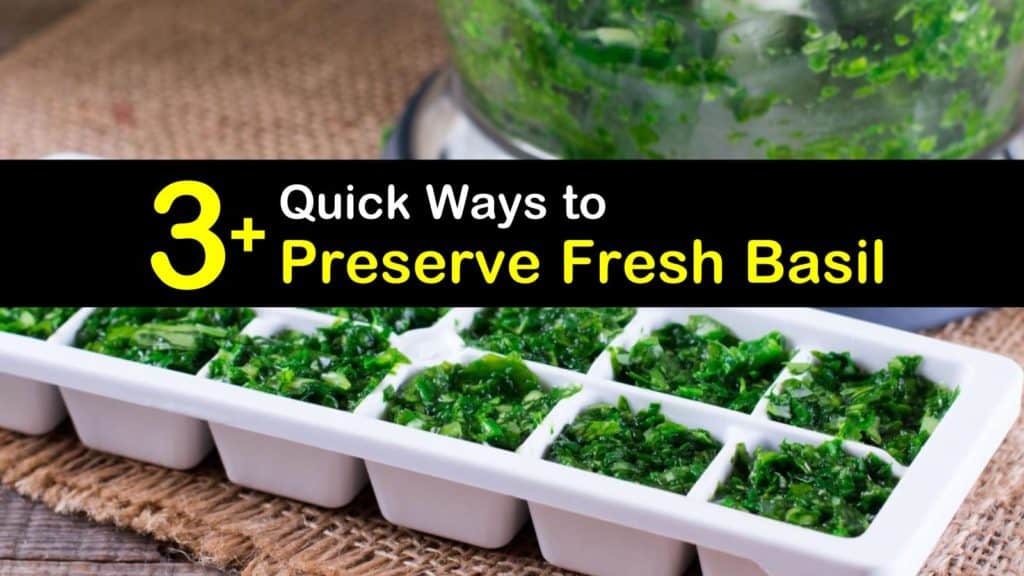 Easy Ways to Preserve Basil to Use All Year
Every gardener and chef should learn how to preserve basil. Alongside other fresh herbs, such as oregano and parsley, basil flavor works in thousands of pasta dishes and soups. Don't let your basil plant go to waste; preserving basil is easier than you think.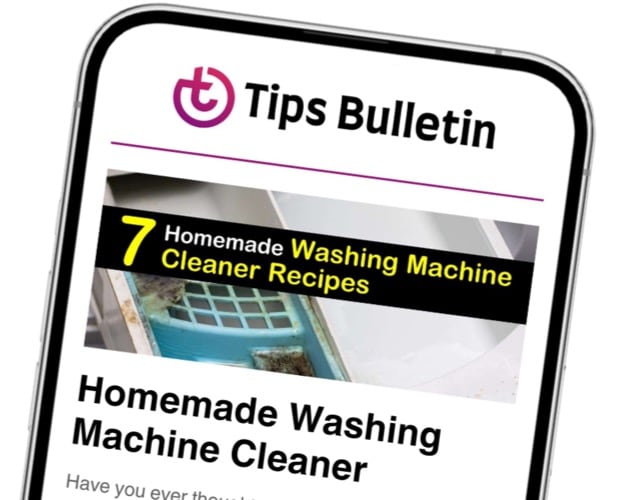 Finally, an email that Transforms Your Home.
Get the latest home and garden tips from our experts, delivered straight to your inbox.
There are many ways to store basil and preserve cauliflower without blanching. Taking the time to preserve your food ensures you have fresh fruits and vegetables even in the winter.
Preserving Basil Fresh from the Garden
If you decide to plant basil from seed in containers or your garden area, you will likely have a bumper crop that you need to do something with so it lasts.
Learning how to preserve basil is simple if you decide to freeze fresh leaves. This method for storing fresh basil is the most straightforward and versatile.
Freezing is a great way to preserve fresh vegetables and herbs. You can either freeze whole basil leaves or chopped leaves, but the leaves shrink as they freeze. Blanching yields the best results because it maintains the rich flavor of the basil leaves.
Boil a large pot of water and fill a bowl with ice water. Once the water boils, toss the basil leaves into the boiling water for five to ten seconds. Use a slotted spoon or tongs to remove the leaves and transfer them to the ice cold water.
Put the leaves out on a paper towel and allow them to air dry. Put them on a baking sheet in a single layer and flash freeze for one to two hours. After freezing, store them in a freezer bag or container.
How to Preserve Basil after Drying
Dried basil has thousands of culinary uses, just as preserving garlic cloves in this way does. Skip buying the bottles at the store and try this best way to preserve basil. It's even handier than fresh leaves.
Take off the stems from the leaves and wash, similar to the fresh basil substitute oregano. Use a salad spinner to dry the leaves, then set your oven to the lowest temperature. Spread the leaves out on a baking sheet and bake for two to four hours until they crumble easily. Keep in an airtight container or a Mason jar.
The old-fashioned way to dry basil is to gather the leaves in a bunch and tie them together in a bundle. Hang the packet upside down on a hook for two to three weeks until the basil crumbles in your hands.
Ways to Preserve Basil in Cubes
Basil cubes are among the most clever ways to preserve basil; toss them into soups or sauces for flavoring. It's a great way to preserve fresh basil for future dinners.
When freezing basil leaves, put the fresh basil leaves into a food processor and add enough extra virgin olive oil to form a paste. It's best to start small and slowly add more as needed.
Once paste forms, use a spoon to transfer the mixture to an ice cube tray. Freeze until solid, then place in a freezer-safe container or a plastic bag.
Making basil cubes that aren't paste is possible as well. Chop the fresh basil leaves with a knife, add the desired amount to each ice cube tray, and top off with olive oil. Freeze until solid and store basil cubes in a freezer bag.
Make Fresh Basil Pesto Cubes
Fresh pesto screams summertime, making it the perfect dinner when the temperatures dip outside. It's like a reminder of summer and all of the garden harvest. Making basil pesto is the first step.
Put the garlic cloves and pine nuts into a food processor and pulse until coarsely chopped. Add the cheese and process for 20 to 30 seconds. Put the basil into the processor and coarsely chop.
Pour in the oil and puree until smooth. Sprinkle in some salt and pepper to your taste preferences. Spoon the pesto into ice cube trays. Freeze basil cubes until solid and transfer to a freezer bag.
Preserving basil is straightforward. Don't let any of your fresh basil leaves go to waste. Turn the leaves into basil cubes, pesto, or dried basil leaves for future dishes.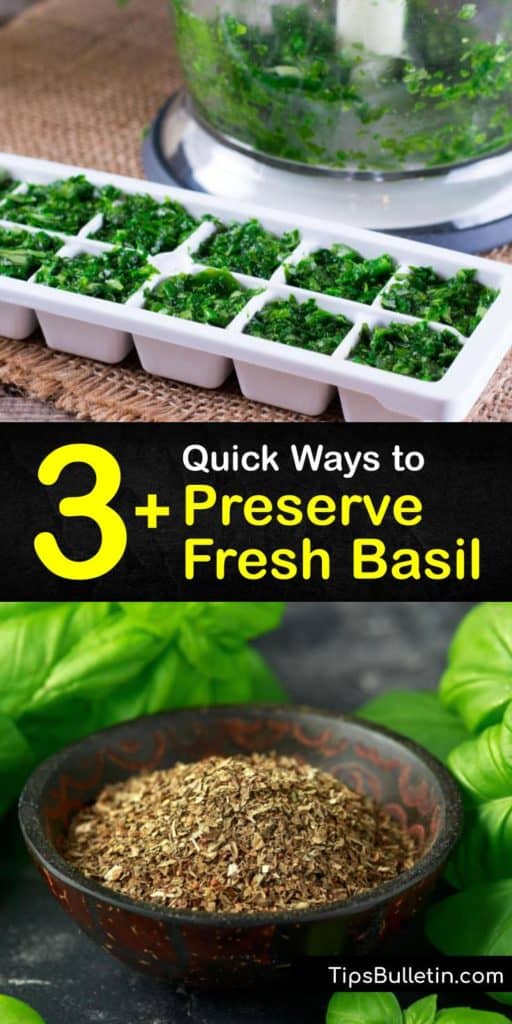 If this article on how to preserve basil helped you, make sure to share these basil preserving tips with your friends on Facebook or Pinterest.