For all our fellow carb lovers out there, you know there is nothing tastier or more filling than adding a crusty piece of bread to your meal. Bread is a culinary staple in nearly all countries worldwide, which means discovering how to preserve bread is just as important in their cultures.
Regardless of If you're baking a baguette, brioche, focaccia, or sourdough, storing a loaf of bread and keeping it fresh is pretty simple overall. Bread is typically baked and made mostly out of flour or grains and mixed with water.
Humans have been eating this mouthwatering product for as long as 10,000 years. There are numerous bread recipes, and people had to discover ways to preserve bread along the way.
Preserving bread these days is must-know knowledge. However, there are some unknown tips to preserve fresh bread that every dough-lover needs to know.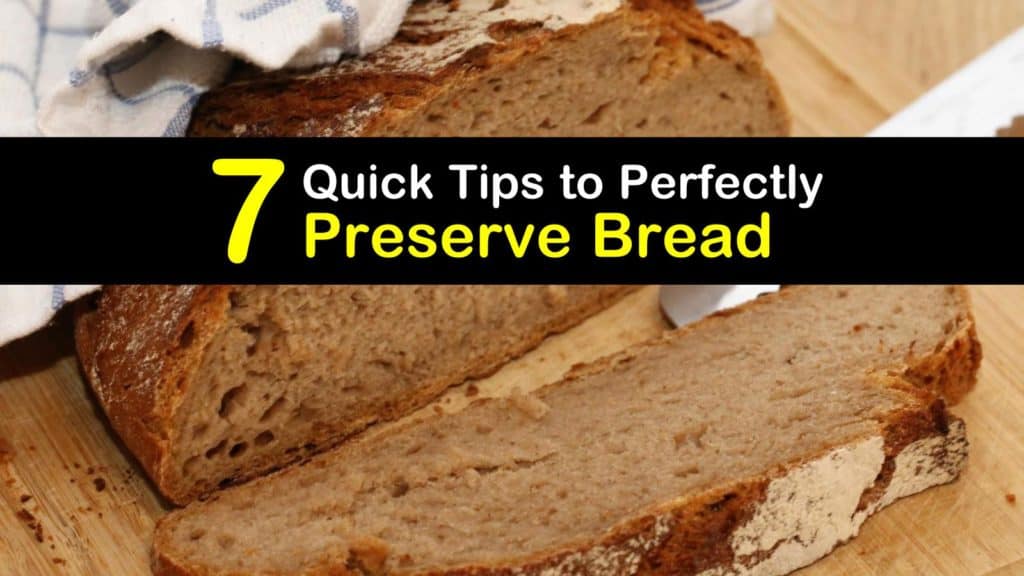 All About Bread
Although bread is widespread, there have been various accusations against it that claim it is unhealthy and fattening. Like a lot of food products, some forms of bread are much less nutritional than others.
That doesn't mean that all bread is bad; it simply means that there's a choice to make based on what you want to get out of your carbs. When compared to fruits and veggies, bread contains fewer essential nutrients.
Regardless, copious bread types are enriched with beneficial vitamins and minerals. When cooked with whole grains, bread even lowers the risk of diabetes, heart disease, some forms of cancer, and obesity.
Regardless, the type of bread you desire to eat is a choice and takes our stomachs from hangry to happy.
Ways to Preserve Bread
You have probably seen (or even bitten into) moldy bread. When does bread go bad and how can you prevent it? There are several ways.
If you ask a handful of random people what they think the best way to preserve bread is or the best way to preserve potatoes, you'll likely get a variety of answers.
Don't be scared to play around with these ways to keep bread fresh and learn how to keep bread from molding before you can eat it. A little trial and error teach you your preferred way to preserve fresh bread.
Never Refrigerate Bread
The refrigerator is our go-to tool for preserving food, but it is not the best place to store sourdough bread and other bread varieties. When created in the 20th century, the fridge changed millions of lives and allowed families to save money and reduce food waste.
Milk was kept chilled, and celery stayed crisp, and it's a great way to preserve eggs, but those benefits do not apply to bread. Bread starts staling much faster when you refrigerate it. This is especially true for homemade bread.
Commercially made bread from the grocery store sometimes has preservatives that prevent it from going bad. Keeping your bread fresh relies on staying out of the fridge.
Preserving Bread in the Freezer
Can you freeze bread? Definitely. As always, the freezer is your best friend when you want to learn how to preserve bread.
Can you freeze banana bread, too? Definitely. Freezer storage is ideal for extra bread.
Storing bread in the freezer or preserving peeled garlic in this way is safe for up to six months. To store bread in the freezer, wrap the whole loaf tightly in a freezer bag.
Defrost the frozen bread loaf overnight on the counter. Make sure to remove it from the freezer bag, so it doesn't get soggy. Once thawed, your bread is ready for the toaster and some jam or delicious French toast.
You may wonder what other kinds of food you can store in the freezer. Can you freeze mozzarella cheese? Yes. What about milk? Definitely. The freezer is a lifesaver when it comes to food preservation.
Utilize Your Bread Box
Bread boxes keep your bread fresh while adding style to your kitchen. Each bread box has small holes in it that allow air circulation and prevent molding.
Bread has a shelf life of two to three days at room temperature when stored this way. Store homemade bread or store-bought in the box.
Paper vs. Plastic
As mentioned before, you can store bread for about three days at room temperature. If you plan to eat it as fast as possible, wrap your loaf in a paper bag on the counter. If you prefer it to last a little longer, wrap the loaf in plastic wrap or a plastic bag.
Using plastic extends the shelf life by a couple of days but might make it less crusty. To restore the crust, pop it in the toaster or oven for a couple of minutes.
Understand How Bread Stales
Stale bread happens when the starch molecules in the loaf start crystallizing. The crystallization forces water out and gives it the hard texture we all dread.
Staling speeds up when exposed to air for too long because of a lack of moisture. This moisture loss happens at an even faster rate when the temperatures are colder.
How to Preserve Bread Creatively
Although bread goes stale fast, you don't have to throw your money in the trash. Some recipes require stale bread and help it last for over a week.
Line a large baking sheet with parchment paper and preheat your oven to 375°F. Place the bread chunks in a large bowl and drizzle them with olive oil, Italian seasoning, salt, pepper, and garlic powder.
Toss with your hands until the herbs and oil are distributed evenly among the cubes. Spread the cubes out on the baking sheet and bake them in the oven for 15 minutes, tossing halfway through.
The bread cubes should be golden brown. Remove the croutons from the oven. Allow the cubes to cool to room temperature before storing them in an airtight container for one to two weeks.
How to Make Breadcrumbs
Making breadcrumbs is another way to utilize your stale bread. These are delicious added on top of pasta and soup and act as a binding agent for meatballs and meatloaf.
To make homemade bread crumbs, preheat your oven to 250°F. Place ten cut bread slices directly on the oven rack to bake for about 30 minutes until golden.
Remove the pieces from the oven and cool them on a wire rack until they reach room temperature. Process the baked bread slices in a food processor until reduced to fine crumbs. Add salt and pepper if desired.
Don't Slice Bread Too Early
Those of you who bake fresh bread, resist the urge to start slicing right out of the oven. Wait at least an hour before slicing into your creation. This wait time limits the amount of air exposure time and prevents the inside from turning gummy.
For freshly baked bread with a high percentage of whole grains, they benefit from sitting even longer. Wrap your bread in baker's linen and wait until the last minute before slicing.
Store Bread Cut Side Down
When considering where to store banana bread or other types of bread, the crust of a loaf of bread helps retain moisture and prevent staling. After cutting into a piece of bread, storing it cut side down stops air from entering that side and keeps a barrier around the loaf's interior to keep it soft inside.
As far as we can tell, bread isn't going anywhere anytime soon. This soft yet crunchy food has endless possibilities like pizza, rolls, sandwiches, desserts, garnishes, salads, and so much more.
This classic food product is an equalizer between the wealthy and the impoverished and is something that all people of the world enjoy together. Family meals wouldn't be the same without bread, and it holds a special place in so many of our hearts.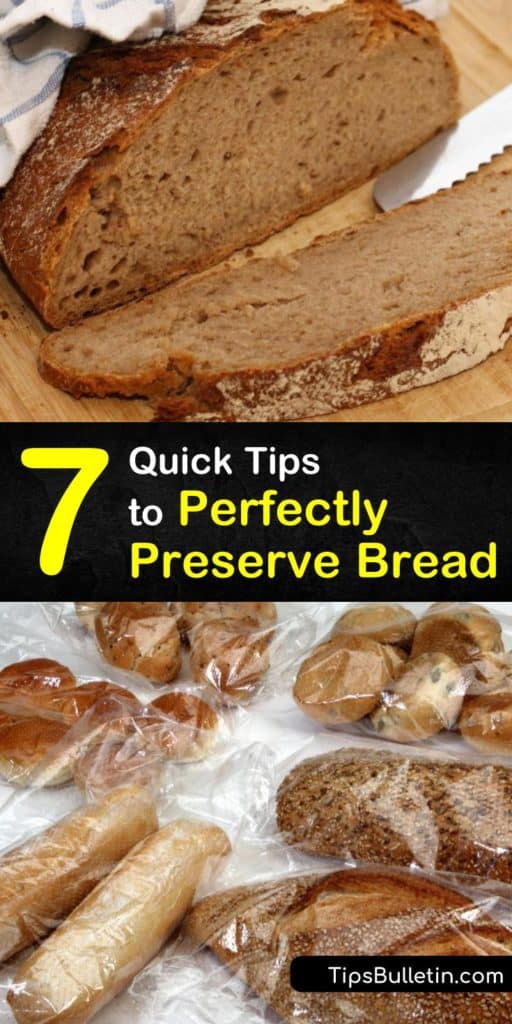 If you discovered some new tips for how to preserve bread, please share these ways to preserve bread with others on Facebook and Pinterest.