Summer is a time that produces some of our favorite vegetables like carrots, zucchini, and squash, but cabbage is an immensely versatile veggie. One head of green, Napa, or red cabbage produces roughly eight and a half cups of produce. If you grow your cabbage, learning how to preserve cabbage ensures that your greens don't get wasted.
Planting too much of one vegetable is a common mistake among home gardeners. Green cabbage has thick, light-green leaves, Napa cabbage has thinner, more crinkled leaves, and red cabbage has thick, reddish-purple leaves.
You could throw away whatever beautiful veggies you don't use, but there's no point in wasting the time you spent growing cabbage and harvesting your crop. And, there's no need to throw them away when there are loads of delicious ways to preserve cabbage.
Preserving cabbage is quick and easy to do. This article has several fresh cabbage preservation methods and cabbage recipes for you to enjoy throughout the winter months.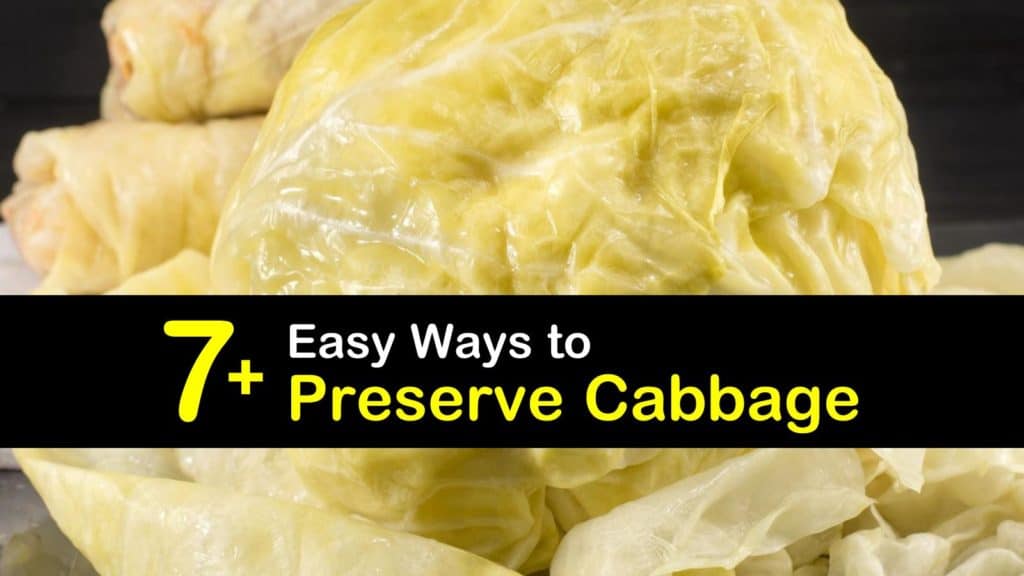 Health Benefits of Fresh and Preserved Cabbage
Vegetables such as cabbage, kale, and broccoli are cruciferous vegetables. Cruciferous plants are known for their vast array of nutritional benefits. Cabbage is one of the most beneficial veggies you can consume and is a great bok choy substitute if you don't have any of the Chinese cabbage.
Cabbage has fewer than 22 calories per cup of cooked cabbage leaves, one gram of protein, and over 80 micrograms of vitamin K. It reduces the risk of heart disease, diabetes, obesity, and general mortality.
A specific compound found in cabbage has been proven to increase survival rates when exposed to radiation. It is also preventative against cancer thanks to its make-up of sulforaphane.
On top of that, it helps to suppress inflammation and aids digestion. Eating even a half of a cup of cabbage provides you with up to 35 percent of your daily vitamin C.
So much good comes from eating cabbage, and storing a surplus of produce in your home helps keep this ingredient in your weekly dinner rotation. Now that you know the benefits, try one of our simple ways to preserve cabbage and discover a new favorite recipe.
Delicious Ways to Preserve Cabbage
If you have a head of cabbage lying around, whether you grow cabbage in water from scraps or buy it from the store, these food preservation processes offer tasty, step-by-step instructions. How do you tell if your cabbage has gone bad? Slimy, smelly, limp cabbage is a sign that it should probably be relegated to the compost pile.
Before preserving fresh cabbage, always wash your hands, just like when handling any fresh produce. Remove outer leaves that have insect-damage or wilting. Before using cabbage, cut out the core from the bottom of the head using a sharp knife. Rinse the leaves with cold, running water.
Storing Cabbage in the Refrigerator
Unlike other vegetables, it's possible to store cabbage for long periods with the right precautions. Wrap a cabbage head in plastic wrap, then place it in a plastic bag.
Place the pack in a refrigerator set at a maximum temperature of 41°F. Storing it this way keeps the cabbage good for up to two months.
Taking advantage of the crisper drawer in the fridge is also the best way to store celery to keep it crisp and fresh.
Preserving Cabbage by Canning
Canning is a home gardener's go-to way to store produce. How to preserve squash and many other veggies involves a similar process, with only minor deviations, depending on the vegetable.
Slight discolorations may occur with canned cabbage, but it is still safe. Most vegetables require blanching before canning them.
No matter what varieties of cabbages you choose, cut your cabbage head in half, and then cut each half in half again. Wash the cabbage wedges under cold water. Bring tap water to a boil in a large pot, and place the cabbage wedges in the boiling water for two minutes. Fill a glass bowl with ice water.
Use a slotted spoon or tongs to remove the cabbage wedges from the boiling water and submerge them in the ice water to stop the cooking process. Place the cabbage on paper towels to dry.
Blanching preserves the nutrients and helps the vegetable hold up during the canning process. Now you're ready to start canning.
Cut the cabbage wedges into smaller, bite-sized pieces. Slice up an onion and a few hot peppers. Put the vegetables in a large pot and fill it with water until the water covers them.
Bring to a boil and cook the vegetables until they are soft but still rubbery; about 15 minutes. Spoon the cabbage with the liquid into the canning jars until there is an inch of headspace. Push the cabbage down and softly tap the jars on the counter to remove all air bubbles.
Place the seals and lids tightly on the jars and set them in a pressure cooker. Process the jars at ten pounds of pressure for 25 minutes. Spread a dish towel out on the counter.
Use a jar lifter and lift the jars from the canner to place them on the dish towel. Let sit undisturbed for 24 hours. Check to make sure all lids are adequately sealed. Store the cans in a cool, dry place.
How to can squash or another veggie is done in a similar fashion, depending on whether it is a high or low acid type.
How to Preserve Cabbage by Pickling
Pickling is a delicious option to prolong your cabbage. It is the best way to preserve cucumbers and a lot of other veggies. Pickled cabbage is also known as sauerkraut and adds tang to hot dogs, brats, and other savory dishes.
Sauerkraut goes through fermentation, where bacteria convert the sugars from the veggie into lactic acid. This preservation technique has been used for centuries and keeps cabbage well for months at a time.
Wash, rinse, and dry the jars. For one of the ways to pickle cabbage, cut the cabbage into quarters to remove the core and slice each wedge into thin ribbons. Place the cabbage ribbons in a large mixing bowl and sprinkle with the salt and caraway seeds.
Mix them for ten minutes until the cabbage becomes watery and limp. Pack the cabbage into the canning jars and pour liquid from the mixing bowl over the top.
Slide the jelly jar into the larger jars and push down the cabbage so that it's beneath the liquid. Cover the mouth of the canning jar with a cheesecloth and secure it with a rubber band.
Over the next day, remove the cheesecloth several times and use a clean jelly jar to pack down the cabbage until the liquid rises above the top of the vegetables. Ferment it for three to ten days in a room that stays 65°F -75°F. Store your sauerkraut for up to two months in the fridge.
Freezing Cabbage
The technique for freezing cabbage is probably one of the simplest on this list. You can store frozen cabbage for up to 14 months, and it's also a great way of preserving celery. Rinse and roughly chop or shred your cabbage.
Blanching it allows it to fully dry. Place the shredded cabbage in freezer bags and store them in the freezer until you're ready to use them.
Can you freeze raw cabbage? Of course. However, we always recommend blanching it first to preserve nutrition. Frozen cabbage tends to lose its crispness, so putting it in soups and stews makes the soft texture less noticeable.
Frozen Cabbage Rolls
Several other freezer practices add a little flair to your cabbage. Cabbage rolls are a delicious main or side dish to freeze until you're ready to cook them.
Remove all of the cabbage leaves from the head and boil them for two minutes. Cook rice according to the directions on the packaging and set aside for later. Cook pork, beef, garlic, onions, dill, and parsley in a large skillet and drain the fat.
Add the diced tomatoes, ½ of a cup of the tomato sauce, rice, salt, pepper, and egg into the skillet and stir until combined. Combine the extra tomato sauce and soup and spread a thin layer in a dish used for casseroles.
Lay the leaf of the cabbage flat, add about 1/3 cup of the filling, fold the ends, and roll the cabbage up. Line the cabbage rolls in the casserole dish and pour the remaining sauce over the top.
Cover with aluminum foil and set in the freezer. When ready to cook, preheat the oven to 350°F and bake for 90 minutes.
Pre-made Stir Fry
Stir fries are another easy way to meal prep and store food at the same time. Add shredded cabbage with a handful of other fresh veggies. Place the mix in freezer bags and freeze until ready to cook.
Using a Root Cellar to Store Cabbage
Consider yourself lucky if you have a root cellar in your home. They are perfect to preserve your veggies and other foods at cool temperatures without using electricity.
Wrap a full cabbage head in newspaper and place it in a crock with a lid. Store the crock on a shelf for up to four months.
Dehydrating Cabbage
Dehydrating fruits and veggies is a safe way to preserve food while retaining all the nutritional benefits found in them. This process requires a dehydrating machine, but there are plenty of cheap options to purchase.
Remove the outside leaves from a head of cabbage, cut the head into quarters, and rinse the pieces under cold water. It isn't necessary to blanch veggies before dehydrating them.
Arrange the wedges on the dehydrator trays so they are close together without touching. Dry for eight to ten hours at 135°F. Let the dried pieces sit overnight and then pack them in plastic, resealable bags.
Preserving cabbage has never been so tasty. Coleslaw makes an excellent side dish but doesn't keep well for long periods. A lot of people find themselves stumped on finding ways to preserve cabbage.
They don't realize that there are tons of healthy and flavorful preservation options. A single cabbage head supplies a lot of produce, and it is hard to think of ways to preserve a surplus of three or four heads.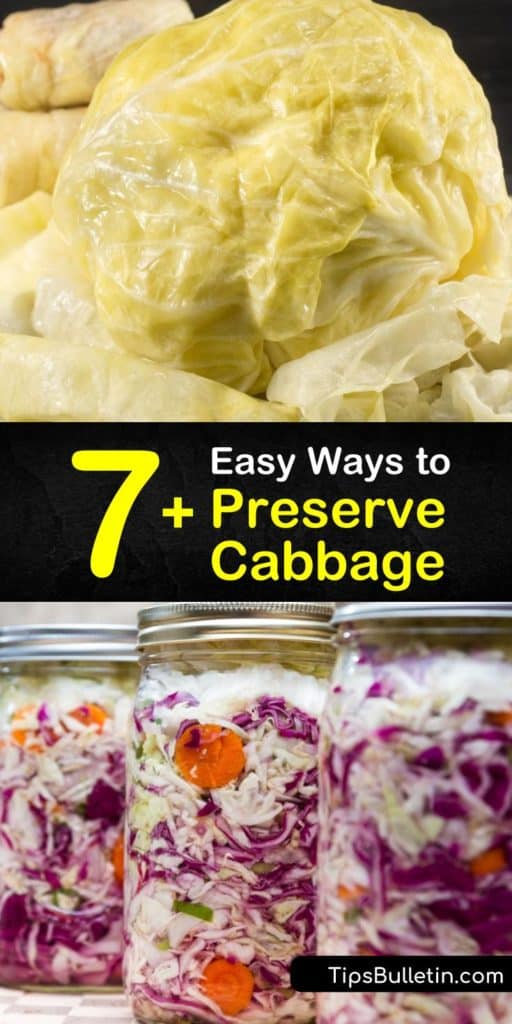 We hope you try out some of the food preservation techniques on this list and find a new favorite. If learning how to preserve cabbage has provided your family with tasty dinner options, share these cabbage preservation recipes on Facebook and Pinterest.