Cauliflower is perhaps the most versatile vegetable you will ever find, as you can roast, mash or rice it and eat it raw. Each cup of cauliflower is full of powerful antioxidants and contains only 25 calories, so it makes sense why people want to learn how to preserve cauliflower.
Whether you pick up extra while it is on sale or harvest a bunch from your garden, learning the basics of preserving cauliflower is essential, so nothing goes to waste.
Another great reason to learn how to preserve cauliflower is that it makes a healthy substitution in several different dishes. The nutty and mild taste of cauliflower makes it an acceptable replacement in any side dish that calls for white potatoes.
It also works as an alternative for pizza crust. While there are several ways to preserve cauliflower, the one thing you want to avoid is pressure canning it, as that process results in a mushy result with fewer nutrients.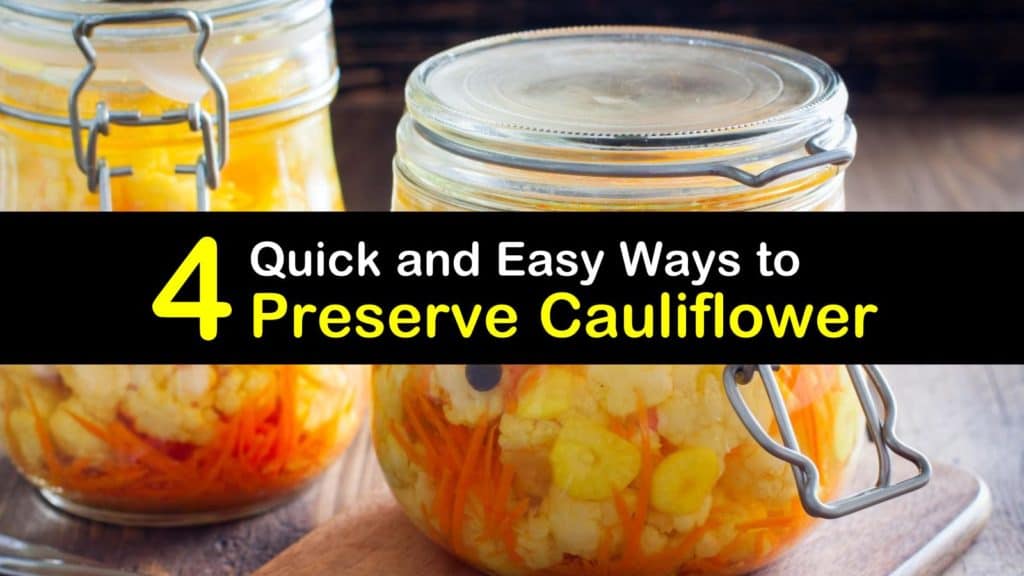 Best Ways to Preserve Cauliflower at Home
Whether you have extra broccoli, cauliflower, or green beans, vegetable preservation is important to get the most out of your money and have fresh veggies even in the winter.
If you have been growing cauliflower in pots on the deck or have a bumper garden crop, storing fresh cauliflower doesn't have to be a challenge. When you harvest cauliflower, make a plan for what to do with it. The best way to preserve cauliflower is through freezing it, but other methods also work.
One of the great things about freezing cauliflower rice or florets is it lasts up to eight months and when the florets or rice thaw, you are left with the same great taste and texture of fresh veggies.
Preserving Cauliflower through Dehydration
Does cauliflower go bad? Of course, if it is not stored properly, just like any produce, cauliflower does spoil.
When it comes to dehydrating vegetables, only a handful of them require blanching before drying – cauliflower happens to be one. Failure to blanch your florets before drying turns them off-white.
It's still edible and usable in various cauliflower recipes but not very attractive. Begin by cleaning your cauliflower and removing any black spots. Slice off the stems and cut them into bite-size pieces before setting them aside.
Proceed by chopping the head into equal-sized florets. Blanch the stems separately from the florets. If using frozen cauliflower, you can skip blanching. Submerge the cut-up pieces into boiling water for three minutes.
Remove the pieces and place them into a bowl of ice water to stop the cooking process. Strain and drain them, then sort them out onto trays based on size to ensure they dry at the same speed.
Place the trays inside the dehydrator set to 125 to 135°F and dry for eight to twelve hours. Check occasionally and remove any dried pieces to prevent over-drying.
Dehydrating is also ideal for storing fresh carrots long term, and many other vegetables, too.
Preserve Fresh Cauliflower with Pickling
Just like it is the best way to store fresh green beans for a zesty flavor, pickling your fresh cauliflower florets is a breeze using a hot brine made with vinegar. The great thing about pickling cauliflower is it doesn't require blanching but still leaves behind a tasty and crunchy snack.
Cut up the cauliflower head into bite-size florets when canning cauliflower for pickling. Cut up or slice all other vegetables, including zucchini, you plan to include. Place everything into wide-mouth canning jars, but you may also use regular canning jars.
In a pot using medium heat, place vinegar, water, and salt into the pot and heat until boiling. Pour the hot brine over the veggies, and fill almost to the top.
Set the jar aside on the counter and let rest for several hours until cool. Secure the jars with a lid and then store them in the refrigerator. Use within one month for maximum freshness.
The Best Way to Preserve Cauliflower is by Freezing
Before you can freeze cauliflower, wash it and cut the head into bite-size pieces. Blanch the pieces in boiling water followed by an ice bath, and then lay them out on a baking sheet to finish cooling.
Place them inside the freezer for two hours. Remove them and separate the pieces into plastic freezer bags. Label each bag with the date and place them back inside the freezer. This method of keeping cauliflower fresh doesn't require thawing before use.
Use frozen cauliflower to make cauliflower rice, mashed cauliflower, or even roasted cauliflower. When using it frozen to replace fresh, subtract the blanching time from the actual cook time, so it doesn't become a soggy mess.
How to Preserve Cauliflower with Fermenting
If you are looking to preserve fresh cauliflower without the use of vinegar, give fermenting a try. For flavoring, try adding peppers, lemons, limes, ginger, or a variety of fresh herbs.
Create a brine by mixing the non-chlorinated water with the sea salt. Cut the cauliflower into small florets. Place vegetables in pint-sized jars. Pour brine directly into the glass jars, leaving about one inch of space below the rim.
Fill a plastic baggie with water and use it to weight down the cauliflower, so it remains fully submerged in the brine. Use an anaerobic airlock style lid to close each jar securely.
This lid allows you to release any carbon dioxide build-up without letting in oxygen. Oxygen ruins the fermenting process. Leave the glass jar sitting on the counter for up to five days, but a minimum of three.
After three days, begin checking the fermented cauliflower for taste. Once it tastes just right, remove the airlock lid, and secure the jar with a traditional cap. Store fermented cauliflower in the refrigerator and use it within one month.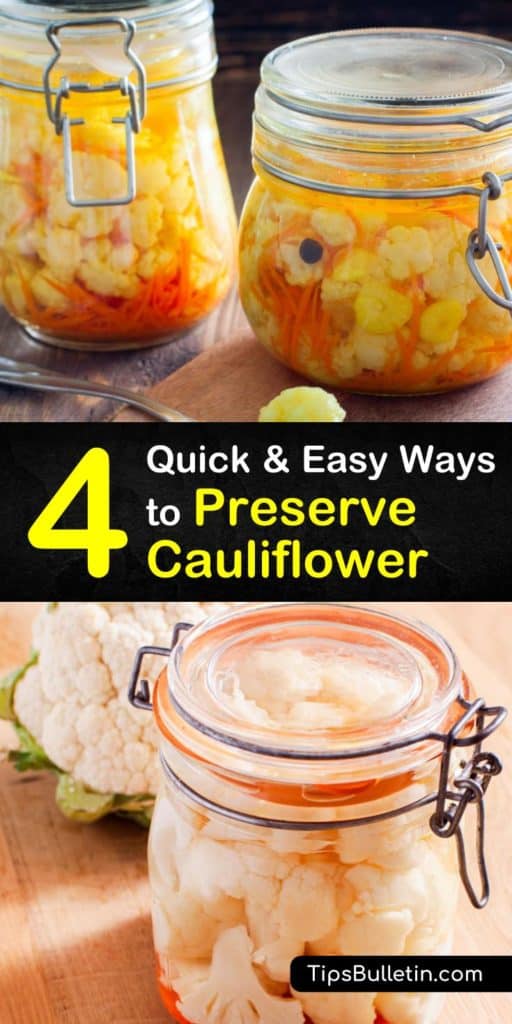 Thank you for reading about the different ways to preserve cauliflower. If you found any of our thoughts on the best way to preserve cauliflower helpful, please share this with others on Facebook and Pinterest so they can learn how to store cauliflower too.