Picking up a bunch of celery on sale at the local grocery store or farmer's market is a good way to save money. However, it's not long before the celery leaves wilt and the stalks of celery go limp. We'll show you how to preserve celery in the fridge, freezer, and pantry using various methods and recipes.
Who doesn't like to keep a bunch of celery on hand for everyday snacking? This crispy vegetable is not only tasty, but it's low in calories, rich in many minerals and vitamins, and has a low glycemic index.
Not only is celery healthy, but it's also very versatile. This veggie's mild flavor and interesting texture make it perfect for adding to soups and stews, mixed in a tuna salad, and even dipped in peanut butter.
Unfortunately, celery's crispness only lasts so long, and not storing it the right way leads to food waste.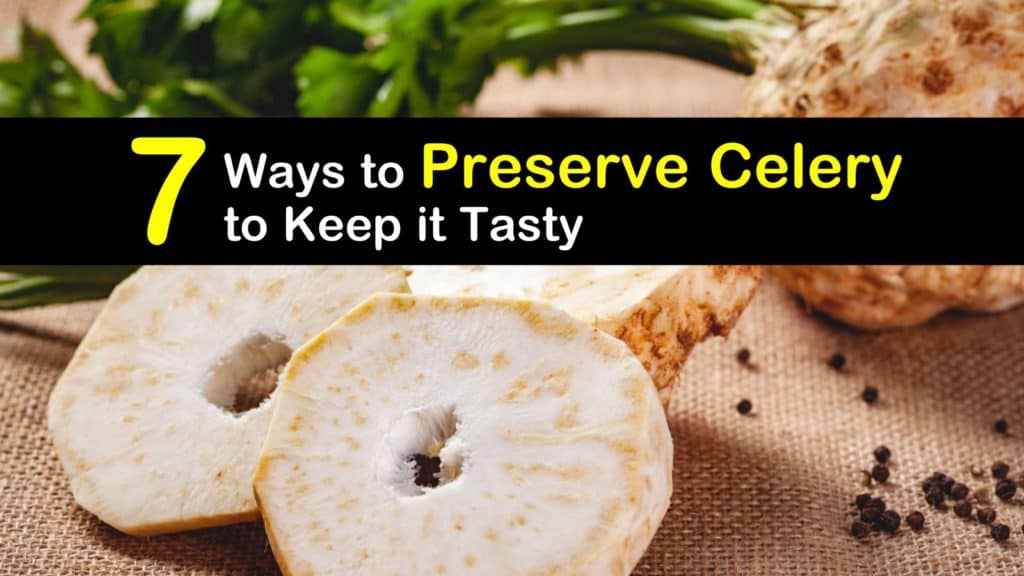 Ways to Preserve Celery Short and Long Term
Fresh celery only lasts for a couple of weeks before losing its crunchy texture and delicious flavor, especially if you store it the wrong way. After you learn when to plant celery and the best way to take care of it until harvest or you prefer buying a bunch of celery from the store, we'll show you how to store celery to keep it fresh for snacking or for use in future recipes.
Choosing the Best Vegetable before Preserving Celery
Preserving celery after you get it home from the store only goes so far if the vegetable isn't healthy and fresh in the first place. Knowing how to pick the best celery ensures that it has the longest shelf life.
Fresh Celery
While browsing through celery at the supermarket, don't be afraid to pick them up for a closer look. Healthy celery stalks have medium-thick ribs that are crisp and easy to break. They are firm and tightly packed and do not fan out too much.
The leaves are a vibrant green color without blemishes. Choose a bunch of celery with thin stalks in the center and avoid those with discoloration, spotting, or wilting leaves.
Ways to Preserve Celery in the Refrigerator
One of the best ways to preserve celery short term is to keep it in the refrigerator. However, there is a right and wrong way to store celery in the fridge, and using the proper technique keeps celery-crisp longer.
Prepare the celery for refrigeration by dismantling it. Cut the stalks from the base, remove the leaves, and slice the stalks in half. Do not store them in a plastic bag to prevent trapping ethylene gas that leads to spoilage.
Instead, lay them in a large Tupperware bowl and cover them with cold water or stand them upright in a tall glass or jar of water. Cover them with plastic wrap, keep them on the refrigerator shelf, and change the water every couple of days.
If you prefer to keep them in the crisper drawer, place the cut celery in a damp paper towel and set it in a zip lock bag or wrap them in aluminum foil.
How to Preserve Celery by Freezing
Freezing vegetables is a great way to keep them long-term. The best way to preserve celery in the freezer is to blanch it first. This process slows the enzyme action and keeps the veggie's color, texture, and flavor.
Prepare a whole bunch of celery for freezing by removing the base and leaves and cutting the stalks into desired sizes.
To blanch the celery, place them into a pot of boiling water for three minutes and then switch them to an ice water bath to stop the cooking process.
After blanching, pat the celery dry with a paper towel and place them into freezer bags. Use your hand to push out the air before closing and store them in the freezer for up to one year.
Without blanching, store raw ginger in airtight freezer bags for later use. Pre-cutting the root into recipe size pieces is also a good idea.
How to Freeze Celery without Blanching
While blanching is ideal for freezing most vegetables, it's unnecessary to freeze and store fresh celery if you're in a time crunch. This method is quick and easy and suitable for keeping celery fresh longer than in the fridge.
Slice off the base of the celery and remove the leaves. Cut each stalk into desired pieces and spread them in a single layer on baking sheets. Set the trays in the freezer to flash freeze them for a couple of hours.
Pour the frozen veggies into a freezer bag and press out the air before sealing it shut. Mark the date on the bag and set them on the freezer shelf. Unblanched veggies do not last as long in the freezer and need eating within two months.
Preserving Celery by Drying
While there are a few ways to preserve celery or to keep carrots fresh for extended periods, we often overlook drying. Making dried celery is a convenient way to keep your veggies long term on the pantry shelf.
Remove the base and leaves of the celery and cut the stalks into thirds. Place the cut celery into a pot of boiling water for one minute and then strain them in a colander.
Run cold water over the veggies until they are cool, and then cut the pieces into half-inch crescents.
Spread the celery pieces on the trays of a food dehydrator and dry them at 135°F for six to eight hours until they are crispy. Pour the dried veggies into a jar and seal it with a lid for one to two years in a dark, cool area.
It's also easy to preserve cucumbers by drying, as well as a variety of other fruits and vegetables.
How to Prepare and Can Celery Soup
Another great way to preserve fresh celery is to make celery soup. This recipe is not only delicious but preparing canned soup keeps your pantry well-stocked with healthy food.
When canning celery soup, first drizzle the olive oil into a pot and saute the celery, onions, and garlic for about ten minutes. Pour in the white wine and add the potato and vegetable stock and simmer it for five minutes.
Transfer the veggies with a slotted spoon into the jars, leaving an inch of headspace, and then cover them with the stock. Screw the lids in place, set the jars into a cooker, and bring the pressure up to eleven pounds for 40 minutes.
Ways to Use Preserved Celery
A freezer full of frozen celery and a pantry stocked with dried veggies and soup is great, but now what? There are many ways to use up your preserved celery, whether it's frozen, dried, or canned.
Preserved Celery Uses
Frozen celery is delicious in everything from stuffing and stews to soups and sauces, and thawing is unnecessary. Toss the frozen veggies straight into the slow cooker or oven recipe while cooking.
Cooking with dried celery is similar to frozen. To rehydrate your dried veggies, place them in a bowl, and cover them with boiling water until they are soft but not mushy.
Use your cans of celery soup to make cream of celery. Heat the soup in a large pot and then pour it into a blender. Add two tablespoons of cream and your favorite seasonings and puree it to the desired consistency.
Having fresh veggies in the fridge is the best way to curb the appetite with a healthy snack.
But, reaching into the crisper drawer only to discover that your leftover celery sticks are limp and ready for the garbage is disappointing. Luckily, using the right techniques to store celery gives you more time to appreciate it.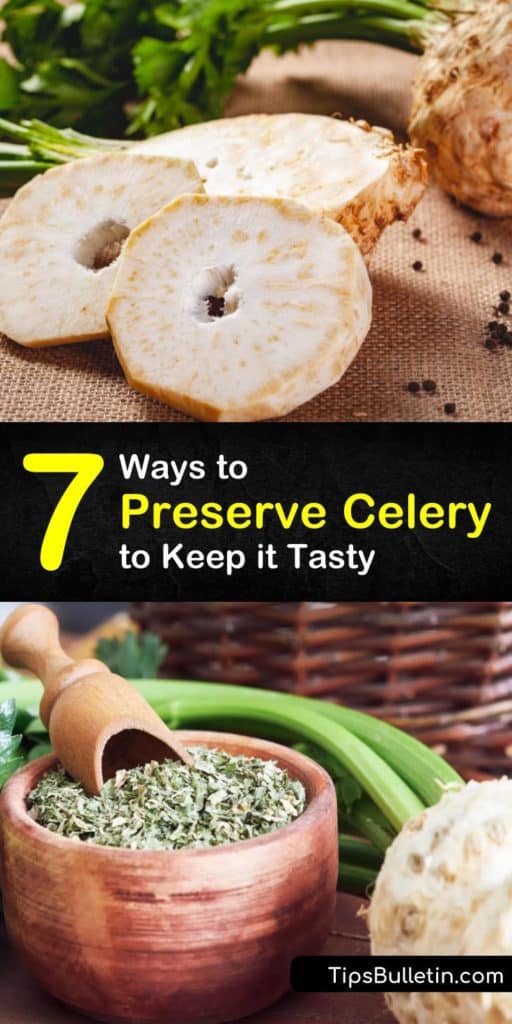 We hope that you enjoyed learning how to preserve celery to extend its shelf life, and we'd love it if you'd share our celery storage recipes and methods with your family and friends on Facebook and Pinterest.