Cheese is one of the most well-loved foods worldwide. Proper storage not only keeps it fresh longer but also maintains the best possible flavor and texture. In this article, find out how to preserve cheese and avoid letting it dry out, develop a funky taste, or get moldy.
The best way to preserve cheese depends on what type of cheese you have. Semi-soft and soft cheese types such as brie, Camembert, or Gouda need to breathe so they don't turn too gooey and watery. Hard cheeses like cheddar, Parmesan, or Swiss are more likely to dry out when stored in the fridge for long periods.
It doesn't matter whether you brought home regular sliced cheese from the grocery store deli or purchased an imported variety from a specialty cheese shop for a special occasion. Properly preserving cheese ensures that you can enjoy its full flavor as long as possible. Read on to discover the most practical ways to preserve cheese at home.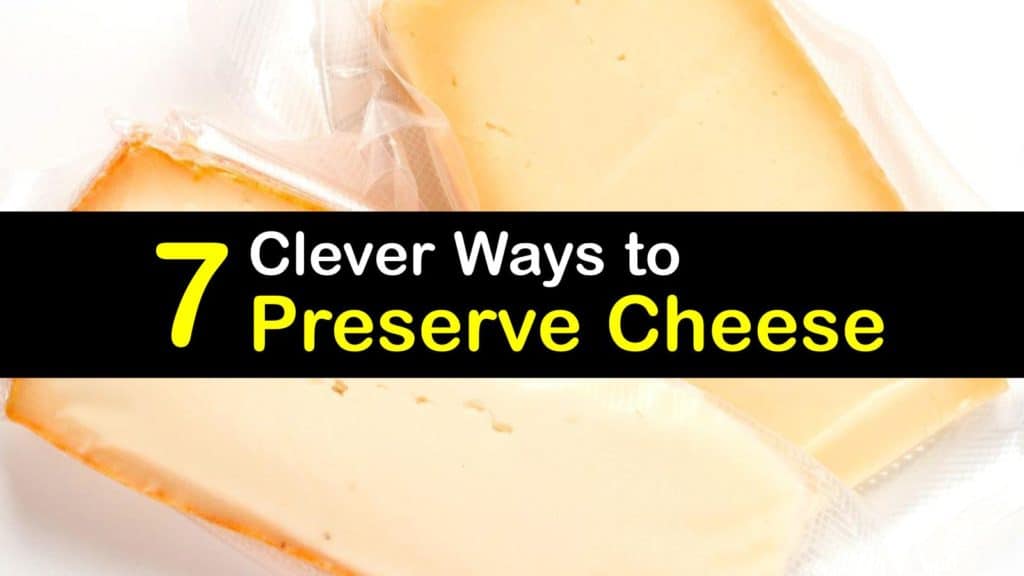 Best Ways to Preserve Cheese
When deciding on the best cheese storage methods, it's vital to remember that cheese is essentially a living food. It contains active cheese cultures that continue breaking down casein proteins.
This process alters the taste over time, which is why the flavor of most kinds of cheese gets stronger as they age.
If you only buy as much cheese as you'll use in a few days, storing it in its original packaging or a resealable plastic bag is fine. However, more extended storage requires careful preparation to conserve the best possible quality of your cheese.
Since allowing the cheese to breathe is so crucial, it shouldn't be stored in a completely airtight container. It's also essential to prevent it from drying out and becoming hard and crusty. Wrapping your cheese stops it from absorbing other flavors from nearby foods.
Many people find a double-wrap the best way to preserve cheese. Waxed paper, parchment paper, or cheese paper is best.
These materials hold in enough moisture while still providing adequate breathability. Place your wrapped cheese in a second layer of paper, an unsealed plastic bag, or a ventilated container.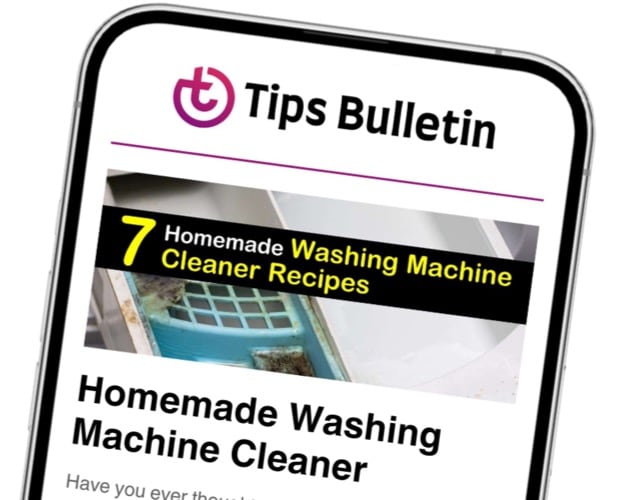 Finally, an email that Transforms Your Home.
Get the latest home and garden tips from our experts, delivered straight to your inbox.
How to Preserve Cheese in the Refrigerator
Like other perishable foods, cheese must be refrigerated to keep harmful bacteria and mold at bay. The optimal temperature range for preserving cheese is between 35-45℉.
Avoid placing your cheese near the freezer compartment or in the back of the fridge to prevent it from accidentally freezing. Most refrigerators have a dairy compartment in the door. Otherwise, store-cheese in the crisper drawer with your veggies.
The Cheese Grotto, developed by cheesemonger Jessica Sennet, is an excellent device for storing cheese. It's a rectangular wooden box designed for storing unwrapped cheese at the perfect temperature and humidity level.
The Cheese Grotto works in the refrigerator or on your countertop. It naturally controls airflow and moisture levels, considerably extending the shelf life of your cheese while preserving the highest overall quality.
In most cases, it's best to serve cheese at room temperature. Cold temperatures mute the rich and complex flavors of the cheese. When preparing a cheese platter or charcuterie board, take your cheese out of the fridge about an hour ahead of time.
How long can goat cheese sit out, as well as other cheeses? Return cheese to the fridge within 2-3 hours for maximum freshness and safety.
Next time you want to satisfy a cheesy craving, try this easy-to-make recipe for savory blue cheese and ricotta dip.
Allow your blue cheese and ricotta to warm to room temperature, which takes about an hour. In a medium-sized mixing bowl, stir the cheeses with a fork.
Add the apple cider and black pepper. Transfer your cheese dip into a serving bowl and top with the fresh herbs. Serve with crackers, apple slices, veggie sticks, or bread. To preserve blue cheese and ricotta dip, refrigerate any leftovers in an airtight container and use them within three days.
Preserving Cheese with Cheese Paper
Cheese paper features a wax and polyethylene coating that effectively wicks moisture away from the wrapped cheese while still letting it breathe. It's one of the absolute best ways to preserve cheese and keep it fresh for as long as possible.
If you regularly have a lot of cheese on hand, it's worth it to purchase cheese bags or a roll of cheese paper from a retailer like Formaticum. It's also possible to save, wash, and reuse the cheese paper in which your cheese comes wrapped.
To freeze mozzarella for pizza or other recipes, wrap a block or put shredded cheese in a cheese bag. Double-wrapping with foil on the outside is even better. Defrost cheese in the fridge before using.
Storing Cheese in Parchment Paper
Although it doesn't provide the same amount of protection as cheese paper, parchment paper is still an efficient way of preserving cheese. Store cheddar cheese and other hard cheeses like Gruyere or Gouda in parchment paper.
It's crucial not to wrap your cheese too tightly or too loosely. Wrapping it too tightly smothers the cheese by preventing it from getting adequate airflow. If it's too loose, all of the moisture escapes, and the cheese dries out. It may also absorb other flavors and develop a funky taste.
When using parchment paper, be sure to add a second layer of protection. It's also helpful to label your cheese with the storage or purchase date.
Preserve Fresh Cheese Wrapped in Wax Paper
Waxed paper is a fantastic natural alternative to parchment paper, which is treated with silicone to make it non-stick and water-resistant.
The tissue paper receives a triple coating of food-safe paraffin wax. As long as you're not using it for baking, wax paper and parchment paper are interchangeable when you store cheese.
If you're trying to go green in your kitchen, waxed paper is an excellent choice. It's plastic-free and reusable. Just give it a light wash with cold water and mild soap, then allow it to air dry.
How to Preserve Cheese that Comes in Water
Some types of soft cheese like feta and mozzarella come packaged in water or brine. This storage method ensures a longer shelf life of feta cheese and that they retain their shape and consistency.
In this case, it's best to keep these cheeses in their original packaging. If you won't be using them right away, be sure to change the water every two or three days for maximum freshness.
Use Sugar Cubes to Keep Cheese Fresh Longer
If you're using a lidded container or plastic bag to store your cheese, there's a surprising trick to keep it from getting soggy. Simply place a small sugar cube or two inside the container.
The sugar cubes absorb the excess moisture generated by the cheese sweating and help maintain an optimal humidity level inside the container or bag. Replace the sugar cubes when they start to feel soft.
If you find that you have a lot of leftover cheese to use, try making Fromage Fort. Use whatever type of cheese you have on hand to make this creamy cheese spread.
Place all of the ingredients in your food processor and blend until it's smooth and velvety. If you're using salty cheeses for this recipe, adding extra salt isn't usually necessary.
If desired, incorporate a few of your favorite herbs for extra flavor. Serve cold or broil it in the oven for a few minutes. Store your Fromage Fort in an airtight container and consume within one week.
Why You Shouldn't Keep Cheese in Plastic Wrap
Even though it might seem tempting to store your cheese in plastic wrap, doing so is quite detrimental to its overall quality. Plastic smothers the cheese and traps in moisture, destroying the rind and causing the cheese to go bad much faster.
In addition, the cheese eventually begins to absorb the plastic, which ruins the flavor and isn't very healthy. The same is valid for aluminum foil.
It's important to be able to tell when brie cheese is gone bad in addition to other cheese that has spoiled. Look for mold, an unpleasant smell, and dried-out portions.
Did you know that there is a way to can cheese to help it last longer? It's possible. Since canning has been around for so many years, it's no surprise that cheese can be preserved in this manner.
Whether you're a cheese connoisseur or not, knowing the best ways to preserve cheese are fundamental for enjoying this delicious food to its full potential.
Find a balance between allowing the cheese to breathe and preventing it from drying out. Using a double-wrap strategy with cheese paper, parchment paper, or wax paper works best.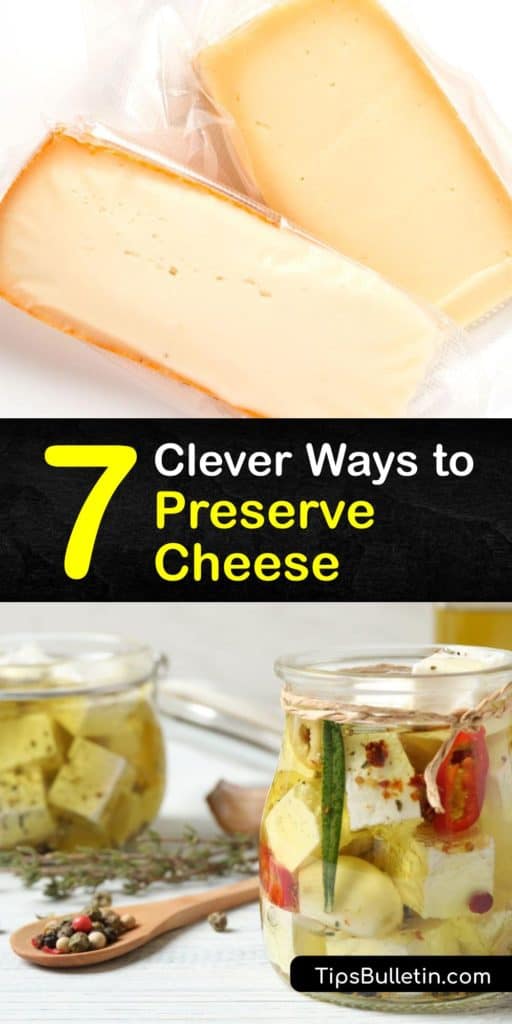 If you found these tips for preserving cheese helpful, please share this article about how to preserve cheese with your fellow foodies on Pinterest and Facebook.