Fresh sweet corn is a staple ingredient in households worldwide, and it adds so much extra flavor and texture to our favorite dishes. Suppose you've been searching for strategies on how to preserve corn without losing the infamous taste and texture. This article provides you with everything you need to know about preserving corn and finding the freshest corn cobs at the store.
Corn plants are tall, annual grasses with narrow leaves and varieties of yellow, white, red, and black corn kernels. The leaves that enclose every ear of corn is called a husk. Of all the different ways to preserve corn, you're sure to find a strategy that works for you and your family.
Before you dive right in and start throwing cobs in the freezer, learning about this essential veggie's history helps us home cooks appreciate what we're cooking with and savor every single bite we take.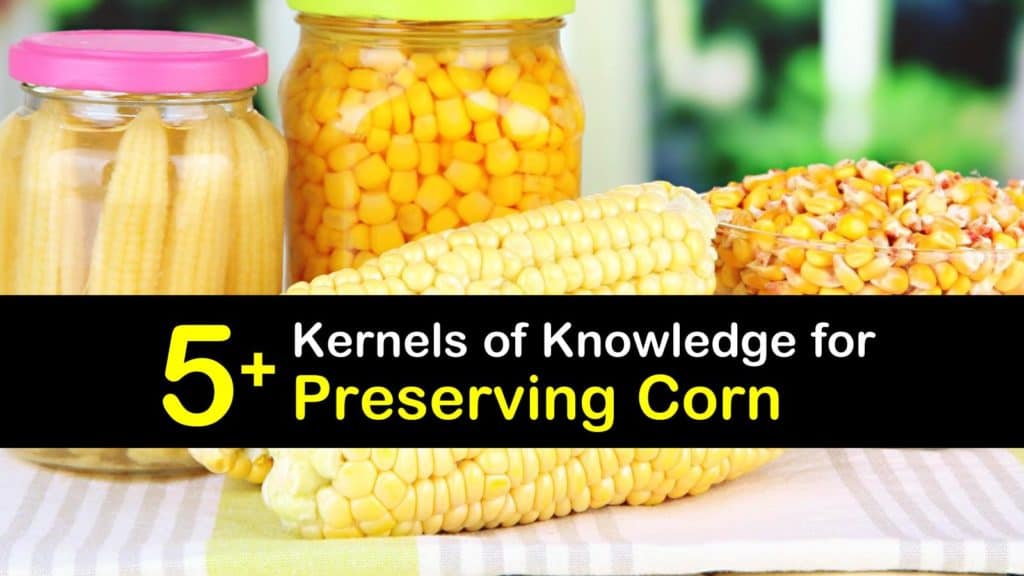 Things to Know Before Preserving Corn
Corn origins are interesting. Where does corn come from? Corn was farmed and domesticated about 10,000 years ago by the natives of Mexico. The Europeans learned about growing corn from Native Americans and the knowledge about planting corn eventually spread to all areas of the world.
After years of experimentation, corn uses include a biofuel called ethanol, a thickening agent called corn starch, and a sweetener in candy and soft drinks called high-fructose corn syrup. There are dozens of things that it's made into like tortillas, flour, polenta, chips, and oil.
Before you start to preserve fresh corn or learn how to preserve ginger root, finding the freshest veggies is vital to the vegetable's future flavor. The farmers market is usually the best place to look for fresh produce during corn growing season, but some grocery stores have good options.
Whether you are growing sweet corn yourself or you buy it, the easiest way to tell if a cob is fresh is to take a little peek. Peel back a small part of the top of the husk and look for plump and bright kernels. Unfortunately, some people look down on this etiquette.
When does corn go bad? To tell if corn is fresh without peeling back the husk, avoid small brown wormholes in the husk. The stringy tassels that stick out of the husk's top should be brown and sticky instead of dry and black.
Simple Ways to Preserve Corn
Most people bring a few ears of corn home or take care of harvesting corn they grew and store them in the crisper drawer for up to three days before cooking and consuming them. Although this works well for people who plan on eating their corn before it spoils, this doesn't necessarily work for everyone.
The peak of the sweet corn season lasts from August to October, and many people desire to learn how to preserve corn so they are able to enjoy it throughout the year. There are several ways to preserve corn so that you never have to go without it again.
How to keep corn fresh starts by removing the husk, whether you are growing sweet corn in containers, the garden or you buy it from the store or farmer's market. When preserving corn, shuck the corn by peeling off the husk and silk fibers. Trim the ends off of the cob if they are dry. Now you're ready to experiment and find the best way to preserve corn that works for you.
Blanching before Preserving
Blanching is an essential step before freezing corn. This process includes cooking the cobs in boiling water for two minutes and then immediately dunking them in an ice water bath.
While freezing corn without blanching is possible, the benefits outweigh the trouble. Blanching corn removes the dirt from the field and people's hands while deactivating the enzymes that spoil it.
How to Preserve Corn in the Freezer
As one of the best ways to preserve strawberries and most veggies that include corn, the freezer is king. Husk and blanch your corn on the cob. Remove the cobs from the cold water and grab a knife to cut off the cob's kernels. Use the center stem from a bundt pan to sturdy the ear by placing one end in the center.
Hold the ear with one hand and cut downwards to remove the kernels and let them fall into the pan. Pour the cut corn kernels into freezer bags, remove as much air as possible, and seal them.
Lay the bags flat to preserve freezer space and freeze corn for up to six months. This food preservation method is one of the most popular and tastes just as good, if not better, than the whole-kernel corn bought at the grocery store.
How to Can Corn
Canning corn, as well as potato preservation, is a foolproof way to preserve tasty veggies. This technique takes the most work but has a big payoff because it lasts for up to three years when stored in a cold, dark place. Before storing, decide if you want to hot pack or raw pack your veggies.
Raw packing means adding raw veggies to a can and topping with boiling water, while hot packing means cooking the veggies in boiling water and dumping it into the jars. Packing methods are preferential, and either way is safe.
Shuck, blanch, and cut corn kernels and set them aside in a large bowl. Add about one teaspoon of salt to each quart jar. Fill the jars with the raw corn kernels and top with boiling water, being sure to leave a one-inch headspace at the top.
Place the seals and lids on tightly, and pressure can them at ten pounds of pressure for an hour and a half. Canning corn in a water bath is not recommended.
Use a jar lifter to remove hot cans and sit and cool for 24 hours before touching them. Double-check that all jars have sealed properly and store them in a cool, dry place.
Pickling Corn
Like all other veggies, pickling is a process that preserves corn and adds a tangy bite. Pickling is one of our favorite ways to preserve corn because it is fresh, tasty, and able to be made into a side dish for several meals.
For this way to pickle corn, cut the raw ears of corn into two-inch rounds and blanch them in hot water. Drain the corn and evenly layer the jars with corn, garlic, peppercorns, and chiles.
Fill a large container with two quarts of hot water and the vinegar and stir in the salt until dissolved. Pour the pickling liquid into the jars. Cover the jars with plastic wrap and store them in the fridge for at least two days before eating.
Dehydrating Corn
Dehydrating corn is a simple way to store corn for an extended time. Husk, blanch, and cut kernels from the cob. Spread the cut kernels in a single layer on dehydrator trays. Dehydrate the corn at 125°F for eight to 12 hours, until they are dry and brittle.
Allow the kernels to cool and store them in airtight jars for up to one year. Add the dehydrated corn to soups, stews, casseroles, and other dishes with lots of liquid.
Pre-Make a Side Dish
Corn is suitable for various dishes. Pre-making a delicious side dish and canning is a fun way to use the corn and make future cooking much more manageable.
All that's required is popping open a container, heating the contents, and enjoying a mouth-watering treat.
For storing corn cream-style, remove the husks, rinse the corn, and cut the kernels off the cob. Melt the butter in a large skillet over medium-high heat and add the corn, water, and sugar. Cook the ingredients until the vegetables are tender.
Slowly add in the flour, salt, and pepper and stir for two minutes. Add the milk and continuously stir for two more minutes without letting it boil. Pour the contents to an airtight container and store in the freezer for up to six months.
Sweet corn is a delicious vegetable that people love throughout many different countries, cultures, and cuisines.
While there are several ways to preserve corn, figuring out your favorite is a fun process that the whole family gets involved in and enjoys even when it is out of season.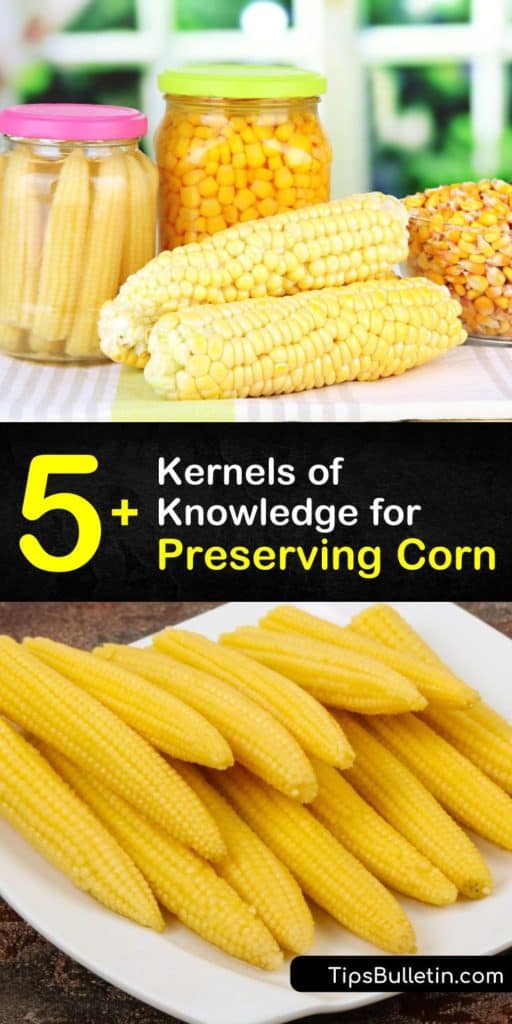 If you know someone wants to learn how to preserve corn, please share these corn preservation tips on Facebook and Pinterest.