Either you have just come home from the farmers market with a bulk supply of fresh jalapeno peppers, or you've harvested an abundance of peppers from your garden jalapeno plants. Whatever your reason, you now find yourself with more peppers than you can use in your favorite Mexican recipes. Learn how to preserve jalapenos so that you can enjoy them year-round.
Jalapenos stored at room temperature only stay fresh for a couple of days, while refrigerated peppers last up to one week. Neither of these methods is ideal for preserving them long term.
You can preserve jalapeno peppers by pickling or canning them. Preserved peppers last about six months in the refrigerator or up to two years in the pantry, depending on the preserving method.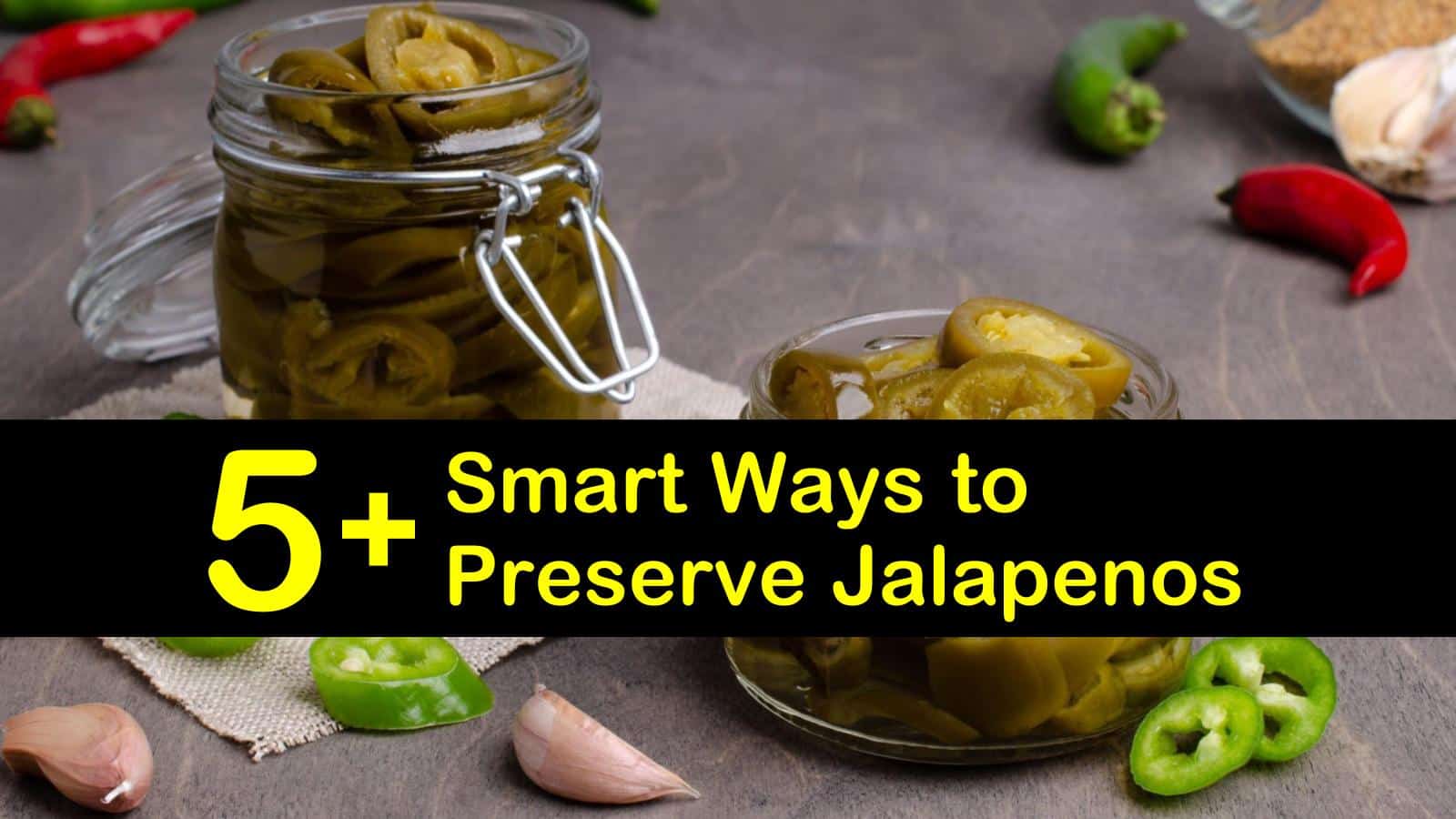 How to Preserve Jalapenos
Whether you grow jalapeno peppers yourself or buy them at the farmer's market or grocery store, storing them is easy.
Although you can find numerous pepper types, one favorite is the jalapeno. There are a couple of methods for preserving jalapeno peppers with countless variations and recipes. These include canned and pickled to jellied and candied.
There are quick and easy refrigeration recipes, and then there are time-consuming canner recipes. Can you freeze jalapeno peppers? Yes, freezing is an excellent and fast way to save your peppers to eat later in a favorite recipe.
Whether you want to enjoy them on nachos or as a hot dog relish, we'll show you how to preserve those zesty garden peppers.
Ways to Preserve Jalapeno Peppers
How long do fresh jalapenos last? Without preservation, jalapeno peppers last for a week or two. The same applies to other types of peppers. When are bell peppers bad? What about banana peppers?
All peppers start getting wrinkly and squishy when they begin to spoil. Either use them quickly or toss them. They are not worth preserving. The right storage option can give you fresh peppers for a year or more.
There are many ways to preserve jalapeno peppers, and understanding the differences provides you with jalapenos to your liking. The thing to remember when preparing jalapeno peppers for preservation is to wear gloves.
There is a big difference between peppers that have a strong vinegar flavor and those that are sweet and zesty, and this has to do with the technique you use to preserve them.
Preserved Jalapenos
Canned peppers are preserved in a vinegar brine along with herbs such as oregano and other seasonings of your choice by using a canner. Canned peppers are then stored on a pantry shelf and last for about two years.
There are two methods of pickling, one of which is very similar to canning. You can also pickle peppers for storage that are quick and easy to prepare but do not require a canner. These peppers have to be refrigerated and will last, unopened, up to one year.
Make variations of these preserved peppers by altering the ingredients and size or texture of the peppers, as is the case with candied and jellied jalapeno peppers.
Preserving Jalapenos in Vinegar
Preserving jalapenos in vinegar by using a canning process is a great way to ensure that you have a steady supply of jalapenos for the next two years. Here is a basic recipe for canning jalapeno peppers.
Wash and cut the whole jalapenos into quarter-inch slices. If you desire mild peppers, make sure to remove the seeds. Place the crispy pepper slices into a bowl of cold water and refrigerate for one day.
Put one tablespoon of mustard and one teaspoon of celery salt into the bottom of each pint jar. Rinse and drain the peppers and fill the jars, leaving a half-inch of headspace. Pour the white or cider vinegar, water, and salt into a large pot and bring to a boil.
Ladle the vinegar mixture into each jar of peppers until they are covered. Cover the jars with their lids and place them into the water canner for 15 minutes. Remove the pint jars and let them cool for up to 24 hours before storing them in the pantry.
Preserve Jalapeno Peppers by Pickling
Here is a simple recipe for preserving fresh jalapenos by pickling. It has a recipe rating that is ideal for beginners. The total time for this recipe is one hour, and you only need four ingredients.
Wash the whole peppers and cut them into quarter-inch rings. Pour the water, vinegar, and salt into a large pot and boil for five minutes. Heat the jars in the water canner at a temperature of 180°F for ten minutes.
Remove them from the water and pack each jar with peppers, leaving half an inch of headspace. Ladle the brine over the top of the hot peppers until they are covered. Place the jars back into the water bath carefully until they are submerged, cover with a lid, and return to a boil.
Boil for ten minutes and remove from the heat. Remove the jars and allow them to cool for 24 hours before storing in a cool, dark place, such as the pantry.
Quick Jalapeno Pickling
This recipe is how to preserve jalapenos without canning. It is one of the fastest and simplest ways to make pickled jalapenos and only takes ten minutes to make.
Pour the vinegar and water into a saucepot, and add the garlic, sugar, and salt. Bring the brine to a rapid boil, add the pepper slices, and remove from the heat.
Allow the peppers and brine to sit for ten minutes before using tongs to pack the jalapeno chili peppers into a Mason jar. Top off the jar with brine and cover with the lid. Place in the fridge for up to two months.
Making Candied Jalapenos
Candied jalapenos are a sweet and spicy condiment that is great as a topping or relish. Instead of preserving peppers in vinegar, this recipe calls for red wine vinegar for a slightly different flavor.
Combine the sugar, vinegar, banana peppers, and seasonings into a large pan and bring to a rapid boil before reducing the heat and simmering for 5 minutes.
Pack the jalapeno red peppers and garlic slices into Mason jars, leaving half an inch of headspace. Ladle the brine over the top of the peppers and place the lids and rims on each jar. Carefully set the Mason jars into the boiling water of the canner and process them for 15 minutes.
Jellied Jalapeno Peppers Recipe
A fun way of preserving jalapenos is to make jars of jellied peppers. Jellied jalapenos taste great spread on crackers and paired with cream cheese for a sweet and zesty kick.
Combine the peppers, vinegar, sugar, and cayenne pepper into the pan and bring to a boil while stirring frequently. Add the liquid pectin and continue boiling for five more minutes.
Remove from the heat and skim off the foam. Ladle the jelly into the jars and seal. Carefully set the jars into the boiling water of the canner and process for five minutes.
There is no better feeling than harvesting fresh vegetables from the garden, other than knowing how to store and preserve them. Having an abundance of peppers on hand not only means that you get to enjoy jalapeno poppers and jalapeño slices on tacos, but you also get to try a new pickling or canning recipe to enjoy for months to come.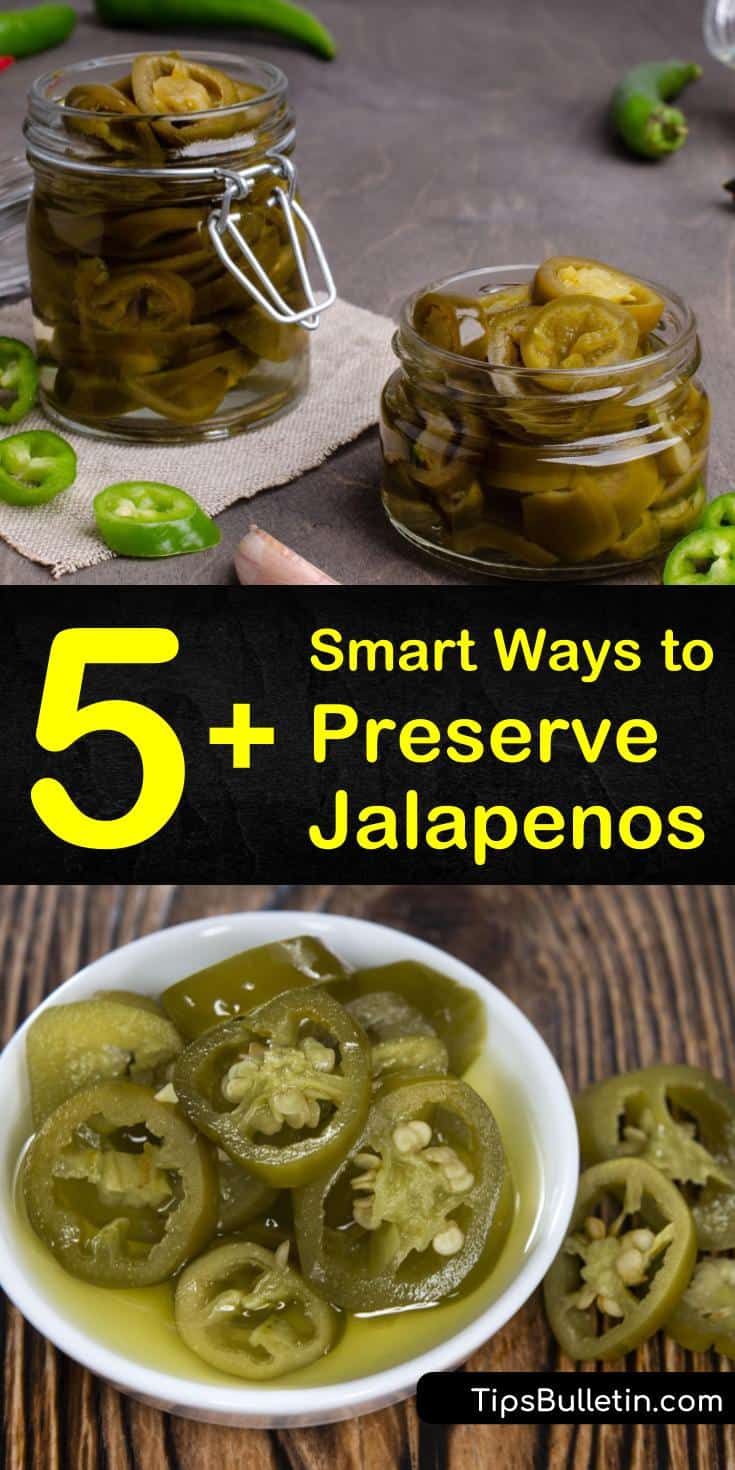 Now that you know how to preserve jalapenos by canning and pickling, why not share our jalapeno preserving recipes with your friends and family on Pinterest and Facebook?