One reason so many of us want to learn how to preserve peppers is it allows us to enjoy their full flavors in soups and stews all winter long. Learning how to preserve peppers and other foods is a large part of homesteading.
It puts you on the path to self-sufficiency in terms of growing and maintaining your meals — no more relying on canned or preserved goods from the grocery store.
The best peppers bring a blast of flavor, color, and vitamin C to your favorite dishes, like stir-fry, soups, sauces, and stews. One of the greatest things about peppers is all of the different pepper plants available.
We are not joking when we say there is a pepper out there for everybody, as there spicy peppers and peppers that taste sweet like candy.
Enjoying their full, intense flavors year-round requires you to preserve them during their active growing season. Whether you grow your pepper varieties in your home garden or purchase abundance at your local farmers market, we will show you a variety of ways to preserve pepper.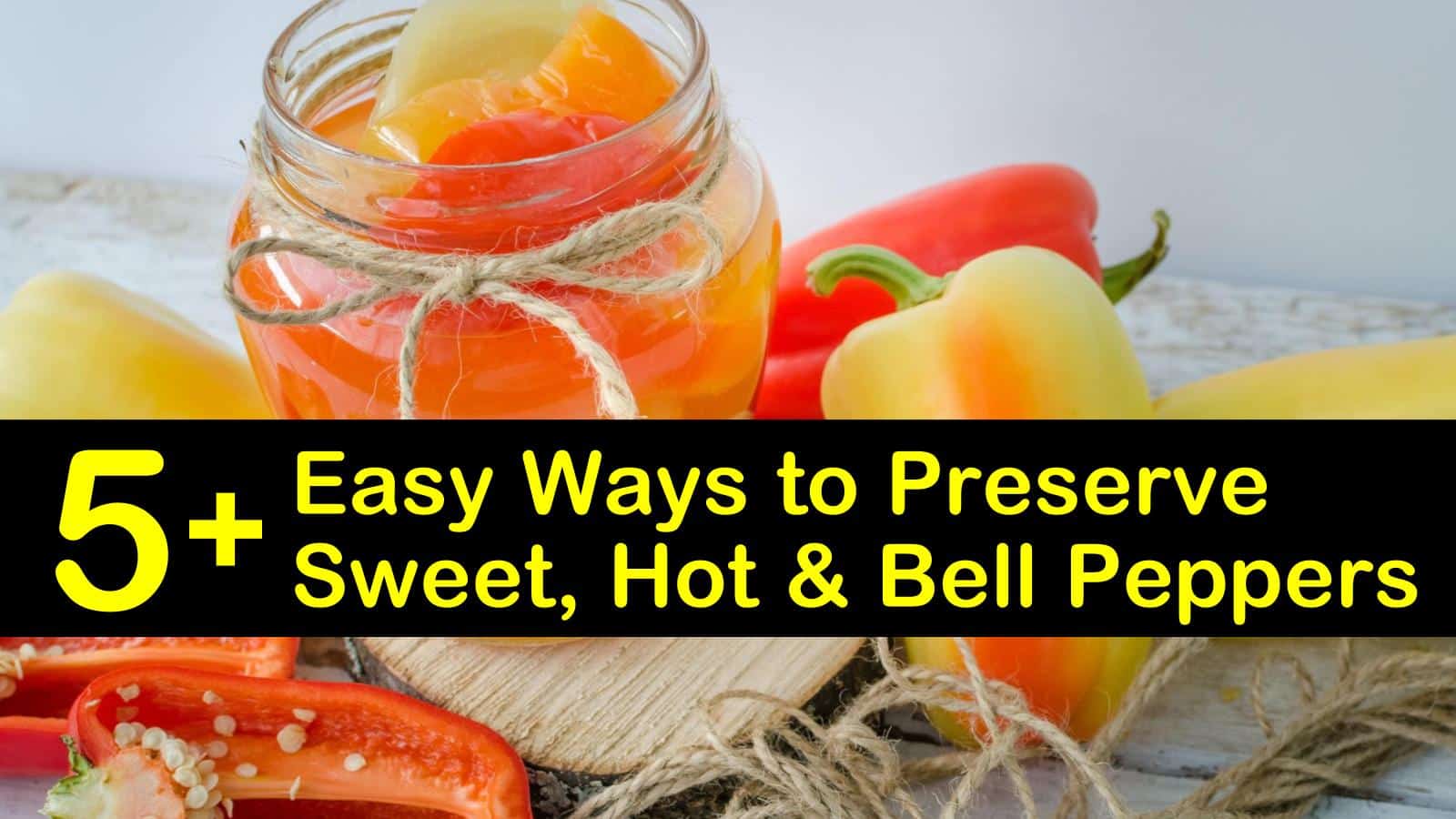 Preserve Peppers Naturally
There are several home preservation methods to use when it comes to peppers. The best preservation method depends on the variety of pepper and the thickness of the skin.
It's very simple to grow peppers, no matter what the variety. Grow cayenne pepper, bell peppers, or jalapenos.
You can find many other common types of peppers from which to choose, too. Of course, you can also buy them from the store, but growing bell pepper from seed is easy as long as they have the right amount of sun, water, and fertilizer.
There is even a way to grow bell peppers in containers, whether inside or out. And, there's nothing better than growing your own produce, harvesting peppers and other fruits and vegetables, and then preserving them in your favorite way.
Before choosing any method to store your excess peppers, it's important to answer the question, "Do bell peppers go bad?" What about other kinds of peppers? Yes, peppers can spoil more easily if left in the pantry or on the counter. Choose ripe, firm peppers for preservation so that you end up with a delicious product that is safe to eat when you are ready.
Preserving Pepper the Easy Way
The easiest way to preserve any types of bell peppers and other pepper varieties is to freeze them. Unlike many other vegetables, peppers do not require you to blanch them before freezing.
While frozen peppers do lose their crispness, they do not turn mushy when thawed. Taste isn't compromised with frozen peppers either, as thawed peppers maintain the same flavor as fresh peppers.
Freezing is the best way to store cut bell peppers or any kind of pepper. You only want to freeze peppers that have no blemishes, wrinkling, or soft spots. Wash your selected peppers to remove any residue or dirt and allow them to air dry. How you prepare your peppers depends on the type of pepper you are freezing and how to use the pepper later.
Did you know that you can grow bell peppers indoors? For your harvested bell peppers or those you purchase, remove membranes, stems, and seeds. Slice, dice, mince or chop your peppers based on how you plan to use them in your favorite recipes.
Cutting in thin strips is a favorite, as many recipes call for bell pepper strips, such as in a stir fry or fajitas. Soups and stews require chopped or diced. Freeze stuffed peppers once you have prepared them for an easy and quick meal.
Thin-skinned peppers, such as jalapeno chilies, habanero, and Sorrento peppers, you freeze whole. You may also remove seeds, stems, and membranes and then chop into pieces before freezing. For jalapeno poppers, cut in half and remove seeds before freezing. Wear gloves when working with hot peppers, like Thai chilies, to prevent getting the capsaicin in your eyes by accident.
Tougher peppers, such as New Mexico and Anaheim peppers, require roasting before preparing for freezing. Roast them under the broiler or on a grill until the skin starts to crack and remove itself from the flesh of the pepper — place peppers in a plastic bag or a covered glass bowl to steam. Once cooled, wear gloves to remove skin, membranes, seeds, and stems.
Freeze peppers once prepared. Use parchment paper to cover a cookie sheet and lay peppers out in a single layer. Pay close attention to ensure peppers are not touching one another to prevent sticking together while freezing. Freeze the peppers directly on the baking sheet until solid.
Transfer frozen peppers into a Ziploc freezer bag or an airtight container. If using a freezer bag, use a straw to remove as much air as possible. Label the bag with the type of peppers and the date you froze them. Keep in the freezer for up to ten months.
Freezing stuffed bell peppers is just as easy as freezing them in pieces. Make your favorite stuffed pepper recipe and freeze each pepper individually after they cool completely.
Preserve Peppers without Canning by Drying
Drying is an excellent option for all peppers. It's possible to dry all types of peppers, but some dry better than others. The best peppers for drying include sweet peppers, cayenne pepper, red jalapenos or chipotles, poblano chiles or anchos, paprika chiles, and Chile de Arbol.
One of the easiest ways to dry peppers if you live in an area where temperatures are consistently above 85°F is air drying. When air-drying, use thin-skinned peppers, as the thicker ones do not dry fast enough so they may begin to mold.
Use a needle and thread to string up the peppers, make sure to leave plenty of space between each to allow for optimal airflow. Hang the peppers where they receive plenty of sunshine and airflow. Drying may take up to four weeks. Store dried peppers in an airtight jar away from sunlight.
Favorite Ways to Preserve Bell Peppers
One of our favorite ways to preserve bell peppers is through pickling. It's possible to pickle other pepper varieties or add them to other pickled dishes for a full burst of flavor, too.
To pickle peppers without canning them in a canner, clean and slice your bell peppers. In a medium pan mix vinegar, salt, and sugar and heat until sugar dissolves. Fill canning jars with sliced peppers and then add your preferred spices.
Fill each jar with brine. Secure with lids and store in the fridge for up to one month. Allow peppers to sit in the brine solution for at least 24 hours before eating for the best flavor.
Preserve Peppers in Vinegar and Oil
Pickled peppers and other veggies make great a great condiment, but in terms of other preserving pepper recipes, they are limited in how to use them. Roasting them before preserving changes things and allows you to use them in a variety of ways. This recipe calls for red bell peppers, but you may use green, yellow, orange bell peppers, or any other thick-skinned peppers in their place.
Begin by roasting your peppers until the skins are nice and black. Rotate your peppers several times during roasting no matter what roasting method you use. After roasting, place peppers inside a paper bag, roll it up to seal in steam, and allow peppers to sit for up to 40 minutes.
Once cool enough to handle, remove peppers one at a time. Remove the seeds, skins, and stems, but do not rinse the peppers with water. Once peppers are clean, place them inside a bowl and set aside. Fill a small bowl with your preferred vinegar, red or white wine vinegar works, as well as sherry or cider vinegar. Dredge each pepper through the vinegar several times, so they are nicely coated.
Set each pepper inside a new bowl and sprinkle with kosher salt. Mix everything around and sprinkle with a little more salt. Add some salt to the pepper juice bowl. Gather your Mason jars and fill with vinegar to cover the bottom. Add peppers until there are two inches of space at the top. Use a butter knife to remove the air bubbles.
Pour salted pepper juice into each jar, but leave some headspace. Add olive oil until there is only ¼ inch of headspace in each — secure jars with lids and store in the refrigerator for up to one year.
Dehydrating Peppers to Preserve Them
Use an oven or food dehydrator or to dry peppers. Dehydrators work faster than the oven, but both options work for those who live in humid areas where air-drying is not ideal. Always choose peppers free of blemishes and insect damage. Options are to dry small whole peppers, while larger peppers work better when cut into pieces.
If using a dehydrator, lay peppers out onto the screens and place inside the dehydrator. Dry your peppers at 125°F to 135°F based on your food dehydrator's instructions. Dehydrating can take up to 12 hours, depending on the type of peppers. To keep the peppers' color, store in a Mason jar or a different kind of glass jar out of direct light.
Drying peppers in the oven is easy. Lay peppers on baking sheets preheat your oven to 150°F. Place peppers inside the oven and crack the door to allow any moisture to escape. Rotate peppers every 30 minutes and remove ones that dry. Drying time ranges between one and two hours.
Store dried peppers in airtight containers away from any sunlight. Turn your preserved peppers into homemade hot sauce, chili paste, or hot pepper flakes with just a little help from your food processor.
Preserving Green Peppers by Canning
Canning is one of the oldest food preservation methods around and is an excellent option for all types of peppers. Before you begin canning your green or red peppers, pick the freshest ones you find, prepare them, and prepare your jars. If canning hot peppers take care to remove any seeds to take some heat out of them.
Always remove the skin from your peppers before canning, as the skin turns soggy and nasty during the canning process. Remove the skin by blistering or use a paring knife to skin each slice. Pack jars with peppers until only ½ inch of headspace remains. Pour boiling water over the peppers inside the jar and seal jars with lids and rings.
Process your peppers in a water bath canner for 35 minutes. Consult your canner's instruction booklet for exact instructions, be sure to follow their recommended processing times, and allow for any altitude adjustments. Use this same process for canning whole banana peppers.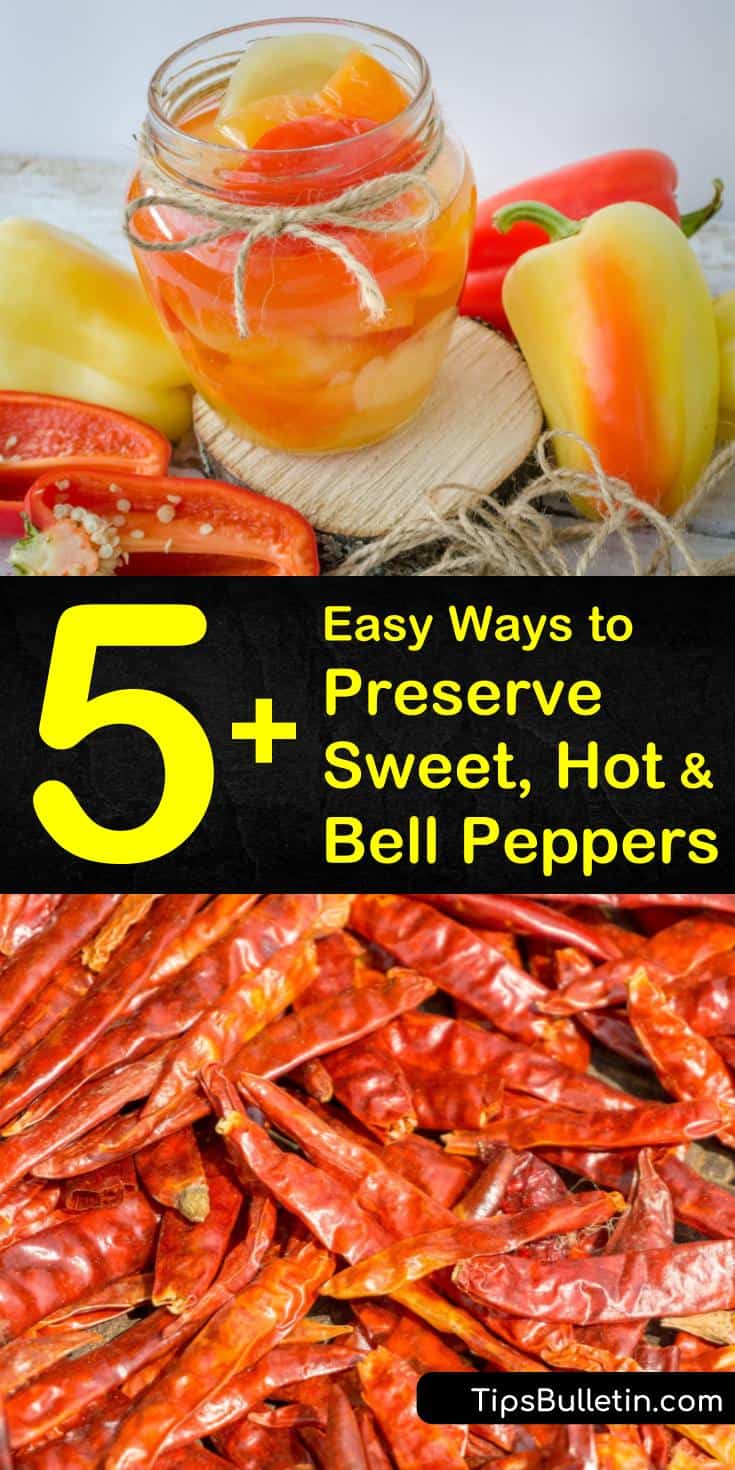 Thank you for reading our different ways to preserve bell peppers and many other peppers. If you found our tips for preserving pepper useful, please take a minute to share these pepper preserving tips on Facebook and Pinterest to allow others to learn how to preserve peppers quickly and easily, too.