There's nothing better than picking red radishes and other healthy veggies fresh from the garden and munching on them while choosing a favorite radish recipe. Unfortunately, these crunchy root vegetables only last a few days on the counter. We'll show you how to preserve radish in a variety of ways to keep them fresh longer.
We often picture radishes as small and round, with a reddish tone, but there are many different kinds of radishes. Some of them are elongated, and others have a carrot shape.
They range in color from pink, red, and purple to white and gold. Radishes also have a range of flavors. When raw, they have a zesty, spicy, or peppery taste with a hint of sweetness in the background.
Radishes have varying degrees of sweetness and spice, depending on the type, and they taste great tossed in a salad, roasted in the oven, or pickled.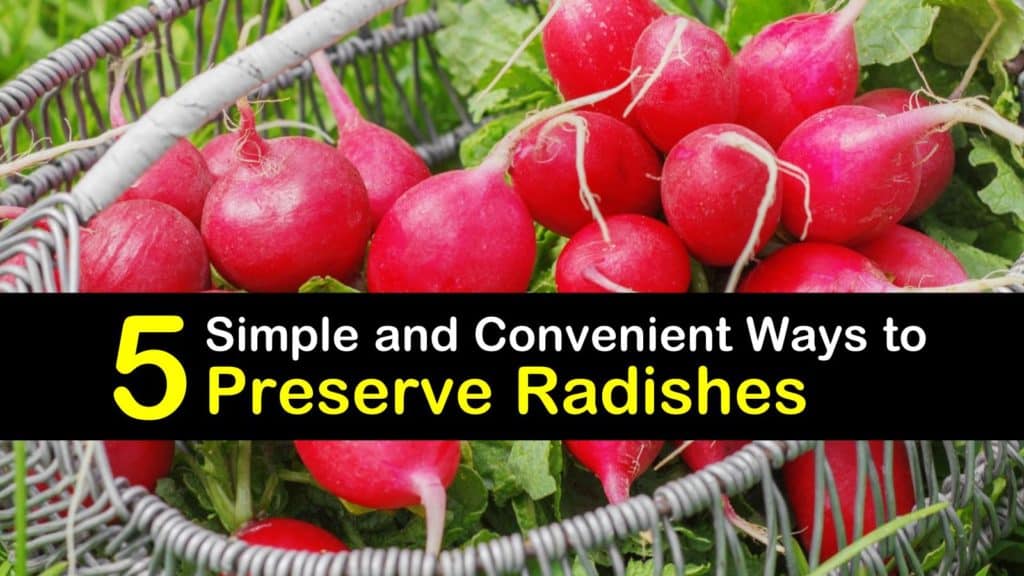 Ways to Preserve Radishes Short and Long Term
Whether you grow radishes yourself or purchase some from the store, there are several ways to keep radishes fresh, and the method depends on how long you plan on storing them. We'll show you how to keep them tasty for roughly a week to six months.
Preserving Radish in the Basement or Root Cellar
When you grow radishes in containers or the garden, you need to know what to do with the extras. There are many ways of preserving radish to keep them fresh and tasty, and the root cellar or basement is a good choice, just like potato and carrot storage. These root vegetables love dark and damp areas and last three months under the right conditions.
Pour sand into the bottom of a shoebox, and spray it lightly with water until it is damp. Press each radish into the damp sand to bury them while ensuring that the leaves and stems do not touch each other to prevent the roots from spreading rot.
Set the box in the basement or cellar and harvest the veggies out of the box as needed.
Ways to Preserve Radish in the Refrigerator
Keeping your veggies at room temperature is not a good idea, and there are a few ways to preserve radish in the fridge to keep them fresh for up to two weeks, depending on your preference.
Get some paper toweling damp with water and lay them inside a plastic bag. Use a knife to trim off the radish tops and set them, unwashed, into the bag. Place more damp towels over the radishes, seal the bag, and store radish in the fridge.
If you prefer to keep them in a jar, wash the radishes first to rinse away dirt, and cut the tops off with a sharp knife. Fill a Mason jar with cold water and submerge the radishes in the water. Twist the lid in place and store the jar on the refrigerator shelf.
Do red onions go bad in the same way that radishes do? Yes, onions do spoil. You can preserve them in the fridge after slicing or add them to your favorite pickle recipe.
Preserving Radishes by Freezing
If you cannot eat your vegetables in time before they spoil, the freezer is the best way to preserve radish long term. Frozen radishes last up to six months, as long as you blanch them first.
Wash the radishes to scrub away dirt and prepare them for freezing by slicing away the tops and bottoms and cutting them into one-inch pieces.
Pour hot water into a medium or large pot, bring it to a boil, and blanch the root veggies in the boiling water for two to three minutes. Pour cold water into a large bowl and add ice cubes to create an ice bath.
Transfer the blanched radishes into the bath and let them soak for about three minutes. Strain the veggies into the sink, pat them dry with paper toweling, and spread them evenly on a baking sheet.
Set the tray into the freezer to flash freeze the radishes for about six hours. Slide the frozen veggies into a freezer bag, and make sure to label them with the date and contents before storing them in the freezer.
How to Preserve Radish Greens by Making Pesto
If you prefer to preserve fresh radish greens by preparing a tasty recipe, pesto is the way to go. This recipe utilizes the radish greens to make a savory sauce and only requires five main ingredients.
Place the radish greens into a food processor and pulse it to chop them lightly. Add the remaining ingredients and process on high for about one minute or more, depending on the texture you desire in your sauce.
Spoon the pesto into pint jars and pour just enough olive oil over the top to cover it. Screw the lid in place and store it in the fridge for one week or the freezer for nine to 12 months. Enjoy this pesto on crackers, on pasta, or as a sandwich spread.
Preserving Radishes by Making Pickle Radishes
If you haven't realized it by now, we make pickles out of just about everything, from cucumbers and peppers to eggs and grapes. It's definitely the best way to preserve cucumbers and you may find that pickled radishes become another favorite.
So, why not preserve your radishes by pickling them? Radish pickles are easy to personalize by adding red pepper, peppercorns, mustard seeds, and vegetables such as cauliflower.
Remove the tops and bottoms of each radish and cut them into desired pieces. Pack the sliced veggies into a jar, add the garlic cloves, and set it aside. Put a large pot on the stove on high heat and add the water, vinegar, sugar, and salt.
Simmer the liquid to dissolve the salt and sugar and then remove it from the heat. Ladle the hot brine over the radishes to submerge them, put the lid in place, let them cool at room temperature, and then set them in the fridge for several weeks.
Try pickling a variety of different vegetables by themselves or in fun combinations. It's one of the best ways to preserve beets, apples, and more, and it provides a delicious alternative to other storage methods.
Radishes are one of the easiest root vegetables to preserve, no matter which way you decide to store them.
Not only that, but making pesto and pickled radishes is a great way to use up radishes and their greens, and these condiments add zest to everything from tacos to burgers.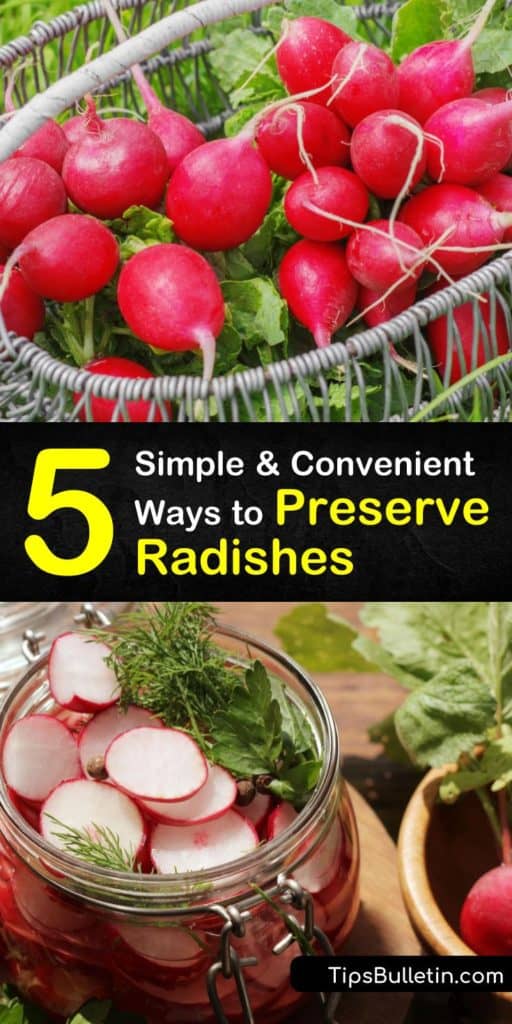 Now that you've discovered how to preserve radish in a variety of ways, why not share our radish storage tips and recipes with your friends and family on Pinterest and Facebook?